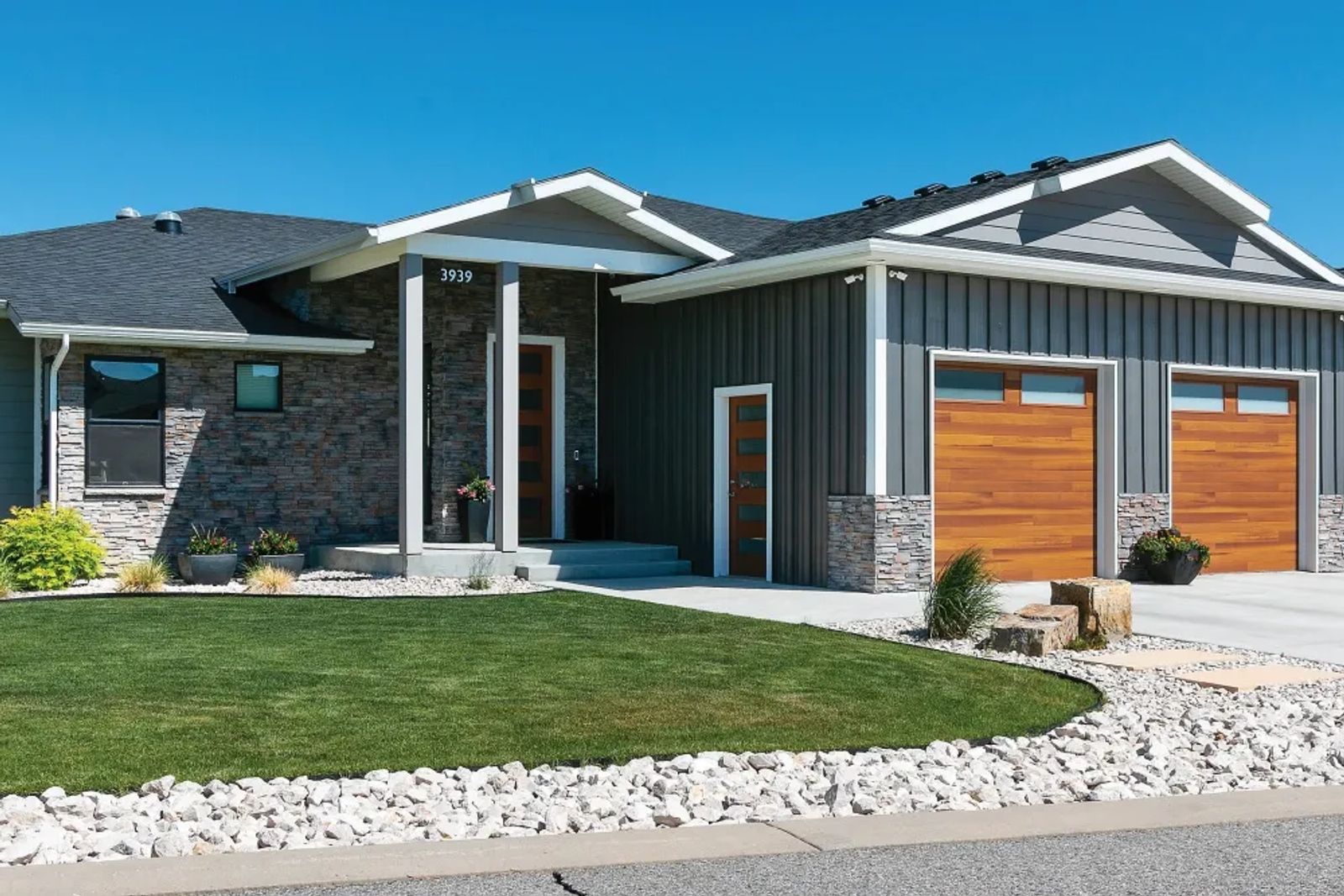 My House Is Your House: How A Billings Couple Built a Home Meant to Be Shared
August 2021
article & photos by renata haidle
When Ben and Michele Flanagan started designing their dream home, they had a very clear direction in mind. They wanted a home that would accommodate their generous and welcoming lifestyle, where friends and family can gather and spend time together; a home that would be modern yet timeless, with a strong imprint of who they are and what they like. Benefiting from Ben's extensive knowledge and experience in the construction business and from Michele's flawless aesthetic, the house they built together is nothing short of amazing.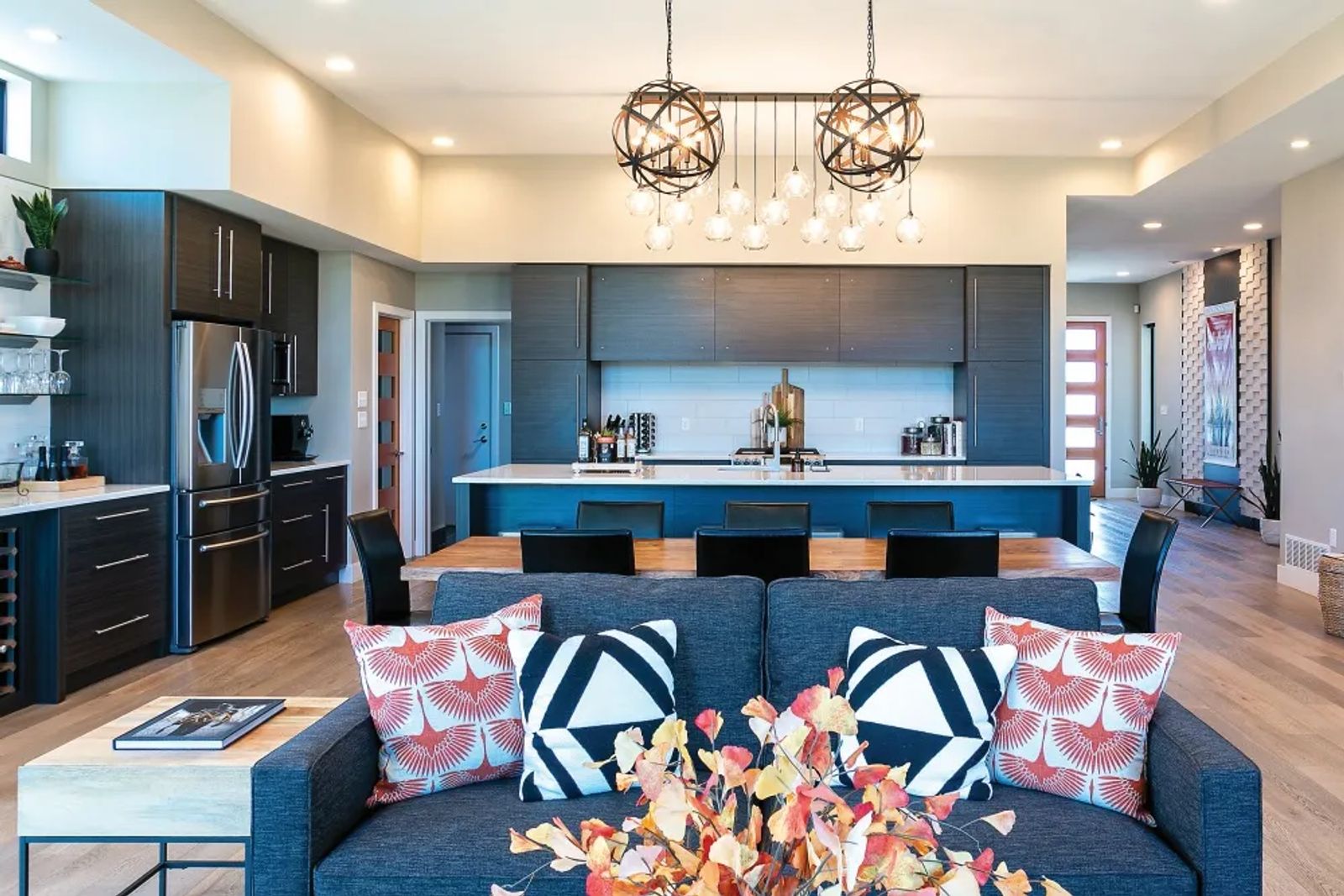 With tall ceilings, wide hallways, numerous windows and large mirrors, their home feels spacious and full of light. Custom accents are everywhere, from carefully designed backgrounds to art pieces and decorative items. Much of the artwork is Michele's, who created beautiful 2D and 3D abstract pieces to adorn the walls. Ben combined his expertise and artistic flair to add his own touch to every room in the house. He was the designer as well as the hands-on general contractor and builder of the project, doing a lot of the work himself.
"Ben is a commercial construction superintendent and has a strong penchant for clean, modern lines," says Michele. "He came to the table with invaluable knowledge of materials and resources to execute a commercially-inspired home. We have both always loved interior design and take inspiration from high-end restaurants, hotels, and museums. We focused on aesthetic continuity when selecting decorative surfaces, colors, and fixtures throughout the house to ensure one room seamlessly flows into the next."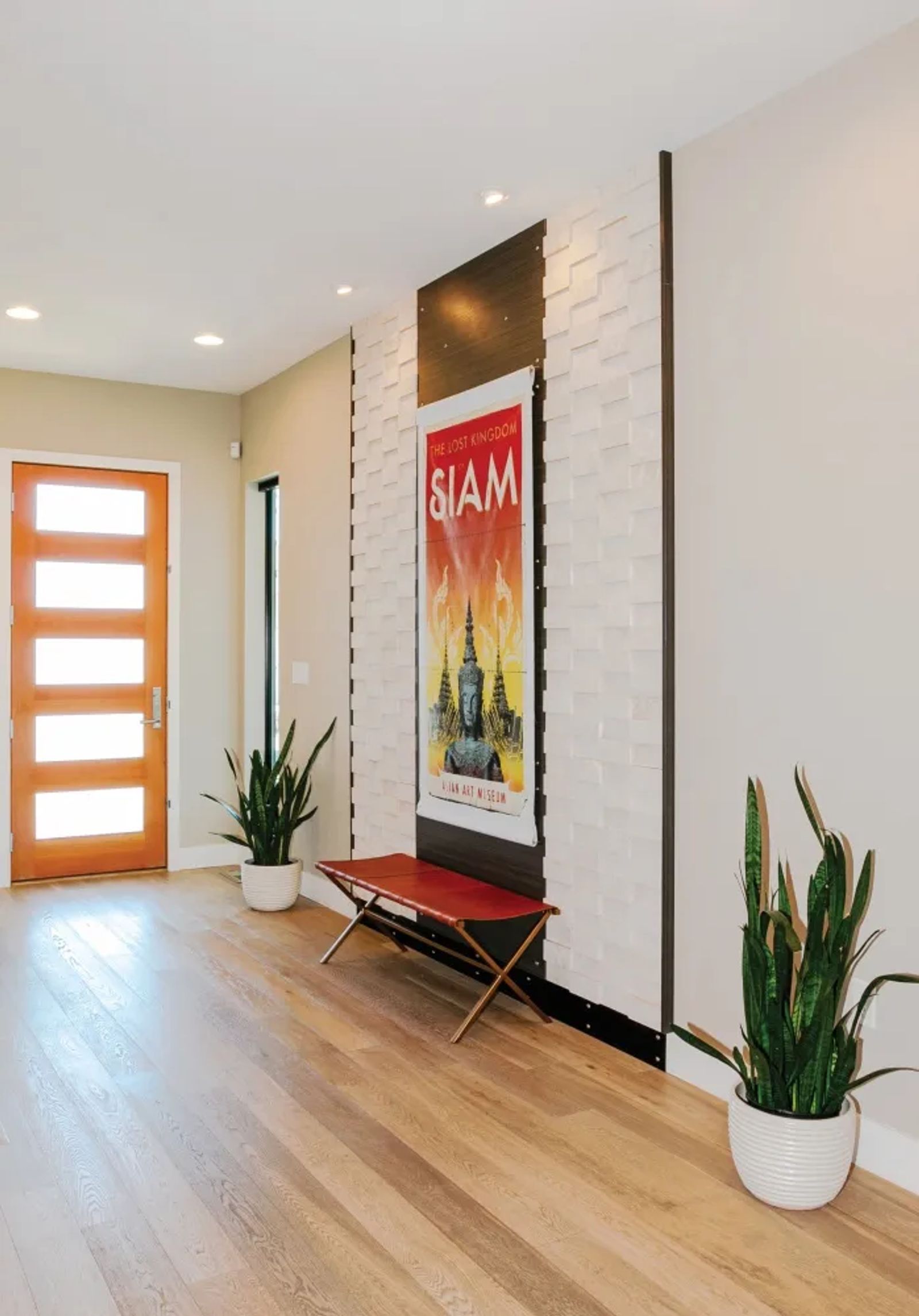 A sculptural, tridimensional travertine wall is the focal point in the entryway, made even more interesting by an oversized advertising banner recycled from an exhibit at the Asian Art Museum of San Francisco.
Timeless Design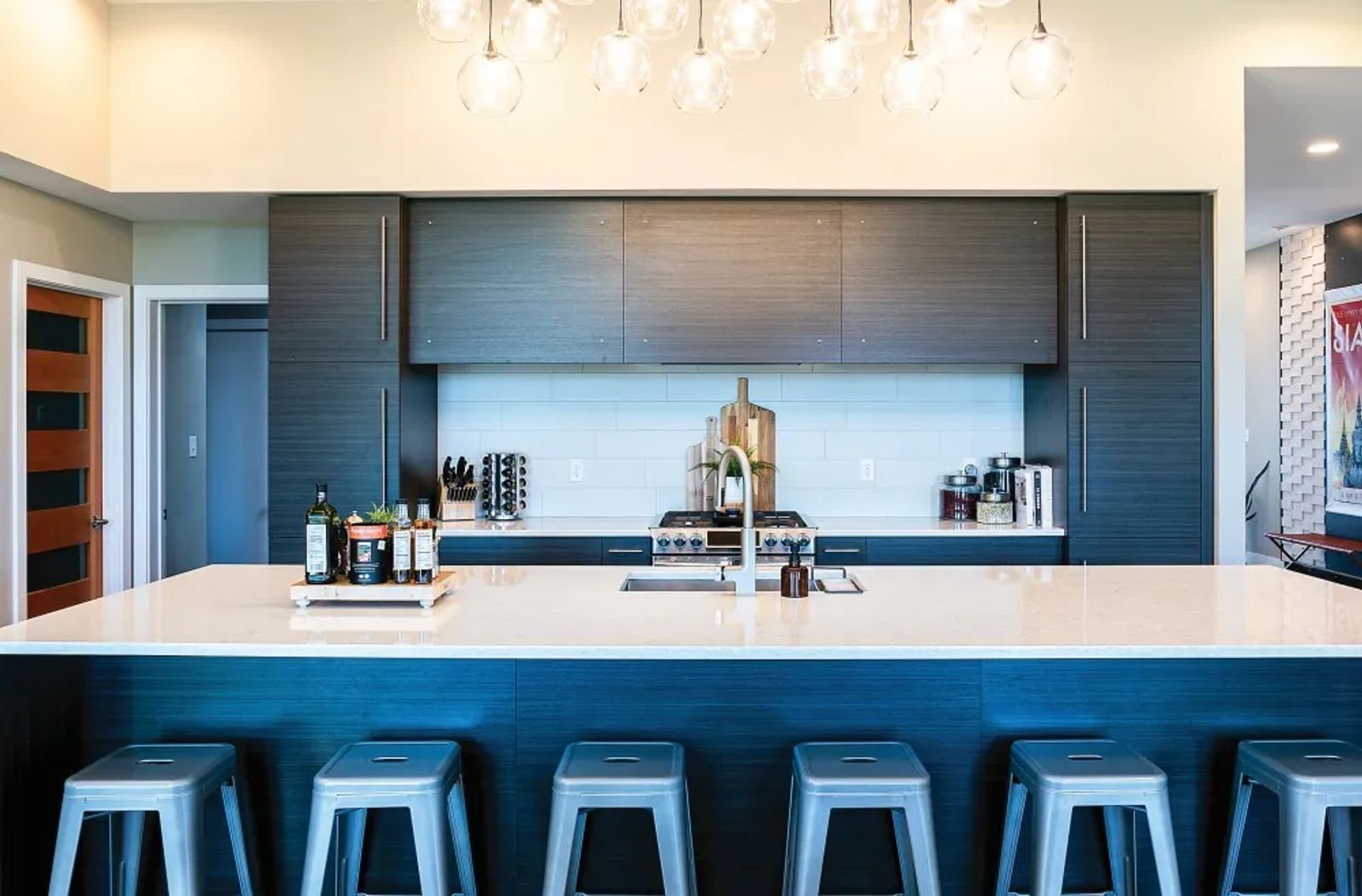 The kitchen features streamlined cabinets with generous storage space, an oversized island, and quartz countertops.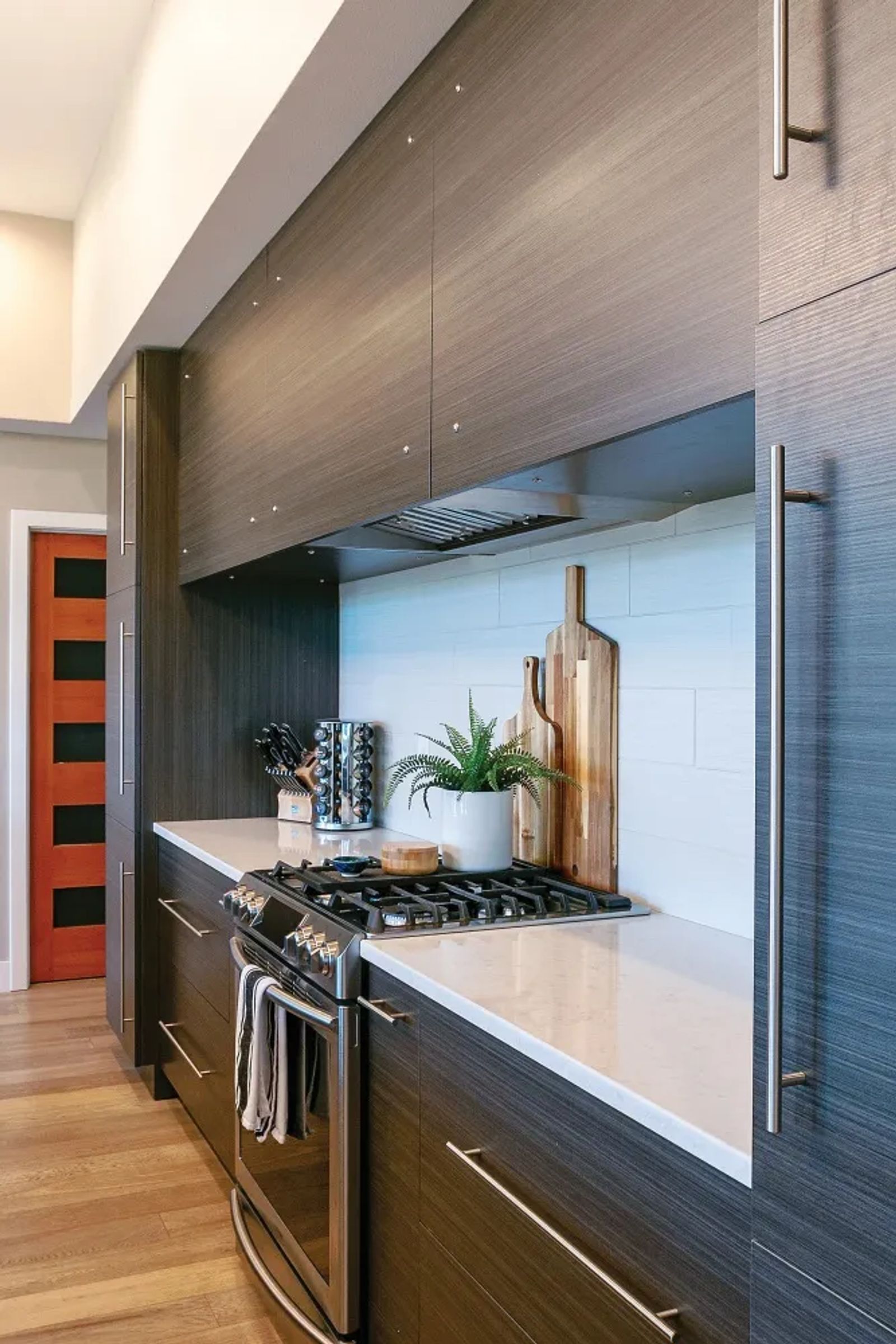 "We predominantly chose timeless finishes and avoided any 'trends' that would be outdated within a year or two. This has and will continue to allow us to pepper in modern accents that we can easily change out in the future."
- Michele Flanagan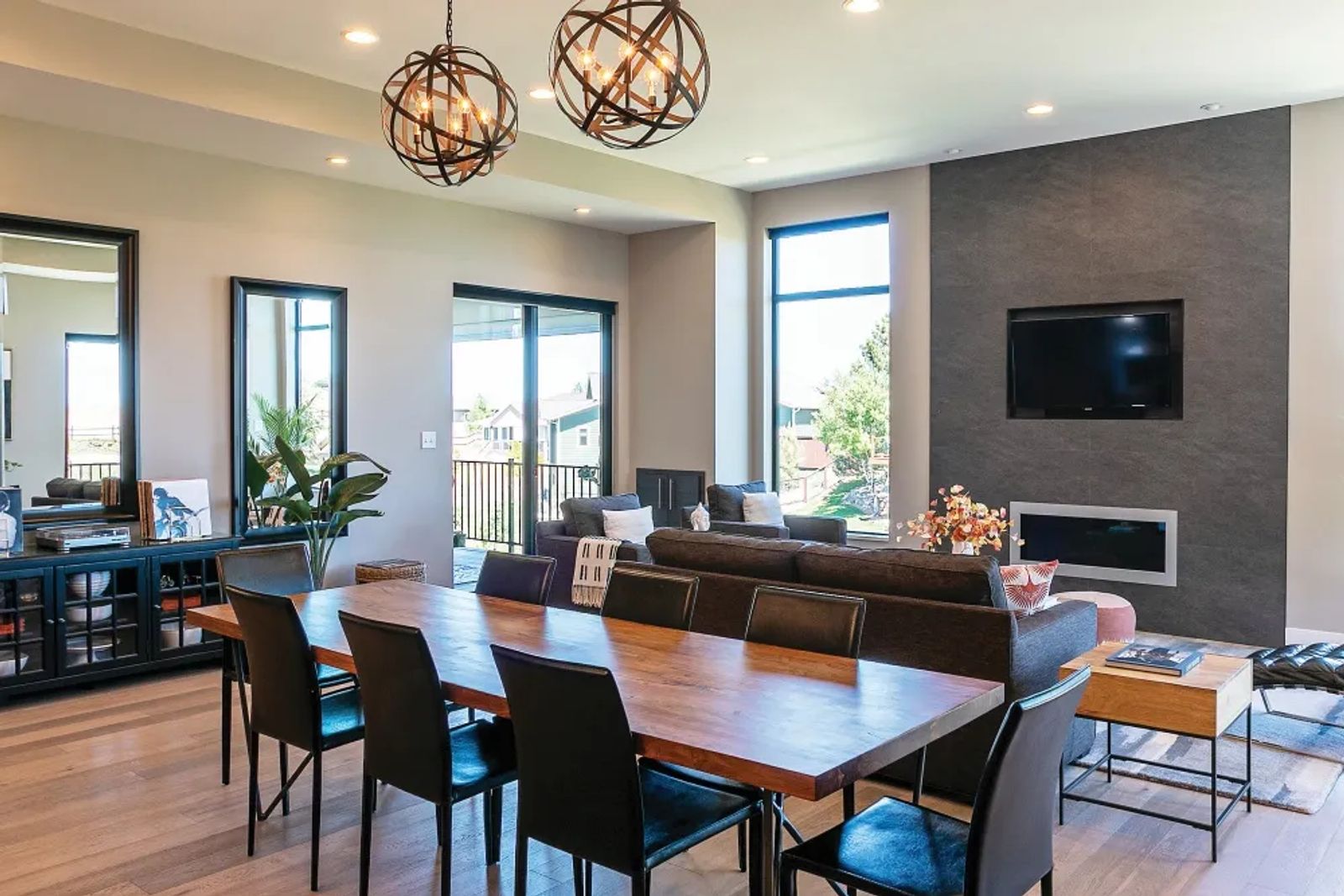 The living room is stylish and modern, with various areas providing different uses: comfortable seating for hanging out with company, a classic Le Corbusier-inspired gravity chair for reading or watching TV, and even a small desk for doing a bit of work while still being close to the rest of the family.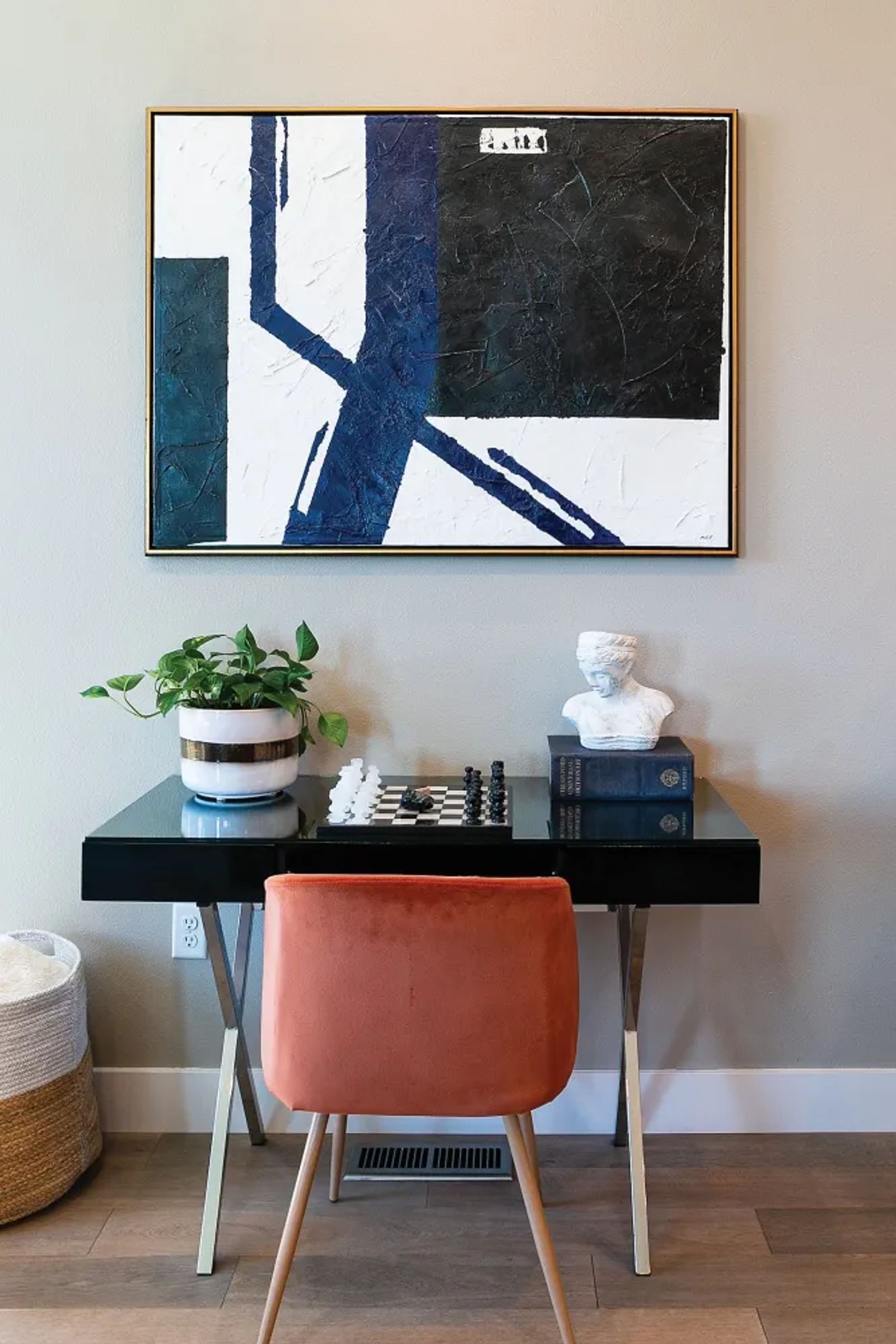 "We lean towards modern, but as with anything in life, it's a work in progress. Each year we choose a new piece of art or furniture to upgrade or purchase. I like Kelly Wearstler, Kelly Hoppen, and Lenny Kravitz (Kravitz Design)."
- Michele Flanagan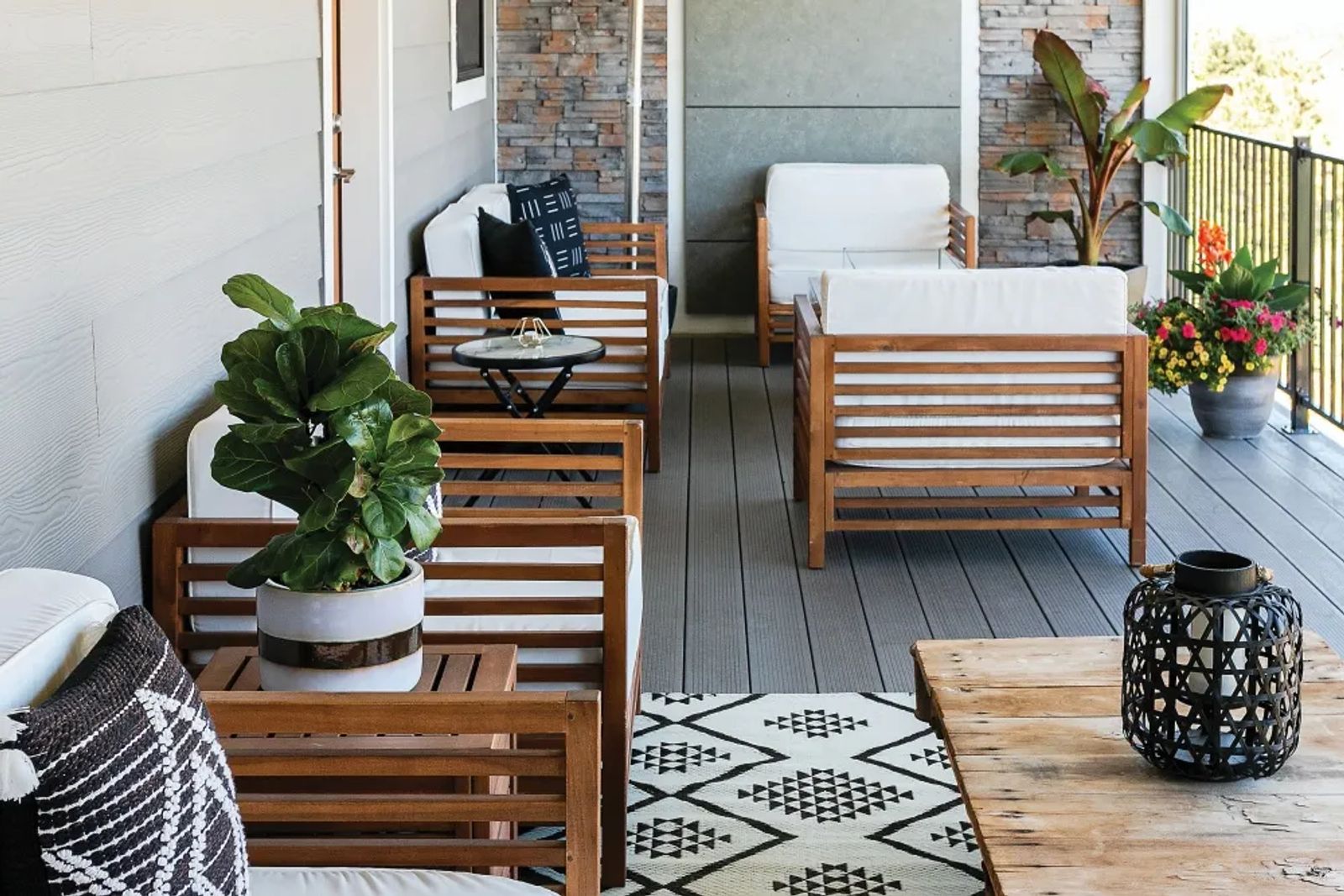 Both Ben and Michele love to entertain family and friends. It is not uncommon to have people over three to four times a week. Modern yet timeless furniture, gorgeous plant arrangements and beautiful decorative objects make the spacious upper deck a perfect place for gatherings. The back wall is another bespoke feature added by Ben, who cleverly recycled a few panels of Swisspearl* left over from another project.
*(Manufacturer's description: "Swisspearl is an innovative and ecological construction material with a unique aesthetic appearance and excellent durability, manufactured from raw materials from the Swiss mountains.")
A Calming Refuge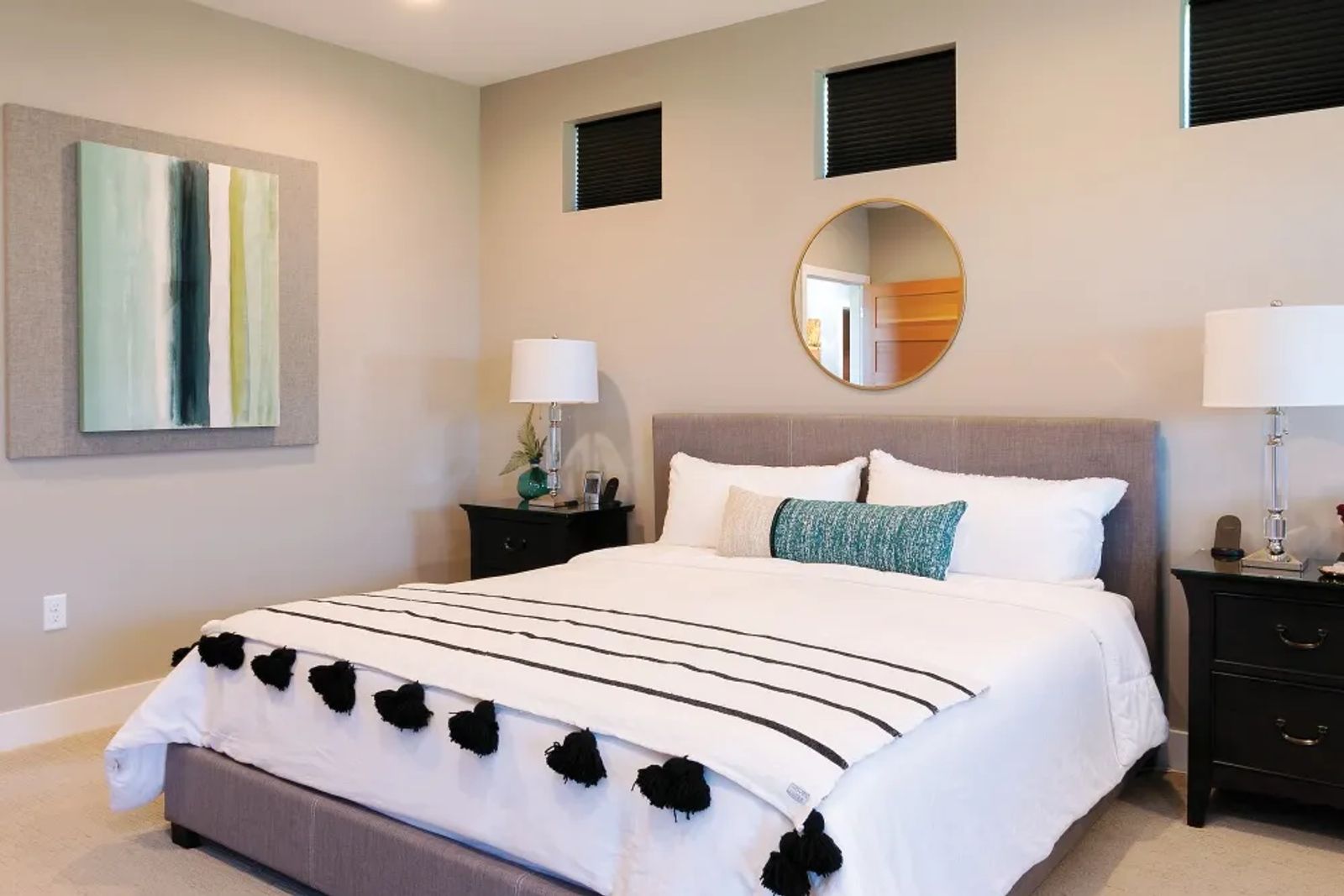 The master bedroom is a calming refuge, with a soothing color palette and elegant furnishings and accessories.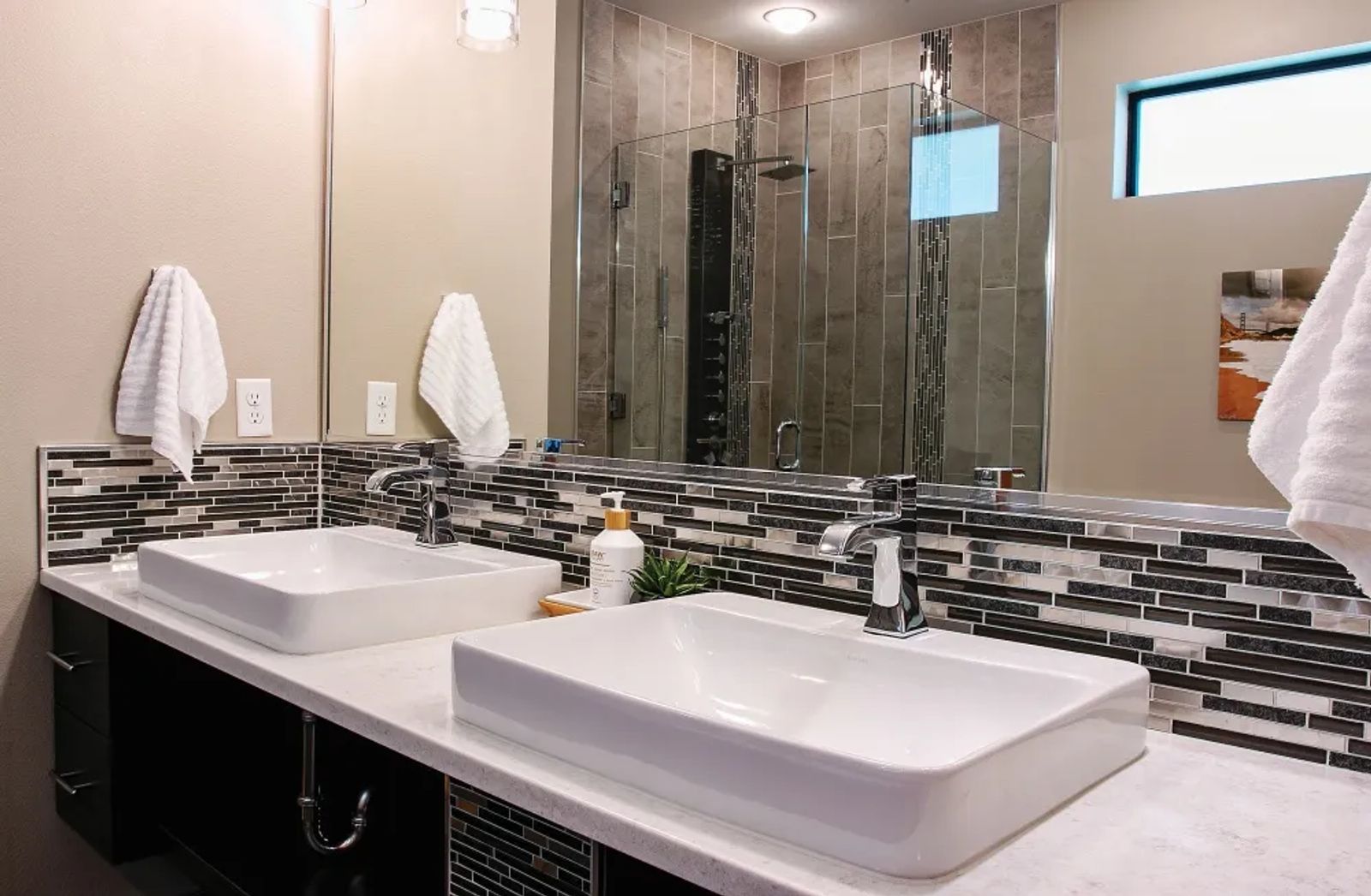 The master bath shines with glass finishes and quartz countertops.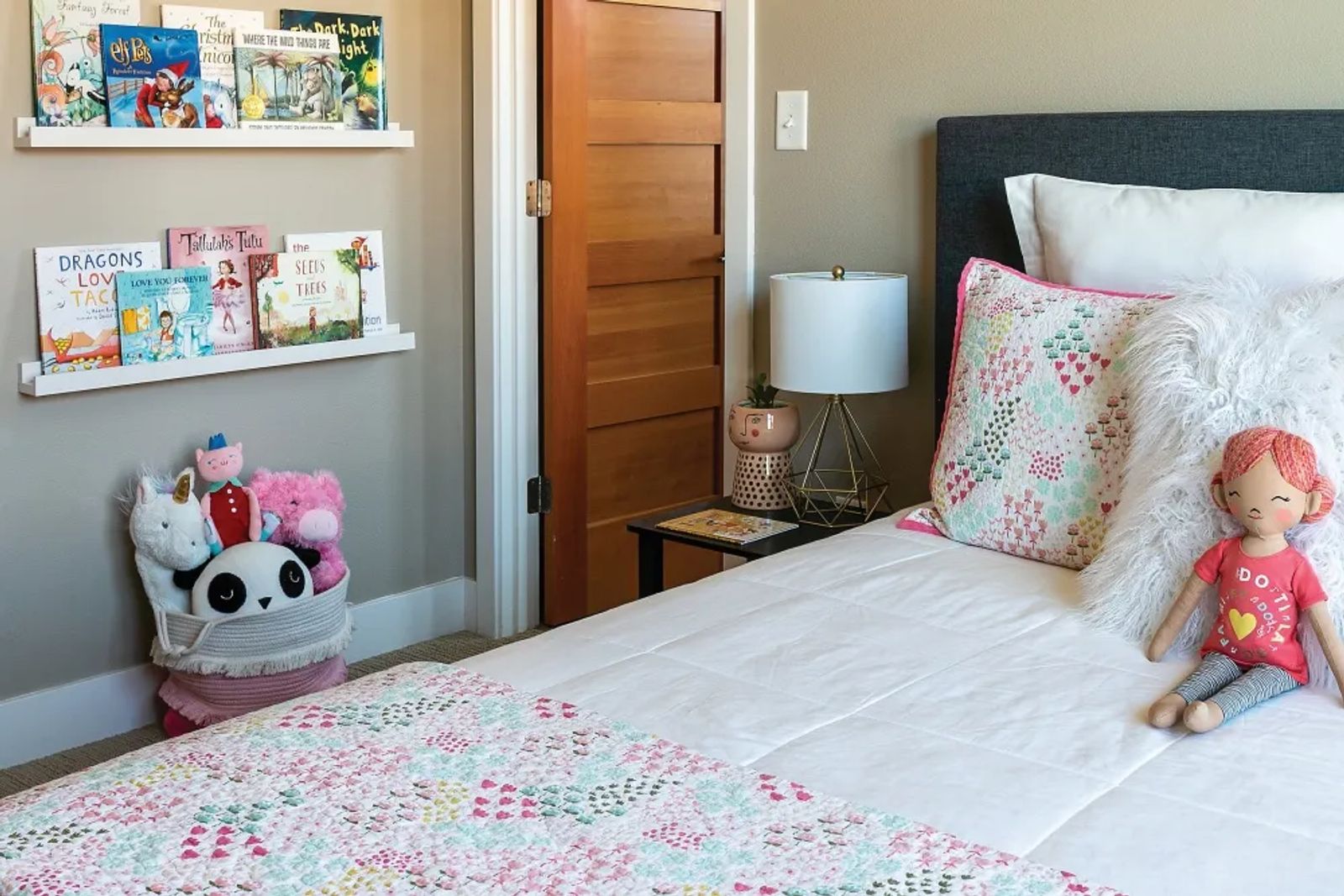 The couple's 7-year-old granddaughter stays over every weekend and has her own bedroom, lovingly decorated by Michele in a transitional style that will take her from childhood into teen years without much need for redecorating.
She is not the only child that is welcome with open arms in the Flanagan house. Over the years, Ben and Michele have opened their home to many children and young adults who needed a place to stay, giving them much needed comfort, safety, and shelter - at one point having as many as six people living with them, until they were ready to get back on their feet and move out. This generosity extends outside the home as well; Ben is actively involved with Tumbleweed, the Billings organization that provides assistance to homeless teens and young adults, and currently serves on their board of directors.
Modern Industrial Elements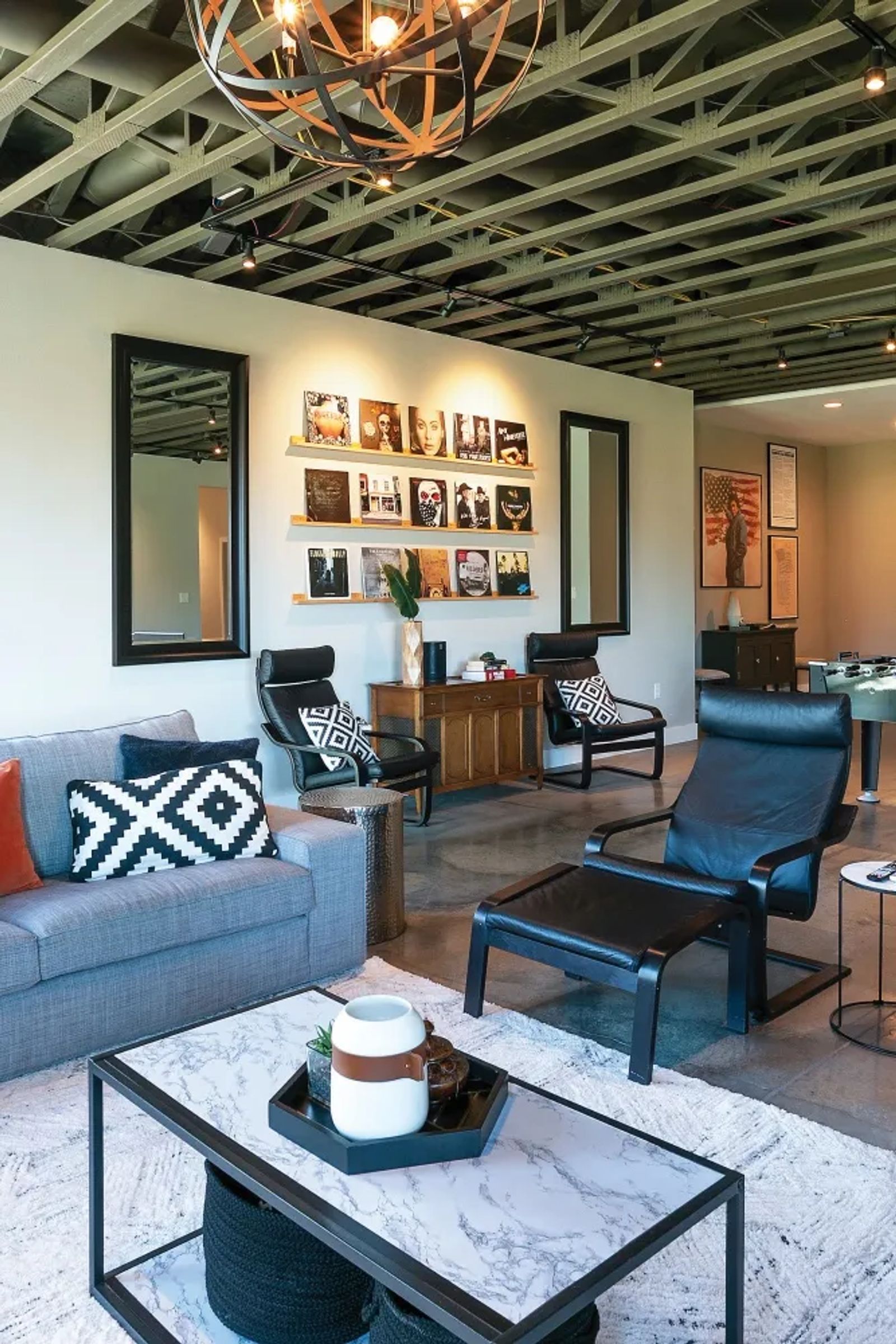 Modern industrial design elements elevate the basement to prime entertaining space, with large displays of black and white photographs of celebrity musicians, paying homage to the couple's love for music greats such as Johnny Cash and the Rolling Stones. There is ample space to hang out on the oversized couches, to watch TV, play foosball or ping-pong, or have a dance on the heated polished concrete floors. Right outside, on the lower level patio, a swim spa adds to the entertaining options.
"The design and planning process was a labor of love. Ben designed our house, and he patiently let me co-pilot beside him. We spent every waking hour researching and revising the floor plan until it made sense and we got almost everything we wanted."
- Michele Flanagan
Special thanks to the following sources and suppliers:
Guti Tile – Tile install
Kitchens Plus – Kitchen and bathroom cabinetry
Carpet Plus Color Tile – Hardwood, tile, and carpet
Magic City Granite – Kitchen and bathroom counters and window sills
Skyline Stainless – Outdoor gas fireplace
Fireplace Center – Indoor gas fireplace
North Solar Screen – Outdoor automatic retractable shades
Montana Hot Springs Spa – Swim spa
Cornell Drywall & Painting – Interior and exterior painting
Sherwin Williams – Paint colors
Brian Jones – House Plans
Finishing Touches - Gutters
Able Landscaping – Irrigation
H & E Equipment – Large equipment
Hill Masonry – Outside and entryway stone
Langlas & Associates – Invaluable resources 
Northwest Pipe – Radiant heat tubing
Tri Jack – Solar tubes
Pretty Pretty – Final clean
Bighorn Drywall - Drywall
Pella Window – Windows
Simkim Hallin – Lumber
MacArthur Company – Roofing
Air Controls – Heating and Cooling
Action Electric – Electric
G & T Plumbing – Plumbing
Gary Weber Excavating – Excavating
Billings Concrete – Concrete
Fisher Concrete – Concrete and landscape rock
EBC Trusses – Floor and rood trusses
Grand Lumber – Doors and sliders
Bailey Garage Doors – Garage doors
Originally printed in the August 2021 issue of Simply Local Magazine
Never miss an issue, check out SLM's digital editions here!