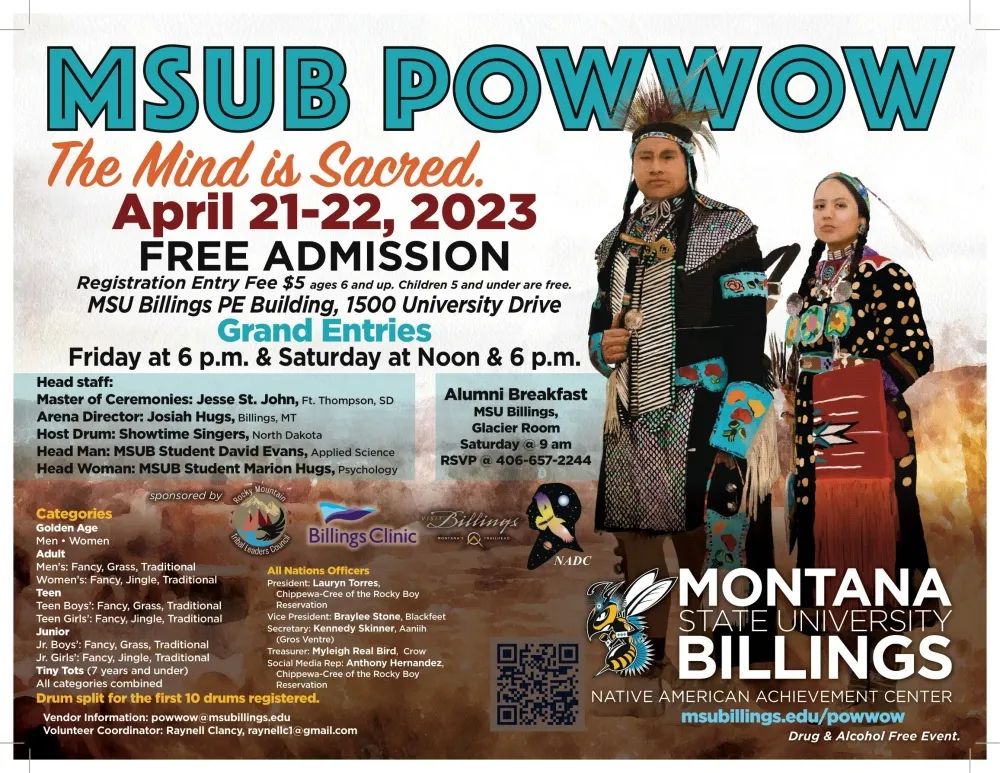 MSUB Minute: MSUB 2023 Powwow
April 2023
The Mind is Sacred: MSUB Powwow April 21-22
The Billings community and surrounding areas are warmly invited to attend the Annual MSUB Powwow taking place April 21-22 in Alterowitz Gym on the campus of MSU Billings. This drug- and alcohol-free event is put on by the Native American Achievement Center and offers three opportunities to experience the powwow: Friday at 6 p.m. and Saturday at noon and 6 p.m.
The powwow brings together cultural experiences from different area tribes while celebrating indigenous resiliency and honoring Native health, traditions, and languages. Powwow participants, ranging from Tiny Tots to adults, will share traditional dances, music, and more.
Admission to the powwow is free for attendees. Registration for participants is $5 for people 6 years and older. The campus is also offering an Alumni Breakfast on Saturday at 9 a.m. to those who register ahead of time. To RSVP for the breakfast, call 406.657.2244.
To get more information, volunteer for the event, register as a vendor, or find a printed schedule, visit https://www.msubillings.edu/naac/powwow.htm.
The event is sponsored by the Rocky Mountain Tribal Leaders Council, Billings Clinic, Visit Billings, and the Native American Development Corporation.