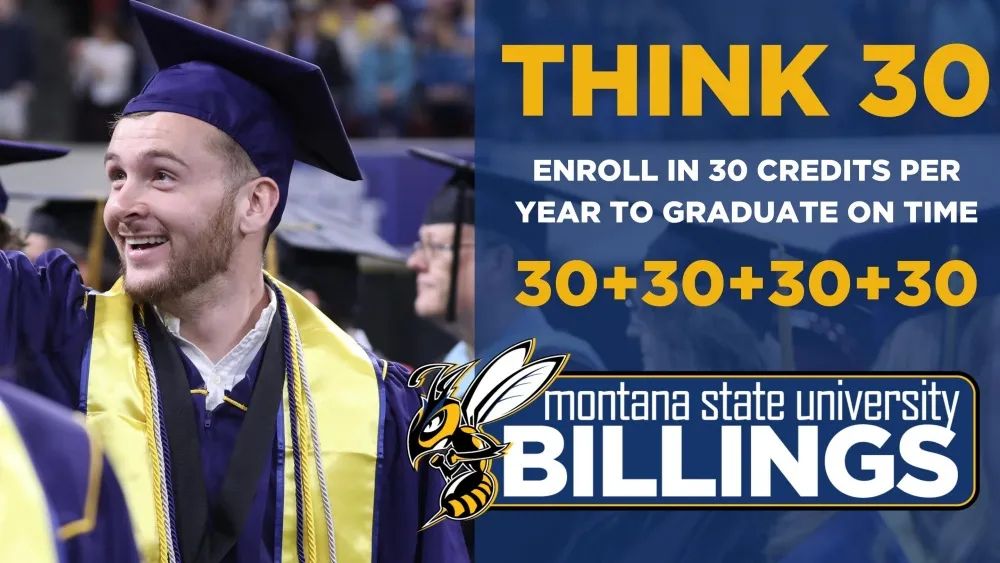 MSUB Minute: 30 to Finish
August 2022
by Kelly McCandless for MSU Billings
MSU Billings prides itself on being an adaptable university made for students from all walks of life seeking an education. MSU Billings is a great fit for anyone seeking higher education with online courses, flexible class-time offerings, and dynamic options for majors and minors.
The list of benefits to higher education is long, but the time it takes to secure a degree doesn't have to be. MSU Billings emphasizes its 30 to Finish campaign, encouraging students to take a course load of 30 credits per year, or 15 credits each semester. Taking this number of credits allows students to complete most degrees at MSUB in a traditional period of time. 
There are quite a few benefits to completing a degree within the traditional time frame: 
Saving Money: Students will be completing their degree on track and on time. Fewer semesters = lower overall cost.
Higher Earnings: Completing degrees on time allows students to enter the workforce sooner and thus earn higher incomes sooner. 
More Cost Savings: Students only pay for 12 credits a semester even if they are enrolled in more than 12 credits, allowing them to take more classes without paying more. 
Retention: Full-time students are more likely to complete their degrees than part-time students. 
Not all students can enroll full-time in school, but for those who can, the benefits of attending school full-time are extensive.
Learn more at msubillings.edu.
Originally printed in the August 2022 issue of Simply Local Magazine
Never miss an issue, check out SLM's digital editions here!