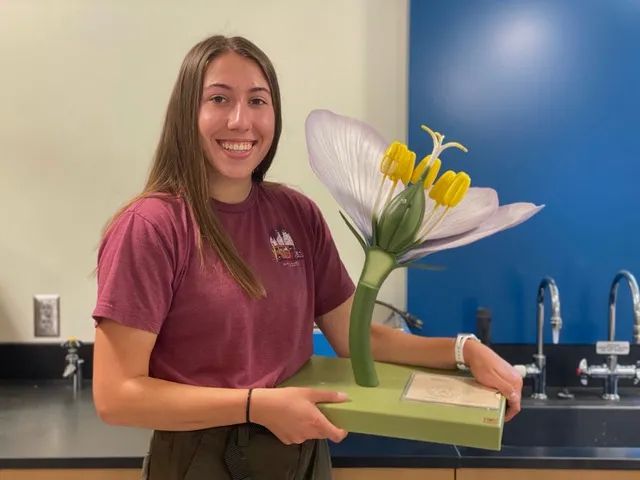 Olivia holding a geranium model in the new Yellowstone Science and Health Building's organismal laboratory | photo courtesy of Olivia Schwartz
MSU Billings Student Spotlight: Meet Olivia
August 23, 2021
One of the wonderful parts of being a university town, is that we get to welcome students from all over. I'm happy to introduce Olivia Schwartz a Biology student, from Spokane, WA, who kindly shared with me some of her experiences as a college freshman during the pandemic, her passion for science, and admiration for Billings.
Hi Olivia! Thanks for sharing with us today. Will you tell us about yourself and what drew you to MSUB?
My name is Olivia Schwartz and I will be a Sophomore at MSUB this Fall. I was drawn to attending MSUB for athletics, as well as the recreational and educational opportunities found in Montana. I love being outdoors, so access to hiking and other activities was super enticing. I plan to work in the field with my Biology degree, so the proximity to the Yellowstone River and other natural areas is beneficial for research and hands-on learning opportunities.
A love for the outdoors… then you definitely picked a great place! And yet, your first year of college was during the pandemic. Tell us how that went. Were you able to stay in Billings?
As tough as the pandemic has been, I am thankful that we were able to slow down and take time to be present and in the moment. MSUB made it possible for students to be on campus last year, which was different than almost any other college my friends from home attended. Being on campus allowed me to acclimate to a new place and get to know my way around Billings, which has already made a huge difference for this upcoming year. We were able to see people in-person instead of through a screen – that really made classes more engaging and kept me motivated to be successful.
That sounds like a great perspective. And how do you like MSUB and Billings? Any favorite places?
I love the small class sizes at MSUB, where I can personally get to know my professors and classmates and avoid getting lost in the crowd of a bigger school. I also enjoy spending time on the beautiful campus.
My favorite coffee shop in Billings is Mazevo. Their coffee is super tasty and the atmosphere really helps me to focus during finals!
Just thinking of taking a final makes me shudder! You must be pretty good at studying though, because it sounds like you have a lot of academic ambition. Tell us about your passion for science. When did that come about? And what is next in your studies?
I have been interested in science since high school, where I took a Biomedical Science course my freshman year. Even as a little girl, I loved being outside, visiting local gardens and parks, and looking at bugs under a microscope with my Granddad. I chose Biology as my major when I was a junior in high school, and although I wasn't exactly sure what I wanted to do as a career, I knew I wanted to be in the field in some way.
This summer, I am an intern for Dr. Comer and we are a part of the Consortium for Plant Invasion Genomics (or CPING), where 4 major 'hubs' are conducting research on five widely invasive plant species. The groups have been looking at how these invasive species have become so prominent in various environments, in their gene flow, individual adaptations and their colonization dynamics. We get to end the summer in Lafayette, Louisiana at the CPING conference in early August, where we get to meet the other labs and present our research findings!
That sounds like an incredible opportunity for you. Congratulations on your internship! I also understand that you will get to take classes in the new Yellowstone Science and Health Building. How do you feel about this new addition?
I am excited for the new building because students including myself will be able to collaborate on research and work in a more centralized location for our science-based interests. As a student interested in Botany, I am super happy to see the specialized plant lab attached to the greenhouse and herbarium, all of which will benefit student research and learning opportunities. We will be able to both learn and work alongside our professors with their research or our coursework. The new building will provide any student the chance to come in and see the projects of current students, drawing more interest towards the many fields included at MSUB.
It's not every day I get to talk with a scientist! You are an inspiration to younger kids, Olivia, with your love for exploration, learning, and the outdoors. Thank you for sharing some of your journey with us and for being a positive role-model in our community. We wish you well this school year!