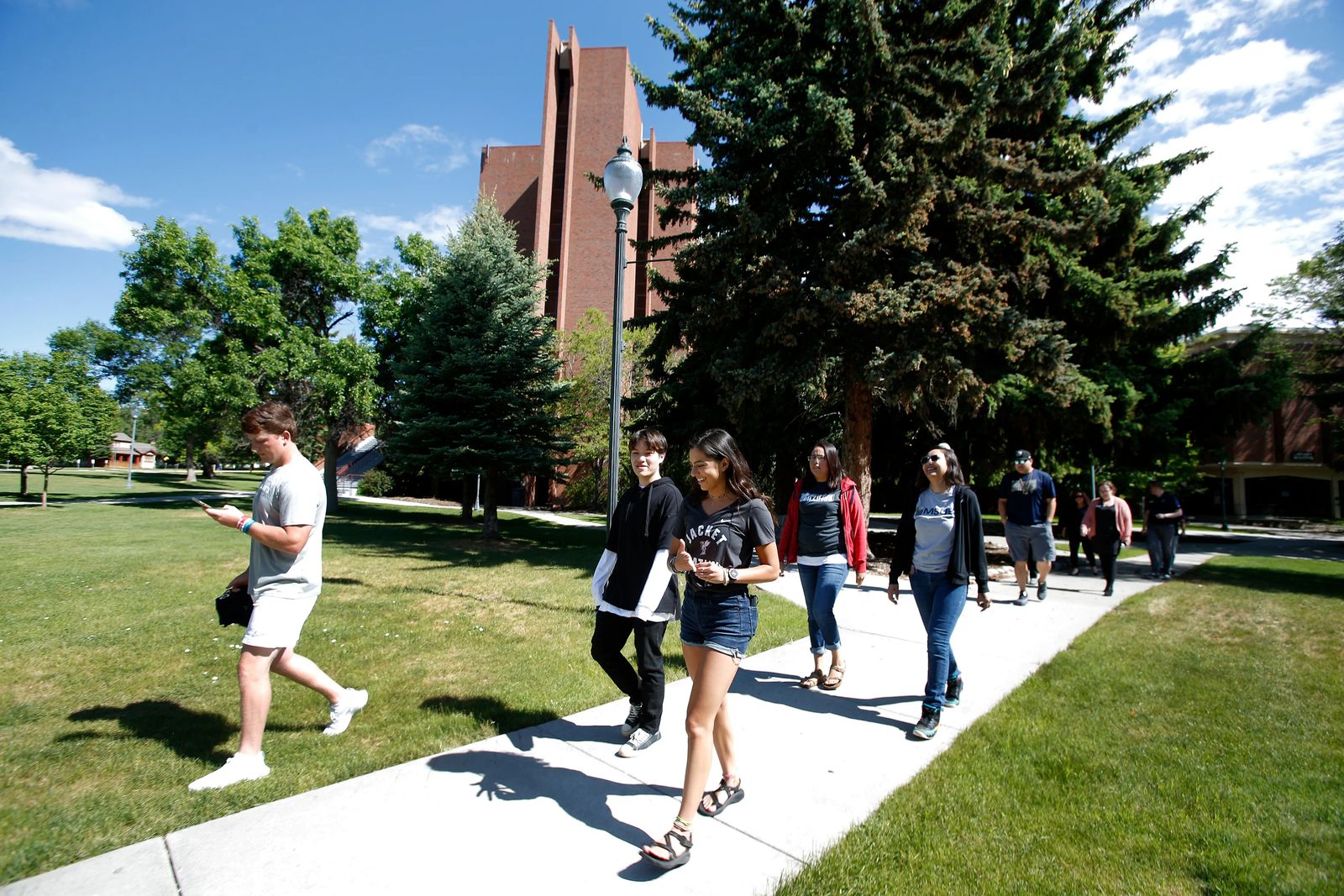 MSU Billings Enrollment on the Rise
October 4, 2021
With many fresh faces and a whole lot of energy, the MSU Billings 2021-2022 school year is underway! And best of all, Montana State University Billings has released its fall enrollment data which shows a 10-percent increase in first-time freshmen enrollment from last fall semester. More and more students are turning to MSU Billings with its diverse and rich course offerings and programs. At its official 15th class-day count, 4,112 students were enrolled with 2,375 students at University Campus and 1,737 at City College. With in-demand degree programs, affordable tuition, numerous scholarship opportunities, robust student services, and flexible in-person, online and HyFlex courses, MSUB is an excellent choice for students near and far (read MSU Billings student Kaitlin Hugs' story here).
Chancellor Stefani Hicswa raved, "I am extremely pleased with MSUB's fall numbers," and emphasized the ongoing hard work at MSUB to increase student success, from enrollment to graduation to the workforce. "Our faculty and staff have worked hard to ensure that our students are connected to the resources they need to have a successful fall semester and beyond." Hicswa also mentions that the key to MSUB's growth is continuing to build and nurture partnerships within the community and region, the workforce, and with local school districts. "Offering relevant programs through in-person, online, and HyFlex options will not only lead to the growth of the university, but also to the talent growth of Montana's workforce."
Vice Chancellor for Student Access and Success Kim Hayworth mentions that MSUB has seen a 13-percent increase in new Yellowstone County student enrollment this fall. She says that she is happy that more local students are taking advantage of MSUB's high-quality programs and affordable tuition. "More of our local students are realizing what an attractive option MSUB is and are choosing to stay close to home, [like Aly did… read her story here]." Hayworth continued, "We are also excited to welcome our new and transfer students to campus where they will receive such a high-quality and individualized college experience."
MSUB's College of Health Professions and Science (CHPS) also experienced an enrollment increase in their health programs. CHPS is housed in the newly completed, state-of-the-art Yellowstone Science and Health Building, the only one of its kind in the region. The building includes dedicated labs, high-tech classrooms, and numerous student study spaces, which allow for additional organic growth of personal connections and collaborations among students and faculty. CHPS houses essential science and health programs for Billings and the region and plays a large role in providing graduates for the Billings health corridor and for the health care and science workforce in general. (MSU Billings Science Student Spotlight)
Provost Sep Eskandari gives a nod to those who have worked hard to build relationships with School District #2 and other surrounding schools to promote Dual-Credit Enrollment. "It is evident that the awareness of Dual Enrollment has been elevated and the credit goes to the high schools—their instructors and counselors, in addition to the strong work that has been done on the MSUB side to grow partnerships and awareness," he says. "Students who take college-level courses in high school save a significant amount in college tuition, and in many cases, will have little to no student debt when they graduate college."
Notable areas of growth for MSU Billings' fall 2021 semester compared to fall 2020 semester included:
22% increase in American Indian graduate students
13% increase in new Yellowstone County student enrollment
7% increase in overall undergraduate transfer students
5% increase in degree seeking graduate student enrollment
Programs with significant enrollment growth: Welding and Metal Fabrication Certificate 120%, Welding and Fabrication (AAS) 13%, Business Administration (BS) 29%, General Business (AAS) 29%, Health and Human Performance (BS, MS) 42%, Outdoor Adventure Leadership (BS) 40%, Psychology (BA) 40%, Psychology (BS) 37%, Psychiatric Rehabilitation (BS) 10%, Health Administration (BS) 6%.
The Montana University System will present comprehensive enrollment information for all institutions at the Board of Regents meeting on November 18, 2021.