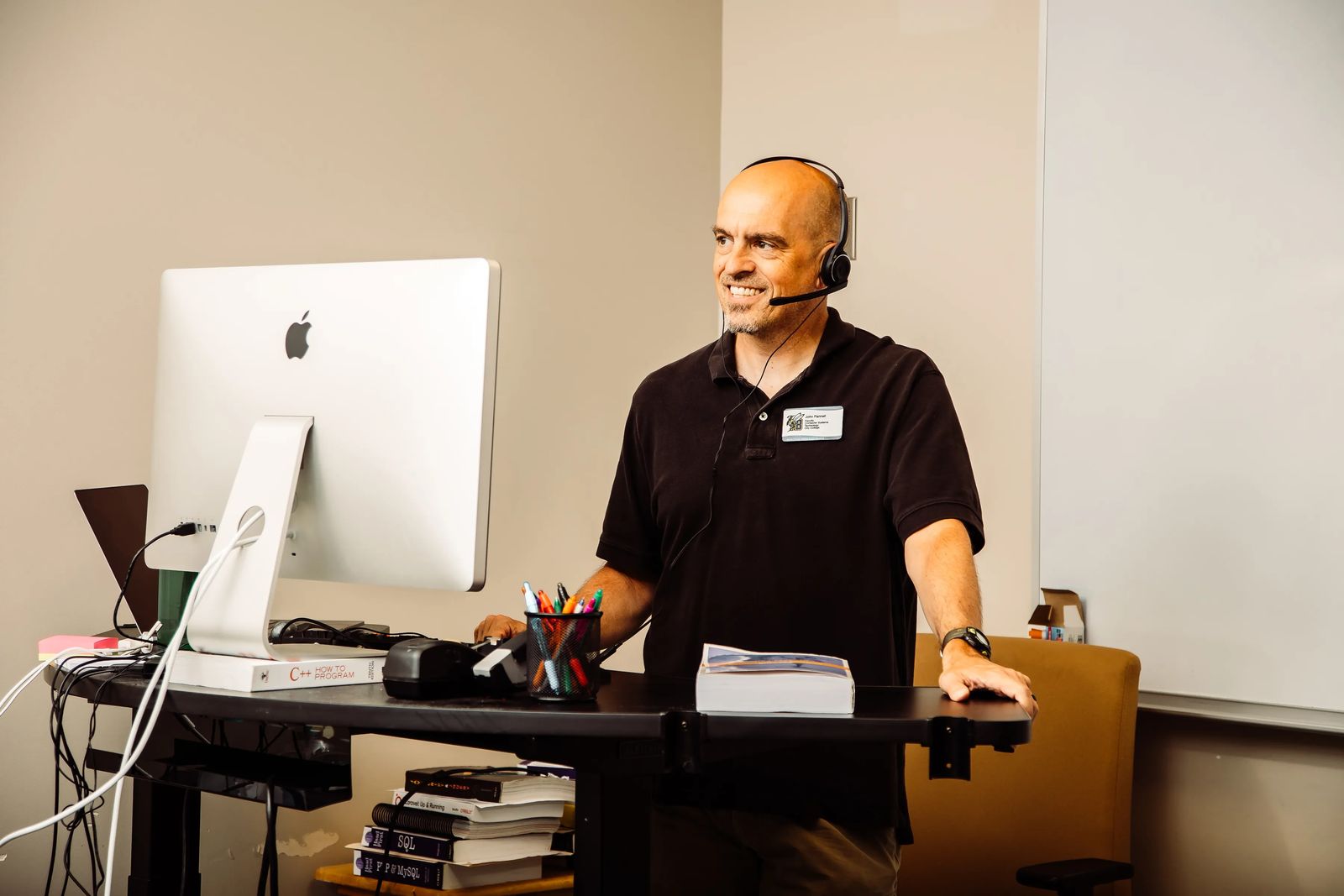 Online instructor | photo courtesy of MSUB
MSUB Elevates Virtual Learning with Cutting Edge Technology
July 1, 2021
by web editor | source: MSUB June 28 Media Release
This past year dictated an incredible surge in online education due to the coronavirus pandemic. Though not a new concept, the wheel was essentially reimagined as necessity demanded adaptation via virtual classrooms. As Montana's leading institution for online learning for over a decade, Montana State University Billings has found itself at the forefront of implementing advanced technology to take students' online learning experiences to the next level.
In order to ensure students continued to receive the high-quality education the university is known for – online and in-person – MSUB has worked to upgrade classrooms with state-of-the-art technology that serves to enhance and improve the online learning experience.
This new technology, that has been added to 20 classrooms on the university's main campus and at City College, is called Connected Classrooms which helps online students participate and engage in an in-person class effectively. Connected Classrooms allow professors to visually share objects with online students while simultaneously maintaining face-to-face interactions. Professors can either live stream classes or record lessons to accommodate time constraints, and students can access classes in-person or online as their schedule allows. Dr. Anna Talafuse, Assistant Marketing Professor, notes that
Use of the Connected Classroom has made the course accessible to student athletes while competing away from town, students caring for family members during the pandemic, and those with their own health risks or illness. The ability to access the course when physically unable to be present has provided additional learning development and discussion between students and the instructor.
CONNECTED CLASSROOM TECHNOLOGY:
Computers
Monitors
Owl Cameras (combine a microphone, speaker, and 360° camera into one device)
Digital Document Cameras
Wacom Tablets
Mounted Cameras and Microphones
Projectors
Audio Systems
Additionally, the new Yellowstone Science & Health Building – scheduled to open this fall semester – will also include state-of-the-art digital whiteboards in each classroom. These 75-inch digital whiteboards host a computer, monitor, projector, screen, and digital touch tablet that will provide professors the ability to easily customize each lesson to each class.
"This flexibility will help to serve our students and give them options to attend classes in person or online depending on their schedule where they previously may not have been able to do so," says Brett Weisz, Chief Information Officer. "This new technology is a game changer."