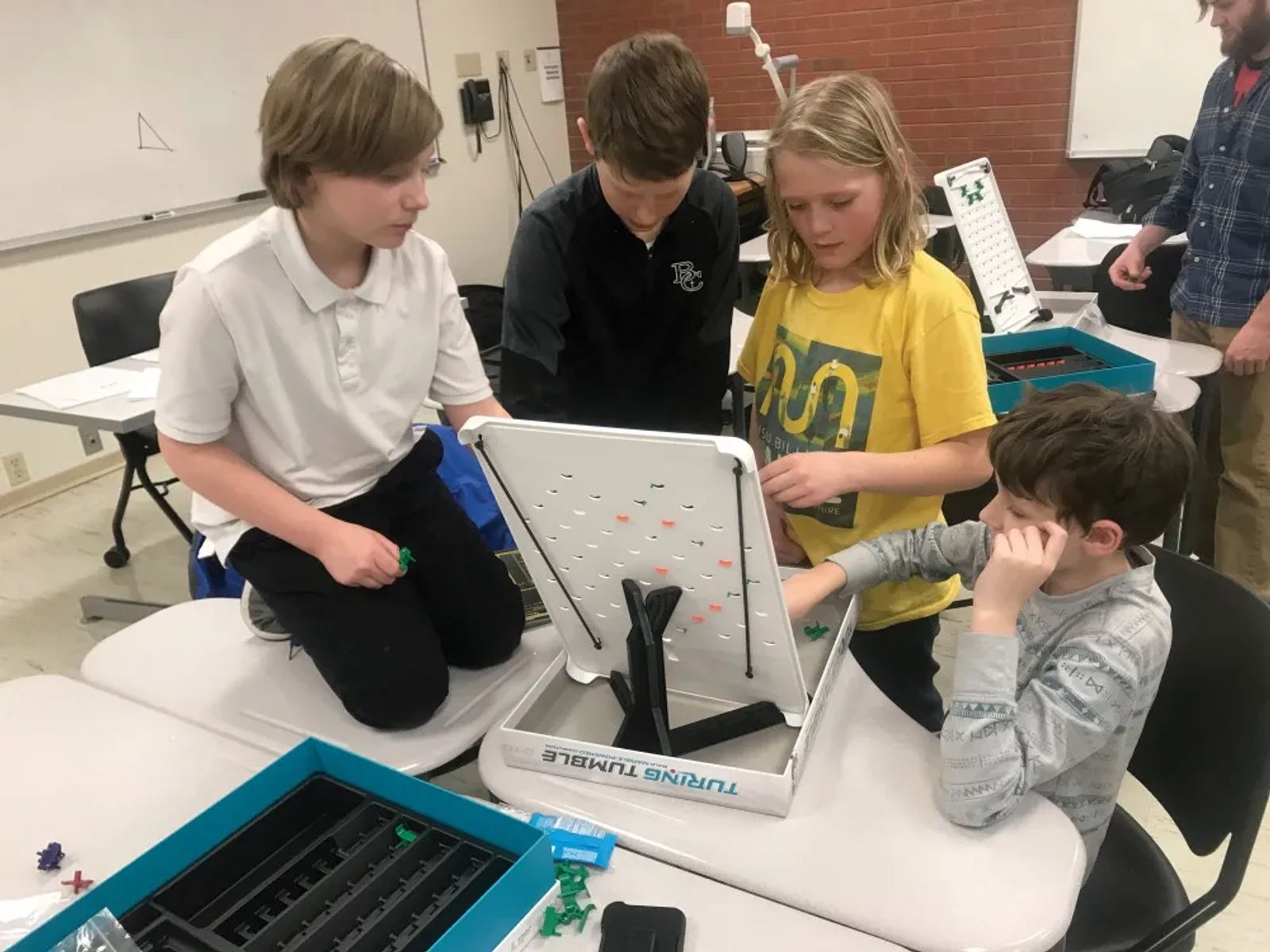 February 2021 | by stephanie hobby (photos courtesy of Dr. Tien Chih)
This isn't the math class you might remember. No one looks nervous (or is hiding under a desk, screaming in terror… joking! Only joking!) Students are animatedly churning out ideas, easily bantering over snacks, and every so often, laughter erupts. The atmosphere is a bit unexpected, considering the students are working through complex math concepts.
"As a math professor, I don't have great memories of those classes," said Dr. Tien Chih, professor of mathematics at Montana State University-Billings. "There's very rarely a chance for students to see the variety in mathematics, or be creative and see how to connect with these different games or puzzles. Usually, when people try to motivate kids in math, they talk about it in terms of utility, like, you need to pay your taxes or whatever. I'm not excited about paying taxes, and I don't know any kid that would be."
To help students see math from a different angle, Chih founded the MSU-Billings Math Circle, one of more than 100 Math Circles for students nationwide. He first became acquainted with the outreach program as a graduate student at the University of Montana, where he volunteered with the U of M's Math Circle. Chih loved seeing young minds enthusiastically engage with math. When he took a faculty position at MSU-B, he brought that experience to students in Billings.
Since 2018, students between fourth and eighth grades meet at the MSU-Billings campus twice a month during the school year. Partnered with volunteer college math majors, they explore games with fun monikers, like the Turing Tumble, Checkerstax, Rational Tangles, and Exploding Dots; in the session before the election, the focus was gerrymandering. This year, the program has gone virtual. Chih has creatively navigated that shift by coming up with interactive games students can play together online.
Chih's goal is to show students aspects of math that most people, outside of college math majors, never see. He and his team of math majors think through higher-level, complex math subjects and find ways to make them approachable for students in their tweens through games and manipulatives.
A love of math came as something of a surprise for Chih, who originally started college as a chemical engineering major. When he realized that wasn't what he wanted to do with his life, he took a step back to reassess and eventually set on pursuing a math degree. That's when he realized how much there was to explore and that math isn't just about what numbers do, but why.
It was a turning point. Chih wanted everyone- not just the tiny fraction of people who pursue math majors - to know how wildly fascinating the subject's more veiled aspects are.
"I felt kind of cheated, to be honest, that I didn't get to see any of this until I was a major. And then I thought of all the students who would never see it… and all the people who say they hate math, or never liked math in school, who never got to see anything like this. So it was important to me, somehow, as I went to grad school, that I do something that helps kids see truly creative mathematics at some point," Chih said. "And they can not like it after that; no one is going to like everything, but just so they've seen it and have had the option."
Students are divided into smaller groups during a Math Circle session to work through challenges and puzzles while college students and Chih walk the room to provide guidance, but mostly allowing the students to explore on their own.
"Kids are naturally curious, so if you give them the opportunity to have fun and explore, they will figure things out on their own," Chih said. "When you learn that way, you really know it and take ownership of it."
To date, Chih estimates that between 50 and 100 students have participated in MSU-Billings' Math Circle. He and his student volunteers are also active in other outreach activities, such as the Atomic Circus, SteamFest, and Girls-n-Science.
The program is free for students, with support from the Mathematical Association of America, the Dolciani Foundation through the Dolciani Mathematics Enrichment Grant, and MSRI (Mathematical Sciences Research Institute) Math Circle Mentorship and Partnership Program.
For more information or to register, contact Dr. Tien Chih at 406-657-2936 or tien.chih@msubillings.edu.
Originally printed in the February 2021 issue of Simply Local Magazine
Never miss an issue, check out SLM's digital editions here!