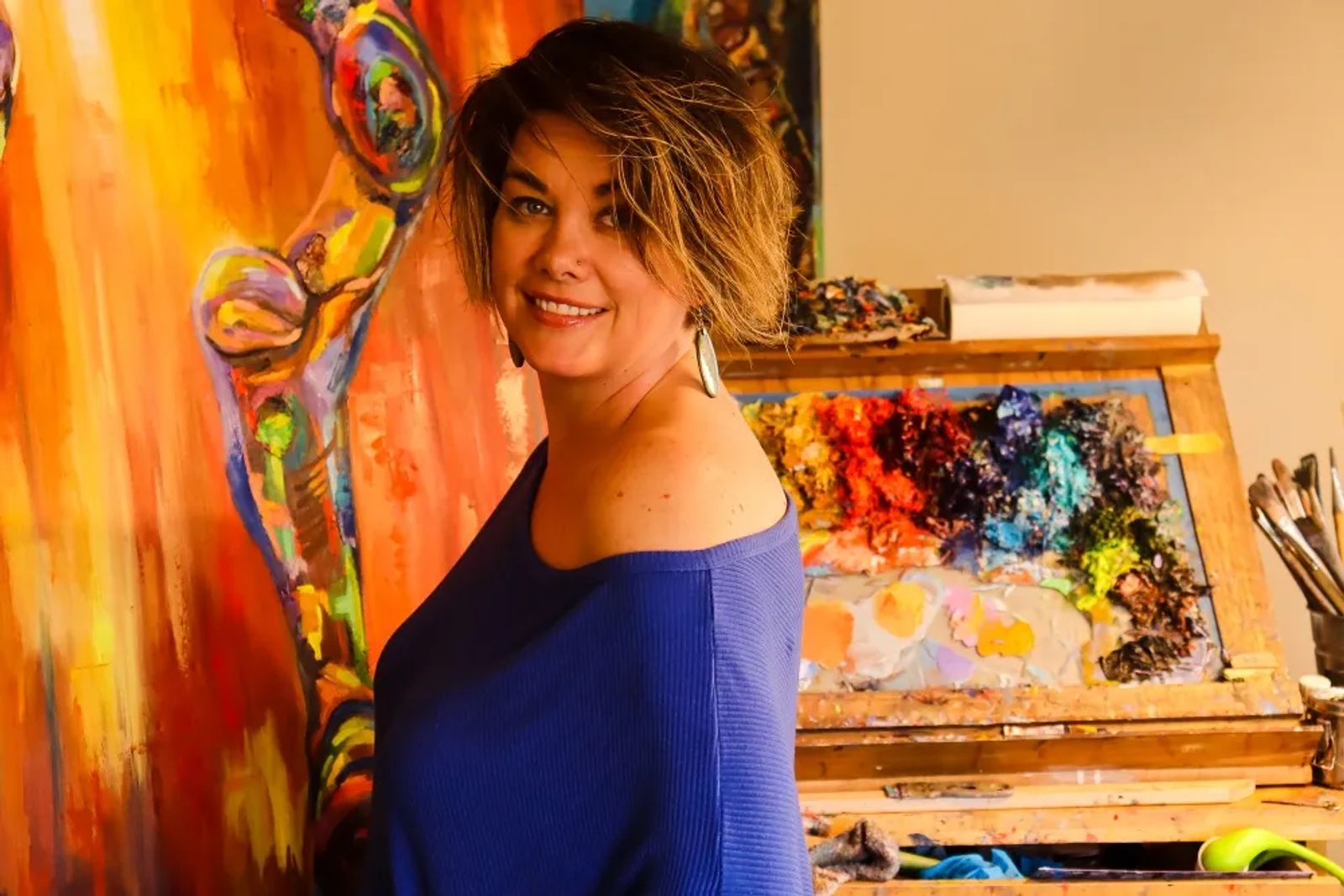 Maker's Space: Terri Porta
May 2021
article & photos by holly netz
"Sometimes your only available transportation is a leap of faith" -Margaret Shepard
How many of us have thought about drastically changing career paths? Going back to school? Learning a new trade? But then the doubts and worries creep in. I'm too old… I have kids, keeping a steady income is crucial… Quit daydreaming and get to work, you have a good job, and many others don't -- quit being ungrateful… Be practical; you're not 20 anymore.
Terri Porta spent her early career in administration and real estate. After having her son, she became a full-time stay-at-home mom for five years. During that time, she wrote profusely but kept it quiet, choosing not to pursue publishing and a new passion was ignited in a most unlikely way. One afternoon, she brought a craft box out for her son. She laughs as she admits that he participated for about 15 minutes. She started painting and was still sitting there when her husband came home from work.
As she began her new endeavor, she chose to work with oils. While a more complex paint medium to work with, she appreciated the longer dry time as it allowed time for her "fussiness." She could walk away from a painting and later return with fresh eyes to make changes. Terri found success early on, showing at the Charlie Russell Show in Great Falls, other local and regional shows, and even having a piece in the National Association of Women Artists in NYC's small works show.
However, as she began to navigate the business of art, she found herself feeling the same burnout she'd experienced with writing. Her ex-husband suggested she go back to school for art. As a single mom, of course, she worried about such a decision's practicality, but the outcome has been a re-birth in a sense. "As soon as I hit the doors of the school, it was as if I were a brand-new baby. I had a hunger to learn everything I could. I wanted assignments, tests, and more. I became addicted to learning. Art fills so many cracks and voids I had in my life." She's been on the honor roll every semester since starting and has continued working as an artist while in school. Mural commissions around town and selling her artwork have kept her busy, but she is cautious about setting limits for what she takes on; committed first to her education.
Within Terri's formal education, she is determined to take as many opportunities available to her. She was recently awarded a much-coveted residency in Champagne, France. Chateau Orquevaux receives applications from artists worldwide, and the selection process is intense. The fees aren't exorbitant but are still a stretch for a single mother in school. While elated at the honor, Terri is challenged with organizing the resources to make sure she can take advantage of the opportunity
Terri is now squarely in her senior year and considering her next step. She has watched her art evolve from realistic landscapes and begin to soften and even get a bit edgier. Her experiences with other mediums during her education are resulting in sculpture, both metal and clay, and more. Her studio, simply a small area of her living room, reinforces the idea that passion and drive are more important than the perfect space when creating art. She has a set of shelves holding small found objects that inspire her: fossils, arrowheads, and a quote written on a piece of worn and bent cardboard she discovered tucked in a library book. "When the servitude of women shall have ended, when she be able to live by and FOR herself…she too will be a poet. Women will discover the unknown…she will discover strange, unfathomable things, repulsive, delicious." Rimbaud 1957 
After an afternoon with Terri, I find myself unable to sum up the energy I feel in her presence more genuinely than with her own words, which I surreptitiously stole by stalking her social media and am using with her permission: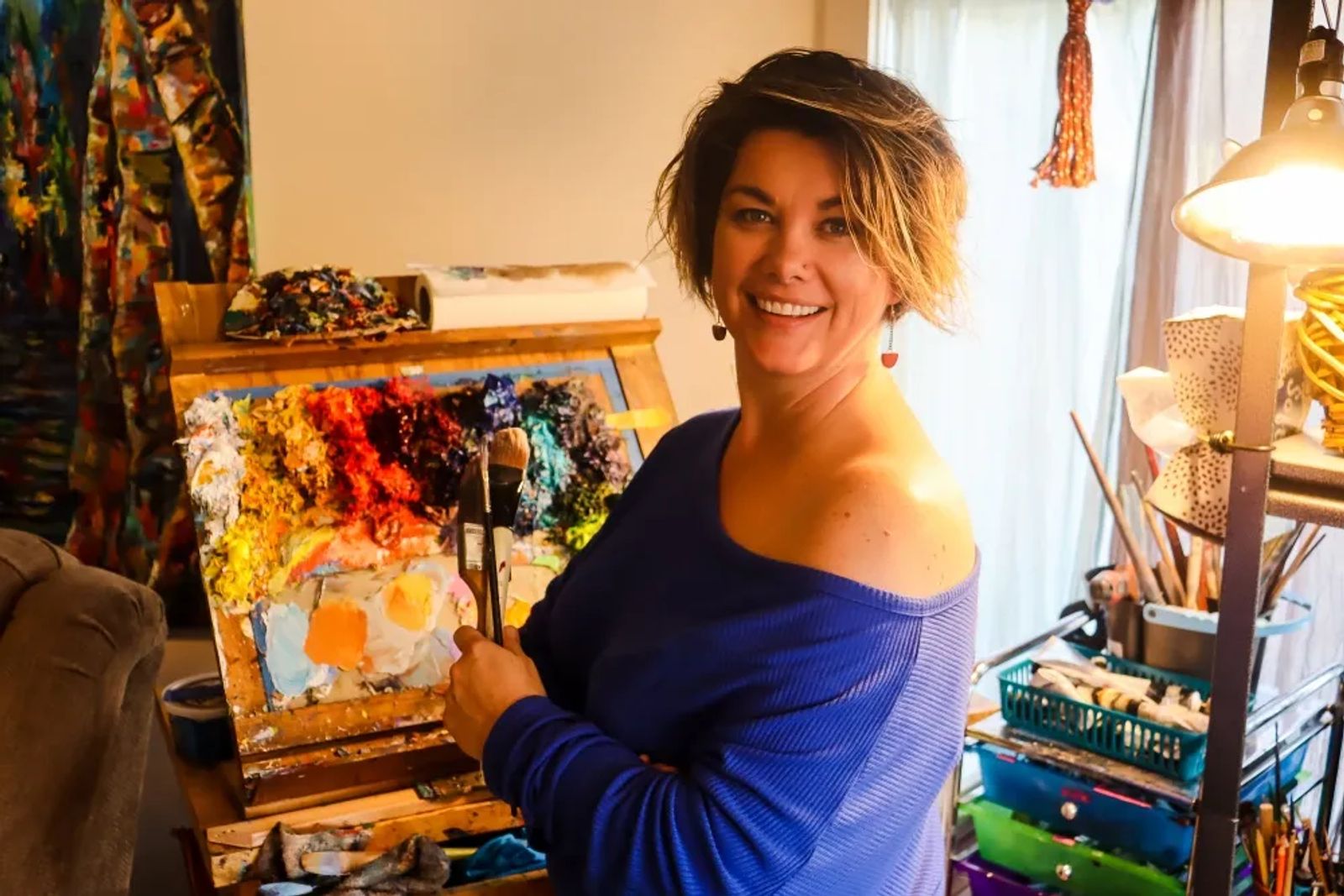 As an artist, single mom, and college student attempting to become an artist with something to say in my art, I get put in modes of self-defense, self-rescue, and self-determination. Everything in my life is my choice. I am not upset by it; rather, the opposite is true. I celebrate it. I made it through one more day and no one I love died. That's not the only thing I'm thankful for, but God, the days I can't say that are unbearable. I know things are changing out there for female artists, and that makes me so proud. So strong. So empowered. I love art. I want to do that for the rest of my life. It doesn't matter how hard it is. People tell me all of the time, "It's gonna be hard Terri." But that's the thing; I don't care how hard it is. It is the self-rescue part of this plan. I personally like that it is hard and that people judge you. People should judge something as powerful as art. They should also love on those who try to pursue it. Art isn't the problem or the answer, but it is my way of making sense of the chaos. Besides, too many people need a strange goofball friend who's a fanatic. Who knows? I guess I can only hope.
Terri will be at Simply Local Marketplace for a Meet the Artist night Saturday, May 8th, from 5:30-7:30pm. She will be exhibiting more of her work and have some available for purchase.
Originally printed in the May 2021 issue of Simply Local Magazine
Never miss an issue, check out SLM's digital editions here!