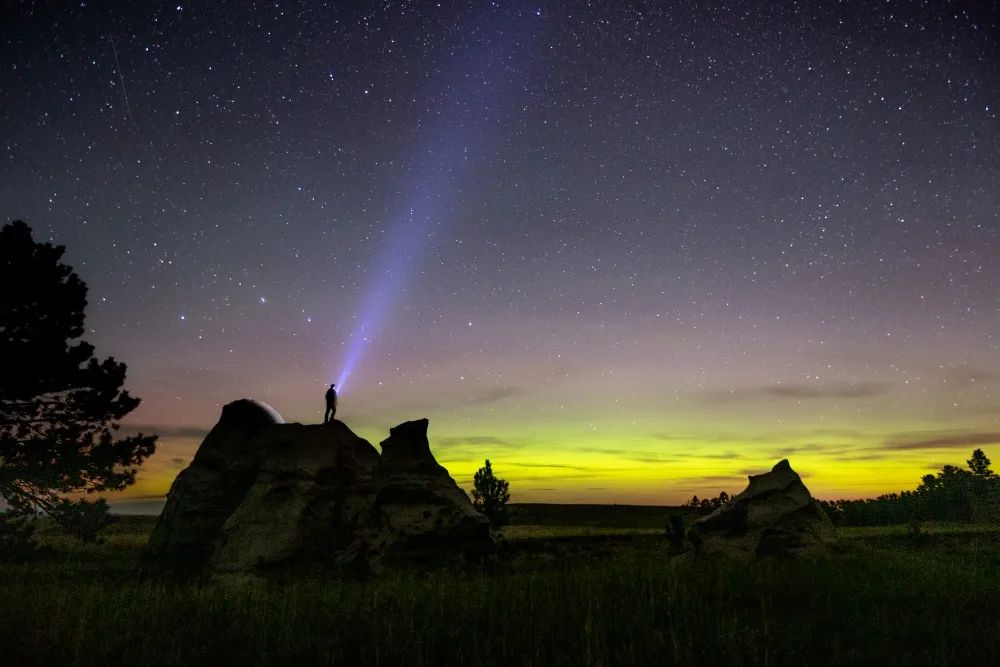 Photo at Medicine Rocks State Park by Nathan Satran
Look Up: 3 Stargazing Destinations in Southeast Montana
December 2022
by Cassie Solberg, Visit Southeast Montana
Nothing compares to the moment you first see, with your naked eye, the billions of stars that make up the Milky Way. The startling reality is that less than 500 stars are visible in urban areas. This means that the farther you are from city lights, the greater your view.  
The best part of stargazing is that it's a year-round activity; some of the best stargazing is done during crisp, cool nights when the skies are exceptionally clear. With a bit of luck and some planning with an Aurora Borealis forecast, you may be able to see as many as 15,000 stars. Start your epic adventure out here.  
Medicine Rocks State Park 
As the state's only International Dark Sky Sanctuary, Medicine Rocks State Park is the darkest of our dark sky destinations. An IDA Dark Sky Sanctuary is public or private land that has an exceptional or distinguished quality of starry nights and a nocturnal environment that is protected for its scientific, natural, or educational value and its public enjoyment. 
This State Park is nestled along the rolling prairies of Montana's eastern edge, between Ekalaka and Baker. Here, you'll find sandstone rock formations rising out of the earth. The formations have been weathered over centuries to give them a "Swiss-cheese" look. To view the night skies, set up camp for the night at one of its 12 primitive campsites or attend a dark sky event hosted by Montana Fish, Wildlife & Parks, or Carter County Museum. 
Acton Recreation Area 
Located just 25 minutes northwest of Billings, Acton Recreation Area is a perfect location if you want to stay close to accommodations in Billings while still getting away from city lights.  
Its tall ponderosa pine trees set against sandstone and shale make a truly stunning backdrop for stargazing. During the day, this area is popular among mountain bikers with challenging trails like Owl-Be-Back, Rollercoaster, and Fire Road. Acton Recreation Area is operated by the Bureau of Land Management (BLM), is open year-round, and it supports camping, hiking, horseback riding, mountain biking, and hunting (in season).  
Bighorn Canyon National Recreation Area  
Bighorn Canyon National Recreation Area is best known for its 71-mile-long lake bordered by towering 1,000-foot canyon walls, a paradise for any boater or fisherman. Its remote location straddles the Montana-Wyoming border. Set up camp at a boat-in-only site like Dayboard 9 Campground, or hop out of the water and head back toward Fort Smith to Afterbay Campground for breathtaking night skies. During the day, plan a stop at Yellowtail Dam Visitor Center (both open seasonally) for a birds-eye view of the massive dam that creates Bighorn Lake. 
Plan your stargazing adventure using Montana's Trail to the Stars, a complete listing of stargazing destinations throughout Southeast Montana, at TrailToTheStars.com. 
Originally printed in the December 2022 issue of Simply Local Magazine
Never miss an issue, check out SLM's digital editions here!