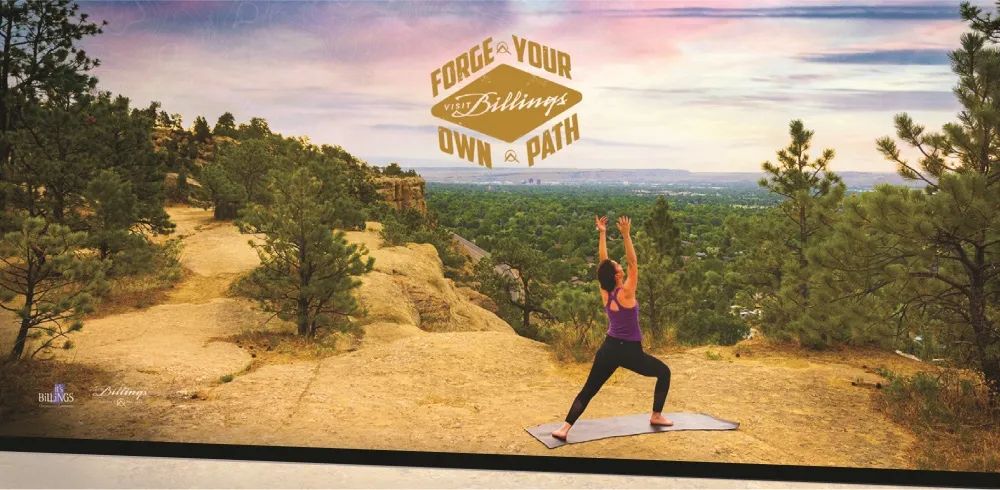 photo courtesy of Visit Billings
More Than a Welcome: Visit Billings' New Displays at Billings-Logan International Airport
June 2022
by Luke Ashmore, Visit Billings
If you had to place a message somewhere in the city of Billings, and you needed to ensure people noticed it, where would you choose to place it? A billboard in the heart of downtown? Somewhere in a busy shopping center? Something outside the box? Or maybe you said, "How about the airport?" That's a great answer. And lucky for Visit Billings, that's a recent opportunity we've had the privilege of developing.
The Billings-Logan International Airport's terminal expansion project will provide the opportunity and space for continued airport growth and a heightened experience for every visitor flying in and out of our city. Along with the visual and amenity-driven facelifts, the expansion project is paving the way for visitors to get a true feel for the city of Billings' culture before even stepping out of the airport doors. And the visitors touching down at Montana's Trailhead will receive more than a welcome as they walk to baggage claim. They'll receive the inspiration and information they need to have a memorable adventure in our area.
Along one of the new terminal's walkways, Visit Billings utilizes graphic installations to make an impact early on during a visitor's time in our city. These displays feature inspirational imagery that demands attention, even for someone walking with their head down, groggy after a long flight. We know at least one of these displays will speak to an individual's personality. In addition, we show a wide swath of recreational activities, depicting everything from yoga on the Rimrocks to paddleboarding at Big Horn Canyon. There's also a great look at the Billings Brew Trail for those looking for a more immediate way to start their vacation. The first stop is only a 10-minute drive from the airport!
Of course, plenty of people who call Billings home will pass by these displays. They're more than just an invitation for our visitors! We hope Billings' residents will find inspiration for their next staycation after a return flight back home.
In addition to the striking graphics, the displays feature a series of QR codes. While we hope to see plenty of visitors snapping a photo, we know there's only so much information shared during that interaction. By scanning one of the QR codes, visitors will be taken directly to the Visit Billings website resources. And once they've settled in at their hotel, they can read up on everything Billings has to offer!
We're excited to see how people engage with these displays. And for the person who just spent 3 hours on a plane next to a flying toddler, we hope the view from Swords Park or a stop along the brew trail is just what's needed to get them back in vacation mode.
Originally printed in the June 2022 issue of Simply Local Magazine
Never miss an issue, check out SLM's digital editions here!