Connecting in Big Sky Country
August 2021
Billings Logan International Airport in Phase II of Expansion and Renovation
by Kelly McCandless | photos courtesy of Billings Logan International Airport
If you've flown through the Billings airport lately, the construction is hard to miss. With all traffic routed through Concourse B, quarters are a bit cramped as tourism ramps back up to pre-COVID levels. While the construction causes a few challenges for travelers and airport employees, it will be incredible when completed and ensure Billings is well-positioned for future growth.
Billings weathered the COVID storm, from an air travel perspective, in a relatively strong position. While passenger travel tanked along with the rest of the world, freight skyrocketed. Billings Logan Airport (BIL) is a major hub for most major freight carriers, and our incoming volume was so high that overall "landing weight," a figure used to measure success in air service, was comparable in 2020 to BIL's record-high year in 2019.
Phase II Underway
What's more, COVID allowed the construction to get started sooner than planned. "The mild winter combined with fewer travelers meant our Phase I construction moved along smoothly and faster than we expected," remarked Kevin Ploehn, Director of Aviation and Transit for the City of Billings. "We were also purchasing our materials earlier. Today, supply chains are disrupted and demand is high, meaning our supplies cost roughly 30% more now than they did when we purchased them last year."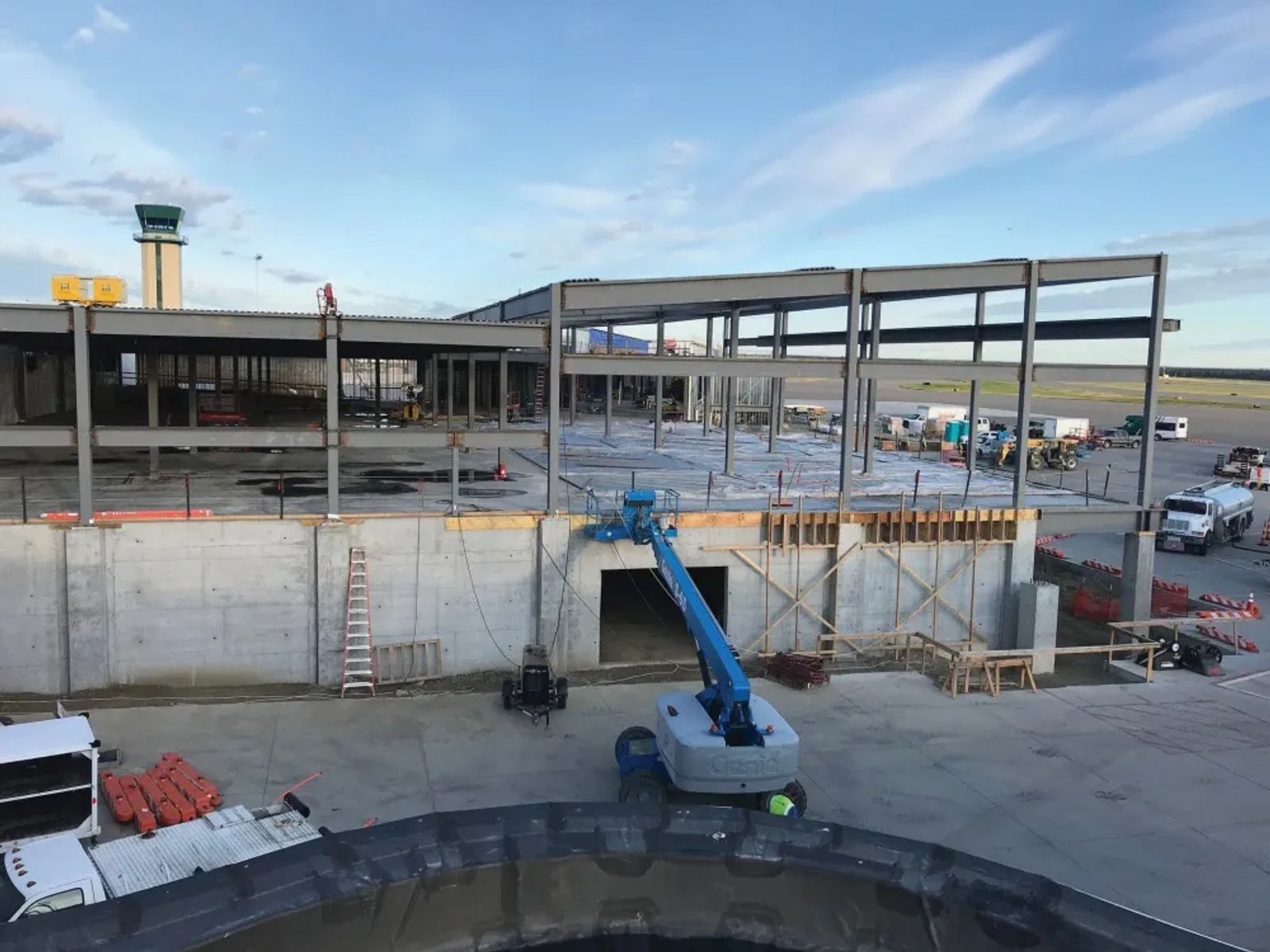 As the recovery in tourism takes hold, Ploehn explained that Billings' recovery is a strong "V" shape: "2019 was a record year. In 2020 we, along with everyone else, absolutely bottomed out. Already 2021 is showing a sharp recovery with BIL offering more seats for travelers than in 2019," Ploehn noted. "Airlines are just throwing service at the Rockies to try and capture the leisure traveler – and the leisure travelers are coming here in droves."
As for the remodel and expansion, my hard-hat tour through Concourse A showed the gorgeous upgrades in motion. Upon completion, scheduled for late 2023, the airport will offer more gates than currently needed, allowing for growth certain to come. Additionally, the entire construct will be more welcoming, offering a soaring fireplace, coffee and liquor bar next to floor-to-ceiling, north-facing windows as travelers come through the newly located security screening. A brand-new restaurant and gift shop will entice travelers to spend some time in the airport. And the bathrooms are something special. "We put a ton of work into designing plenty of private restrooms to accommodate passengers," Ploehn said. "They will be some of the best in the nation." "
In addition to passenger amenities, operations will get a vital overhaul as well. The expansion to the concourses equates to a major expansion in operational space below, allowing airlines to run background tasks like baggage transfers and more.
What's Next?
Ploehn expects the A Concourse, lobby, and security areas to be complete by the end of 2022. All operations will then move to Concourse A, and Concourse B will be demoed so remodel/expansion can begin there.
Airport staff and airline operators put careful thought into keeping operations running as smoothly as possible during construction. That said, when airlines run behind schedule, it puts more pressure than usual on other operations. "Parking airplanes gets difficult when a carrier runs behind," noted Ploehn. "We ask all involved to have a bit of patience if your travel is disrupted and to join us in our excitement for what will be a bigger, better experience for all who travel in and out of BIL."
The remodel and expansion of BIL is a major win for both the Billings business community and the region. And the project does not cost taxpayers. Though BIL is a facility/operation of the City of Billings, it operates as an enterprise fund, meaning its own operational revenue supports it. For those who want a peek at what this is all going to look like, an architectural fly-through of the space, as well as recent updates, are available at https://flybillings.com/1899/Terminal-Expansion-Project.
Originally printed in the August 2021 issue of Simply Local Magazine
Never miss an issue, check out SLM's digital editions here!