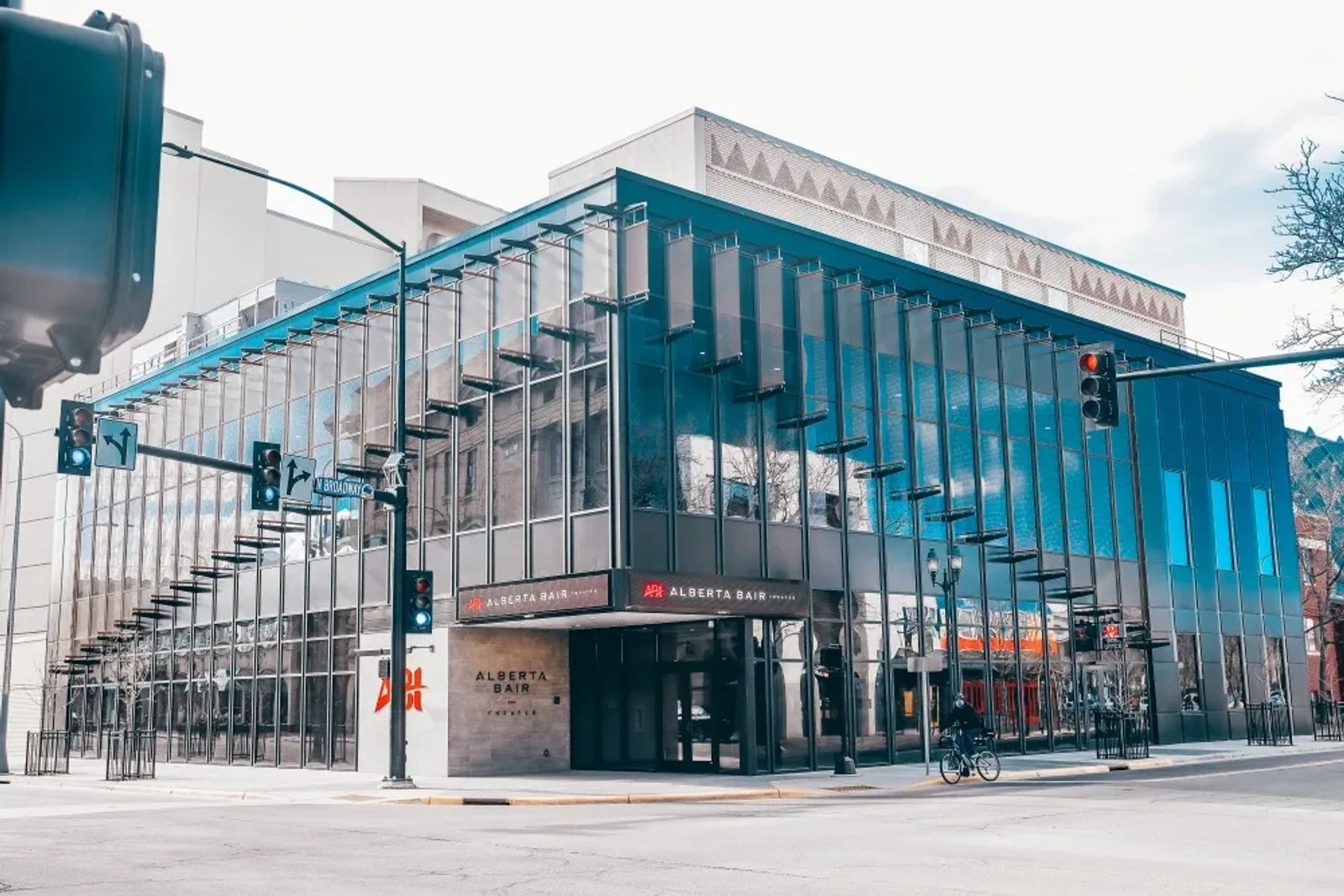 Performing Arts Reimagined: Fresh Experiences with ABT & BSOC
April 2021
by Marya Pennington; Public Relations Manager, Billings Chamber of Commerce
The arts are intricately woven into Billings' fabric, yet recently we've had to see what life looks like without art organizations. They add immense value to our lives, from promoting mental well-being, building community, reducing social exclusion and isolation (which we all could use right now!), and educating and inspiring us. This is why the latest developments and improvements to Alberta Bair Theater and Billings Symphony Orchestra & Chorale are so encouraging.
Alberta Bair Theater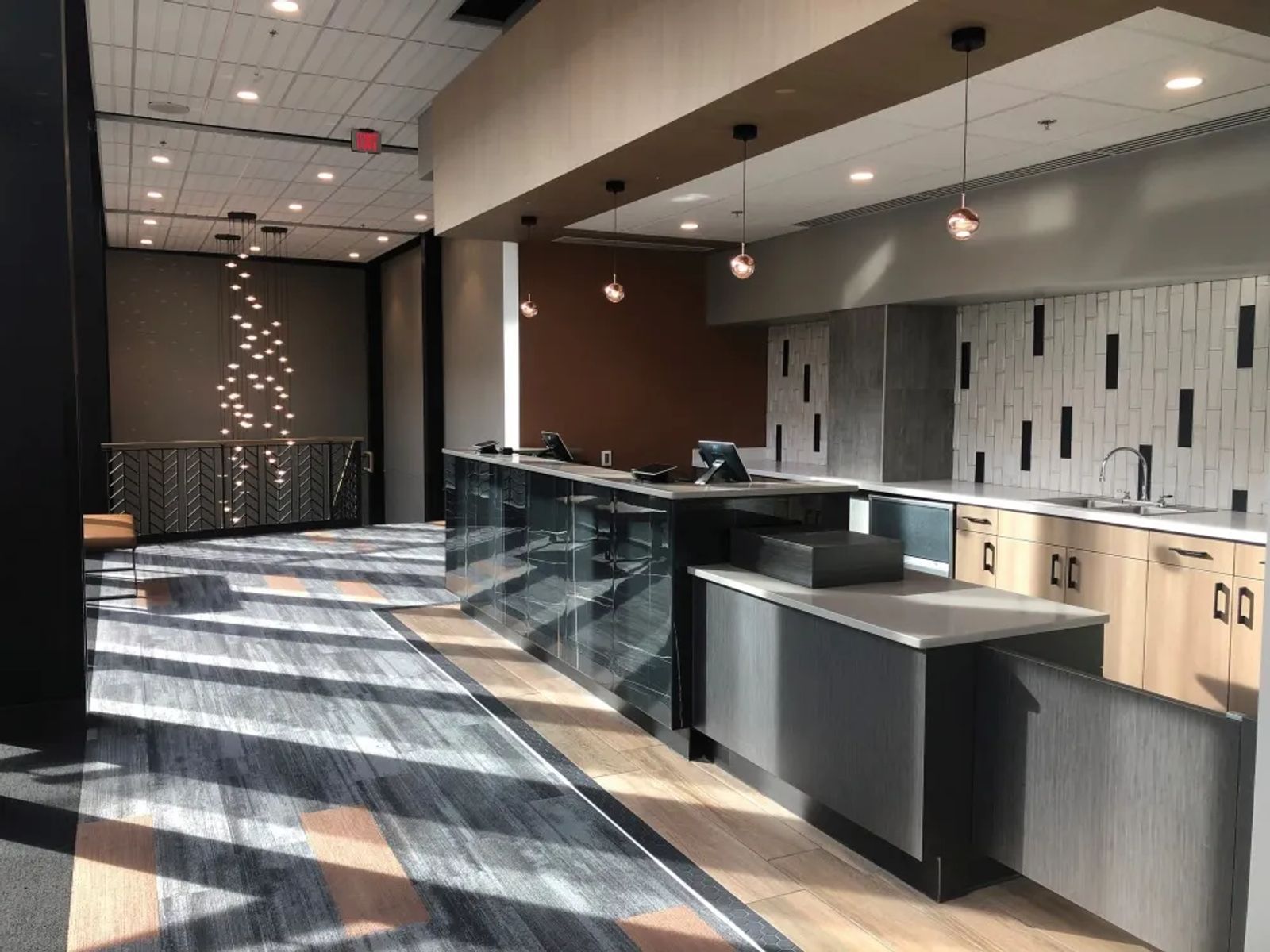 Second-floor concessions now offer more space for patrons and a view of the grand staircase from the balcony level. Photo by Jody Grant
The Alberta Bair Theater (ABT), built-in 1931, is the largest and best-equipped proscenium theater in the region, offering Broadway-quality programming. To keep up with demand and maintain their premier reputation, it was clear the wear and tear on the building could no longer be ignored.
The theater began renovating the infrastructure and art deco design to the tune of $13.6 million. The footprint expanded an additional 10,000 feet, is wrapped in glass with a grand staircase, new seats, updated restrooms, larger concessions, and a new box office entrance on North Broadway. The performing area has upgraded tech systems, lighting, sound, and enhancements that allow for bigger modern shows. The result, says Programming and Marketing Director Jody Grant, "is a patron experience that is beautiful, sexy and elegant, and a reflection of the performing arts themselves. It will always be obvious when something exciting is happening, whether you're in the building or not."
The project was completed just before COVID, bringing additional challenges. While not feasible to open at a limited capacity, ABT received Payroll Protection Program funding to keep staff and are discussing how to reopen and be both fiscally responsible and safe for all.
ABT plans to do "test" shows this spring with local artists and stakeholders to ensure all systems run smoothly. They're hopeful their "big reveal" on September 18 with headliner Kristen Chenoweth will continue as planned. "Ultimately, we want to see people attending shows and staying downtown to eat out and shop, but we need to remain vigilant until it is safe to do so," says Grant. And likewise, we are eagerly awaiting the day when we can buy our ticket at their beautiful box office and experience the new theater for ourselves.
Find more information about how you can support Alberta Bair Theater at AlbertaBairTheater.org.
Billings Symphony Orchestra & Chorale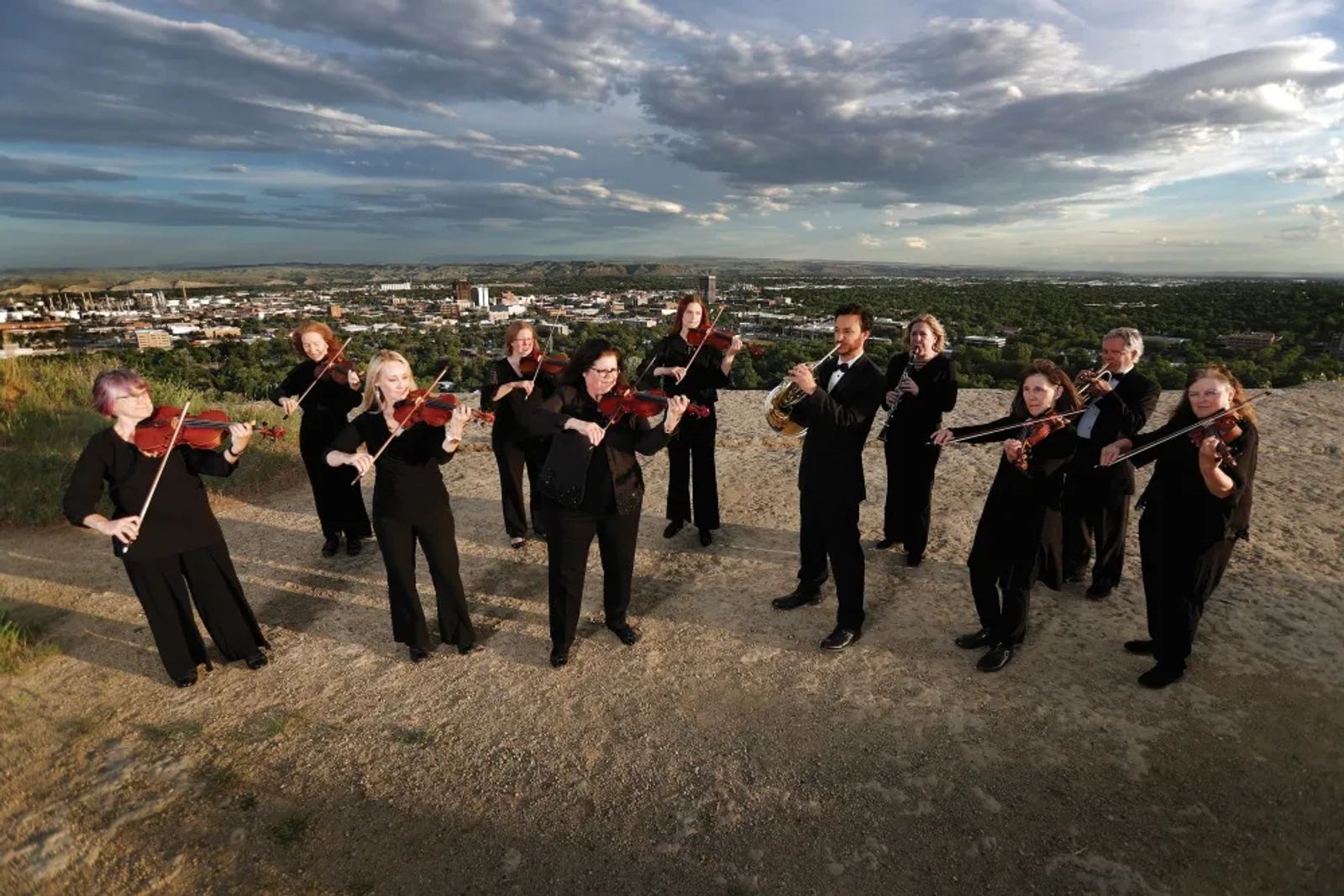 BSOC worked strategically to connect their musicians with the community in new environments through COVID. Photo Courtesy BSOC
Many people think of the Billings Symphony Orchestra & Chorale (BSOC) as an offshoot of the Alberta Bair Theater because they so often perform at the ABT. In reality, they are two separate entities. BSOC, considered the best symphony in Montana, is a non-profit organization founded in 1951 with the mission of "enriching lives through music." Each year they perform for tens of thousands of people in the region, introducing music to youth, adults, and seniors through Explore Music!, their music education and community engagement program.
BSOC's priorities are specific:
The health & safety of their staff, audience, and artists;
Provide access for all through live-streamed concerts;
Create connections between musicians and audiences/patrons;
Promote equity, diversity, and inclusion for all through programming.
They have worked hard to create ways to connect with all audiences, traveling to hospitals, universities, prisons, reservations, and more. And their live-streamed concerts are here to stay. "We don't want to be pushing music on people, but rather facilitating a mutual experience of engagement with the music," says Ignacio Barrón Viela, Executive Director.
This season, Music Director Anne Harrigan, along with socially distanced members of the Billings Symphony, will present the Classic Series, hybrid live performances at the Lockwood Campus Performing Arts Center, which are also live-streamed. The Sukin Series is a collaborative effort with other cultural partners offering music in unique settings to cater to a younger crowd. "The idea is to make connections from a different angle so people can learn to appreciate what BSOC has to offer," says Barrón Viela. "We won't just be playing Beethoven or Bach – we'll shake things up to engage other demographics at a reduced price."
Like other non-profits, BSOC took a hit without live performance sales. They secured a PPP loan and CARES act funding, but the real win came from community support and loyalty. Barrón Viela says, "We had over 70% subscription renewals, and these really kept us going. People said they believed in what we're doing, not just what they were getting. They supported the organizational mission as a whole, and that was inspiring."
BSOC received its largest single donation ever with the gift of a building in downtown Billings. They have since moved in, secured funding for, and renovated the space. The foyer is bright and open, with musical elements weaved throughout the design, a new community conference room, and a hosting kitchen. Their vision for the space is to increase community involvement through street-level ticket sales, small performances, lectures, masterclasses, post-concert receptions and events, practice space, community business space, and much more. "I have been a student of music my whole life," says Barrón Viela, "and I want to share how meaningful and important it is to me with the entire community."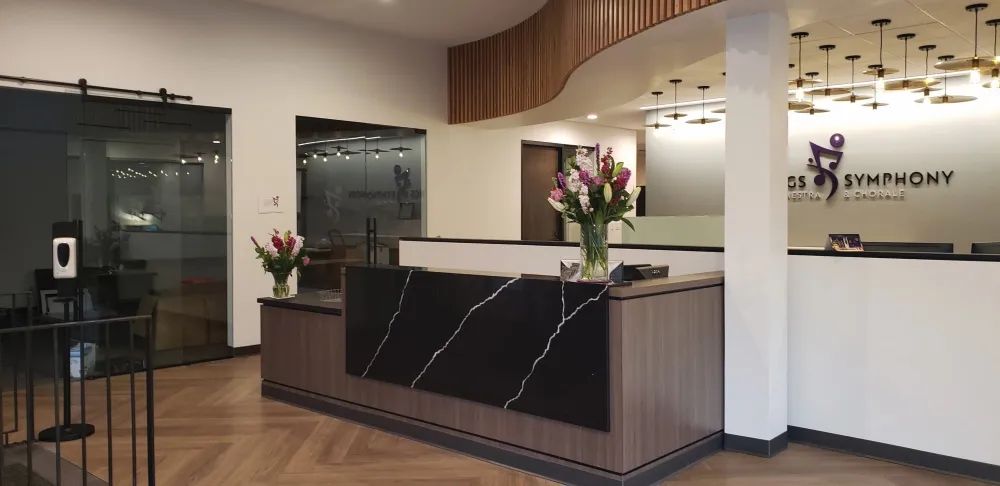 The renovated front lobby of the new BSOC office located at 2nd Ave. N. and 29th St. Photo Courtesy BSOC
Find more information about how you can support the Billings Symphony Orchestra & Chorale at billingssymphony.org.
Billings' arts and culture community is making a comeback with thoughtful reopening strategies to deliver amazing experiences that keep everyone safe. Be on the lookout for how you can reengage with your favorite venue and support them as they reopen.
Originally printed in the April 2021 issue of Simply Local Magazine
Never miss an issue, check out SLM's digital editions here!