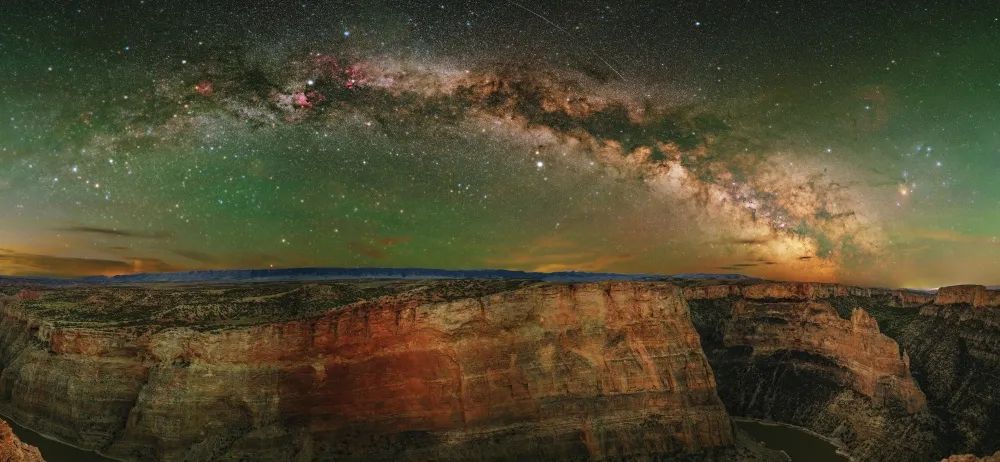 photo by Shane Mayer Gawlik
On Montana's Dark Sky Trail
June 2021
While on one of her regular evening rambles with her dog through Medicine Rocks State Park, Sabre Moore noticed something unusual. It was dark - really, really dark. 
The director of the Carter County Museum grew up on a ranch in Douglas, Wyoming, where she says she was lucky to have the Milky Way as a nightly backdrop. Life after college took her to Istanbul, Turkey, where only a handful of stars are bright enough to pierce the metropolitan skyglow. Being back under the blackened skies and brilliant stars of eastern Montana was particularly striking, and motivated Moore to do all she could to protect this diminishing natural resource. 
Sadly, much of the world's night skies are looking more like Istanbul and less like eastern Montana; every year, a growing number of lights illuminate the sky with an artificial glow. Today, fewer than 20 percent of Americans can see our home galaxy from where they live. 
Moore turned to Google to see what could be done, and found the International Dark-Sky Association. With more than 50 chapters around the world, the IDA is the oldest and largest organization dedicated to recognizing and promoting excellent stewardship of the night sky. The IDA's efforts have become increasingly urgent in recent years as light pollution continues to outpace population growth.
"Light pollution continues to grow almost imperceptibly in Montana, literally one light at a time," said John Ashley, board chair of the Montana Chapter of the IDA and author of the award-winning book, Glacier National Park After Dark. "We don't see the pollution increase in real time, but it's quite clear when you compare satellite images that are just one or two years apart. If we just stick with the status quo, Montana's star-filled Big Sky will fade away and start looking more and more like Seattle and Los Angeles." 
Just over a century ago, dark skies were universal. Anyone, anywhere, could see a bright canvas of stars when the sun went down. Over the last hundred years, streetlights, billboards, stadiums, and buildings have lit our planet at such an alarming rate that artificial lights now threaten the health of humans, wildlife, and plants. Even the darkness of the wilderness is endangered by the glow of cities hundreds of miles away, and IDA chapters are actively working to change the current course. 
It's a long process, and can take up to three years to ensure that a site meets IDA's standards. The organization requires light measurements from two non-consecutive seasons during a new moon and without snow on the ground - a challenge for many potential sites in Montana. "It was a lot more difficult for me to find a time in the winter when we didn't have snow on the ground," laughed Moore. 
After multiple revisions and another round of collecting light measurements, she got the much-anticipated call. Medicine Rocks State Park announced in December of last year that it was joining the list of certified Dark Sky Places. Excitingly, the park attained the most elite, "Dark-Sky Sanctuary" rating.
The surrounding communities of Baker and Ekalaka have been very supportive of Moore's work. "The state, on the tourism side, is very interested in keeping our skies dark, and in fact, making them darker so they can take advantage of this fabulous tourism opportunity," she said. "There's a bit of a snowball effect, so not only do you get more tourists, but you also get a group of people with funding who are very interested in education and keeping that resource safe." 
Chris Dantic, who manages several Montana State Parks, including Medicine Rocks, Makoshika and Brush Lake, said dark skies are an important draw for visitors. "They definitely want to look at constellations and look through telescopes. They want to learn more about what is up in that night sky, and so we were doing astronomy programs even before IDA showed up on our radar," he said. Dr. Corrine Brevik, a physics professor from Dickinson State University in North Dakota, has been particularly helpful in lending telescopes and guiding visitors' eyes through the sky.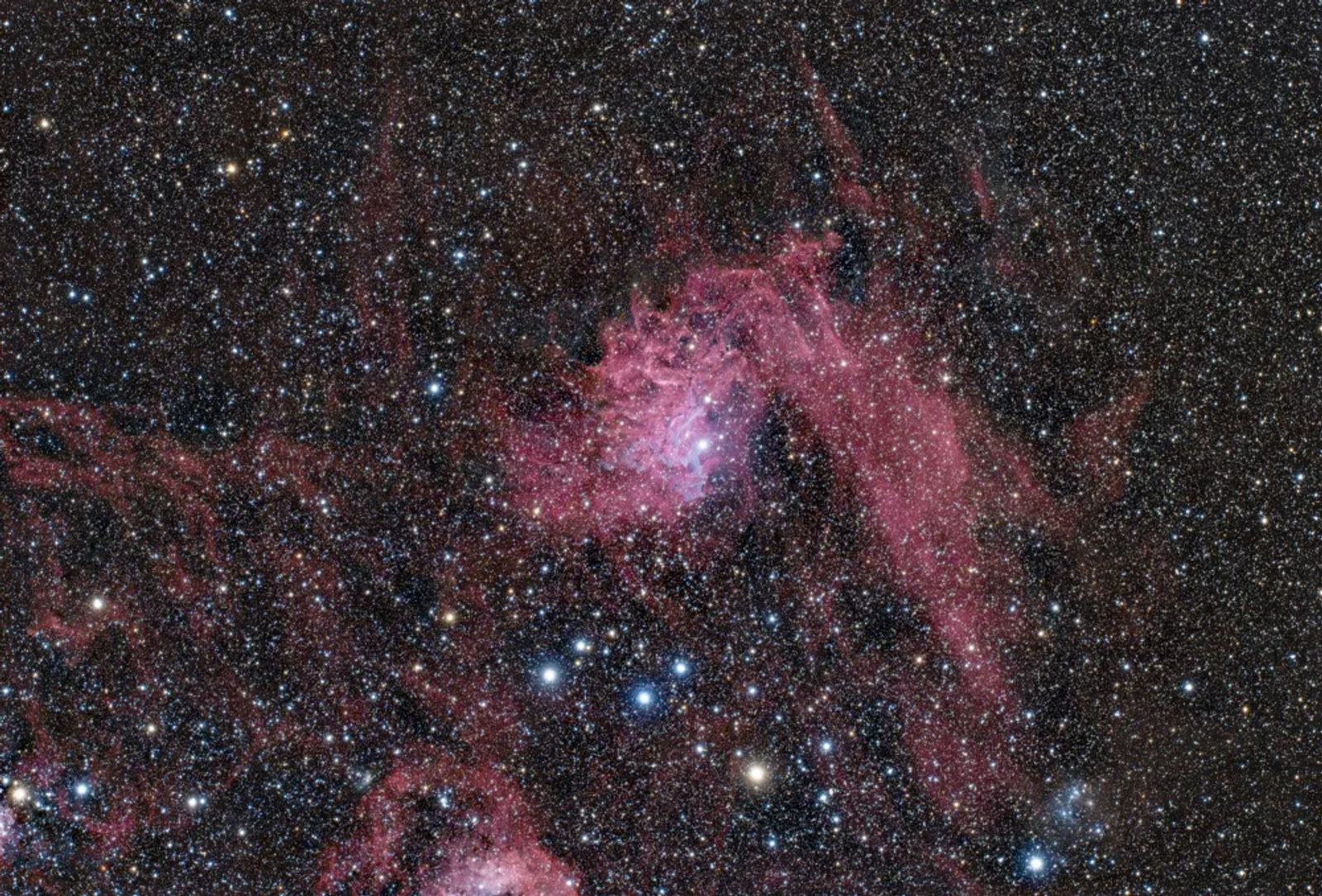 Flaming Star Nebula | photo by Ryan Hannahoe
While astro-tourism in Montana is still a relatively new endeavor, and the exact dollar amounts generated by people seeking dark skies are unknown, preserving the Treasure State's dark skies makes good economic sense.
According to a 2010 study by the University of Montana, the opportunity to view the night sky is the sixth leading reason for people to visit Big Sky Country, after clean air, water, and opportunities to view wildlife and scenery. Tourism officials are turning their sights on harnessing that opportunity to drive more visitors and generate more revenue in the lesser visited regions of Montana.
Ryan Hannahoe, director of the Montana Learning Center, and board member of the IDA Montana Chapter, points out that astro-tourism is a multi-billion-dollar business in the American Southwest. States like New Mexico, Arizona, Utah, and Colorado have established dark sky trails, along with education and outreach programs, which drives tourism and generates thousands of jobs. "It's gaining steam for sure, especially as people don't have access to dark skies anymore," Hannahoe said. "We're trying to protect that."
The push to protect Montana's dark skies is gaining momentum. The IDA Montana Chapter has several other sites in mind for possible certification, including the Bob Marshall Wilderness Complex and Brush Lake State Park. While certification is an ambitious undertaking, advocates say the rewards are astronomical.
"Here in the west, and especially in Montana, we are outdoors women and men, and star-filled skies are an important part of that cultural heritage that we've enjoyed for generations while working and playing outdoors," said Ashley. "A small town without a blanket of stars at night just isn't the Montana I want to leave for our kids and grandkids."
Stargazing in 2021
This year, the annual August Perseid meteor shower should be especially spectacular. The meteors will be visible from roughly July 17 to August 24, but the peak on August 11-12 will also coincide with an almost-new moon that will set early in the evening, so the skies will be especially dark later at night. If you're in Billings, you can pack a picnic dinner and head out of town for easy family fun. There are plenty of nearby public lands, particularly if you head north or east. 
Hannahoe urges families to look for easy targets in the summer night sky, including Jupiter, Saturn, and Mars, as well as our nearest galaxy, Andromeda. There are plenty of free apps to help you navigate the night sky. In non-covid years, the Montana Learning Center opens its grounds for astronomy events. This year, small groups can rent the professional-grade facility for $300. 
Montana State Parks offer a number of stargazing events, where your family can interact with astronomers and peer through high-quality telescopes for an even better view of the universe. Medicine Rocks State Park will host four astronomy events this summer: May 22, June 20, July 22, and August 18. All events begin at 7 p.m. If you've never been to an astronomy event, leave your regular white-light flashlight at home and opt for a red light or headlamp. 
Change starts at home
Many utility companies are helping their customers retrofit their homes with safer and more effective lighting. Northwestern Energy is working with cities to replace streetlights, which are among the biggest culprits of light pollution.
The IDA has a number of resources for homeowners looking for ways to cut down on their wasted lighting: https://www.darksky.org/our-work/lighting/lighting-for-citizens/residentialbusiness-lighting/ If you successfully complete the step-by-step guide, you can earn a Dark Sky Friendly Home certificate for your house to display. 
Finally, if you want to join the movement to help preserve Montana's dark skies, you can visit the Montana IDA Chapter on Facebook or their website, montana.darksky.ngo, to see how you can get involved.
Good luck, and enjoy those beautiful night skies this summer! 
Originally printed in the June 2021 issue of Simply Local Magazine
Never miss an issue, check out SLM's digital editions here!