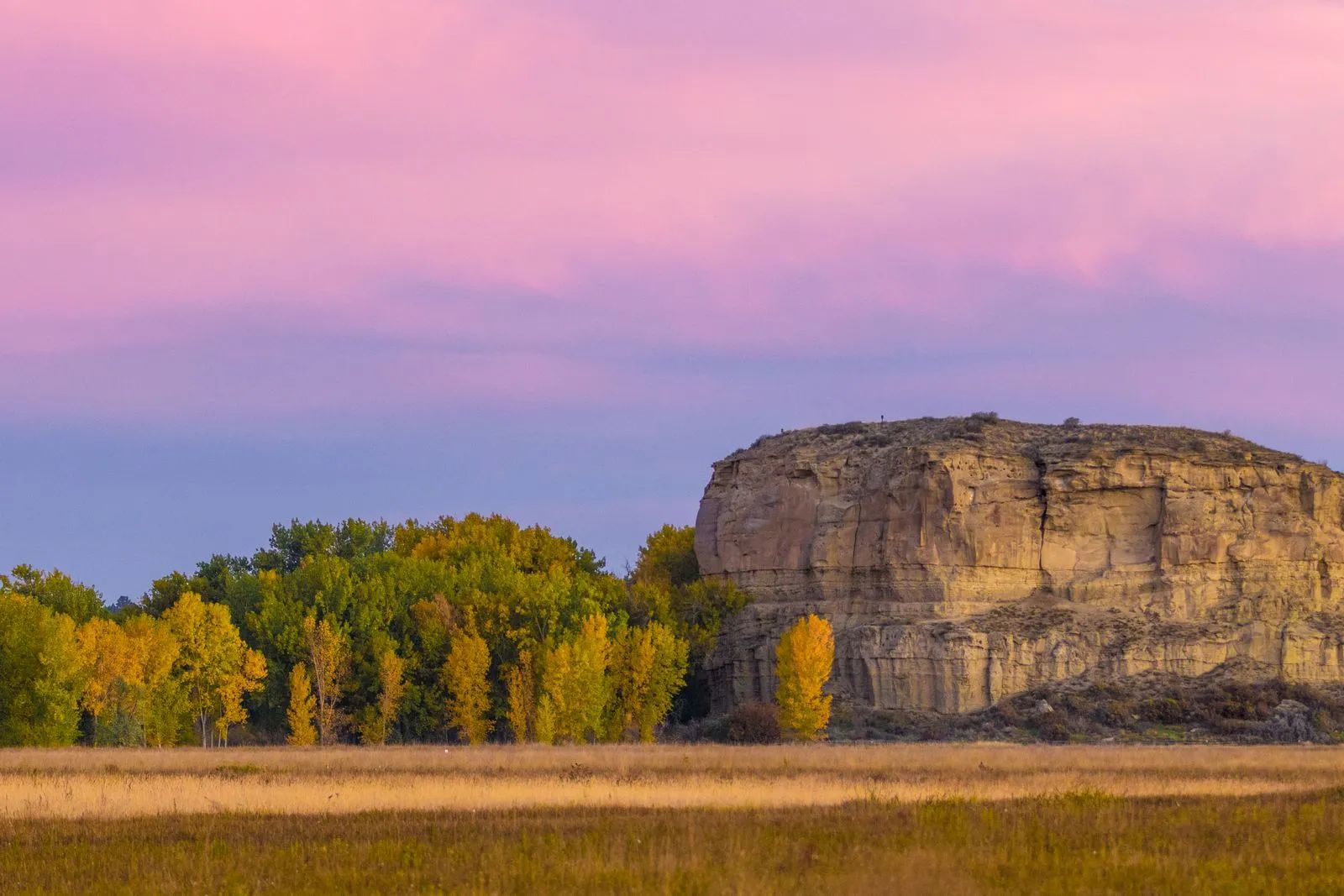 Big Adventures, Close to Home
December 2020 | by anna rogers
Pop out of town or browse the city limits to discover Southeast Montana treasures close to home!
In the November issue of Simply Local, we gave you all the details you need to start planning your next big getaway in the far southeastern corner of Montana. From wide open spaces to charming small towns, Southeast Montana has something for everyone. This month, we're looking at some discoveries to be made right around the corner – big adventures, close to home.
An Outdoorsman's Paradise
Buttes and basins, birdwatching, and biodiversity – just grab your bikes and backpacks and head out of town (but not too far).
Bighorn Canyon National Recreation Area was established by an act of Congress in 1966 following the Yellowtail Dam's construction. This dam, named after the famous Crow chairman Robert Yellowtail, harnessed the waters of the Bighorn River and turned the variable stream into a magnificent lake. Bighorn Canyon extends 71 miles through Wyoming and Montana. The Recreation Area is composed of 70,000+ acres and is a lesser-known treasure waiting to be discovered. It boasts breath-taking scenery, countless wildlife varieties, and abundant recreational opportunities, such as boating, fishing, ice fishing, camping, and hiking. Boat rentals are available seasonally at the Ok-A-Beh Marina.
Through cooperative efforts, landowners, the Yellowstone River Parks Association, and the Bureau of Land Management (BLM) preserved 765 acres of undeveloped open space in Billings consisting of native sagebrush/grassland, ponderosa pine in the rocky outcrop areas near the river cliffs, and cottonwood riparian. The BLM's objective for the site is to protect the open space and natural and cultural resources while providing dispersed public recreation in Billings. Activities include wildlife watching, hiking, nature photography, snowshoeing, cross-country skiing, and environmental education. No bicycles, motorized vehicles, or horses are allowed.
This 12-mile-long reservoir is situated among scenic red shale, juniper canyons and southeastern Montana's open prairies. It is a popular spot for anglers, campers, and boaters. The reservoir boasts excellent crappie, walleye, bass, and northern pike fishing, and numerous "state record" fish have been caught from its waters. Fly fishermen can fish on the river below the dam. Campsites are plentiful, and the park is a prime location for spotting wildlife.
This 64-acre reservoir inside the city limits of Billings is a great place to swim, boat, sailboard, fish, picnic, or bird watch. Stroll on the nature trail or stop by the south shore to fish from Roger's Pier. Non-motorized boating only is allowed. There is a playground, and one reservable group use shelter for social events. A special feature of Lake Elmo is its Dog Park. The 200-square-foot fenced area includes a water area and is located on the west side of the lake.
Once a working ranch, Sundance Lodge Recreation Area was acquired by the Bureau of Land Management in 1977. Visitors can access a 3-mile walking trail great for bird watching and enjoying riparian views. Trails are for hiking, biking, and horseback riding on designated roads and trails (no motorized vehicles). This area is for day use only.
A Daytripper's Dream
Plan a day trip that includes light walking and scenic views steeped in rich history at three must-see places around Billings.
Little Bighorn Battlefield National Monument memorializes the site of the Battle of the Little Bighorn, which took place on June 25-26, 1876 between the United States Seventh Cavalry Regiment led by Lt. Col. George Armstrong Custer, and the Sioux and Cheyenne under the political and spiritual leadership of Sitting Bull. A visitor center and museum contain exhibits that feature the history of the battle, Custer, weapons, archaeology, Plains Indian life, and a walking tour with interpretive markers. It is wheelchair accessible. Adjoining the visitor center is Custer National Cemetery, which includes interments from abandoned frontier military posts, the world wars, Korea, and Vietnam. A 4.5-mile self-guiding tour road connects two separate battlefields, the Custer Battlefield and the Reno-Benteen Battlefield.
The Pictograph Cave site was designated as a National Historic Landmark in 1964 because of its historic and archeological significance. Prehistoric hunters who camped here left behind artifacts and over 100 pictographs or rock paintings. The oldest rock art in the cave is over 2,000 years old; the most recent additions are estimated to be 200 to 500 years old. A three-quarter-mile interpretive trail leads to Pictograph, Middle and Ghost Caves, and loops back to the picnic area and visitor center. Binoculars are recommended to best see the rock art in Pictograph Cave and enjoy the area's wildlife, birds, and spectacular scenery. Montana residents have free day use of Pictograph Cave State Park.
Managed by the Bureau of Land Management and part of the National Conservation Lands, Pompeys Pillar National Monument is the only remaining on-site physical evidence of the Lewis and Clark Expedition. Pompeys Pillar National Monument has a network of trails that total 2 to 3 miles. Trails lead visitors around the base of the Pillar, through the riparian area along the Yellowstone River, up the Pillar via a boardwalk, and throughout the rest of the adjoining public lands.
A Staycation
If you'd like to stay in town but still do some exploring, Billings has plenty to keep the whole family entertained and well-fed. Tour the historic Moss Mansion all adorned for the holidays, enjoy cider, beer, wine or spirits from local crafters, and dine on local beef steaks and burgers or ethnic cuisines. Check out local art and local entertainment or do some shopping with Billings' excellent local retailers. Brave the weather or take advantage of a sunny day discovering animals from all over the world right here in Billings at ZooMontana. Weekends are the perfect time for family outings filled with fun, or for a date night on the town.
A Cabin Fever Cure
We can't argue that Montana summers are unbeatable, but we think winter is pretty beautiful too! Tap into Southeast Montana's offerings near Billings to help battle the winter blues. Stay closer to home when the roads are icy and venture a little farther out to escape the mundane when the roads are clear. There's nothing like some fresh air in a tranquil setting to recenter the mind and body and leave you feeling ready for the days ahead, especially around the holidays.
Safe Out Here
In Southeast Montana, "space is in our nature." Here are some recommendations for enjoying these beautiful spaces safely:
Stay home if you're sick;
Follow local protocols and guidelines and;
Check before you head out, as not all services are available right now.
Help preserve our ability to roam and wander while protecting residents and visitors alike in this beautiful corner of our state by following COVID-19 protocols. Find more information at SafeOutHereMT.com.
Plan Your Trip
Take advantage of the amazing spaces close to home this winter and use these cooler months to start planning a big adventure for next summer. SoutheastMontana.com is a thorough and comprehensive website offering all the tools you'll need to plan your next big getaway (because you're going to need it!). Download the free travel guide, explore different itineraries, and easily browse for places to dine, drink and stay at SoutheastMontana.com!
Originally printed in the December 2020 issue of Simply Local Magazine
Never miss an issue, check out SLM's digital editions here!