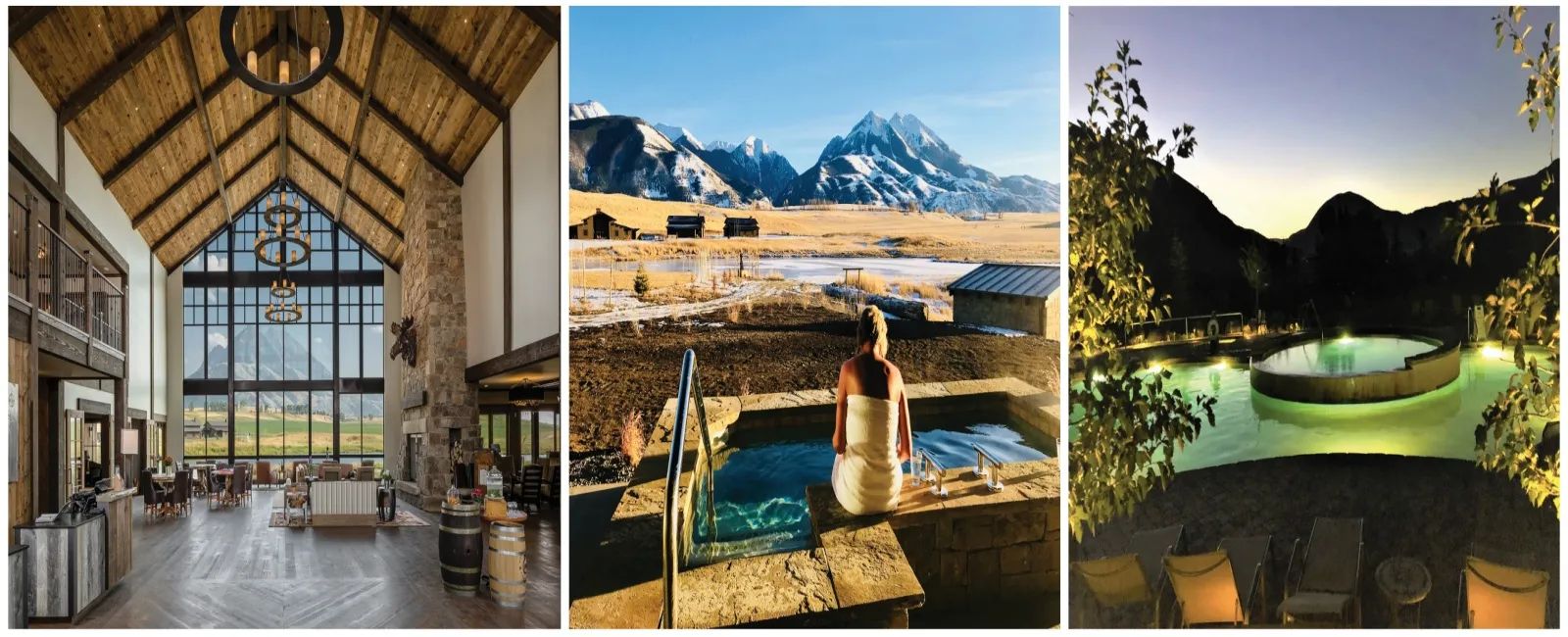 June 2020 | by stephanie hobby
After the spring we've all had, making time for self-care and fun has never been more important. Here in Montana, we have the luxury of using world-class vacation destinations for our quick weekend getaways. And even if you don't want to hit the interstate, the Magic City offers plenty of opportunities to treat yourself.
The Paradise Valley Getaway
Anybody who has spent time in our region of Montana is likely well acquainted with Paradise Valley. The stunning vistas and sweeping landscapes on the way to Yellowstone National Park are instant rechargers. But it's more than just the road to Yellowstone; the valley truly is a destination all its own.
Sage Lodge is one such getaway, offering an idyllic setting with amenities that mean you can adventure outdoors or relax indoors surrounded by natural beauty. "We have both the relaxation element of the spa, and for those that are a bit more adventurous, we have 1,000 acres here at Emigrant Peak, where our guests can go out on a long hike. They can really take in all the sights and make a day out of it, which is, of course, what we're known for here, right outside of Yellowstone," said Sage Lodge General Manager Justin Robbins.
Perhaps the crown jewel of Sage Lodge is its full-service spa, which offers a variety of treatments and uses natural botanicals and herbal fusions. The lounge and hot tub boast unbelievable views to help you fully relax and recharge. And on weekend mornings, Sage Lodge offers guests complimentary yoga classes.
The Yellowstone Hot Springs in nearby Gardiner would make a perfect day outing from Sage Lodge. Its mineral-rich pools are designed for ultimate relaxation. They intentionally include secluded areas where you can be with friends and family. The large main pool is kept between 98 and 100 degrees, and the west end of that pool is kept at 98 degrees to accommodate families with young children. There is also an invigorating hot and cold plunge.
Another unique feature of Yellowstone Hot Springs is its Kneipp pools, which are two small rectangular walking pools lined with rounded stones to stimulate nerves in the bottoms of feet. Such pools are commonly found throughout Europe but are rarer in the United States. Named after a Catholic priest who healed his tuberculosis through regular soaks, Kneipp pools are believed to promote healing and wellness.
Every detail of the pools, from the beautiful landscaping and thoughtfully lit walkways for evening visits under the stars, has been carefully crafted with relaxation in mind.
Picnic tables encourage visitors to bring their own meals and drinks, but starting later this spring, Yellowstone Hot Springs will offer a light lunch, including homemade sandwiches, salads, beverages, and baked goods. "We serve organic teas, coffees, and ice cream, and have a small retail area where you can purchase anything you might need, including bathing suits and towels for rental," said Norman Millman, director of sales and marketing.
For more information-
Wellness + Wine in Billings
For those looking to stay closer to home and just recharge for an evening, Black Dog Coffee and another of their family businesses, Sanctuary Spa, have teamed up with City Vineyard and Limber Tree Yoga to offer an evening of yoga, massage, and wine tasting. Wine + Wellness is offered once a month in the evenings. "I really enjoy being able to give to women who give all day," said Mariah Carpenter, owner of Black Dog Coffee.
The evening starts with a glass of bubbly and then moves into an hour-long yoga class. Therapists from Sanctuary Spa circulate throughout the room, massaging backs and doing cranial holds during the class. Afterward, City Vineyard offers wine tasting, including education on the origins of the different types of wines. "We wanted to have a place where women could come together, kind of out of the norm, with no commitment like a gym membership, or anything like that, but it's just a fun thing to do together."
Wine + Wellness started last October, but the reception has been overwhelmingly positive. Carpenter said the event always sells out, so get your tickets early.
FOR MORE INFORMATION-
Contact Mariah Carpenter at Black Dog Coffee House, 1528 24th Street West, 406.534.8822.
The Staycation
If you're looking for an easy getaway without the road trip, Billings has some wonderful Airbnb and VRBO listings, where you can get all the comforts of home, plus some fun extras. Leaving your own home behind means, you can really connect as a family or group of friends, since you're not thinking about any housework that needs to get done.
Jenna Jones has two beautiful listings in the new planned community, Annafeld. One is geared for families with kids, and another is better suited for adults looking for a relaxing retreat. The "Family BNB" house emphasizes family fun and includes lots of games, toys, and kids' snacks. It can sleep seven people, with two sets of bunk beds, along with a pack-n-play. Kids can have a blast all day, and mom and dad get some Netflix and chill time after kids go to bed. Link: https://www.airbnb.com/rooms/40788385
The tastefully decorated "Montana Modern" property accommodates five guests. It features brand new Tuft + Needle mattresses, comfy pillows, luxurious bedding, and darkening shades. Additionally, the house has a Nespresso machine and includes several different pods, creamer options, and tea selections to sample. Link: https://www.airbnb.com/rooms/4227914
Jones also offers her guests coupons to Five on Black and Ebon Coffee Collective to complete the staycation.
Whatever package you choose, you are making an important investment in yourself and your well-being. In recent history, there hasn't been a more important time to recharge.
Originally printed in the June 2020 issue of Simply Local Magazine
Never miss an issue, check out SLM's digital editions here!