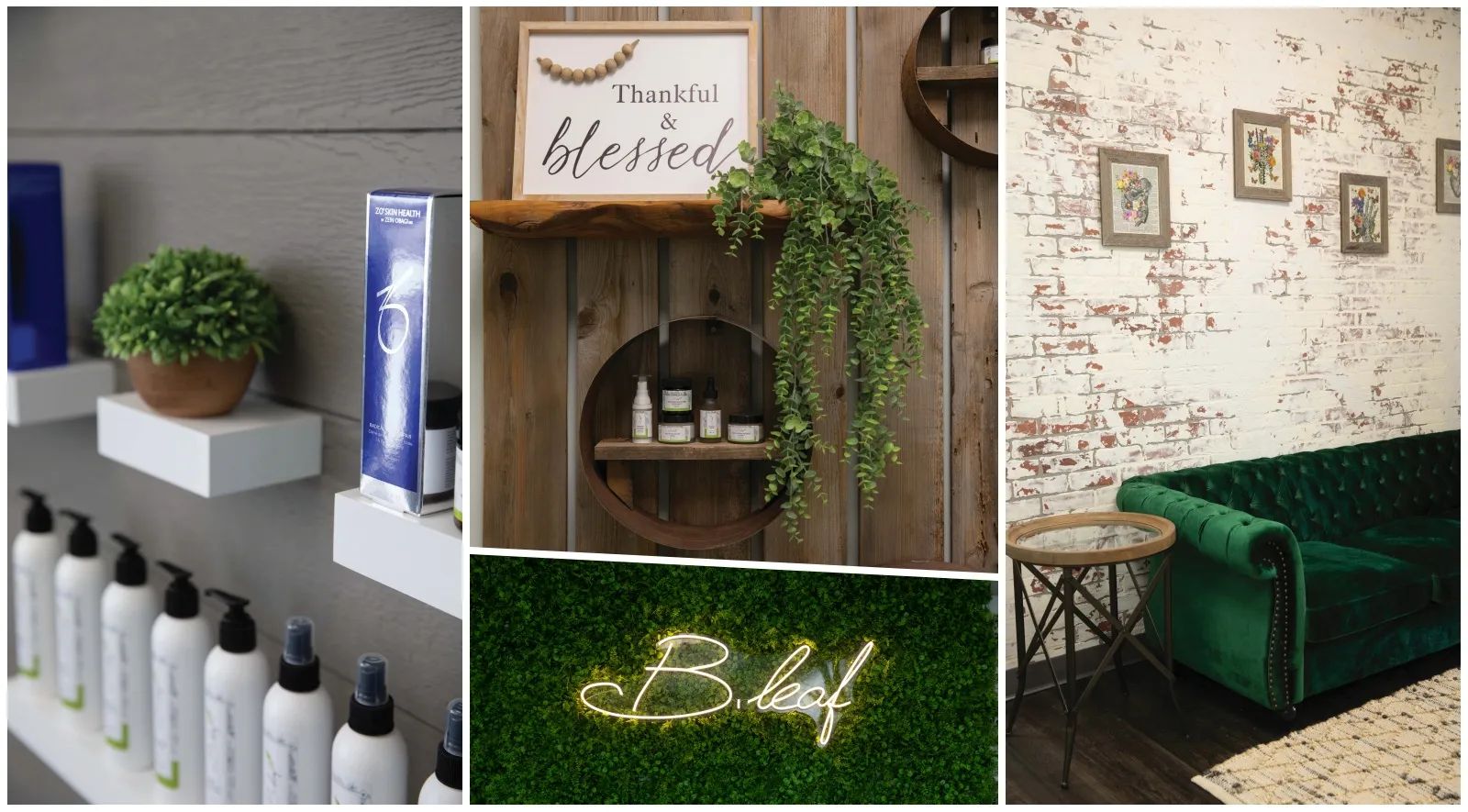 June 2020 | words by brooke wagner, photos by jana graham photography
"Beauty is in the eye of the beholder," or so the popular saying goes. In the case of a recent addition to the Billings business scene, true beauty is more than just skin deep. Jayme Tripp, founder of B.leaf Aesthetic Clinic, recently opened in the bustling Shiloh Commons area off of Central. The opening of the clinic is the realization of a long term dream that has chased Tripp for years and finally came to fruition after tragedy struck her family. Tripp's brother Jason passed away three years ago from brain cancer and is the inspiration for her venture into the business world. Tripp says, "My brother taught me many things in life, but the biggest was to love every day and to find my scariest dream and jump in with both feet."
Tripp is no stranger to the world of aesthetics. She says, "Skincare has always been a huge passion of mine." Ten years ago, Tripp started school to become a Medical Esthetician and opened a successful spa soon after graduating. She feels fortunate to have had the chance to work with some of the world's best dermatologists in local high-end medical spas, and those experiences gave her confidence to design her own line of skincare formulations. Tripp says she loves "being able to watch a client's face light up when they look in the mirror feeling confident in their healthy skin." Entrepreneurship runs in the family, as both of Tripp's parents serve as business mentors.
Tripp acknowledges that there are some common misconceptions about the medical spa world. Different from a "day spa" where clients might book an appointment for a relaxing massage or facial, medical aesthetic clinics offer non-surgical treatments that are more intense and offer much more noticeable results. At an aesthetic medical clinic, clients could expect to see dermal fillers such as Botox and Juvederm, permanent hair reduction, body contouring, acne treatments, and many more services designed to promote wellness and beauty. Tripp stands behind the treatments offered at B.leaf, saying, "I can honestly say I believe in and love every single treatment we offer. We don't offer any treatment that we have not had personal experience with as a staff."
Often potential clients will think that the treatments offered at B.Leaf might be out of reach from a financial perspective or think that the procedures would be too painful. Tripp reassures clients that there is a treatment and regimen for every budget. Although some treatments might be slightly uncomfortable, they are all "very doable!" Tripp states, "Most people are worried about the pain because of the unknown but say after the first treatment that they don't have that fear anymore. Knowledge is power!"
Power and strength for Tripp also come from a more tender place. The passing of Tripp's brother Jason inspired her to ask a difficult question - "Am I living my life to the fullest?". Jason believed that anything is possible, and dreams can be as big as you want them to be. The family motto was "when in doubt, paddle out," and in Jason's honor, Tripp found the courage to wade into the scary waters of opening a new business. Jason's presence can be felt in nearly every aspect of B.leaf, from the packaging of the product to the design of the clinic space. B.leaf has become so much more than a business to Tripp and her family; it is a way to honor the life of her brother, who left this world too soon. Still, it continues to impact the community and world around him through the passion and love for others that B.leaf provides.
Tripp says, "My hope is that our brand and product will be in every vanity and at the front of everyone's mind when it comes to healthy skin. Your skin is your first impression, and being confident with how that comes across can impact our lives."
Originally printed in the June 2020 issue of Simply Local Magazine
Never miss an issue, check out SLM's digital editions here!