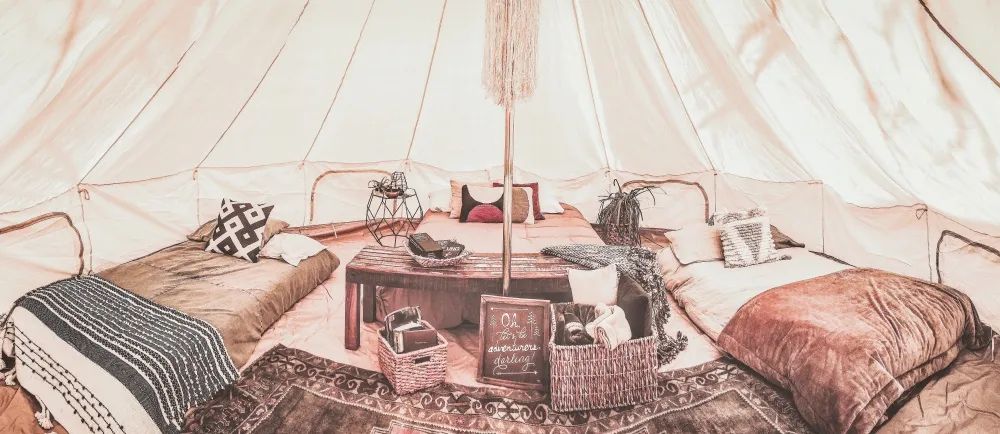 Home Away From Home: Adventure Awaits with MT Glamping Events
June 2020 | by anna rogers, photos by wild and free photography
GLAMPING /ˈɡlampiNG/ noun: going camping, but with glamour
Do you love the idea of tent camping, but not the actual sleeping-on-the-ground bit? Do you want an outdoor family adventure that doesn't involve 48 hours of prior planning? Do you have a family member who demands a little more comfort and style than a picnic table and firepit have to offer?
GLAMPING IS FOR YOU.
Glamorous camping, or glamping, has gained a lot of traction over the years, and MT Glamping Events is bringing the glamour of camping into Billings in a unique way.
"We bring the adventure to you." MT Glamping Events is a brand new, family-owned business that provides and sets up luxury canvas tents and all the amenities for family and friends to relax and celebrate life. The company's goal is to enable clients to "disconnect to reconnect with the ones you love" while they take care of the rest!
Despite launching their business amid a pandemic, it seems that Meahgen and Ty Gross's new venture came onto the scene at the perfect time. A time when reconnecting and getting back to the basics of family, friendship, and the outdoors feels more important than ever.
It was a love for the outdoors that led to the launch. Both born in Montana, Meahgen spent years exploring Hawaii while Ty lived up in the Beartooth Mountains in Cooke City. When they came together, there was a mutual "passion for simplicity and collecting memories instead of things." Then came three beautiful children to share in their love for the outdoors – picking flowers, kayaking, hiking, and of course, camping.
In addition to her love for the outdoors, Meahgen also cultivated a passion for decorating and bringing beauty and light into a space. "I found that when planning a party, I'd set out to engage in every aspect, but where I really excelled and followed through was in the decorating."
With MT Glamping Events, the wild outdoors meets beautiful and cozy adornments in perfect harmony. The company offers something for everyone – backyard slumber parties, themed birthday parties, date nights, and special events. All packages include one of their high-quality canvas bell tents, waterproof of course, with a variety of options to create the perfect experience.
Tents are set up with beds or tables depending on the package, complete with high-end pillows, blankets, lanterns, and twinkling lights that provide a real Hygge feel. Enjoy a movie projector and s'mores with their Ultimate Slumber Party or explore with flashlights and headlamps with the Backyard Slumber Party. Take your date night up a notch with champagne or cider and a warm firepit or plan an event with custom-curated decorations.
"Our goal is to really make our clients and their guests feel special," Meahgen says. She spends time getting to know the client to gain an understanding of what they love and enjoy, bringing an experience to life that will make them feel extra special. Her approach is not a one-size-fits-all event, but a truly personalized experience.
With the weather warming up, now is the perfect time to check out and book your glamping event! You choose the place and time, and then kick back and relax.
"We know that a lot of families are interested in planning a camping trip, but the time and effort that it takes can prevent them from doing so," Meahgen says. Their goal is to give people the outdoor experience that they crave without the crazed planning and traveling.
MT Glamping Events handles all the set-up and tear-down, leaving the space just as it was before their arrival. Their creativity accounts for the smallest details, leaving only one item on your to-do list – just show up and enjoy!
Originally printed in the June 2020 issue of Simply Local Magazine
Never miss an issue, check out SLM's digital editions here!