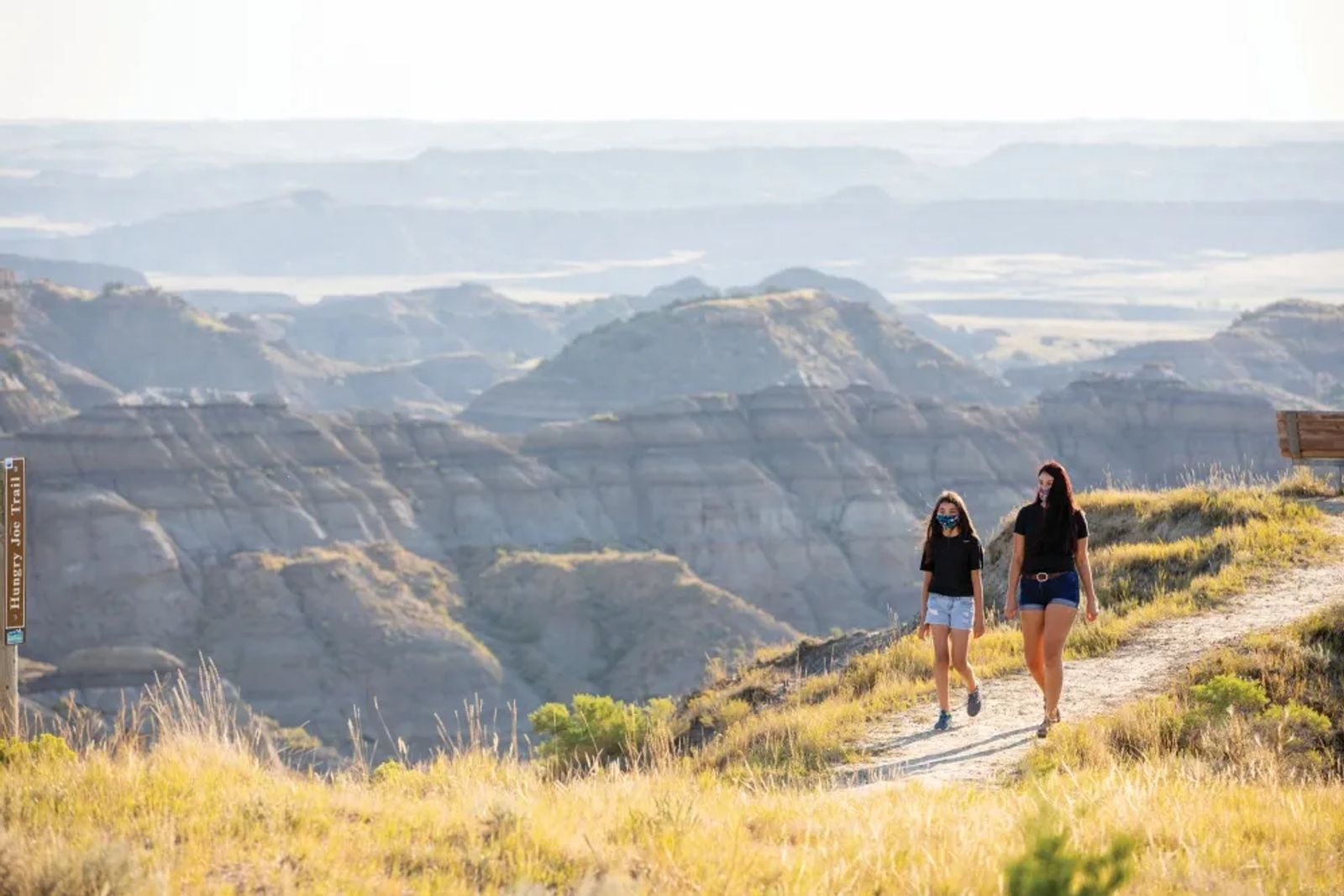 November 2020 | by anna rogers, photos courtesy of andy austin
Get out of Billings and explore the far Southeastern corner of Montana!
Where the Big Sky meets high prairie, adventure awaits. The Yellowstone River carves out the land, rock formations reach skyward, ancient treasures lie below the surface, and the horizon stretches on in all directions. We're big out here in Southeast Montana, with plenty of space for outdoor recreation, scientific exploration, history, and unique western culture. Now is the time to plan ahead for an unforgettable getaway. Get your game plan together today to tap into undeveloped wild places, historic main streets, and everything in between in the Southeastern corner of our beautiful state.
Wide Open Spaces
Southeast Montana has no shortage of space for the outdoor lover. Hike, bike, camp, and watch wildlife in a number of parks and recreation areas that encompass thousands of wild and beautiful acres.
As you plan your next outdoor adventure, be mindful of seasonal and area fire restrictions, and always "pack in, pack out" to keep our state pristine. Check out these must-go spaces in the far-east side of Southeast Montana!
Strawberry Hill Recreation Area
Strawberry Hill Recreation Area is over 4,000 acres of grass, sage and ponderosa pine managed by the Bureau of Land Management. There are unique rock formations and a view of the Yellowstone Valley. This is a popular spot for enjoying scenic views, wildlife watching, and hiking. For those minimalistic nature-lovers, primitive overnight camping is permitted (no facilities on site).
Terry Badlands
Terry Badlands Wilderness Study Area is located three miles northwest of Terry, north of the Yellowstone River. The badlands exhibit soft marine and non-marine sedimentary rock which has been eroded by eons of wind and water into arches, bridges, flat tabletops, pinnacles, spires and scoria escarpments. Landforms reach up to 2,900 feet in elevation in some areas. Wildlife viewing, rock collecting, photography, hiking and camping are popular at this unique area. Only high-clearance vehicles can access this area, and no off-roading is allowed for wheeled vehicles.
Makoshika (Ma-ko'-shi-ka) is a variant spelling of a Lakota phrase meaning bad land or bad spirits. Today the badlands of Makoshika make up the largest of Montana's State Parks with 11,538 acres. Within the park, enjoy archery, scenic drives, nature trails, a campground with 15 sites, a group use shelter, and an outdoor amphitheater. Go bike riding and even play disc golf!
As its name implies, Medicine Rocks was a place of 'big medicine' where Indian hunting parties conjured up magical spirits. 'As fantastically beautiful a place as I have ever seen,' said one of its first tourists in the late 1800s, a young rancher named Teddy Roosevelt. Weathering has given the soft sandstone rock formations a Swiss cheese look. The 330-acre park is also a haven for mule deer, antelope, Woodhouse's toad and sharp tailed grouse. You can camp, bike ride, go picnicking, watch for wildlife or go hiking on a short .75-mile trail.
Chalk Buttes
The Chalk Buttes, south of Ekalaka, are "as rich in American Indian history as in breathtaking vistas." These white sandstone buttes are a stark contrast to the surrounding prairie and lie just outside of the charming town of Ekalaka. Be sure to pack binoculars to check out the wildlife!
A Little Bit of Everything
While you're soaking up Southeast Montana's wide-open spaces, mix in some history, culture, and scientific exploration. Explore museums of many types or stroll through a number of battlefields. Take a bite of western culinary goodness or grab some local brews.
For an unmatched, unique experience, travel along the Montana Dinosaur Trail in Glendive and Ekalaka. This section of the trail features two museums: Carter County Museum and Frontier Gateway Museum (seasonal only), both jam-packed with fossils and exhibits to enhance your knowledge of these prehistoric creatures.
The Dinosaur Trail also includes Makoshika State Park, which houses the fossil remains of dinosaurs like tyrannosaurus and triceratops in addition to its pine and juniper studded badland formations.
Southeast Montana's small towns are the perfect place to shop, eat, and explore as a family. Steeped in charm and history, these small-town streets are very family friendly and the perfect complement to your outdoor adventures.
Safe Out Here
In Southeast Montana, "space is in our nature." Here are some recommendations for enjoying these beautiful spaces safely:
Stay home if you're sick;
Follow local protocols and guidelines and;
Check before you head out, as not all services are available right now.
"We can't wait for you to see why it's so easy to fall in love with Southeast Montana," says the SafeOutHereMT.com website. "Your safety, as well as that or our residents, is our top priority."
Help preserve our ability to roam and wander while protecting residents and visitors alike in this beautiful corner of our state by following COVID-19 protocols.
Find more information at SafeOutHereMT.com.
Plan Your Trip 
"Today, dream. Down the road, adventure."
Use these cooler months to start planning your next big adventure in Southeast Montana. SoutheastMontana.com is a thorough and comprehensive website offering all the tools you'll need to plan your next big getaway (because you're going to need it!). Download the free travel guide, explore different itineraries, and easily browse for places to dine, drink and stay.
We're big out here! Check us out today: SoutheastMontana.com.
Originally printed in the November 2020 issue of Simply Local Magazine
Never miss an issue, check out SLM's digital editions here!