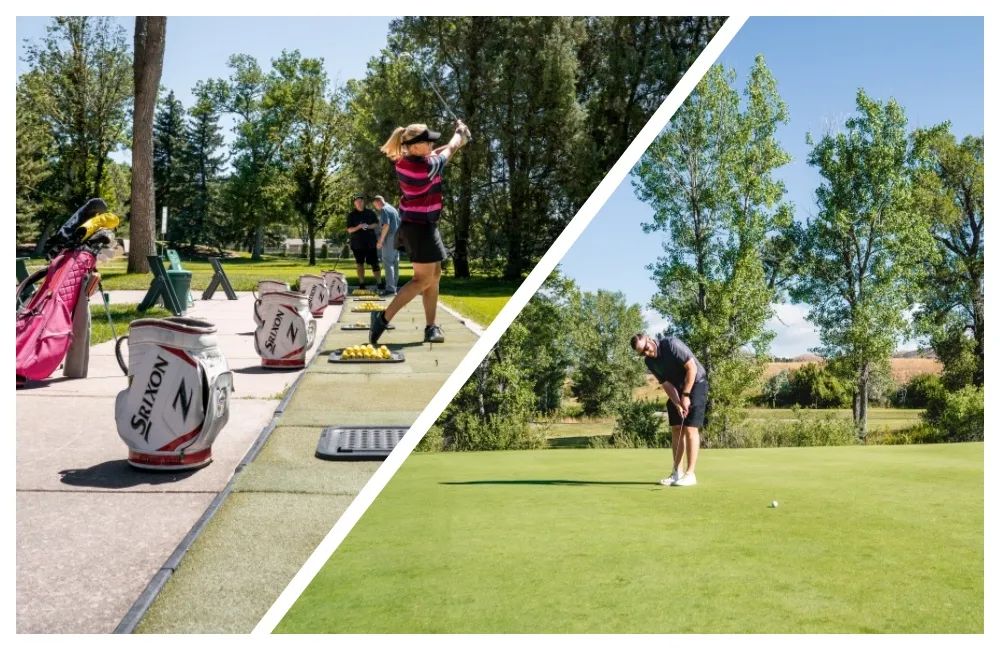 Local Golf Legends: Leslie Spalding & Marcus Drange
September 2022
article & photos by jamie blotske
The game of golf has been around for centuries, as its origin dates back to the 15th century in the Kingdom of Scotland. While the rules were formally written down in 1744, people had already played the club-and-ball sport for hundreds of years. Initially considered a gentleman's game, golf has become among the highest participation sports globally. Men and women alike have found great success in sinking a ball into a hole that measures only 4.25 inches in diameter. A game of precision and accuracy, it's a sport that requires practice, patience, confidence, and concentration.
Whether you've played 18-holes or not, you've likely heard a few big names in the world of golf, such as Tiger Woods, Phil Mickelson, Mickey Wright, and Annika Sorenstam. But did you know that Billings also has a couple of names to boast? Local golfers Leslie Spalding and Marcus Drange started their careers here in the Magic City, but their names are known well beyond city limits. Their stories are unique as they pursued their love of the game finding careers that kept them in the game.
Marcus Drange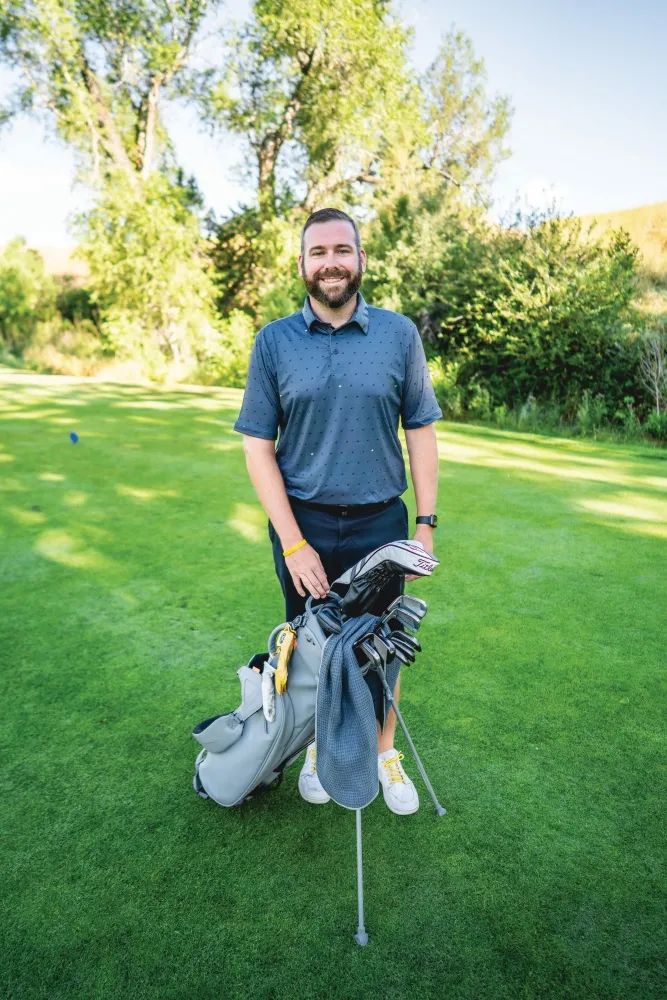 Born and raised in Billings, Marcus began golfing under the instruction of Mark Hahn at 12 years old. He attended Billings West High School, graduating in 2009. As a young golfer, he won a few junior events by competing in the County Junior golf tournaments, but the accomplishment he is most proud of didn't come in the form of a medal or trophy. "The thing I was most proud of would be getting cut from the golf team as a freshman and coming back to make it sophomore year and eventually helping my team win a few state championships," Marcus said. He said, "getting cut was the turning point for me, which is really cool as I now coach the team at West High School. I was named Most Improved Player during my time at West." He was also an All-State selection his senior year.
"Getting cut was the turning point for me."
Marcus went on to play golf for Montana State University Billings in the fall of 2011. "During my time at MSUB, I was named Conference Newcomer of the Year my first year (2011-2012) and was an All-Conference selection. I was also voted Most Improved Player in 2013-2014 among fellow Yellowjackets," he said. Quite the list of accomplishments for someone who started his career by getting cut from the golf team! It goes to show what a little perseverance can do.
During his senior year at MSUB, Marcus was approached by the coaching staff about a position. After college, he returned as a coach and instantly fell in love with it. He then coached at MSUB as an assistant to the men's and women's teams from the fall of 2014 to the spring of 2021. Currently, he is a health enhancement teacher and head golf coach for both boys and girls at Billings West. He is headed into his 7th season with the Golden Bears.
As for advice for young golfers, Marcus was quick to admit that golf can be very discouraging and frustrating. But, he said, "Set goals and targets that work for you. No one has conquered this sport, and there is a great chance that no one ever will. Do not give up easily, strive to improve, but most of all, enjoy the process and HAVE FUN!"
As a long-time golfer, Marcus has some golf stories to share. The memories run deep. One that stood out among the many came from his State Tournament in Helena during his senior year in high school. "It came down to the wire for the team title, and I remember it was the first and last time my mom could watch me in high school. On the last hole, I hit a solid shot in front of a decent crowd, including my mom. In short, we were able to clinch the state title. That celebration and excitement is something I will cherish forever."
Leslie Spalding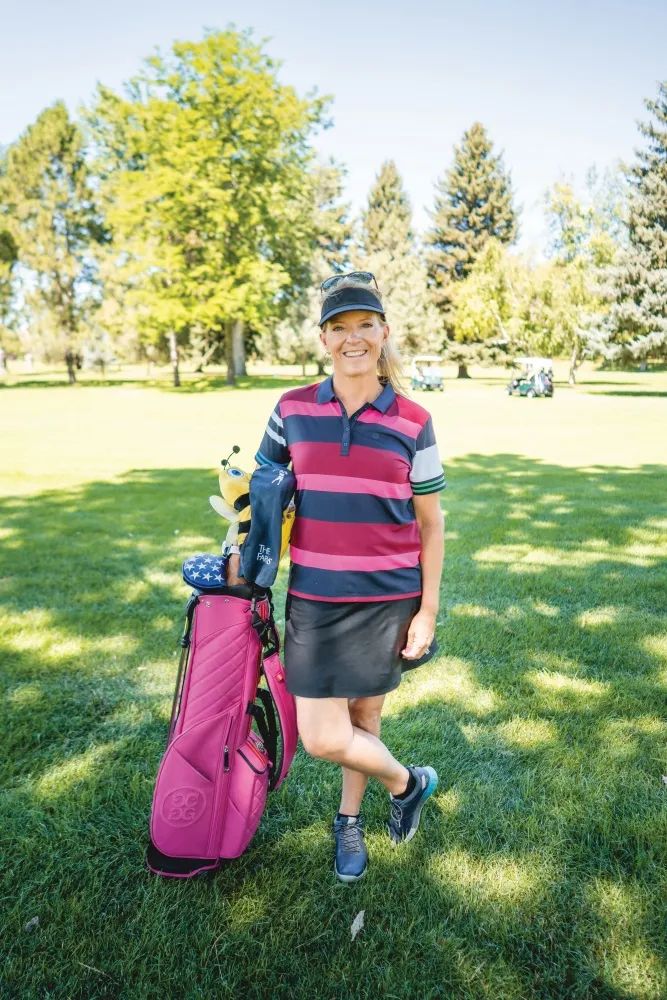 Growing up in Billings, Leslie is a Billings Senior High School graduate. She is a two-time State AA High School Individual Champion and a two-time State Women's Amateur Champion. After high school, Leslie played golf on a full ride at the University of Alabama and loved her time there. "I won two tournaments my senior year. Our home event in Tuscaloosa, the Neva McCall/Alabama Intercollegiate, as well as a playoff in Athens, Georgia called the Women's Southern Intercollegiate," Leslie explained. She went on to tell a funny story about that big event in Georgia. "I had made a bet with my coach's husband after I had finished regulation play. We were waiting for the last groups to finish, and he bet me he would shave his head if I won the playoff. We ended up going to an old-school barber the day after we returned!"
After graduating in 1992, Leslie moved to Tampa, Florida. She started working in the golf industry as an assistant golf pro at Westchase Golf Club in Tampa where she worked on her game for two and a half years before making it onto the LPGA Tour from 1996-2005. Following that, Leslie moved home to Billings to be near her family. In 2007, she began coaching at Montana State and teaching golf in the summers before landing her dream job coaching at San Diego State. Leslie retired from college coaching just one year ago. Since then, she has been diligently working on her game as she intends to qualify for the US Senior Women's Open.
When asked what she loves most about golf, Leslie said, "I really love working toward something. I'm currently working on a major swing change, and it's so much fun to try to be better every day. To me, golf is about the strike on the clubface and the satisfaction of being able to consistently find the sweet spot. If I can't find the sweet spot, then I don't always enjoy golf." And all the golfers out there said, Amen!
Leslie's favorite golf memory dates back to 1998. "My game was very consistent, and I had been contending on the leaderboard for two weeks in a row but had a very poor final round. Scott Breen (another Billings legend in his own right) caddied for me in The British Open at Royal Lytham and St Annes. We played in the worst weather I had ever played in on the first day.  After two rounds, I was playing in the final group. On the last day, I remember hitting my 5-iron onto the 18th green and looking at Scott with total relief. I had finally finished well and placed 6th in a major golf tournament! The only way I would have experienced that is to have failed in the two tournaments prior. I learned how to handle my emotions and focus on the shot at hand," she said. Not only a fond memory but what a great life lesson, too!
Marcus and Leslie have been such an inspiration to the golf community here in Billings. They prove that hard work, dedication, passion, and persistence can indeed produce results. A big thanks to Marcus and Leslie for sharing their stories with us. You have both made your hometown proud!
Originally printed in the September 2022 issue of Simply Local Magazine
Never miss an issue, check out SLM's digital editions here!