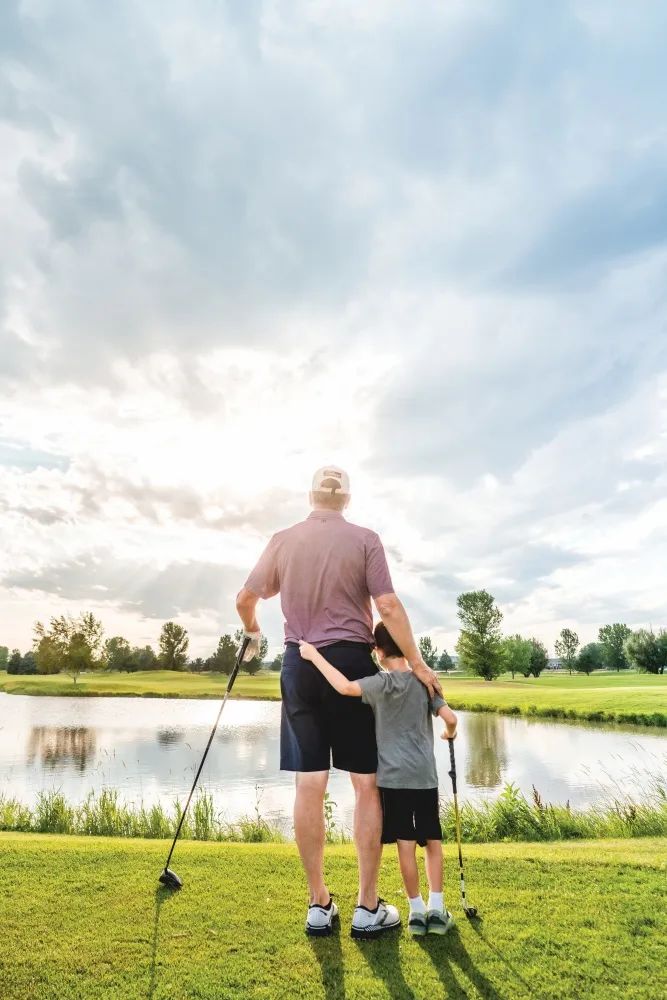 Golfing with Grands: Bonding Over Tee Time
September 2022
article & photos by jamie blotske
The bond between grandparent/grandchild is undeniably special. As a grandparent, the role of disciplinarian is (mostly) removed, and the spoiling begins! As a child, the warmth, comfort and feeling of safety are second to none when it comes to grandma and grandpa. The combination makes for a fun and loving relationship that is unlike any other.
While there are many ways to grow the bond between grandparent and grandchild, two local grandpas have discovered the power of bringing their grandsons into their golf game. Bringing a new generation into the game has allowed grandfathers Todd Rowen (grandson Rowen) and Jeff Kreitzberg (grandson Erik) to share their love of the game while creating unforgettable memories.
Todd & Rowen
Todd grew up in Miles City, MT where he picked up a club for the time at age 7. He went on to play golf for the Custer County Cowboys during high school, and he's been playing ever since. Now retired, he has memberships at Lake Hills and Peter Yegen. His firstborn grandchild, Rowen, showed an interest in the game at age 5. Todd recalls taking him out for his first lesson, "I wanted to teach him two simple things about his golf swing, but I quickly realized that the goal was just to have fun and hit the ball," he said with a smile. Since that first outing, Todd and Rowen have been out several times, mainly to expose Rowen to the game. They usually visit the Par 3 course to hit balls and practice putting. They have yet to play nine holes, but grandpa hopes that isn't too far away. "I want to sign him up for a summer golf camp by the time he's 8!" Todd said, which is only two summers away.
Looking back at where it all began for Todd, he explained, "When I was Rowen's age, I didn't want to play golf, but my dad told me that it was a game I could play my whole life. I didn't value what he said at the time, but today, I'm living the reality of it." Knowing the benefit of learning to play such a long-lasting sport, Grandpa Todd is excited to walk alongside Rowen as he grows in golf and realizes its worth. "It's one of those special joys in life to pass something on to your grandchildren that was first passed on to you," he reflected.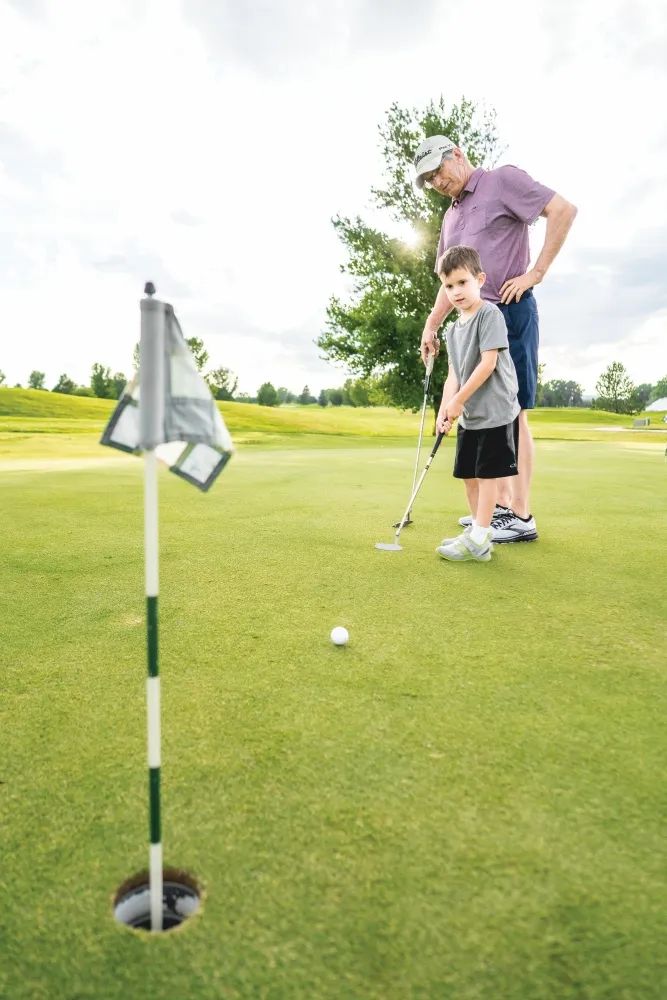 Todd & Rowen
Although Todd and Rowen have only just begun playing golf, the memories are already piling up. When asked what memory is his fondest to date, he quickly had an answer. "When he hits a really good one, we have a great celebration. It makes for a good fist bump," he said with a laugh. "I really look forward to the day when he grips it and rips it."
Jeff & Erik
Getting a different angle on the grandpa/grandson relationship, I spoke with Erik's mom and Jeff's daughter, Lisa Oppegaard.
For three years – since Erik was 5 – he, along with his dad, Cliff, and Grandpa Jeff, have enjoyed a weekly tradition of playing golf on Sunday mornings at Hilands Golf Club. The story behind this tradition is near and dear to the hearts of the Kreitzberg family. Lisa explained, "When my grandfather was alive (my dad's dad, Darrell), they used to golf together, and all the men in my family would go on a golf trip every year. Erik was too young to be a part of this, but golf has become a way for the men in our family to spend time together."
As a mom, there is so much joy in watching your dad become a grandpa. He has taken on a whole new role in life, one that is extremely important and essential to the upbringing of your children. Lisa appreciates her dad's relationship with her son and especially loves the fun bond they have over golf. "It is pretty amazing to see my dad interact with Erik. Erik brings life into every situation, and he likes to tease his grandpa about how much better he is than him. There is a healthy competition between them, and it keeps my dad on his toes!" she said.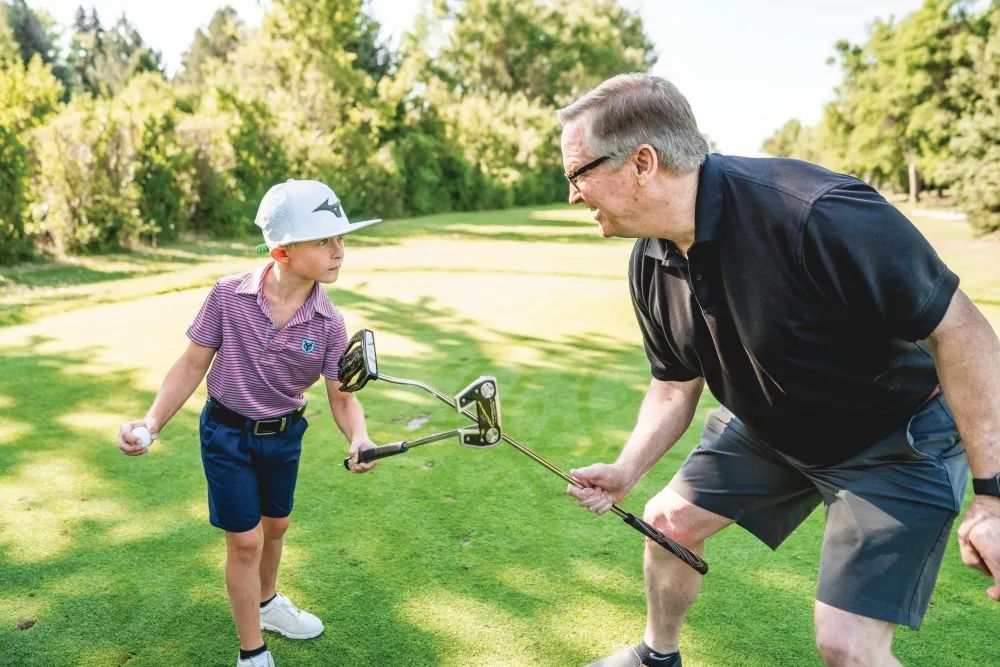 Jeff & Erik
Not only is golf a lifelong sport for the individuals playing the game, but it has the power to connect generations of families. For the Kreitzberg/Oppegaard family, golf brings the boys together on the course and the whole family together for breakfast afterwards. "It brings us all together," shared Lisa, "which is pretty special."
Originally printed in the September 2022 issue of Simply Local Magazine
Never miss an issue, check out SLM's digital editions here!