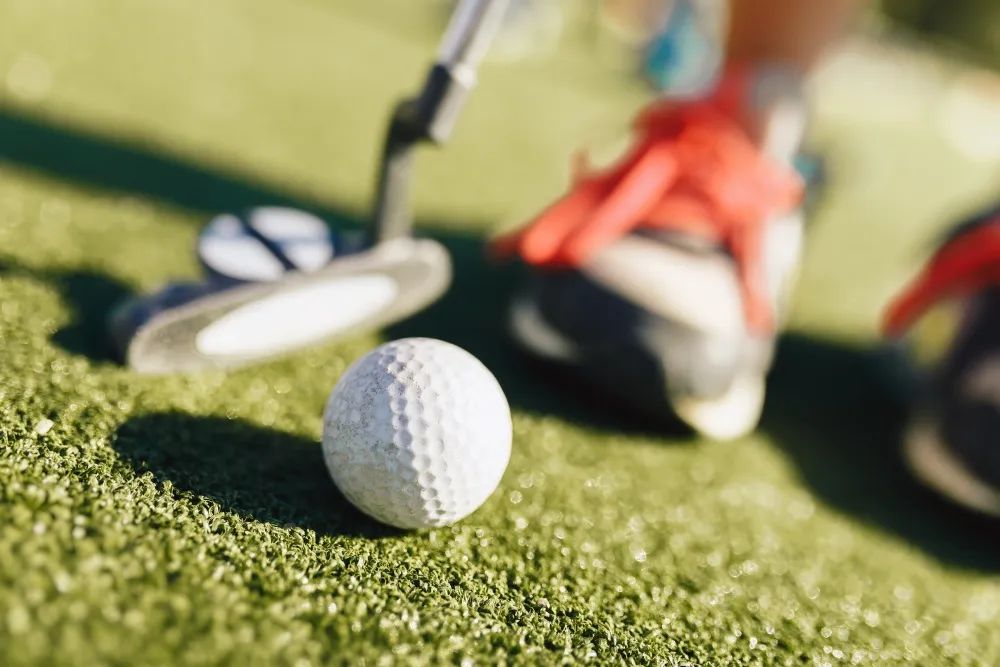 Growing Up Golf
September 2022
Some sports tend to have an expiration date in terms of how long one can play them. For example, there comes a time when every volleyball player must retire their kneepads. A football player's last full-contact game is all the more meaningful because it truly is the ending of a story. And then there is golf, a sport that can be played throughout the entirety of one's lifetime – it is the epitome of a lifelong sport.
Of the families we chatted with, the earliest introduction came at age 2, by way of plastic clubs in grandma and grandpa's backyard. That's the other thing; though golf is technically a solitary game, it also has the power to link generations. Never mind its focus on developing better human beings through the game.
To help us figure out how to grow up in and with golf, we picked the brains of local golf moms, Shannon Jensen and Allison Walsh, and local golf experts, Jackie Christiansen (former director of Yellowstone County Junior Golf) and Nathan Bailey (head golf coach at Rocky Mountain College and new director of Yellowstone County Junior Golf).
Beyond the Power of 1
As we look at the various programs our community offers for young golfers, it's important to circle back to the idea that this individual's sport provides a remarkable opportunity for camaraderie and community. Coach Bailey reflects on his childhood best friend's impact on his game: "I give all the credit to Brett [Woods] and our friendship for all the success I have had…We pushed each other every day to be better; I can't thank him enough." Allison echoes that sentiment, saying, "…the more children who begin in golf [that] can do it with friends, the better." It can be as simple as your child and their friends getting out to hit the ball and putt around, making for a lower-stress, enjoyable experience.
Speaking of making things more enjoyable, it's fair to say that the challenges and intricacies of golf can be frustrating for the newbie, so it's wise to take a page from Gpa's book and start small (a.k.a. shorter timeframe) with your young golfer. It also doesn't hurt to shake things up. The Walsh family has enjoyed doing mother-son, father-daughter pairings, and playing scrambles. Allison says, "I'd recommend with family to play games or come up with something where it's less competitive with the overall score."
Getting Started
Yegen Kids – Utilized by both families, with Shannon noting it's a "great way to access basics and group lessons," and Allison adds that "Yegen Kids is a great opportunity for children to learn, engage, drive, and strive to get better as a person and a golfer."
Junior Programs at local golf courses – Coach Bailey notes that all courses have junior programs during the summer that are typically affordable and a solid introduction to the game at a beginner level.
1:1/Group Lessons – At the individual courses/clubs and places like Mitchell Golf, where you can take lessons year-round.
Yellowstone County Junior Golf – Touted as being an affordable, low-risk tournament option that is great for the younger players, this program is for ages 8-17 who have some golf experience, want to have some fun, make some new friends, and play on courses not open to the public, explains Jackie Christiansen.
As the new Director of Yellowstone County Junior Golf, Coach Bailey is looking to evolve the program next year. While keeping the same values, vision, and mission Nels and Katie Christiansen had when they started county juniors, he's looking to shift into a Junior Tour in Yellowstone and surrounding counties. Coach Bailey explains that the game of golf has grown in the last few years, and our community needs to grow with it. Thus, "the mission of this tour is to equip players with the competitive environment they would need to be successful in high school, college, and amateur tournaments around the state and country."
Looking ahead, the Junior Tour would include:
18-hole tournaments (including an end-of-year Tour Championship)
A points system and player of the year for each age group
A focus on character building, including but not limited to leadership, integrity, and sportsmanship, in conjunction with learning the rules of golf and respecting the game.
Looking to fill a need for older youth golfers, Coach Bailey is also working on starting a Player Academy for students ages 13-18 who are planning to play competitively at the high school and college levels. The goal, he says, would be to provide each athlete with the necessary skill set to fulfill their full potential. This program would focus on course management, technique, and mental and physical aspects of the game.
Finally, we return to what is perhaps the most beautiful aspect of this game – its intent to instill integrity, honesty, and mental toughness in its participants. All of our interviewees noted these aspects of the game and how extraordinary it is to see the kids buy into these core values. They are as important to the game as the golf swing and impact the athlete far beyond the greens.
"But I think ultimately, it's a lifelong sport that we can do together as a family, regardless of competitive level…that's where it started and what we value most about it today."
-Shannon Jensen
Originally printed in the September 2022 issue of Simply Local Magazine
Never miss an issue, check out SLM's digital editions here!