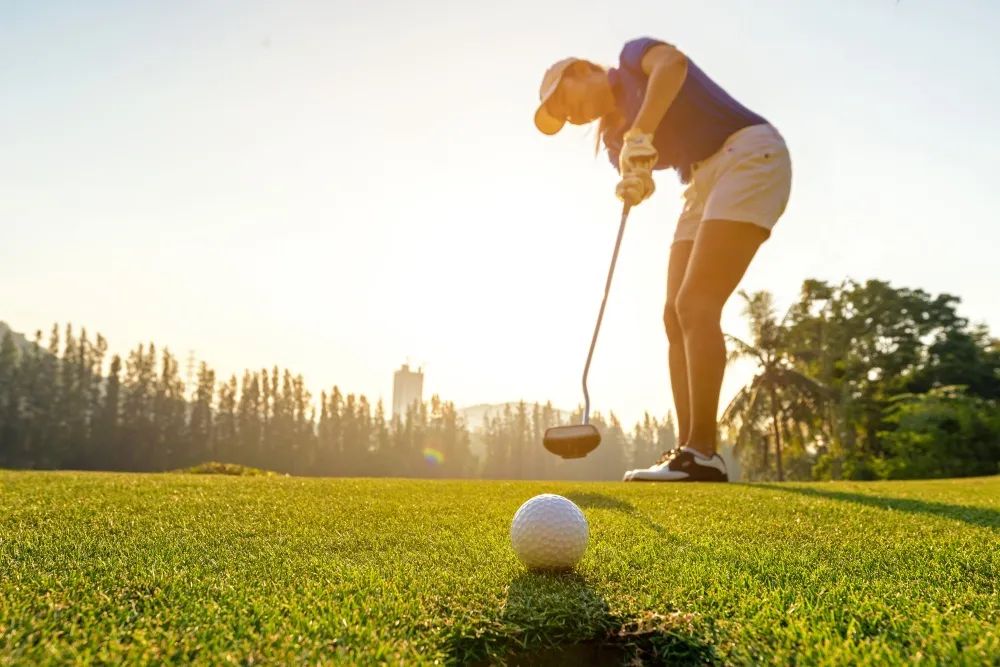 Seeking the Green
September 2022
To me, golf has always seemed like a bit of a lonely sport. My lack of experience made me perceive golf as quiet and individual and…frustrating the three times I've played it. But, my conversations with both MSU Billings' and Rocky Mountain College's Golf Team Head Coaches may not only prove me wrong but inspire me to give the links another shot (literally!).
Driving with Passion
Adam Buie loves golf so much that he's made his career in it. New to Billings, Coach Buie moved here from Arkansas to be the Head Golf Coach for MSU Billings. With a well-respected reputation in coaching the sport, Buie chose Billings in part because of the golf community here. "They're really good to us here," he said. "Lake Hills is our home course, and they are glad to support us and treat us really well."
A similar sentiment can be found down the road with Rocky Mountain College's Golf Team. Head Coach Nathan Bailey was a former student-athlete for Rocky and is now starting his 3rd season leading the men's and women's golf teams. Coach Bailey is a Rocky grad who was an All-American Hall of Fame golfer. "Billings is home. Rocky is home. I always knew I'd come back here one way or another," he shared.
Two Programs, One Community
While MSUB and Rocky share the town, they don't typically find themselves competing against each other. MSUB is part of Division II of the NCAA, and Rocky is part of the NAIA, meaning they're in different divisions of collegiate sports. Despite that, the teams do come together for friendly competition from time to time. "Both schools compete in the Mike Grob Cup for men and the Leslie Spalding Cup for women. The tournaments take place over three days, and while it's unofficial in terms of our standings, it's three days of very intense, very friendly, very good competition," explains Buie.
Both teams have had some impressive wins over the last few years as well. In 2021 the MSUB men's team qualified for the West Regional NCAA DII tournament. Ten teams make that tournament, and in 2022 MSUB ranked 11th – a challenge to keep improving that Buie is prepared for and excited about.
Rocky also left their mark, with their men's team winning the conference championship the last two years in a row. Their women's team also qualified for the national conference championship and was just outside the rankings last year, but Coach Bailey feels confident heading into the season. "We're just getting better every year. Our goal is to put two really good teams together to compete and reach a national championship. I'm excited and feel like we'll have a really good team this year," he shared.
Recruitment
Athletics recruitment at the college level is competitive, intense, and complicated. Scholarship amounts are set by the sports division and may not mean a full ride for all student-athletes. Those limitations don't change the standards for the coaches, however. "We are pretty selective in who we recruit," Buie said. "It's not difficult at all to recruit students to MSU Billings. We have a lot of local and out-of-state talent joining us this fall."
The MSUB team will include 10 men and nine women this season, while Rocky will have 15 men and 11 women. The season is long, which can be a blessing and a curse. "We golf in some really nice places during the coldest parts of the year," said Coach Bailey. Montana's climate makes it difficult to keep athletes in motion year-round, which is why they have both fall and spring golf seasons. "Our indoor facility is critical to our success," Bailey continued. "To compete on a national level, it was important to us to build an indoor simulator facility on campus for our athletes to use whenever needed."
Another unique aspect of Rocky's golf team is its diversity. "When it comes to recruitment, we look everywhere. Billings and Laurel, around the state and even worldwide," explained Bailey. This year's roster will include athletes from Colombia, South Africa, Iceland, Germany, Canada, Australia, Belgium, and the United Kingdom and 10 student-athletes from Montana.
Both schools are proud to share the balance of academic skill with athletic prowess when it comes to their golf teams. Because golf programs are limited in the scholarships they can offer, most athletes also rely on academic scholarships. And both programs boasted about the equitable opportunities for scholarships available for both men and women who excel in the sport.
2023 Season
What's to come in 2023? Both coaches are optimistic. Rocky comes into the season with strength from the previous year and promising new talent. Both the men's and women's teams qualified for the national conference championships, and they will have most of both of those teams back for this year. MSUB is replacing three seniors, two of whom were all-conference golfers last season. But Coach Buie is excited about the incoming talent. "We have two talented freshmen who will hit the ground running coming in from Laurel: Hannah Adams and Haylee Adams are coming from the Laurel Team, which won multiple state championships, and Hannah won the state title as a senior as well."
Kinsey Irvin, a former player for Coach Buie, summarized the impact golf had on her and likely all who play the sport: "Golf has made me independent, honest, motivated, and patient. All of which are skills that I will use for the rest of my life."
Stay connected with both golf programs this year:
Originally printed in the September 2022 issue of Simply Local Magazine
Never miss an issue, check out SLM's digital editions here!