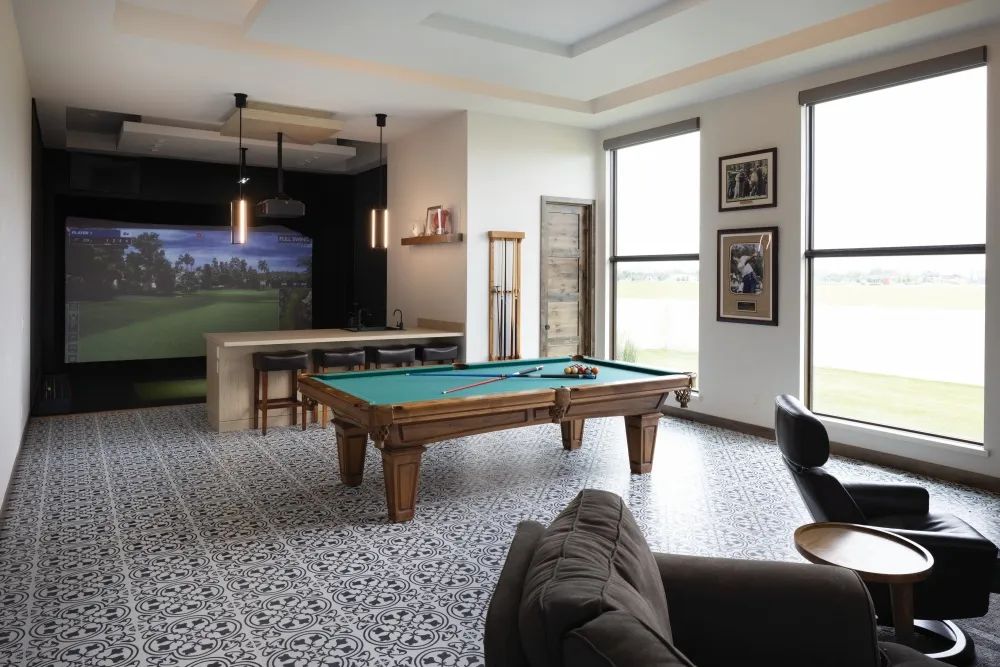 Upping the Game: An At-Home Golf Experience
September 2022
by renata haidle | photos by nathan satran
"Golf is a game whose aim is to hit a very small ball into an even smaller hole, with weapons singularly ill-designed for the purpose."
- Winston Churchill.
Thus spoke the man who knew a thing or two about strategy, and despite his tongue-in-cheek remarks, history asserts that he did enjoy the sport as a young man - although, according to his son, Randolph, he wasn't that great at it. After all, golf takes practice, and practice takes time, and I'd venture to guess that he didn't have too much of the latter.
Nowadays, we have the luxury to improve our game in comfort whenever we have a few spare minutes, without even having to go to the golf course. With golf simulators becoming more widespread and affordable, more and more golf aficionados are looking into installing them in their own homes.
The choices are abundant, ranging from compact, portable units to larger ones that need professional installation. The advantages of using simulators are obvious. You can improve your game with endless combinations of practice features, track your performance, and challenge yourself while playing alone or with friends and family. You can choose from various championship courses anytime you wish, without ever having to book a plane ticket. And you can use golf as a fitness routine, staying in shape while having fun.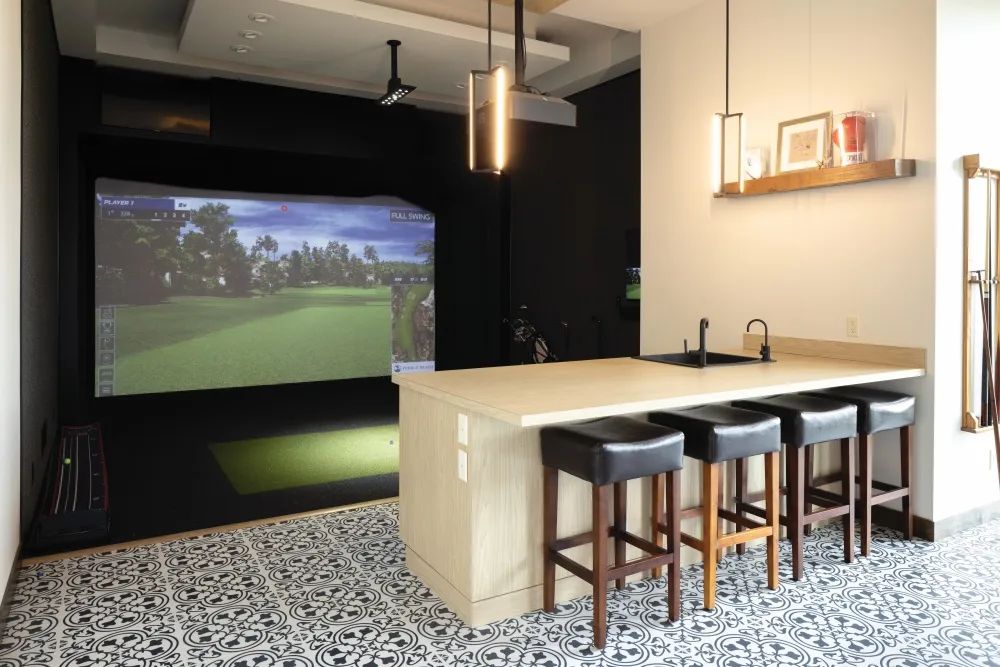 Billings residents, Jim and Kelly Coleman, did some thorough research before ordering the golf simulator they had installed in their home. Favored by golf pros (one of them Tiger Woods), the unit they chose does much more than improve golf skills. It can also be used for playing other sports, like zombie dodgeball (a hit with younger kids, Kelly says), soccer, football, baseball, basketball, and hockey.
The Colemans dedicated an entire area of their house to the unit. "Our family loves golf. We created a recreational room that family and friends could use, something to do in the winter or on rainy days," says Kelly. The golf simulator "eases boredom, keeps the family active, and it is fun. It can also be used as a movie room, thanks to the big screen," she adds.
The golf simulator was integrated into an area with a pool table and ample seating space for movie watching. The Colemans also wanted to encourage their kids and their friends to spend time playing and being social.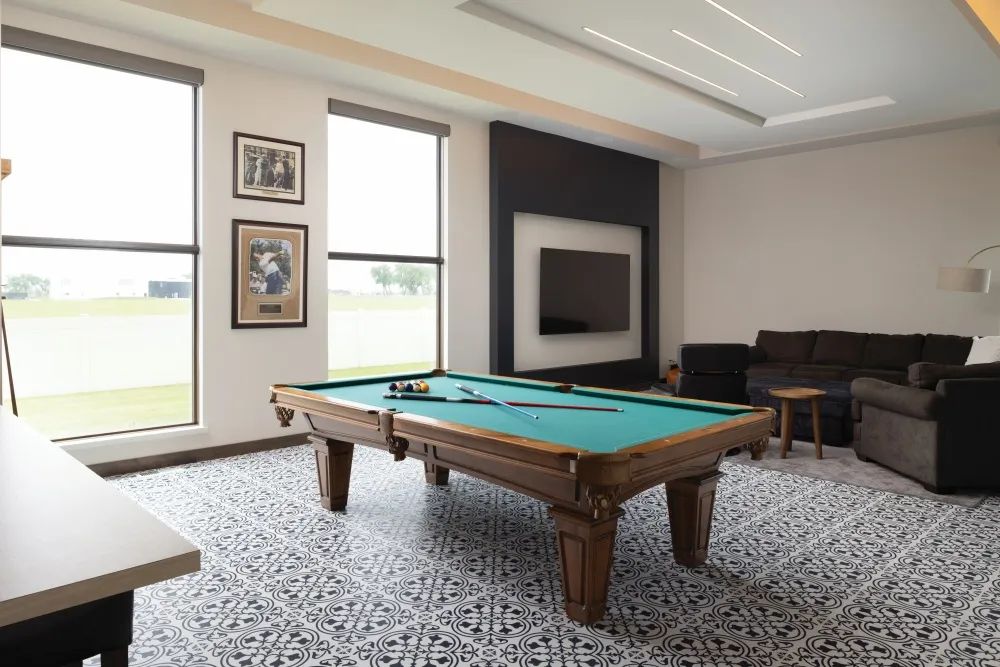 "The golf simulator can be used as true training for serious golfers," Kelly explains. "And there is potential to have a golf coach in a different state that could give golf lessons remotely."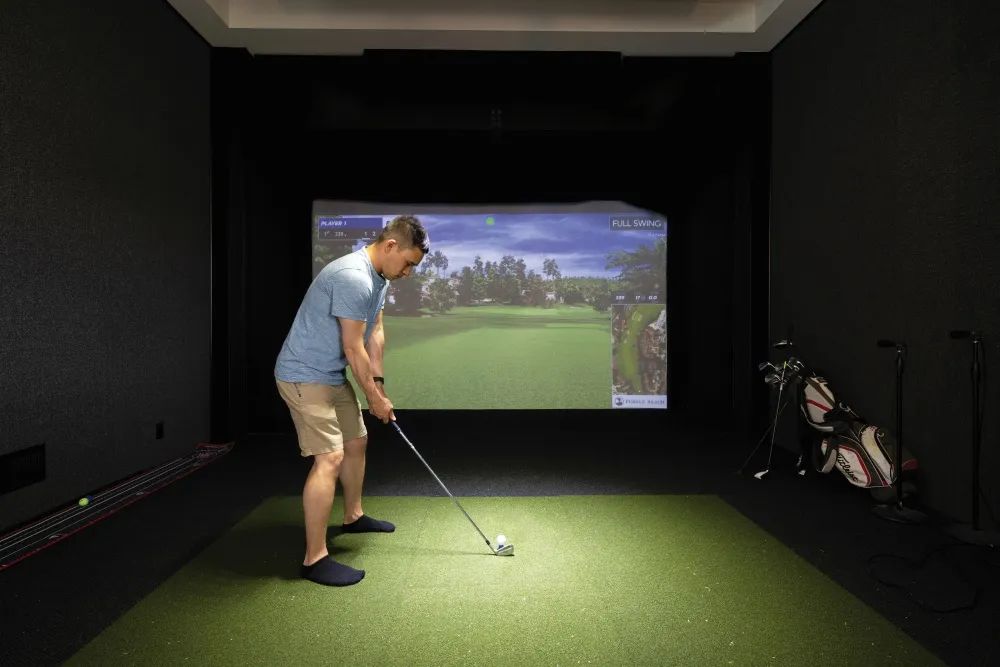 The most advanced units measure ball speed, launch angle, side spin, side angle, and backspin. They use advanced algorithms and images in real-time to calculate distance, flight path, club head speed, angle of descent, offline, and roll.
If you are thinking of installing a golf simulator in your home, consider placing one in the garage or in a "man cave" downstairs in the basement. Many units are so compact that you only need a bare wall and enough space to swing a golf club. For more complex, higher-end simulators like the Coleman's, you will probably require professional help. Some manufacturers will send a specialist to complete the installation. Locally, Brian Ban with Ban Construction can help with advice on selecting and installing such units. You can reach Ban Construction at (406) 697-4152 or online via their website, banconstruction.com.
Originally printed in the September 2022 issue of Simply Local Magazine
Never miss an issue, check out SLM's digital editions here!