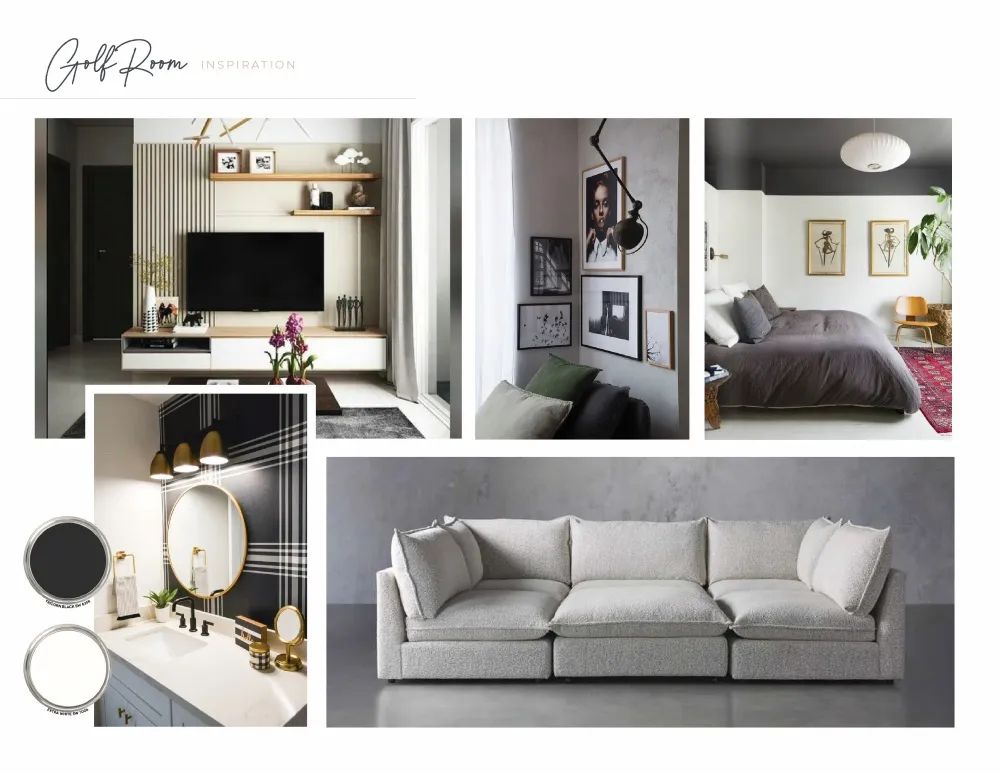 On Par Design: How to Create a Golf Simulator Room
September 2022
Golf. Once a sport that I only associated with elderly men has quickly become a staple for my family. My husband has always been an avid enthusiast, but it wasn't until I had kiddos that I realized how magical the sport could be. From babies crawling around on the green to elementary golf camp twice a week – it's a sport the whole family can enjoy. Nevertheless, my husband will be the first to tell you that most dads aren't hitting the course as much as they would like. The same was true for one of my good friends and design clients. So, when it came time to build their new home, a dedicated play space for their three kids was, instead, reimagined into a playroom for the whole family.
Here's a sneak peek at their design journey so you can get started creating your own golf simulator space!
#1. Get Swinging!
Planning a golf simulator room during construction is ideal, but generally, if you have enough space to swing your longest club, you have enough space for a golf simulator! Most simulators require a minimum clearance of 10'W x 10'L x 8.5' H. However, factors such as player height and arm length can swing the dimensions a bit.
I see your curiosity piquing – go ahead and put this article down, grab a club and swing it around the house to find a space. I'll see you in a few…
#2. Select Your Simulator
Just like any technology, there are several golf simulator options available. The basics include a launch pad, simulator software, and golf net. If you want to see Pebble Beach directly in front of you while realistically admiring your ball flight, you should invest in an impact screen and projector. Otherwise, your simulator software can easily connect to a tv or iPad adjacent to the launch pad.
#3. Layout the Room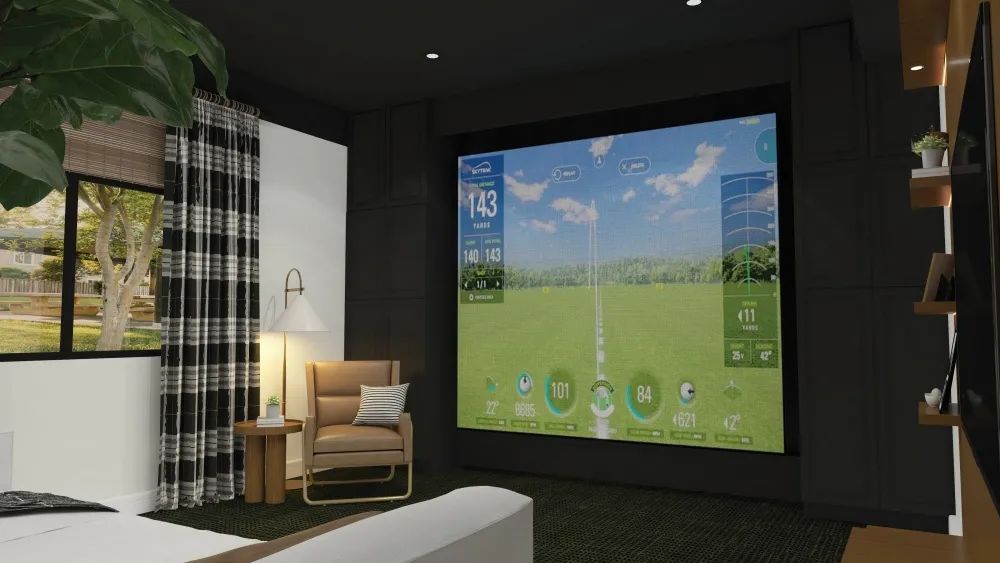 Next, decide what you'll do in the space while playing golf. Will you be hosting friends and family for game night? Will the projector and screen double as an in-home theater as it will for my client? Do you need storage for your clubs? How about a bar cart for Arnold Palmers? (Um, yes, please!)
My client opted for a modular sectional in their golf room. This seating setup easily accommodates a few too many while keeping everyone in view of the game and safely out of swinging range. The kids especially love to place the ottoman in the center of the sectional to create a giant lounge bed for movie night.
We will also include two tall storage cabinets on either side of the simulator. These cabinets will serve them well as toy storage and are large enough to house golf clubs. A wall-mounted floating entertainment center for additional storage and PGA watching will complete the furnishings.
#4. Quiet, please!
To help reduce noise in the golf room, make your décor, furnishings, and finishes play double duty. Anything soft will help quiet your new room. My client chose a fun, modern green carpet tile, a super cozy boucle sectional, heavy plaid curtains, and an area rug with rug pad to absorb all those sound waves created when playing. We'll up the ante even more with a custom corner gallery wall of canvas art backed with egg-crate foam (a great design tip for anyone with kids). If needed, acoustic ceiling or wall panels can be used as well.
#5. Colors & Décor - Think Outside the Tee Box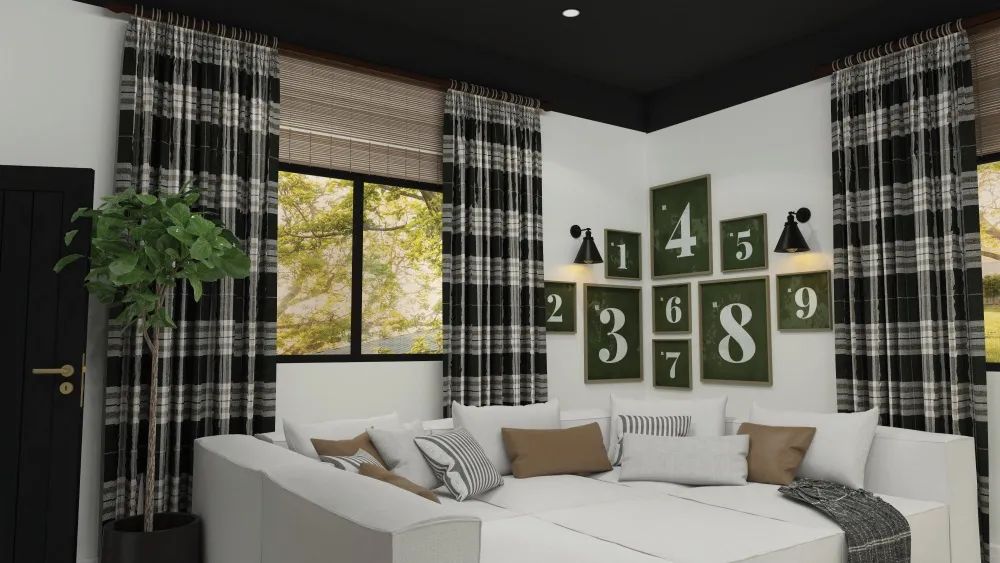 If you're looking for the perfect opportunity to use a dark, moody paint color in your home – now is your chance! A dark paint color such as Iron Ore or Greenblack by Sherwin Williams provides the perfect backdrop for a simulator projection screen. My client opted for a SW Greenblack ceiling that continued down the wall with a 12" tall stripe. This design decision will make the large playroom feel cozy and luxurious when paired with plaid accents and camel brown leathers. A gallery wall featuring numbers 1-9 is not only a nod to golf but is functional and fun decor for their preschoolers. Finally, we'll complete the space by bringing the outdoors in with greenery (faux or real, whatever works for you) and a subtle outdoor scented candle.
Originally printed in the September 2022 issue of Simply Local Magazine
Never miss an issue, check out SLM's digital editions here!