Know-Before-You-Go: Jazz Jam at Levity Bar & Bistro
May 6, 2021
article & photos by robyn fogle
We've been exploring Billings' comedy scene the last few months in our Know-Before-You-Go series, so if you've missed it, be sure to check out our KBYG on Projectile Comedy and Open Mic Stand-Up. Both great and inexpensive midweek entertainment options in Billings!
But sometimes you need a more romantic evening out. I mean, if you're married to a sexy man like I am, then it's a must at least every other week! And for those in the dating scene, you know it's important to have a go-to "wine & dine" romantic spot to take your date.
Yes, there are plenty of restaurants that are great for those romantic date nights, but adding live jazz to a night out takes that alluring spark to a full on flame. That's where the Wednesday night jazz jam at Levity Bar & Bistro comes in. This may very well be the best spot in town for a sultry, sexy night out. I don't care what age you are, jazz is sexy and this is the spot!
The Venue:
First, let's talk about Levity Bar & Bistro. It's on the West End, near Scheels, and while there is a casino attached, you wouldn't know it except for the sign out front and an unobtrusive interior door near the bar. They have a patio out front which is great for fresh air and people watching, and inside there is a nice mix of high-top tables, bar seating, and lounge chairs and couches in the center. This place feels upscale, swanky, and as classic as a glass of pinot noir. Which they have, by the way!
Their menu offers a full list of wines by the glass (ranging from $7-$13) which are stored in a Wineemotion dispenser that preserves the wines for 30+ days so you don't have to worry about getting a bad pour from a bottle that's been sitting open for a week. Plus it allows them to offer more unique pours making this a great spot for wine connoisseurs. They sell wines by the bottle too, and their beer list has a nice selection of craft brews, as well as a few domestics.
You can order some bistro starters, or a cheese & meat board to pair with that first drink, and if you're still hungry they offer build-your-own salads and stone fire pizzas. Levity's website appears to be inactive at the moment, so I took some photos of the menu if you're like me and prefer to know all of your options before you go.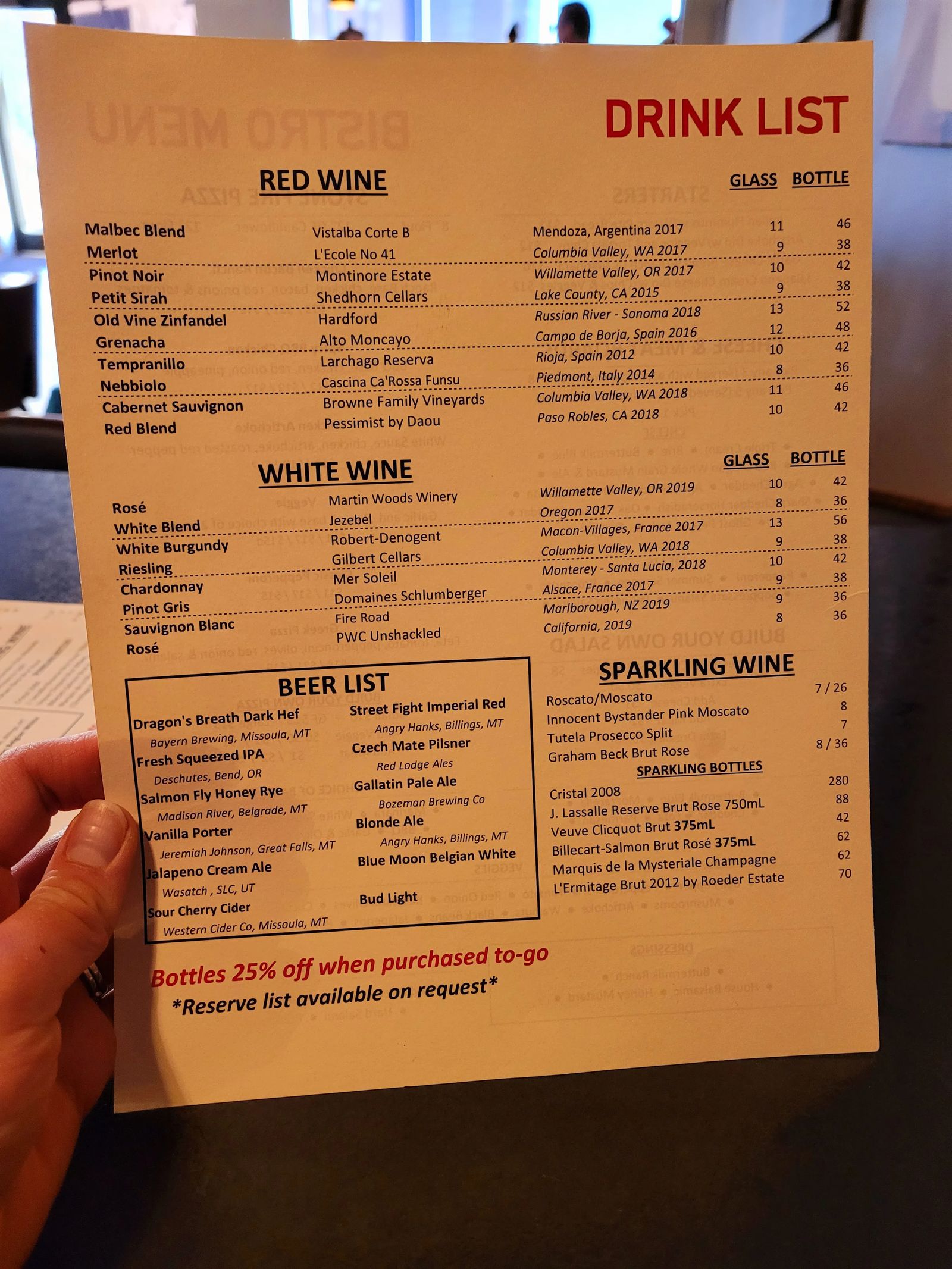 The Jazz Jam:
Now for the real draw - the jazz jam! Fellas, I'm telling you, if you want to impress your lady, bring her here on Wednesday night!
The jazz jam is from 7-9 pm every week so Rob - that's my husband - and I arrived just a few minutes before 7 pm. Finding parking is not an issue as Levity has the corner location of a shopping area with ample spaces. Your biggest concern will be finding a spot inside - this place gets crowded (at least on the night we went), and I'm told there is a core group that comes nearly every week.
Since we arrived early there were still quite a few tables open, and we snagged a high-top near the back. But by 7:30 pm there was only one empty table left and the place was packed soon after.
The house band was setting up in the front corner when we arrived. A regular rhythm section comprised of piano, bass, and drums is headed up by Joe Sullivan, the pianist, who also lines up a guest horn player in advance to join them each week.
The jazz jam is also open to other musicians and vocalists who may show up. Songstresses were popular on the night we attended, and three different women (dressed for the occasion) sang a song or two with the band. "It's pretty informal, just show up and ask if you can sing a song or two," Sullivan told me, adding "we try to keep it so that it's good to listen to and we limit it to jazz."
For musicians interested in jamming with the band, Sullivan suggests attending the jazz jam at least once to listen and determine if the style and flow of the music is a good fit. If so, then catch him during the break (they took about 20 minutes around 8 pm) and let him know you're interested. He lines up the guest artists about a month in advance.
The Audience:
Although it's a jazz "jam" the band is conscious not to go on and on with a song. They keep songs fairly short which makes it more enjoyable for us audience members. They also take requests (provided it's a jazz song of course), so having a sultry suggestion in mind ahead of time might not be a bad idea if you're looking to impress a date. If you're drawing a blank, I suggest the seductive jazz classic "Fever" as a personal favorite.
We were fortunate enough to hear it the night we attended, sung by a woman in a captivating red dress: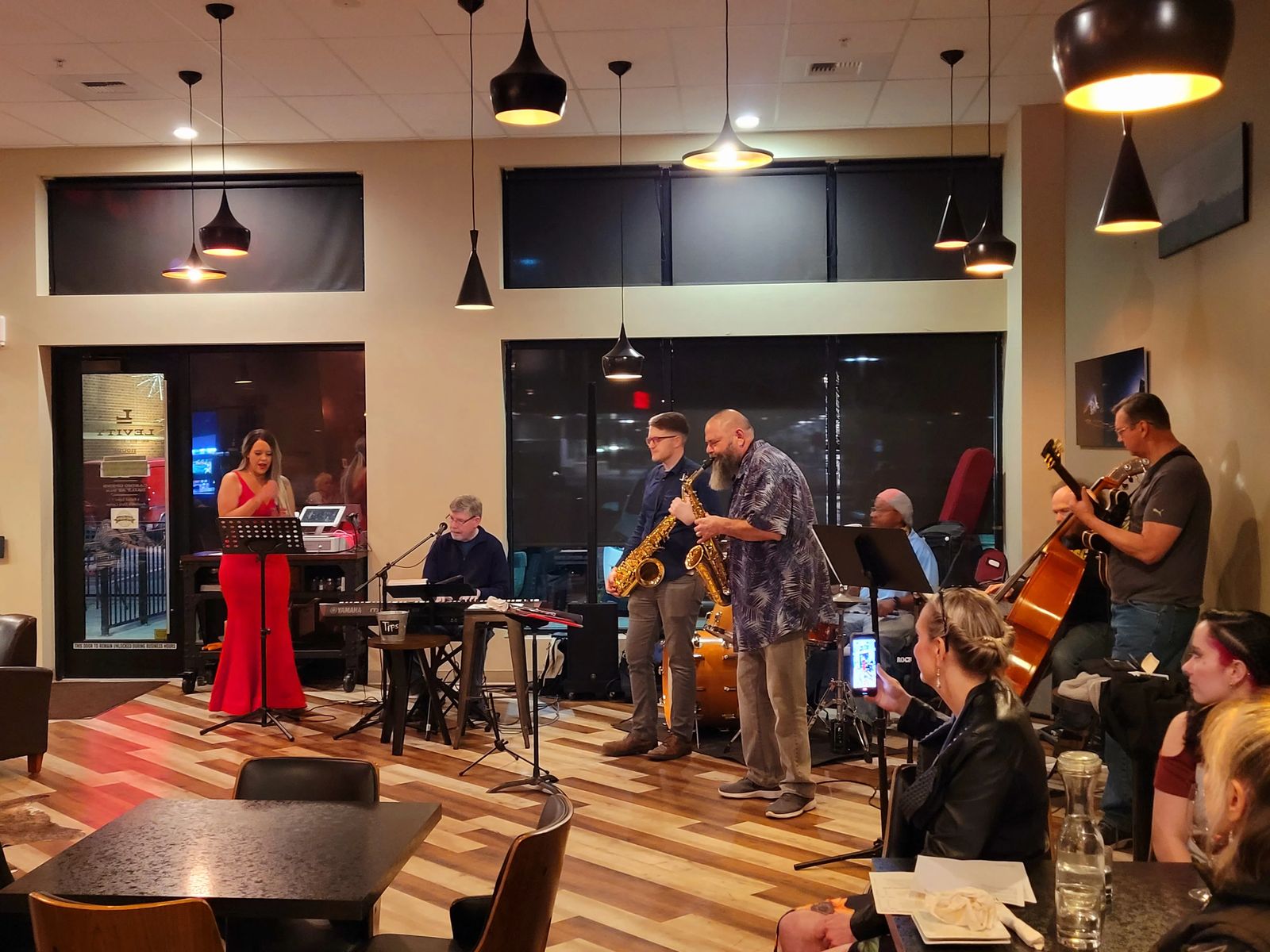 You give me fever when you kiss me
Fever when you hold me tight
Fever in the mornin'
A fever all through the night
My hips can't hear those tantalizing lyrics and not want to move. Talk about sparking some passion! And getting up to move your hips is perfectly acceptable. The night we were there several couples got up and danced to many of the songs. Guys, you'll get major brownie points for that one!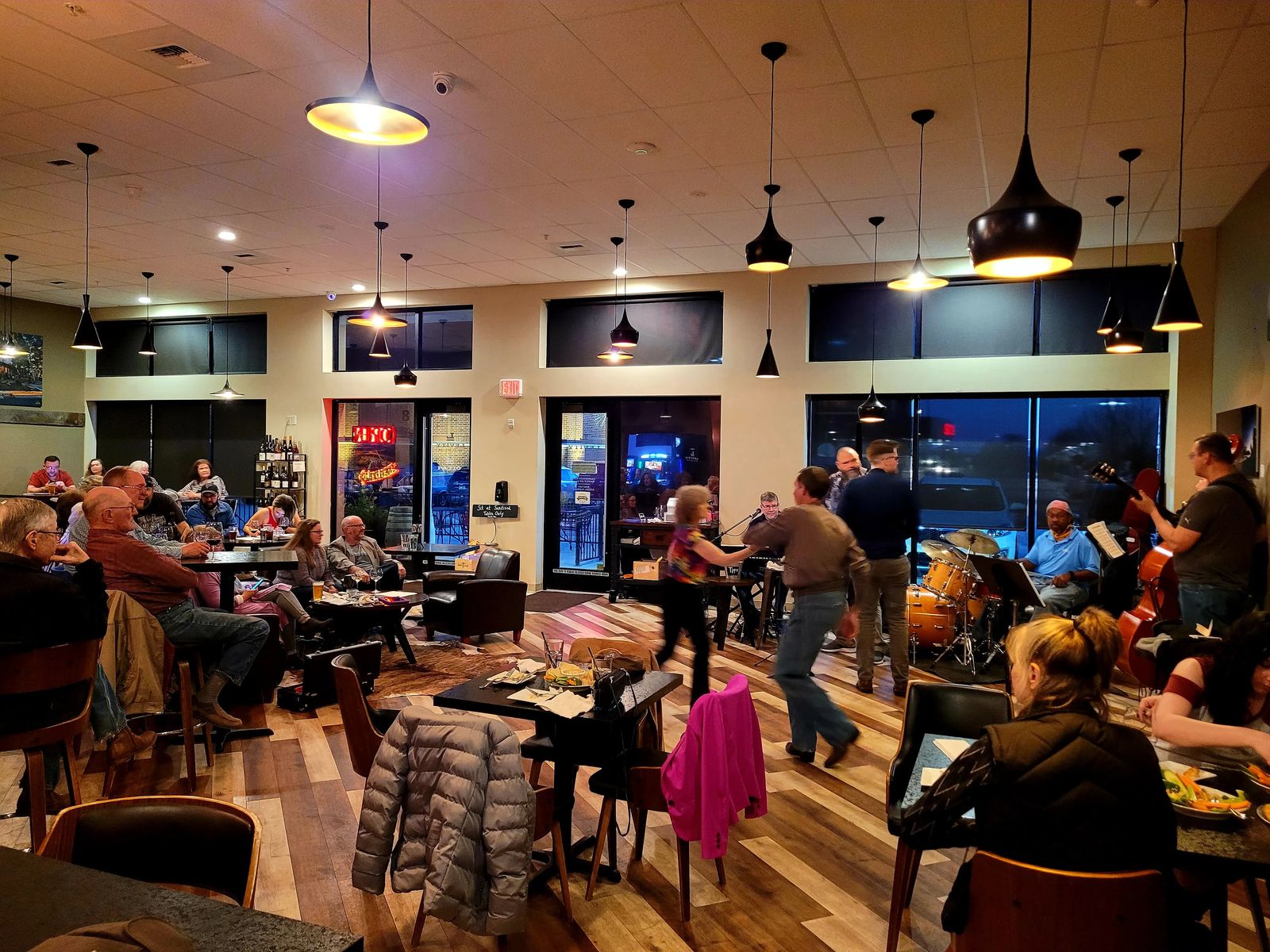 I was amazed how many people sat and actually watched the band, listening and enjoying the sounds. But it's also easy to simply sit back and chat with your date or friends and allow the live music to be background entertainment. There's no wrong way to enjoy this evening!
The crowd ranged in ages, but Rob and I (in our late 30s) seemed to be on the younger end. Dress up or dress down, like most places in Billings, anything goes.
We left just before 9 pm and the band was still playing. A few other folks had already left and there were two open tables, but most people arrived by 7pm and stayed. So don't be late! While Sullivan told me that it's not always that packed, it's obvious that the jazz night at Levity is a huge success.
Now all you have to do is find a date and go!
Who: Anyone who loves live jazz and good wine (children welcome too)
What: Jazz Jam
When: Wednesday nights, 7-9 pm
Where: Levity Bar & Bistro (1027 Shiloh Crossing Blvd, Unit 8)
Cost: No cover charge, but tips are appreciated.
Is there a recurring event you'd like us to review? Reach out to me at robyn@simplylocalmagazine.com