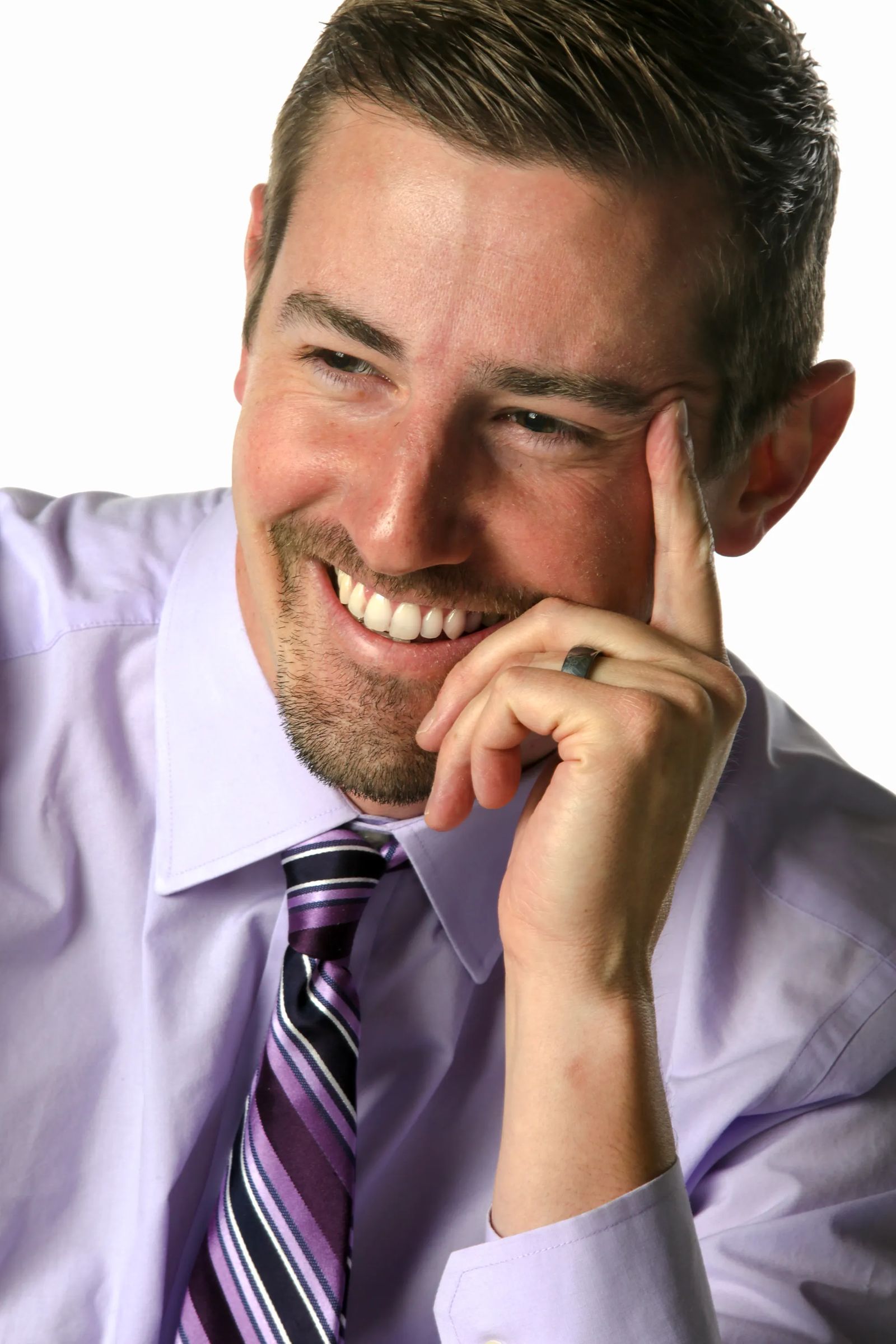 photo courtesy of Chas Llewellyn
Behind the Scenes: Improv with Chas Llewellyn of Projectile Comedy
March 17, 2021
Improv - it's a comedy show where anything can happen...and often does!
Improvisational theatre, better known simply as improv, is a theatrical technique that is essentially an unplanned, unscripted, improvised comedy routine performed by a group of improv players.
There are two main styles of improv - long form and short form. Long form improv typically lasts 25 minutes to an hour and involves fewer suggestions from the audience, relying instead on the acting skills of the players to improvise for longer periods of time.
Short form, on the other hand, can be more gimmicky and includes lots of audience suggestions, each game lasting closer to 2-5 minutes. The popular show Whose Line Is It Anyway is a classic example of short form improv.
After going to watch the Projectile Comedy Live Improv show on a recent Thursday night, I caught up with Chas Llewellyn, Owner and Director of the troupe to learn more about this art form, and their group of players.
How was Projectile Comedy started?
Jason Harris founded Projectile Comedy back in 2004 along with fellow founding members Thad Paxinos, Deano Sinclair, Chad Korb, Aric Weber, Dave Overturf, and Dan Paul Schafer.
They branched off from Venture Theatre Improv and originally focused on doing a weekly sketch comedy show. "Over time, we all learned how tough it was to write, rehearse, and produce a two-hour sketch comedy show every week, so Projectile Comedy transitioned back into the full time improv comedy show we are today," explains Llewellyn.
Seventeen years later, Chad Korb and Aric Weber are the only two active original members.
What does a show look like, and how do you prepare?
There are now 11 active players, but only 5 members are scheduled for a particular night - an assigned emcee and 4 players. "We do open the door for other members to join shows even if they are not scheduled for a particular night," says Llewellyn.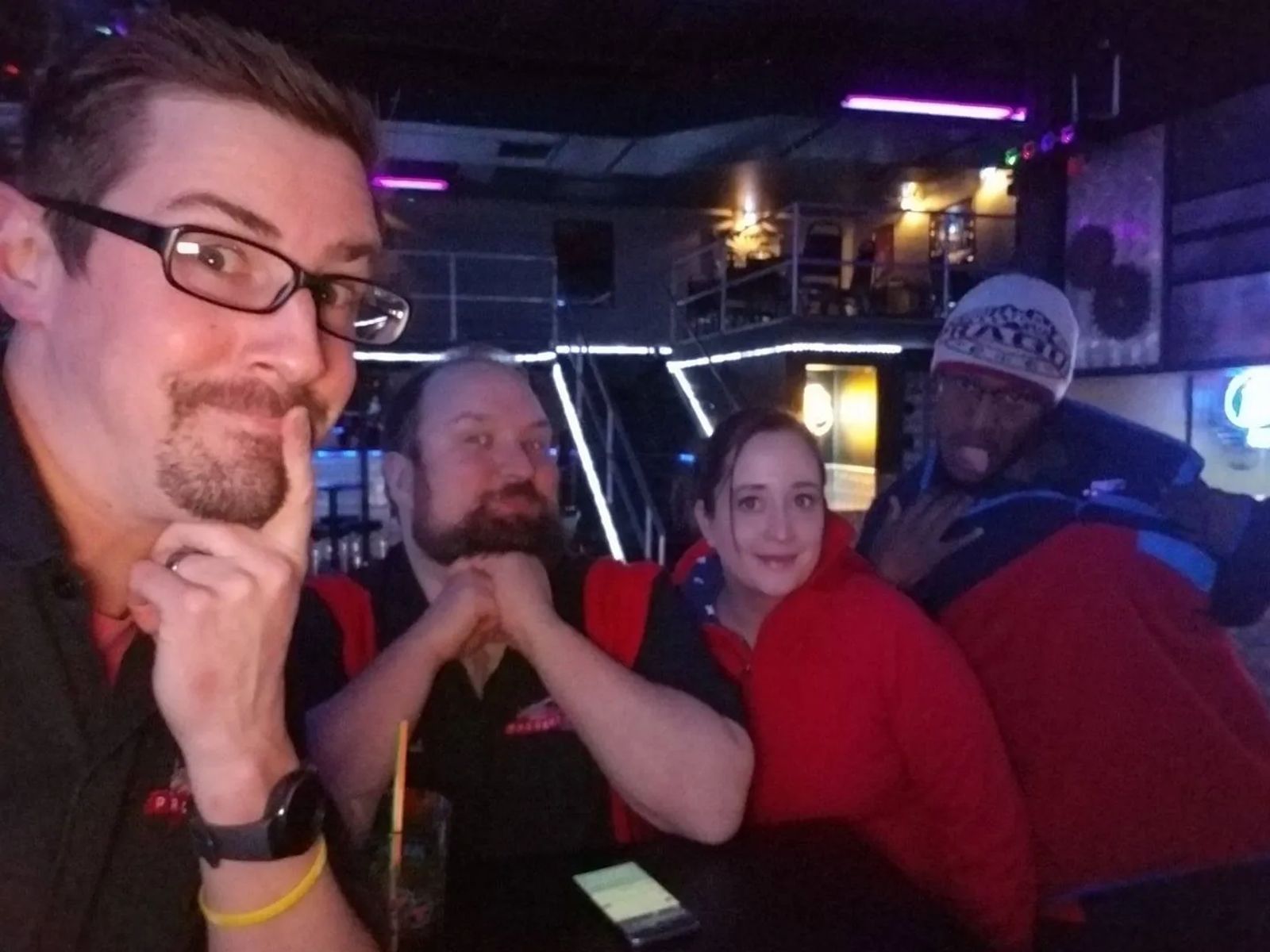 Projectile Comedy crew | photo courtesy of Chas Llewellyn
Those performing prepare for the show by making a Game List in advance. "We shuffle around our games to try to avoid doing the same games every week," he shares. "We play a majority of short form improv games, but we do try to also focus on the fundamentals of long form improv which leads to richer, and hopefully funnier, scenes."
Each week's show involves the long form game known as "Open Season" which is based on audience suggestions to inspire the scene, but beyond that it's "no gimmicks, no rules, just pure improv based on an audience suggestion. These games give us an opportunity to flex our true long form improv skills."
Players are often as surprised as the audience by how the scene unfolds.
How did your players learn the skill of improv and how do you stay current?
"We first learned improv from Venture Theatre. Venture's improv lessons were learned from simply doing shows - noting what worked, what didn't, and diving into the 'whys' - why a scene worked and why it didn't," recalls Llewellyn.
These days the Projectile Comedy players continue to hone their skills by visiting Improv Theatres in larger cities such as Seattle, Denver, and even New York. In addition they read books and articles on improv and stay current on new games and techniques to incorporate into their shows.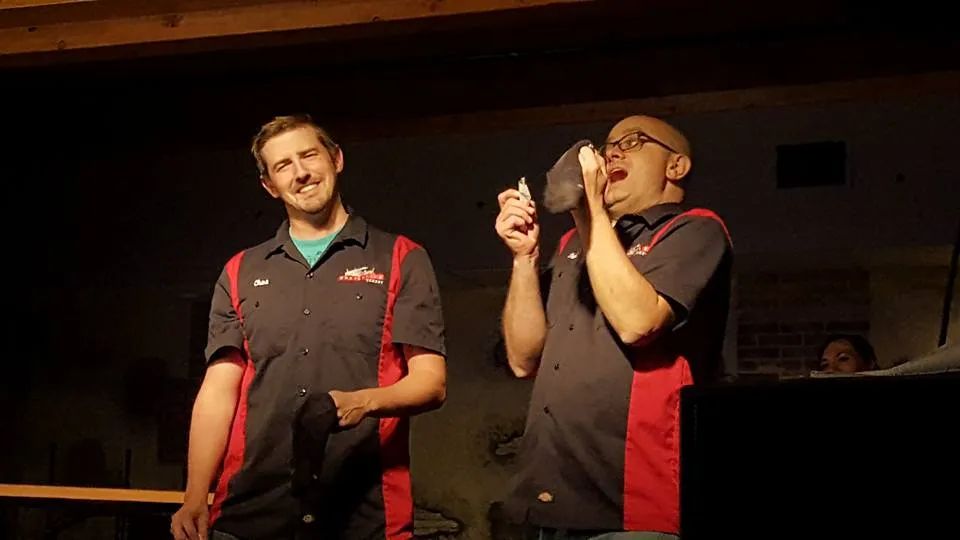 Dave, Chas, and the Sock Puppets | photo courtesy of Chas Llewellyn
The group's players generally come from a background in theatre and Llewellyn acknowledges that "Over the years we have been lucky to find fun and confident people who love to entertain." They practice together as much as possible though he admits it is often challenging to get everyone together all at once.
How can someone interested in improv learn this skill?
To help others interested in improv learn the art form, Projectile Comedy started offering a 12-week improv intensive about 5 years ago. It is a weekly 2-hour class for 12 weeks.
They coach based on a combination of Chicago style long form improv and the Upright Citizens Brigade manual.
"People think we just play games, but it is a much more involved class than that," maintains Llewellyn. "We make it clear to our students that the fundamentals of improv transcends the stage," adding, "improv can help you become a better public speaker, a better listener, a better contributor and even give you more confidence to tackle everyday situations."
To learn more about the class, reach out to the group on their Facebook page.
And if you're ready to see some improv in action you can catch Projectile Comedy performing Live Improv every Thursday night at The Loft Dance Club from 8-10pm.
Be sure to read our "Know Before You Go" post beforehand and then get ready for some quality entertainment. "It's the best $5 ticket in Billings!"