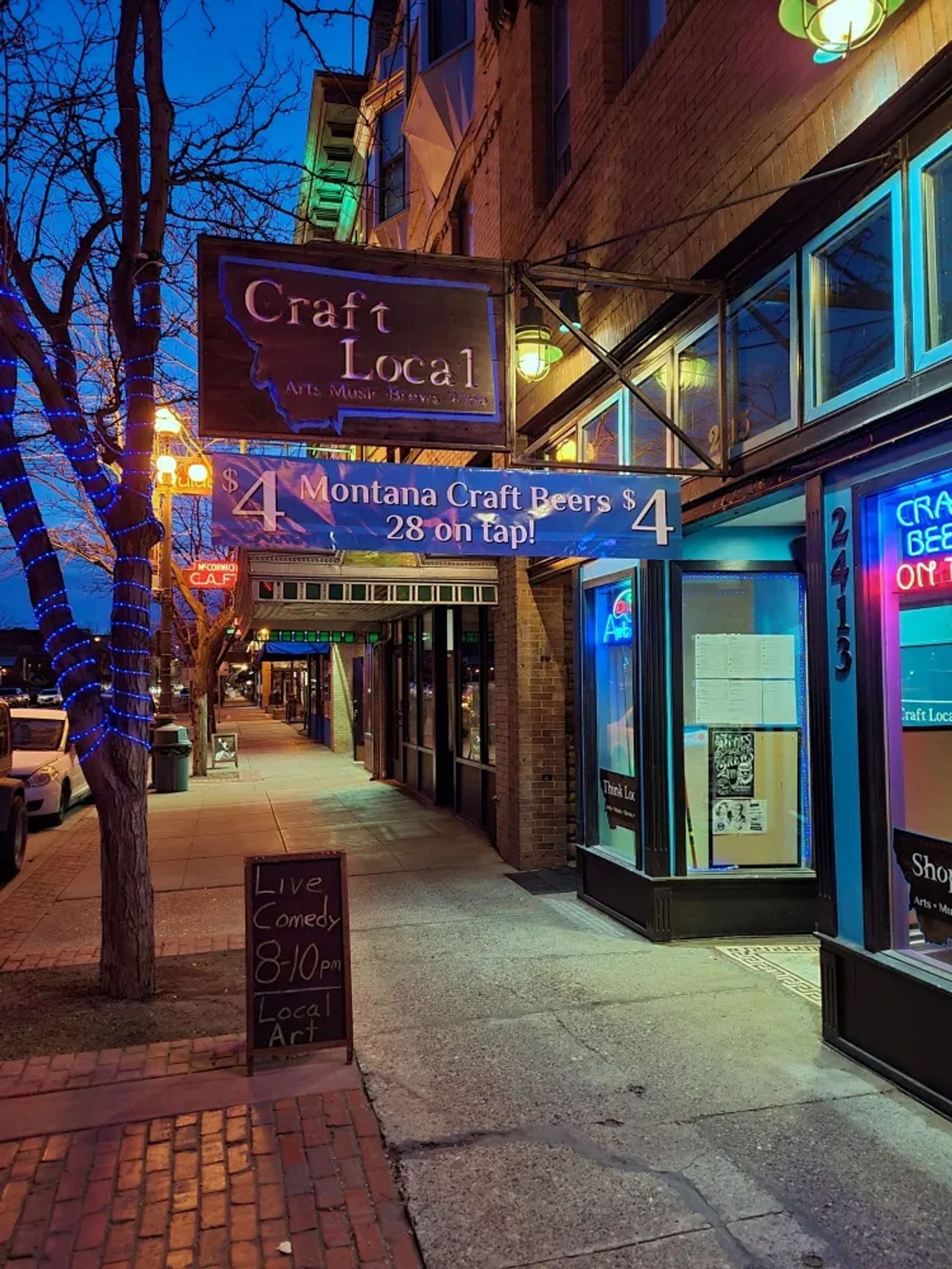 Know Before You Go: Stand Up Comedy Open Mic at Craft Local
April 1, 2021
article & photos by robyn fogle
Last month we introduced you to our Know-Before-You-Go series and provided some insider knowledge, tips and photos of what to expect at the weekly Thursday night Projectile Comedy Improv show.
This month, we're sticking with comedy and offering some KBYG tips for the Stand Up Comedy Open Mic at Craft Local. This is only a one-a-month event, occurring the third Tuesday of the month from 8-10 pm, so mark your calendar for April 20th now or you'll have to wait a few weeks to experience it for yourself.
Expectations
I'd never been to an open mic experience before, but knew that "open mic" meant that anyone and everyone was welcome to get up on stage and perform. From a spectator standpoint this means not to expect professionals, but it's a great way for up and coming artists to gain experience. And for the rest of us it's free entertainment and the possibility of being able to one day say - "I saw that person before they were famous!" You never know.
While public speaking or performing on stage has never intimidated me, it seems like being on stage trying to make people laugh could possibly be one of the hardest things to do. I've never tried it. I'm just not that funny. I knew I'd be going as a spectator.
With the promise of a local craft beer, and a hot date (my husband, Rob) to attend with me, it was a guaranteed good time no matter what.
Venue
We arrived downtown a few minutes before 8 pm. Craft Local is on Montana Ave. so expect street parking. On a Tuesday night we had no problem finding a spot nearby. There was a sign out front advertising the open mic comedy night.
Looking in the window the place appeared empty, but don't let that deter you. It's actually just a really long space and the crowd was, naturally, gathered near the back by the bar. We headed in that direction.
If you're an art lover, or looking for art, the walls of this unique, nonprofit bar are covered with local art for sale so be sure to take your time walking to the back.
You'll pass the stage area on the left where the open mic waits in anticipation. There was a sign-up sheet on a stool so if you're planning to try your hand, be sure to put your name on the list. Or of course you could wait until just before it starts to ensure your name is at the bottom. Some of us would need sufficient time to have a few beers and muster our courage first.
There were probably 20-25 people there already when we walked in. Plenty of seating so you can easily bring your own supportive fan club. We snagged a table in front of the stage before heading to the bar (no table service).
Craft Local boasts 28 local beers on tap and it's only $4 a pint. You can't beat that! They also have two Yellowstone Valley Winery wines (a Malbec and a summer white when we went), as well as sparkling ciders, seltzers and sodas so there are plenty of alcoholic and non-alcoholic options. If you're feeling snacky their menu includes some bar snacks to choose from, as well as pizzas. It was post-dinner for us so we were good with just beers, but the photos of the food on the menu looked basic but good.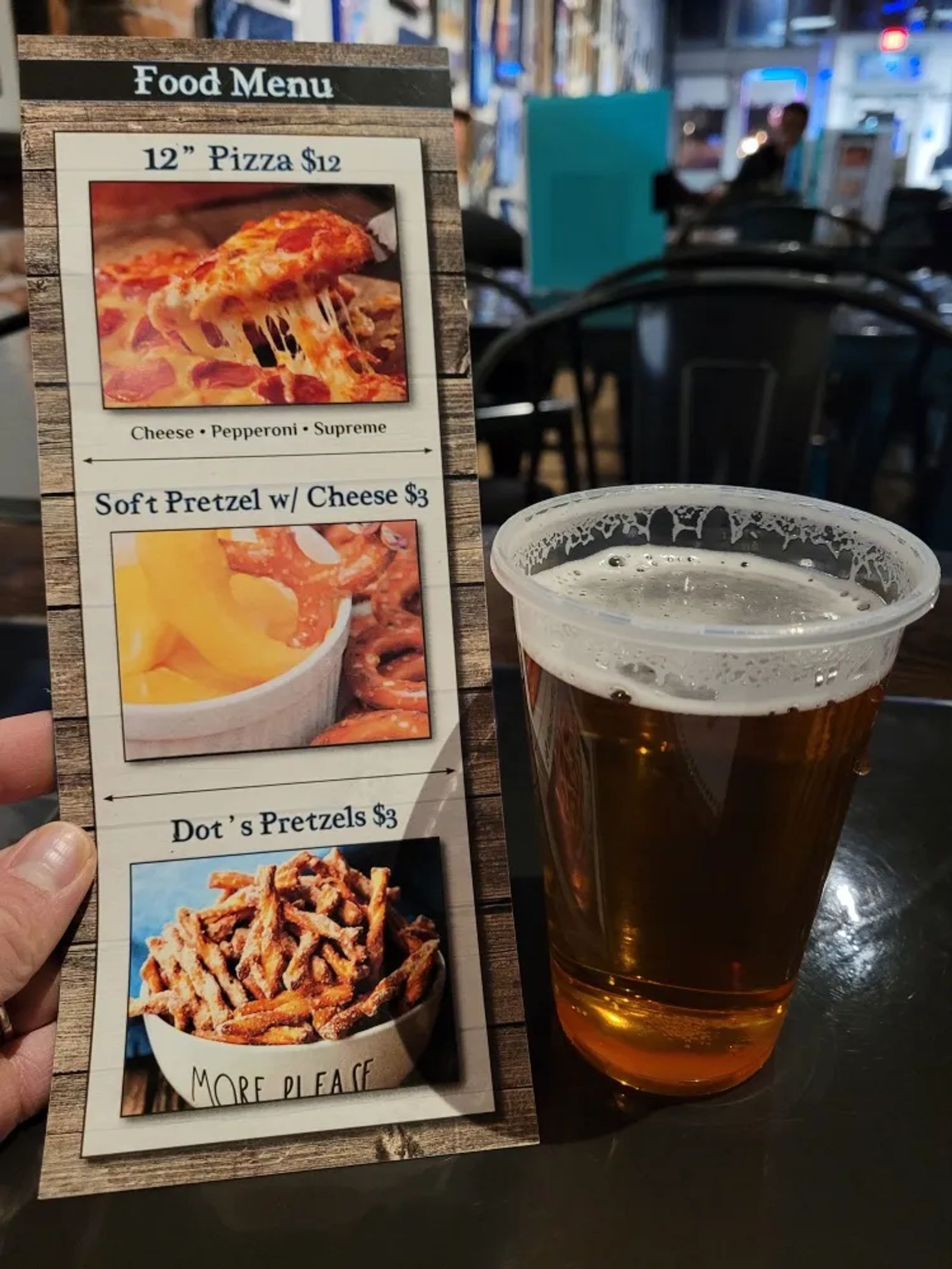 Open Mic
Keller Paulson was the host - I'm not sure if he is every week or if there is a rotation - but he kicked things off with his own set of stand-up material for about 5 minutes. So if your name is first on the list, don't worry, he broke the ice.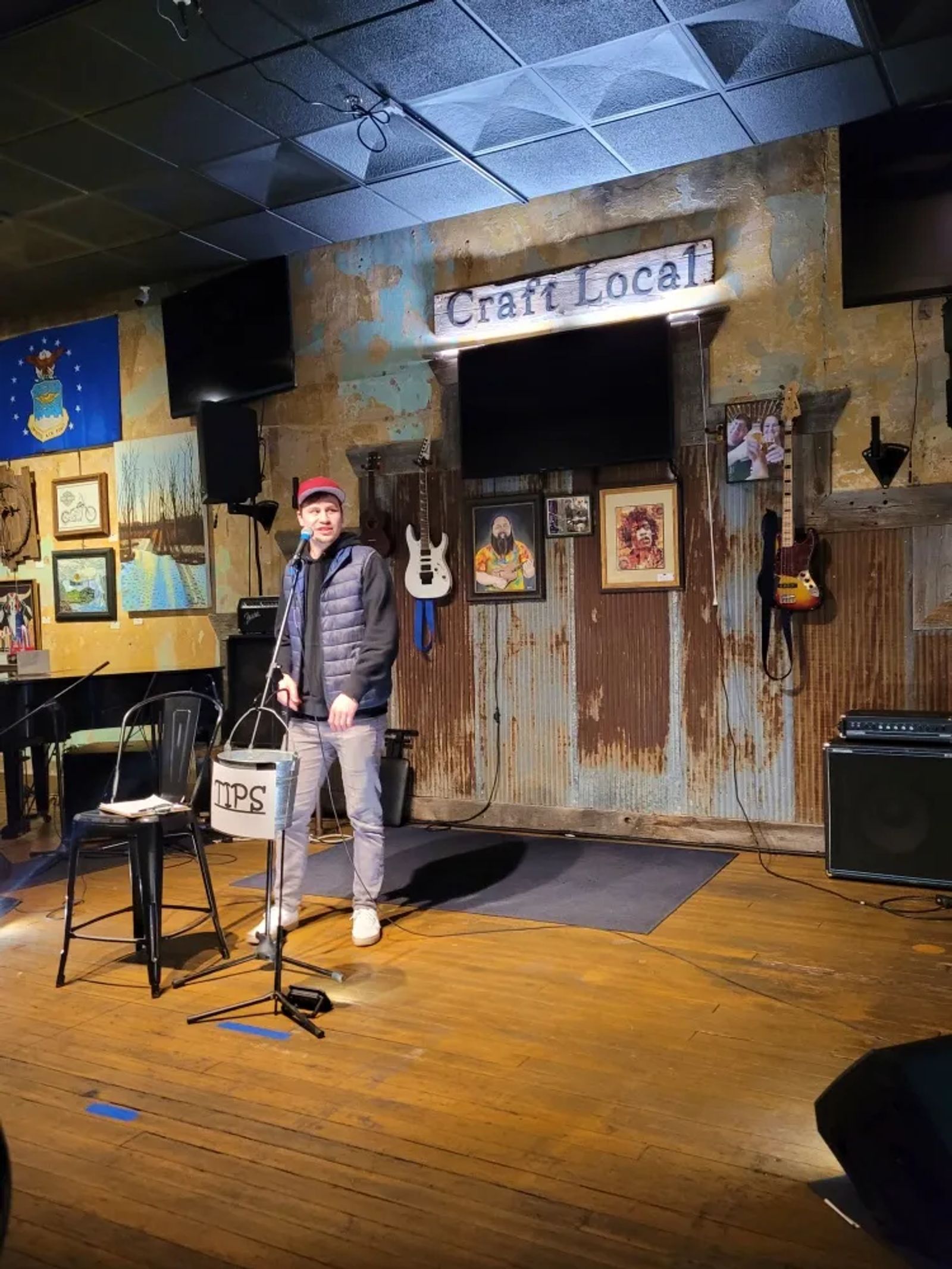 It was around 8:10 pm when the next performer was called to the mic. Most of the chatter at the tables near the stage died down, but the atmosphere is informal so if you're there with friends and want to talk, that seemed completely acceptable.
There was a cluster of women at a table near the bar enjoying some drinks, various couples like ourselves and several groups of friends scattered around. Everyone sat near the bar at the back so it felt full and cozy despite the open tables near the front.
Each comedian had approximately 5 minutes at the mic (no one was cut off). Some had note cards or referenced notes on their phone. Some walked around, others sat on the stool or stood at the mic - whatever felt comfortable. Funny poems were told, humorous personal stories recounted, one-liner jokes delivered. A little bit of everything. The crowd was supportive and the environment casual. If you're planning to participate, know that this is an inviting, non-intimidating place to hone your skills.
By 8:30 pm there were close to 35 people in the place. Some stayed for one beer and left, others appeared settled in for the evening. It's easy to slip out during a transition if you don't want to stay for two hours, or show up late and catch a few acts at the end. Whatever works for your schedule. We slipped out early, but we'll be back.
Now that we know what to expect, Rob plans to prepare some material and take to the mic himself next time. He's guaranteed to have one dedicated fan in the audience!
Who: Anyone and everyone
What: Open Mic Comedy
When: 3rd Tuesday of the month, 8-10 pm
Where: Craft Local (2413 Montana Ave.)
Cost: Free