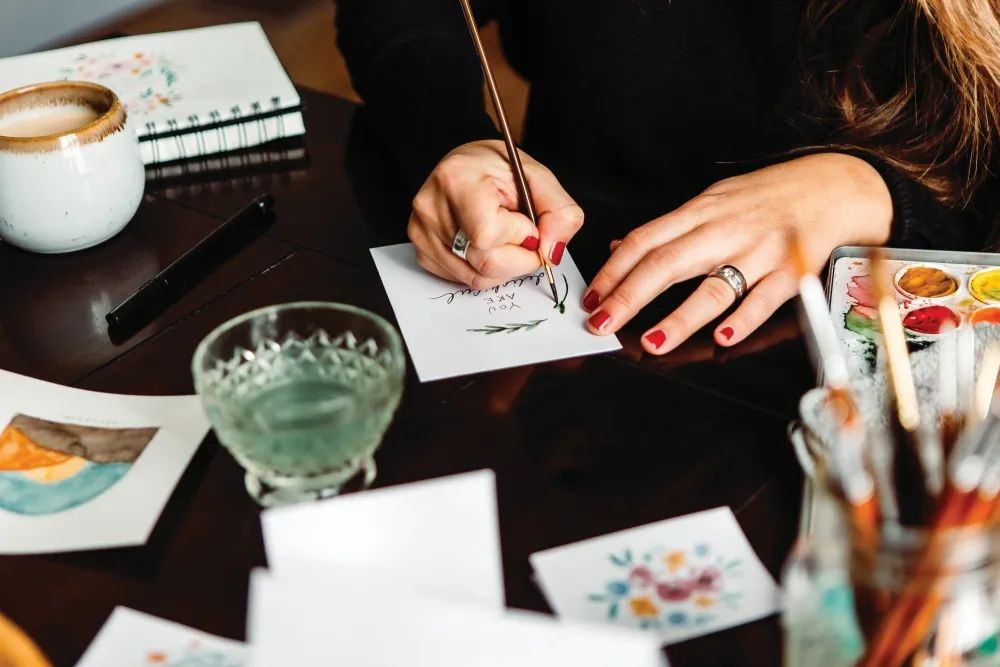 Ink Water Designs: Erikka Hagstrom
January 2022
by brooke wagner | photos by arianna skoog
American painter Wayne Thiebaud is quoted as saying, "Art is not delivered like the morning paper; it has to be stolen from Mount Olympus." Although Billings is not the fabled home of the Greek gods, it is the birthplace of Ink Water Designs and the beautiful, hand-painted works of art it delivers country-wide. Erikka Hagstrom is the founder and heart behind this company. Her inspiration comes from many places, she explains, "I paint what I would like to receive. I try to create pieces that are thoughtful and affordable for anyone. The more people who buy my art to give to others, the more inspired I am to keep creating."
Four years ago, Erikka and her husband Abram had moved into a home remodel project with their three young children. The holiday season was approaching, and this busy mom was scrambling to come up with thoughtful yet affordable gift ideas for her loved ones. One evening after the kids were in bed, she sat down with an old set of watercolor paints and began creating colorful greeting cards filled with scripture. Her husband noticed her efforts and declared, "This will turn into a business for you!". Erikka says, "I laughed him away and told him no one would actually buy this stuff!" Happily, for this young couple, she was wrong. The next weekend, the coffee shop where Erikka worked was hosting a holiday show and asked if she had anything she would like to sell. She immediately remembered the cards she had been working on and had sold out of every single card in a short time. Ink Water designs was born.
In this day and age of emails, text messages, and Snaps, pen and paper (or in this case, watercolor and paper) can seem like a lost art. Erikka takes pride in the fact that every greeting card, bookmark, and postcard she creates is hand-painted. Whether it is a greeting card congratulating a new mom on the birth of her child, a thank you note, personalized stationery cards, or a simple yet elegant bookmark, every brush stroke is painted with love by Hagstrom's hand. A bulk order of 200 cards may seem like a daunting task, but she handles it with grace and strength. Although Erikka says that balancing work and family life can be challenging, "I feel like it is constantly changing depending on the season, adding in new babies, the school year, etc. I do most of my work in the early hours of the morning and the late hours of the night. I find that I can get the most done when all the littles are asleep. I especially love to paint at night. I feel like it helps me decompress after a long day of motherhood. I put on a podcast or a book or some great music and exhale into creativity mode." Erikka and her husband are now parents of five children, ranging from 9 months to 9 years old.
Erikka says that her favorite part of being a business owner is helping customers bring their ideas to life. Custom orders make up a significant part of her business. She delights in creating pieces that reflect her clients' vision. At Christmastime, green holly leaves and bright red poinsettias grace the front of greeting cards. Springtime might find delicate rose wreaths and peonies. In every piece, she weaves together alluring art and fonts with encouraging messages, bringing beauty to the ordinary in a personal way. Customers can find Ink Water designs at several local hot spots, including Simply Local Marketplace in Shiloh Commons and Ebon Coffee.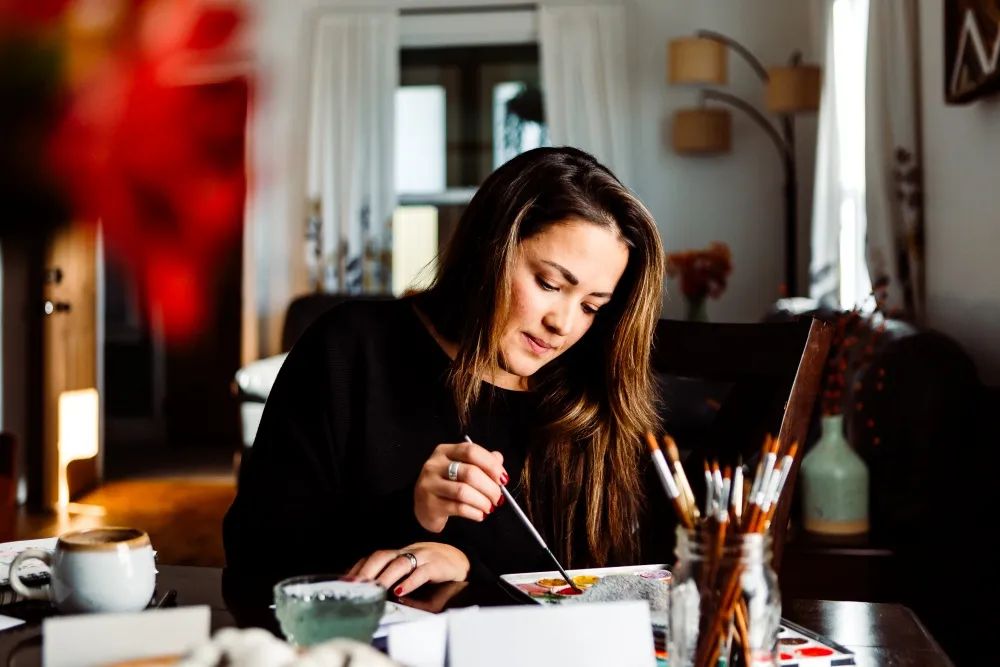 Erikka Hagstrom, Ink Water Designs
Although not a formally trained artist, Hagstrom gives full credit to the source of her incredible talent. "I have no art education whatsoever. It was almost like God had designed this ability inside of me and had been waiting for just the right moment to let it out. This business has been an amazing journey so far, and it has been a sweet space for me to grow as an individual apart from the many hats I have to wear during a given day. It has been a space for me to process through the many peaks and valleys of life. It has provided me with a way to slow down and breathe in an otherwise crazy and full season of raising children. I am grateful to have something to offer others."
Originally printed in the January 2022 issue of Simply Local Magazine
Never miss an issue, check out SLM's digital editions here!