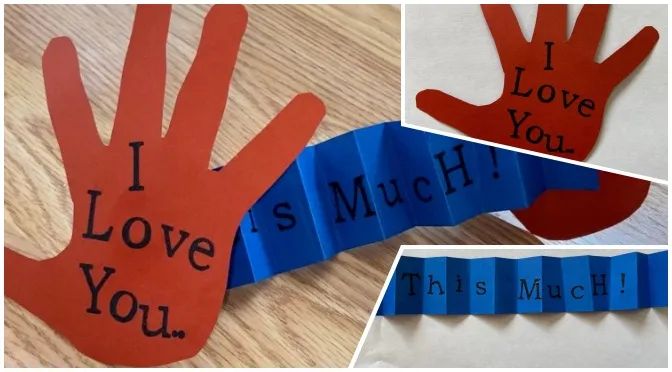 I Love You This Much Handmade Card
February 9, 2020 | by b davis
Grandparents can be the hardest people to shop for when it comes to the holidays. This is why making handmade gifts with the kids is the perfect way to show them you love them. This card is easy to make and looks adorable sitting out for the world to see.
Supplies
Cardstock Paper
Letter Stickers
Scissors
Glue
Trace your child's hands,
Then cut out the outlines.
Cut out a strip of paper and fold it accordion style.
Using the stickers, spell out "this much!" (put one letter on each space)
Spell out "I love you.." on one of the hands.
Glue the hands to the accordion strip. Make sure the thumbs face the same direction. (I found it easier to stand the card up if the thumbs faced to the left.)
These make wonderful last minute gifts. If you have little kids, you'll likely already have everything you need on hand.
Adapted from https://tiffkeetch.blogspot.com/2010/06/this-much-card-and-kid-canvas.html