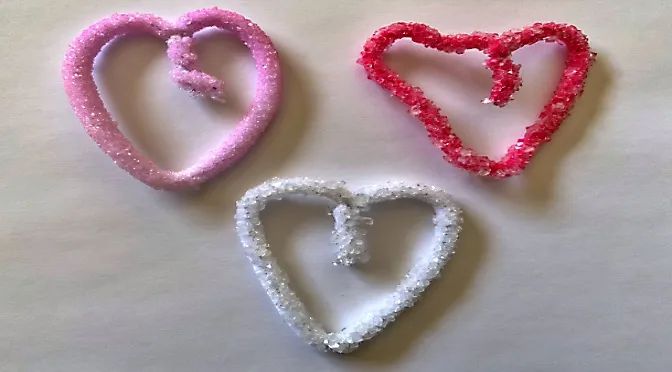 DIY Class Valentines: Borax Crystal Hearts
February 6, 2020 | by b davis
I have never been one for making handmade gifts. But, when my daughter's love language is gift giving, in particular something she has made herself, I wanted to help her express that love. With Valentine's Day coming up, I knew it was the perfect time for her to show her classmates her creativity and how much she likes and appreciates them.
Supplies
Borax (Found at Target in the laundry detergent section)
Glass Jars or Glass Cups (must be glass)
Sticks (popsicle or lollipop)
String or Yarn
Pipe Cleaners (red, white, and pink for Valentine's day)
Instructions
Form hearts using the pipe cleaners. Make as many hearts as needed for each child in the class.
Loosely tie a string to each heart and tie to the stick. Test the heart in the jar/cup. You'll want to make sure the heart doesn't touch the bottom (shorten string if needed) or the sides (cut the pipe cleaners to make smaller hearts). Also, make sure you can get the hearts in and out of the jar easily. They are easy to put into the jar but once the crystals form they will be harder to pull out. The good news is you can reshape the pipe cleaners if they fall apart.
Using boiling water, fill the jars with enough water to cover your eventually submerged hearts. Mix in the borax and stir until combined. (Note: How much borax you need depends on the size of your jar. It is a 1:1 ratio. One tablespoon of borax per cup of boiling water. I used pint sized mason jars and 1/3 cup borax was enough to produce the crystals. If you want, you can add food coloring to the jar. The more drops the brighter the color).
Carefully dip heart into the jar. Make sure the heart is fully submerged.
Set jars aside. You want them in a quiet place so they aren't disturbed. The jars need to sit still for the crystals to form.
Let the jars sit for at least 5 hours but overnight is best. In the morning, take the hearts out of the water and lay on a paper towel to dry.
Once crystals are dry, carefully cut the string off the heart. Decide how your child will hand them out. Put them in a plastic baggie, card and envelope or leave as is and put a sticker on some string. Lots of options!
Notes
Make sure you give yourself enough time to make these. You'll likely not have enough jars to make them all at once and they need to sit overnight.
There are a lot of steps, but these hearts were much easier to make than I expected.
What I loved about this project was that, besides letting my daughter's creativity shine, we also got a little bit of a science experiment out of it. Watching the crystals form and playing around with the food coloring was fun. Each heart came out with a different amount of crystals and looked unique from each other.
Adapted from https://club.chicacircle.com/how-to-make-heart-shaped-borax-crystals/