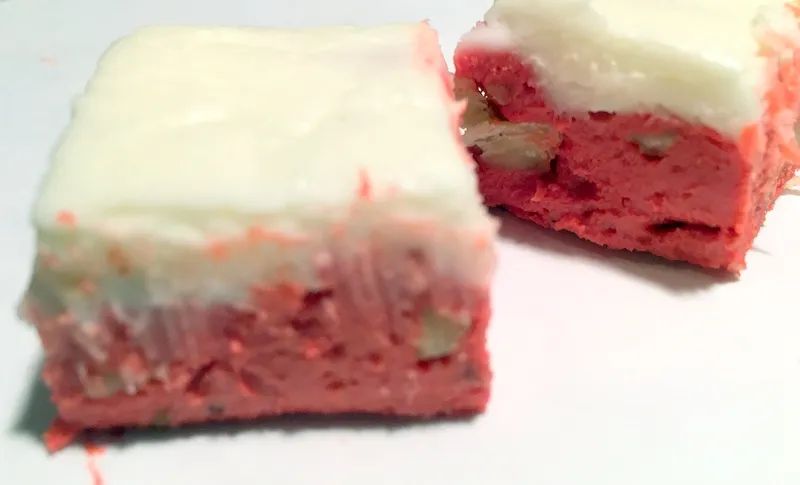 Valentine's Day Recipe: Red Velvet Fudge
In Simply Family Magazine's February 2015 Cook This column it's all about sharing scrumptious ways to spread the love this Valentine's Day. In the pages, Simply Amanda got things going with a recipe for Chocolate Truffles, next she surprised you with a recipe for Hidden Kiss Cookies, and now, days until Valentine's Day she shares this recipe for Red Velvet Fudge. A sure-fire recipe to dazzle your darling this Valentine's Day.
Red Velvet Fudge Recipe
(from Southern Living magazine)
Anyone who loves cream cheese frosting or red velvet cake (or anything delicious!) will love this red velvet fudge.  Mixing and chilling are the only basic skills required to make this recipe that is sure to be a hit this Valentine's Day.
Ingredients
12 ounces cream cheese, softened
1 tablespoon milk
1 teaspoon vanilla extract
1/4 teaspoon table salt
1 pound powdered sugar
1 cup white chocolate morsels
2/3 cup milk chocolate morsels
1 (1-oz.) bottle red liquid food coloring
1 cup toasted chopped walnuts
Preparation
1. Line an 8-inch square pan with parchment paper, extending over sides; coat with cooking spray.
2. Beat cream cheese and next 3 ingredients with an electric mixer until creamy. Beat in powdered sugar, 1 cup at a time. Beat at high speed 3 minutes.
3. Melt white chocolate according to package directions; beat into cream cheese mixture. Reserve one-third of cream cheese mixture. Melt milk chocolate according to package directions. Stir milk chocolate and food coloring into remaining two-thirds of cream cheese mixture. Fold in walnuts. Pour into prepared pan; tap pan on counter to remove air bubbles. Freeze 10 minutes.
4. Spread reserved cream cheese mixture over fudge; chill 4 to 24 hours. Remove fudge from pan. Cut into rectangles, rinsing and wiping knife clean between each slice. Chill until ready to serve.