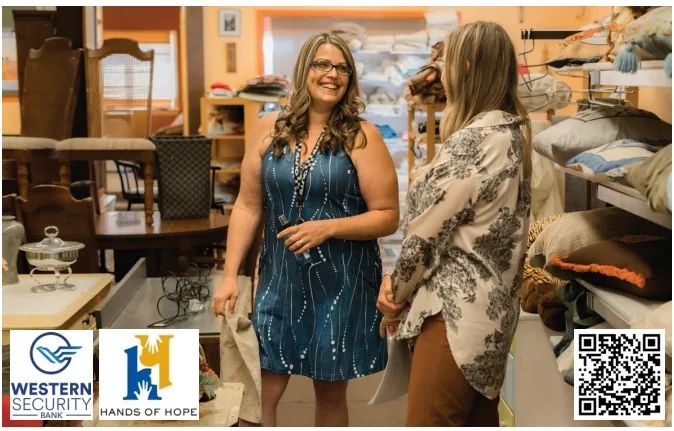 Hands of Hope: Gratitude in Action: Empowerment through Sober Living
September 2023
by Tiffany Ricci | photo courtesy of Western Security Bank
"I'm on the front line of miracles" is Terri Todd's answer when asked about the best part of her job. Terri is the founder of Gratitude in Action (GIA) - a sober living community that promotes recovery by encouraging and supporting the independence of its members.
Many people who occupy the 72 adult beds available in the six quality recovery houses that are spread across the community find themselves there by means of chronic alcohol and substance abuse. They are ready to recover - but have little resources to do so. This is where Gratitude in Action shines.
GIA promotes substance abuse recovery. It helps people stand independently, giving them the skills and tools to be self-supported. They can keep moving forward even when life happens. Residents gain resilience rather than dependence.
Terri and her husband Richard have built a strong network of GIA alumni, Billings community partners, and local services to propel those they help forward. They know what it takes because they have been there themselves. They've created loving boundaries and firm house rules so residents can learn the structure and skills necessary to handle real life.
Their recipe for success works. They've helped nearly 4,000 people transition through the houses in the past seven years. Residents gain a sense of self-worth and belonging by contributing to the Billings community through volunteer work throughout the city.
Terri confirms that addiction is a disease of separation, and they're preparing residents so they plug into the community and become a part of something bigger than themselves. "You've been a taker your whole life; it's time to be a giver. That's what we help them become."
Visit www.giamt.org/prosper to learn more about the GIA Prosper Campaign or the Thrift Store at 10 South 30th Street in Billings.
Originally printed in the September 2023 issue of Simply Local Magazine
Never miss an issue, check out SLM's digital editions here!