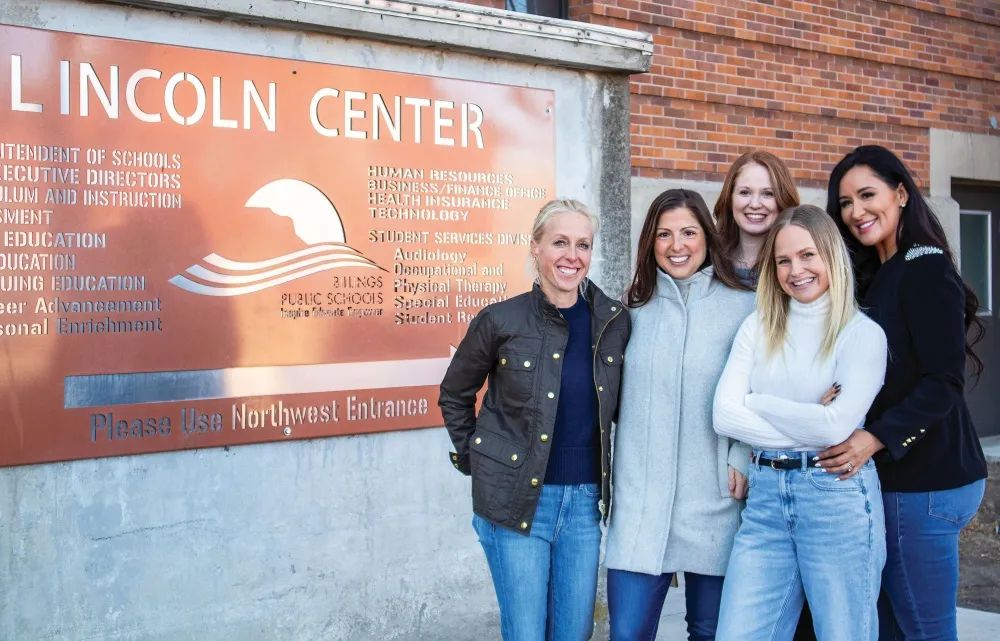 Left to right- Hollis Edwards, Kelly Edwards, Megan Cabe, Jaci LaFountain, and Shawna Morales
Gratitude for School District 2 Educators
March 2022
by Kelly McCandless | photos by Renata Haidle
While we've all been in the throes of difficulty for the better part of two years, there are a few professions who have had it harder than most. For example, healthcare workers and educators show up every single day, regardless of their personal beliefs, their fears, their frustrations, or their emotional states. They care for their charges, showing compassion, kindness, and bravery. And, without each of these professions, society would falter – even during the best of times.
Thankfully, we've seen a variety of compassionate efforts arise to show appreciation for these professionals. Healthcare wards have received food, snacks, and more from locals taking initiative to show gratitude. Similarly, when the school year began, a group of passionate community members saw the need to take action.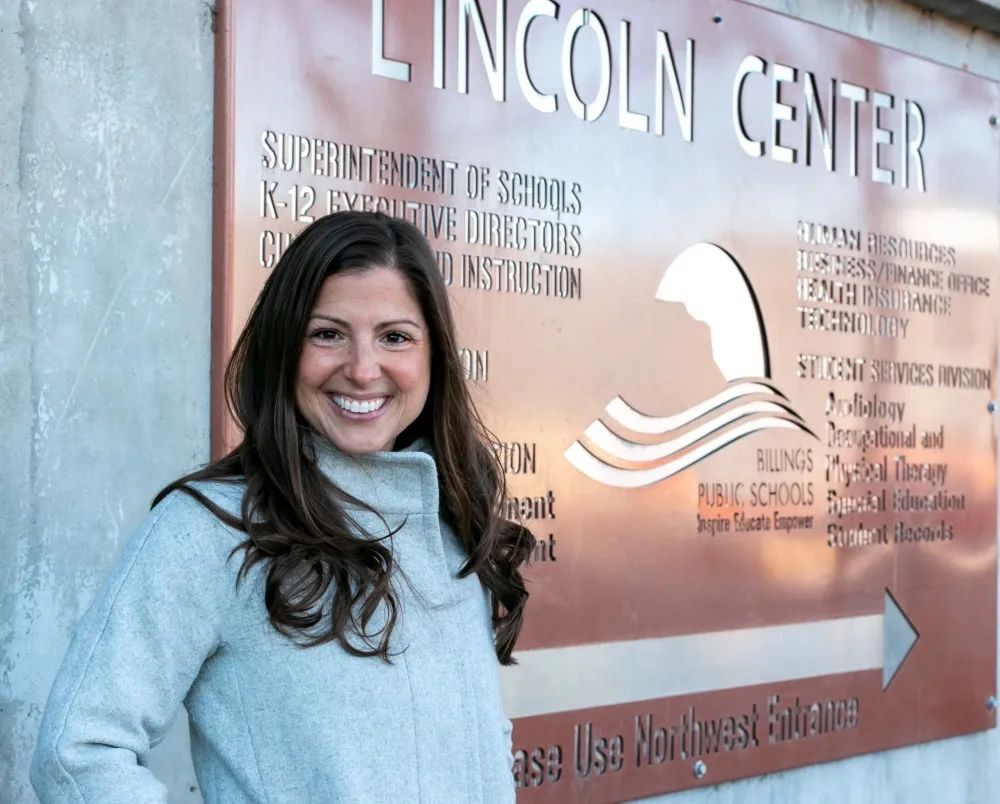 Kelly Edwards- Education Foundation for Billings Public Schools board of Directors
"Educators are burned out," explained Kelly Edwards, one of the volunteers spearheading the effort. "There was a clear need to show appreciation for our teachers, given the hardship they face."
Edwards, a member of the Education Foundation for Billings Public Schools board of directors, heard that teachers were feeling the emotional strain and that students were presented with more challenges than ever before. She also had many fellow parents reaching out to her wanting to help.
"We worked with parents and our community last school year to encourage camaraderie around the efforts being made to keep schools open and kids in school, and all have continued to step forward recognizing the need to help again," Edwards said. 
Edwards recruited friends known for digging in and getting things done. With the support of the Education Foundation for BPS, Edwards rallied Hollis Edwards, Megan Cabe, Shawna Morales, Jaci LaFountain, and Kendra Brooks to lead a year-long appreciation effort.
"Our goal is to do at least one act of kindness and appreciation each month," outlined Cabe. "We're recruiting sponsors to help cover the costs and have a contingent of nearly 30 volunteers helping us execute each monthly initiative."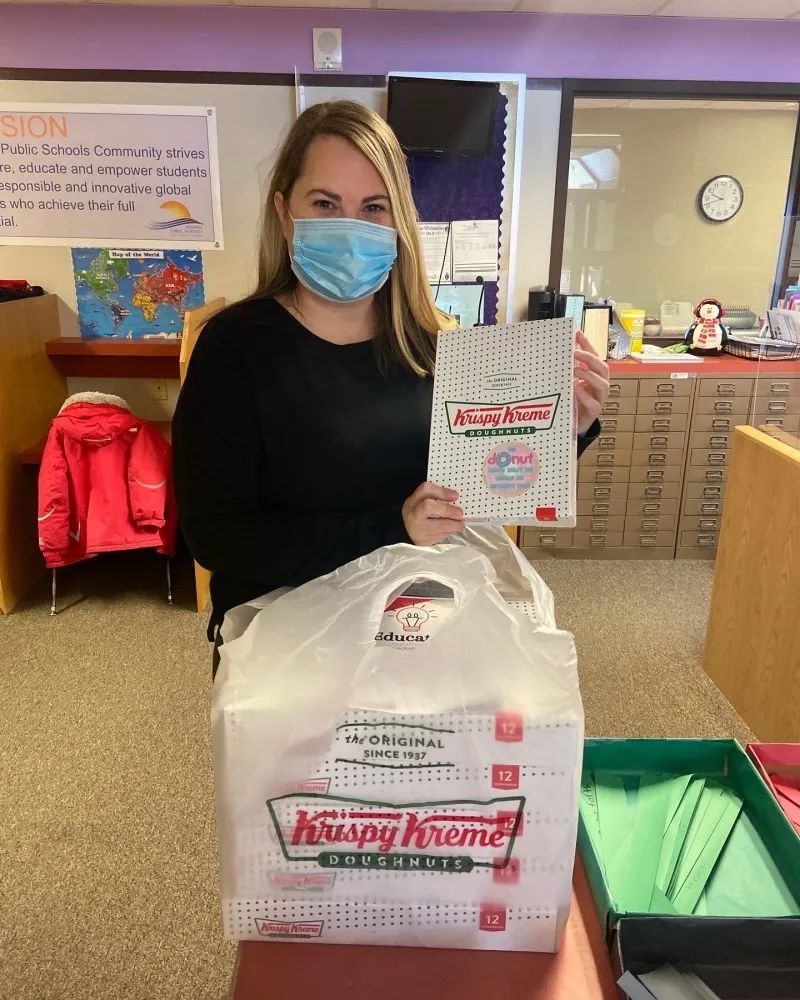 November's act of kindness saw Krispy Kreme donuts
The group has completed several impactful acts: November saw Krispy Kreme donuts, December brought an onslaught of AWESOME teacher messages (messages sent by students and families to their AWESOME teachers) and mini bundt cakes from Nothing Bundt Cakes, January offered a Drink on Us voucher from By All Means and Überbrew, February a custom video with photos, pictures and messages of thanks from students and community members, and March will bring a bit of luck with lottery tickets. Every month, the initiatives provide at least one goody for every teacher and support team member in the district.
To take the appreciation a step further, local businesses like Buffalo Block, Alberta Bair Theater, Rocky Mountain College, and 406 Taproom have donated gift certificates and gift baskets to give away to teachers. Drawings are held each month where an educator is randomly chosen to receive these bonus gifts.
Businesses like TDS Fiber, Edwards Law Firm, OrthoMontana, Mrachek Popp & Associates, Allegra and Movement Montana Arts Academy have donated to the effort, and many individuals throughout Billings. From fully covering the cost of an initiative to donating gift certificates and quality products for random drawings, Billings is showing up to show appreciation for our educators.
As the group looks to finish the year, the most challenging undertaking is ahead. "We are working to put together a custom gift basket for every teacher and support team member in SD2," explained Morales. "More than 2,000 teachers and support staff are on our list, and we want them each to receive an individualized gesture of gratitude." 
With the help of donated warehouse space and a comprehensive fundraising effort, the ladies are confident they'll reach their goal. "The initiatives for April, May, and June are big, but so is the work our educators take on, on behalf of our children, each and every day. They all deserve for us to make this happen," summarized Edwards.
As if that's not enough, the group is determined to say thank you to every single student in School District 2 as well. 
"The kids deserve thanks for their perseverance and resilience over the last two years, too," said Edwards. "We're also working on raising the support to bring treats and gratitude to every school in the district to ensure all 17,000 students hear us saying 'thank you' for their continued efforts."
The Education Foundation is serving as the liaison to the district for the volunteers. Their role allows donations to be tax deductible and provides a direct link to the schools themselves. (Full disclosure: the author of this article is an employee of the Education Foundation).  
If you'd like to get involved in the School District 2 Educator Appreciation campaign, visit www.efbps.org to learn more about how you can donate and volunteer. 
Originally printed in the March 2022 issue of Simply Local Magazine
Never miss an issue, check out SLM's digital editions here!