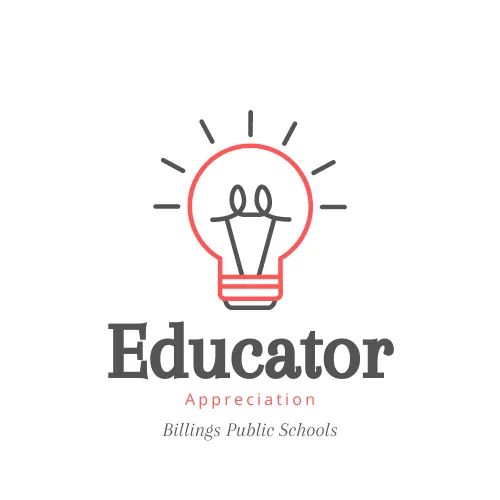 Thank an Educator with EFBPS' Appreciation Campaign
November 11, 2021
In this season of thanksgiving, the Education Foundation for Billings Public Schools, along with caring volunteers and donors from our community, launched the Educator Appreciation Campaign for School District 2 last week.
Kelly McCandless, Executive Director of the Education Foundation, explained, "Educators throughout the District have been through so much over the last two years. Burnout is high and yet they continue to show up daily, pouring into our students. They deserve recognition and support."
To drive encouragement and inspire continued resilience, the campaign launched with thank you notes sent to every educator and support staff member in the District, including beautiful student art and a message of thanks from the community and the Foundation. Led by Foundation board member Kelly Edwards, the campaign will last through the end of the school year and includes one gesture of thanks and appreciation each month.
Teachers - and school staff members - in our community have really stepped up in the face of the unprecedented circumstances we find ourselves in with the pandemic. Every day there are individuals going above and beyond for our children.
McCandless shared, "Our teachers continue to look beyond their personal beliefs and concerns, beyond the politics, and are pouring into our students every single day. Teaching in normal times is as challenging as it is rewarding and can be undervalued. This campaign gives us an opportunity to show our gratitude for all in a profession shaping our most valuable assets—our kids."
Later this month, donuts and coffee will be delivered to every lounge in the district. Looking forward, they plan to surprise the various schools' staff with other treats and gifts throughout the rest of the school year.
McCandless continued, "This campaign should be a reflection of the support our community wants to give our teachers and schools. We welcome donations of goods and services as well as financial support so we can really make a difference. I invite comments, suggestions, and contributions, and gladly welcome volunteers." You can contact Kelly McCandless at mccandlessk@billingsschools.org
Visit here to learn more and/or donate.
You can also check out Educator Appreciation for School District 2 (givebutter.com) if you're interested in giving to this cause.
The Education Foundation for Billings Public Schools provides support to educators and students through philanthropy, connection, and collaboration. We strive to give all students the tools they need to reach their greatest potential and to develop into engaged and productive citizens. The Foundation works in cooperation with the public school system, but operates independently. Through endowments, scholarships, grants, and specific projects, the Foundation provides opportunities and resources for students and educators in Billings Public Schools to promote excellence in education.