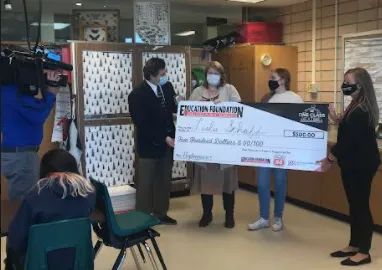 'One Class at a Time' Makes a Comeback in SD2 Thanks to Phillips 66 Grant
December 2, 2021
With the season of giving upon us, the Education Foundation (thanks to a grant from Phillips 66) has partnered with KTVQ and City Brew to bring back One Class at a Time. A program that aims to show teachers how much they are appreciated, recognizing those who go above and beyond in their classrooms.
All teachers in School District #2 can be nominated, and once each week the Foundation will select one lucky teacher to win $500 in cash for his/her classroom as well as $150 gift card from City Brew (and coffee for the building staff the day of the announcement)! KTVQ will announce winners each Friday! Be sure to check out the nomination process (details can be found here). Have any brilliant teachers in mind? Get nominating! In the meantime, let's check in with last month's first recipient.
Mrs. Leslie Schaff is a Science teacher at Lewis & Clark Middle School. She shared, "We love our students and want to share our passion for each subject with them. During a meeting, Mrs. Sulser (principal) encouraged teachers to take the ideas we have been wanting to implement in our classroom and put them on paper. I immediately thought of the Hydroponics Project I shared with my students at the beginning of the school year. I was thrilled when my class shared in that enthusiasm (I even had a student bring in research the next week)," Leslie said, disclosing that she applied for a grant that would put the thrilling project in motion.
Yet, she had no idea she would be this year's first One Class at a Time recipient! "I was not anticipating the Q2 News crew and the Education Foundation Team to walk into my first period class!" She laughed, saying, "Overwhelmed would summarize the moment."
Leslie was touched by how incredibly generous the Education Foundation is. "The excitement swept over our classroom and the pride I felt for my students embracing the idea of elevating our learning experience overcame me. I tried very hard not to cry and hug everyone in the room!"
Leslie also has a HUGE thank you for City Brew "for honoring all of our staff members with coffee. Again, this is a local business that embraces our community, and we are grateful."
Isn't that a wonderful, feel-good story? And just wait till those students get to dive into Hydroponics. Way to go, Billings! No Scrooges around here.