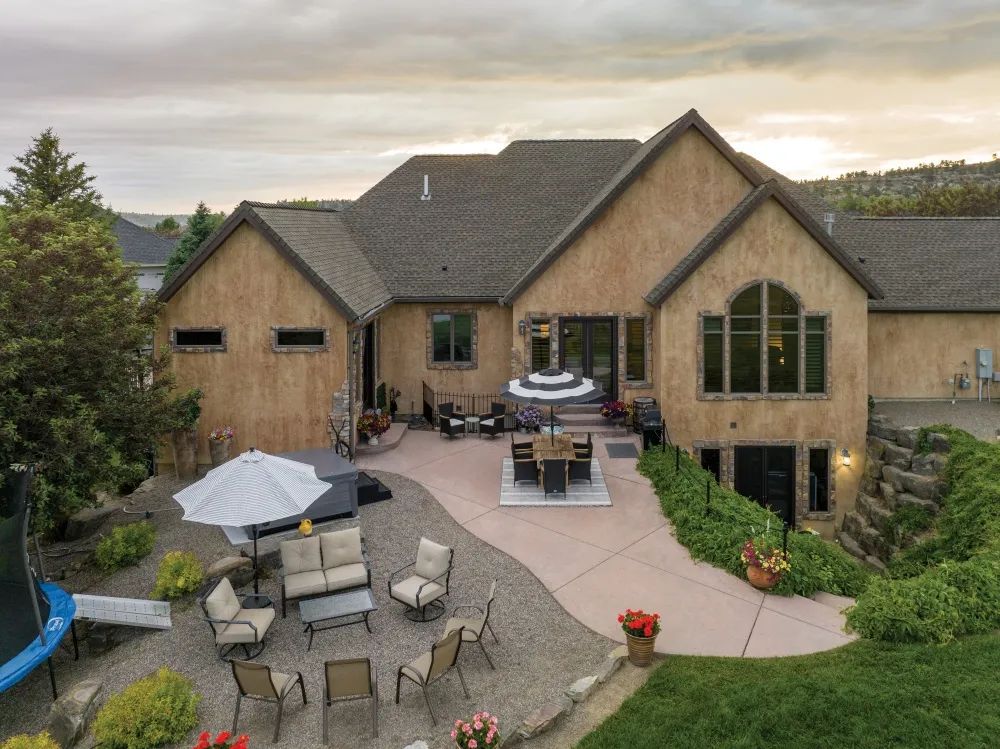 Finding a Summer of Solace in Your Own Backyard
August 2023
by maria weidich | photos by nathan satran
Your diamonds are not in far distant mountains or in yonder seas; they are in your own backyard, if you but dig for them.
-Russell Conwell
Summers in Montana are never long enough but one Billings family enjoys the long days and warm nights without ever leaving their own backyard.
Skirting the edge of the Yellowstone Country Club with the Indian Cliffs neighborhood towering above lies an outdoor oasis, home to the Oblander family. Ryan and Tove, along with their three young children, share the home and all its natural beauty with the original owner "Grandma Chris" Bornes, Tove's mother. Built by Tove's brother in 2010, the Oblander's home evokes a charming, old-world Tuscan feel, both inside and out.
Described by Tove as "Inviting, comforting, and simply beautiful," the space isn't adored by only her family. While creating the outdoor space has been a true labor of love, the fruits of their labor are enjoyed by extended family, friends, and neighbors, too. "It's our favorite part of the house," Tove said of the backyard. "We don't have to go far and there's always something to do. We can have a little vacation but still be at home."
Solace in the City
The rustic architecture of the home's exterior blends seamlessly into its vast, natural surroundings. The nearly one-acre lot is void of backyard neighbors, with nothing but open land and stunning views of the Rims. "We're in the city," Tove described, "but you wouldn't know it because there's really not much around. You feel like you're out here by yourself."
The large hammock tied between two large shade trees is the perfect spot to hang out, take a siesta, or read a book. Dubbed the 'book nook' by Tove, it's a great spot to get away and find some peace and quiet.
A Place to Gather
To the Oblanders, gathering places are of utmost importance. Whether it's at the large outdoor dining table to enjoy a meal, the fire pit for a night of storytelling and s'mores, or at the basketball court for a game of pick-up, the ways to connect are aplenty.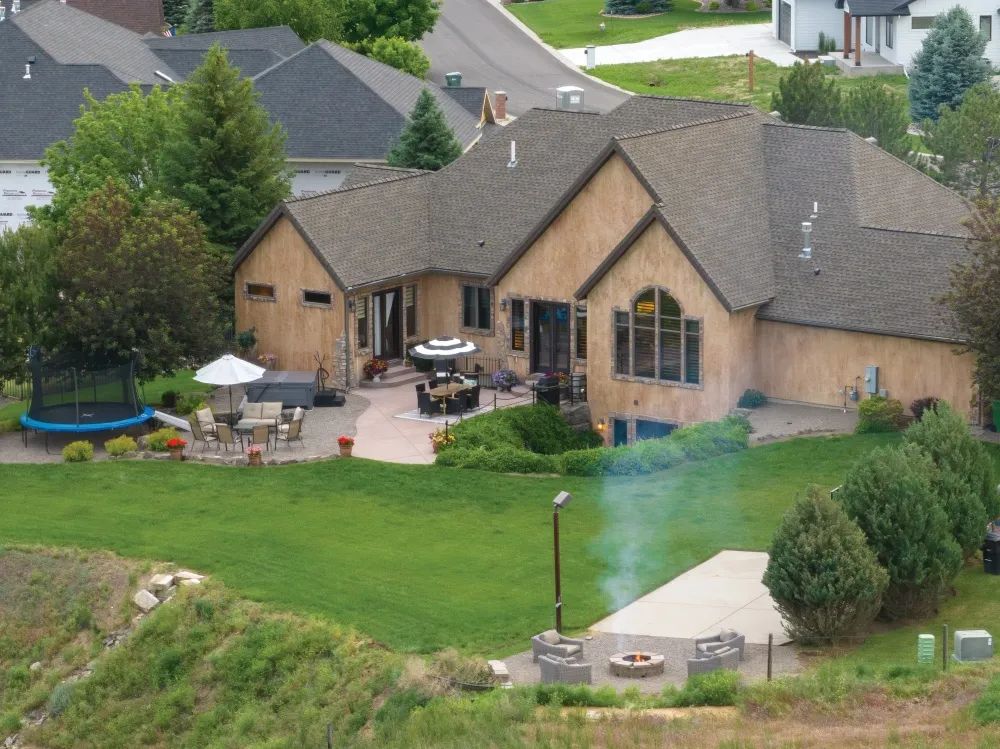 When Tove's brother built the home, he joked the theme of the house was bigger is funner . "Everything has to be big to fit proportionally," Tove laughed. Adding to the home's grandeur is the abundant selection of outdoor furniture decorating the patio. "When we have parties, we always try and make sure everyone has a seat," Tove said. "You'll never be left standing."
A Place to Play
When the world was rattled by the COVID-19 pandemic and lockdowns were in place back in 2020, the Oblanders maximized the potential of their outdoor space by creating an area out back, affectionately known as Corona Park.
"Nothing was open at the time and we wanted to create a space where the kids could stay busy outside and off technology inside," Tove explained. Using the existing deer trails, they carved out an area to ride bikes and tear around in the dirt. They even fashioned a full-size kickball field, large enough for the adults of the neighborhood to come out and play.
A Garden for Grandma
Nothing delights Grandma Chris more than tending to the greenery and colorful flowers that adorn the property. From the Boston ivy that hangs over the rocks all summer long to the planter pots full of brightly colored flowers, Chris is in her element. "She's out there every day coming up with ideas," Tove said of her mom's garden. "Digging in the dirt is her therapy and I think it keeps her young, too."
Chris, who built a successful career operating CDS The Edge Performing Arts Center as well as choreographing the Miss Montana Pageant, echoes this sentiment. "After 37 years of working in front of mirrors teaching dance, theater, and acting, I get to be 100% in nature now." Her professional work was always centered around appearance and beauty. "Now the flowers are pretty," she laughed, "and I don't have to be pretty anymore!"
S'more Fun and Games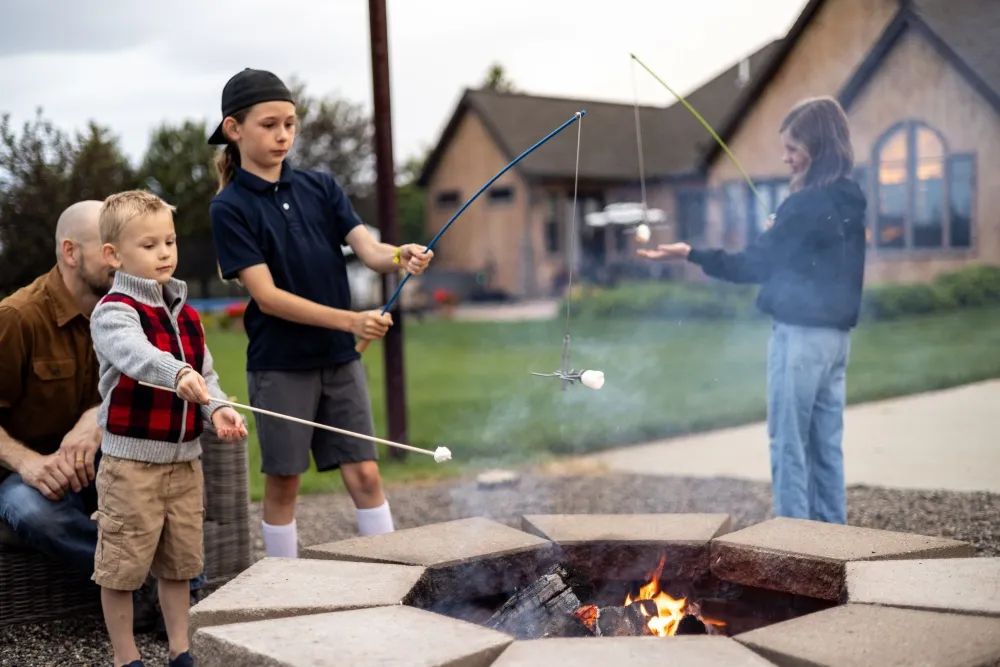 Is it even summer without games of spirited cornhole or s'mores over the campfire? The Oblander's large fire pit area accommodates a wood burning fire pit perfect for roasting marshmallows. "Our guests will smell like a campfire when they leave," Tove laughed, "but it's authentic, right?"
Find Your Solace
Anyone can turn their outdoor space into a mini paradise retreat by creating a tailor-made area for relaxing, entertaining, gardening, al fresco dining, reading, or playing. By adding elements that are important to you, be it a garden, yard games, or comfortable seating, Tove agrees. "It doesn't matter if your space is big or small, you have to find what you love. Find those comfort zones so you can have your indoor space blend into your outdoor space and create that extension of your home."
Originally printed in the August 2023 issue of Simply Local Magazine
Never miss an issue, check out SLM's digital editions here!