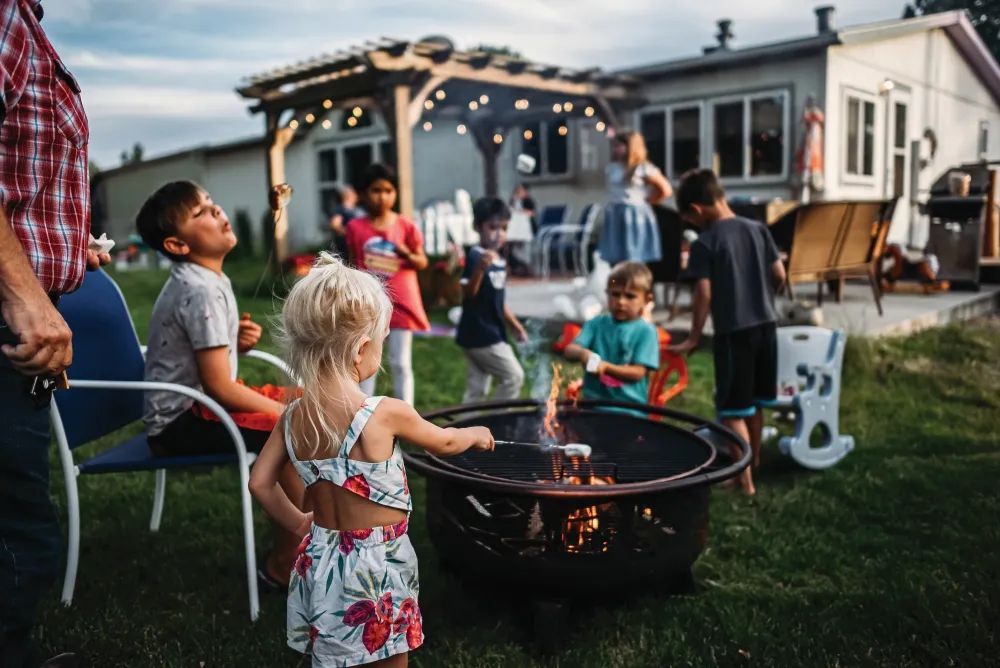 The Great Backyard & Beyond
July 2022
by maria weidich | photos by Maighen Kaye Photographer
You can journey to the ends of the earth in search of success, but if you're lucky, you will discover happiness in your own backyard. (Russell Conwell)
Ah, there's nothing quite like enjoying the sights and smells of summertime as you hang out in the backyard. Lawn mowers humming, barbecues sizzling, and children squealing with delight as they run and play. For generations, backyards have long been used as an extension of our homes, especially in the warmer months. We associate them with relaxation, recreation, celebrations, and fun.
But backyard culture as we know it didn't always look like this.
Backyards Back Then
In the late 1800s, backyards were used to support one's own family. The term "victory garden" was coined in wartime as the government encouraged people to plant their own food. This not only helped reduce the pressure on the public food supply but it was even said to help boost overall morale. This, along with raising livestock in the backyard, cultivated a place of work in the backyard and not so much play.
Backyard Boom
When suburban cities began to grow post-World War II, all this changed. More land and newly built housing developments meant more backyard space. The booming economy also meant more disposable income and more free time for house projects and recreation.
Interestingly, American companies that supported the war efforts by producing aluminum and concrete pivoted during this economic shift and began manufacturing things for the everyday consumer: patio furniture, swimming pools, and barbecue grills. As a result, backyard culture soon became a symbol of prosperity and American life as we know it today.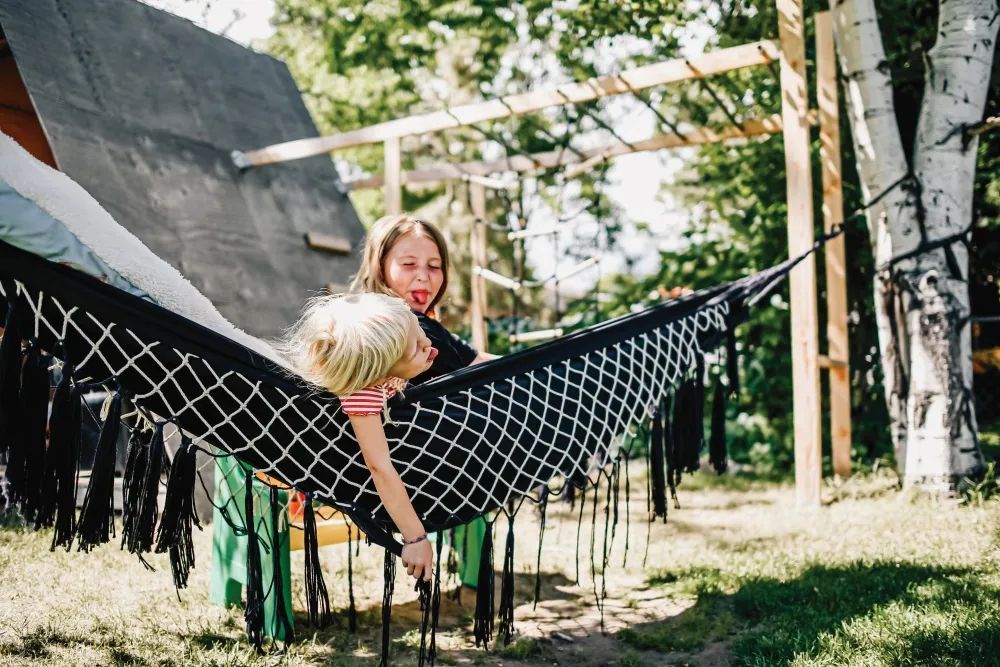 Lawn Games
The ways we incorporate summertime fun have more or less remained unchanged since the backyard boom of the 1950s. Ageless pastimes like badminton, croquet, horseshoes, and even the famed Slip' N Slide remain popular today. In recent decades, cornhole swept the nation and is synonymous with backyard entertainment, as are oversized games of Jenga, Yahtzee, and Tic-Tac-Toe.
Rest & Relaxation
Maybe a little backyard R&R is what you're after this summer. Does your ideal backyard pursuit involve a cold beverage, comfortable lounge chair, crackling fire pit, and dangling string lights? It doesn't take much to create an outdoor oasis that beckons you back all summer long.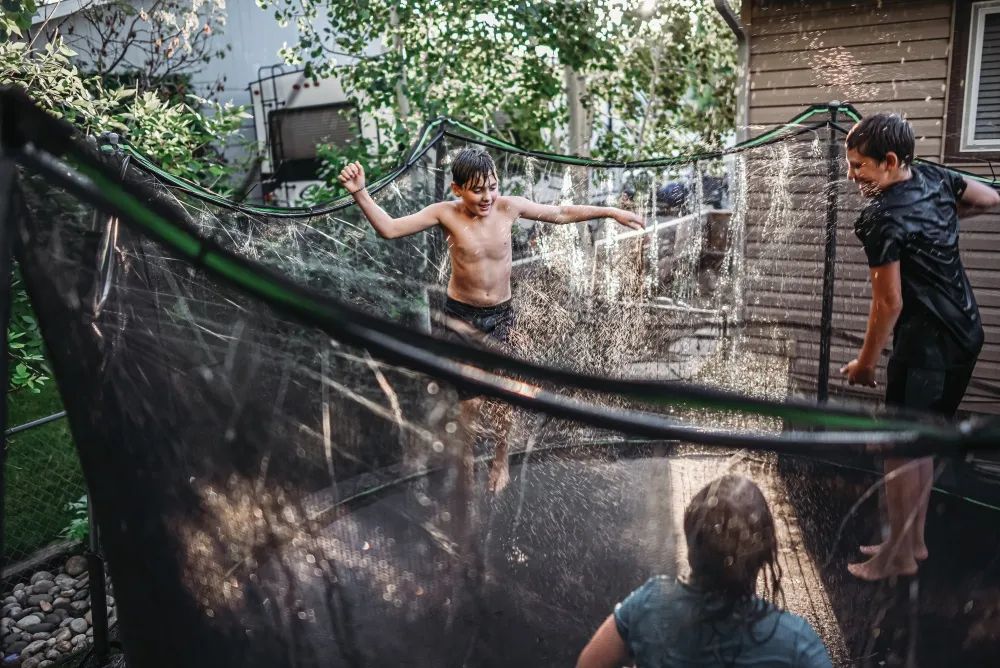 If you're lucky enough to have a pool… you're lucky enough! But if not, inflatable or hard-shelled kiddie pools or sprinklers offer an affordable and easy way to cool off in the backyard – for kids and parents alike. Maybe even Fido, too!
Let it Grow
For those who like to get their hands in the dirt, the victory garden of yesteryear lives on today. There's nothing quite like watching a garden grow and then, literally, enjoying the fruits of your labor. While our region only has about a three-month growing window between the last frost in the spring and the first freeze in the fall, there is still a lengthy list of fruits and vegetables that thrive in Montana gardens.
Hang Out
Laying in a hammock might just be the quintessential summertime leisure activity. No trees? No problem! Many free-standing or chair hammocks work well in just about any space. So grab a book, cold beverage, and let the gentle sway rock you into a deep state of relaxation.
Base Camp
If you're new to camping, have small children, or just don't want to venture out too far – camping in the backyard is an excellent alternative! Pitch a tent and grab the sleeping bags, snacks, and flashlights. Gaze at the stars, tell your best spooky ghost story, and retract all set bedtimes. Perhaps the best perk of backyard camping: indoor bathrooms!
But our backyards extend well beyond our patios, pools, and property lines, too. Our proverbial greater backyards are all around us. The Treasure State and surrounding region are full of city parks, state parks and not to mention, world-renowned national parks, as well. If you don't have your own private backyard oasis or just want to journey out a little further, check out these noteworthy parks, pools, patios, and community gardens in the Billings area.
City Parks
Easy access and something for everyone – even the pooch. Here are some of our favorites.
Downtown Skate Park
High Sierra Dog Park
Phipps Diamond X Park
Pioneer Park
Riverfront Park
Swords Park
Zimmerman Park
State Parks
Make it a day trip to one of these nearby State Parks! Admission is free for Montana residents.
Chief Plenty Coups State Park
Cooney State Park
Lake Elmo State Park
Pictograph Cave State Park
National Parks
A bit more planning is required, but it's a weekend getaway you will not forget!
Glacier National Park
Yellowstone National Park
Community Gardens
Reserve a plot and grow whatever you choose! Fees may apply.
Amend Park Community Garden
Mayflower United Church of Christ-Billings
Saint Andrew Community Garden
Veteran's Garden at Independence Hall
Outdoor Patios
Sit back and relax or wine and dine! Here are some of Billings' prized patios.
406 Kitchen and Taproom
Buffalo Block
By All Means Taproom
Diamond X Beer Co.
Last Chance Pub & Cider Mill
The Fieldhouse & The Annex Coffeehouse and Bakery
Thirsty Street Brewing Company
Community Pools & Waterparks
This counts as a bath, right? Fees may apply.
Castle Rock Park Spray Ground
Hawthorne Park Wading Pool
Pioneer Park Wading Pool
Rose Park Pool
South Park Pool
Terry Park Spray Ground
The Oasis
Originally printed in the July 2022 issue of Simply Local Magazine
Never miss an issue, check out SLM's digital editions here!