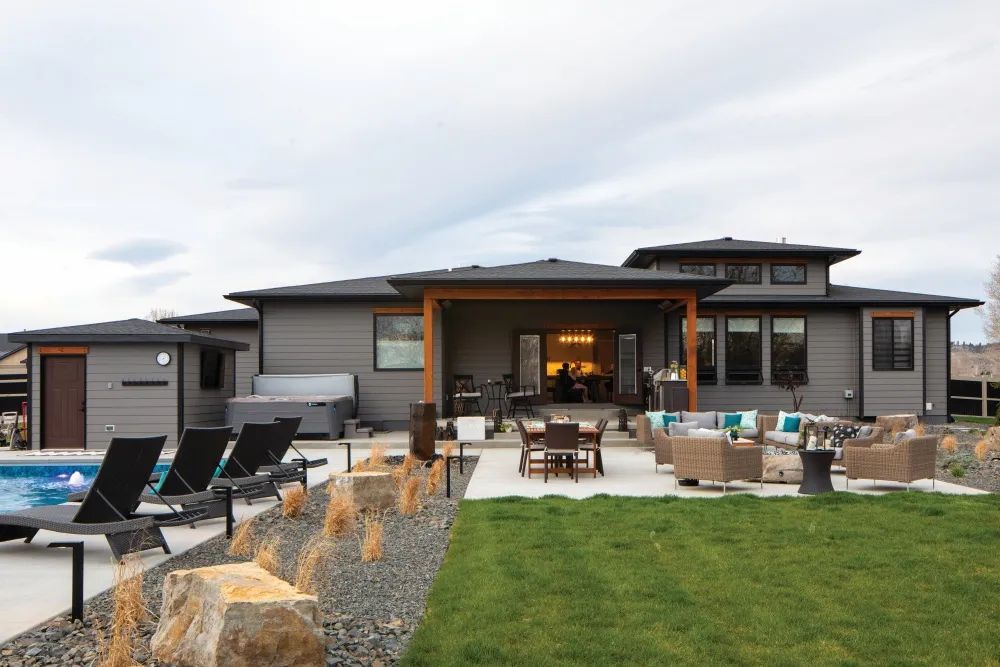 Building a Beautiful Backyard Oasis
June 2022
by stephanie toews | photos by nathan satran
When local couple Adam and Carrie were building their home, it was decided early on that Carrie would have her say on the indoor design while Adam would have free rein outdoors. The home's one-acre lot served as the ideal blank slate to design a beautiful backyard oasis. Adam loves entertaining and wanted to create a space for people to gather, and for their two children to invite friends over. As Carrie put it, "Adam built Disneyland out there!" Carrie came along for the ride.
Wine, Dine, & Design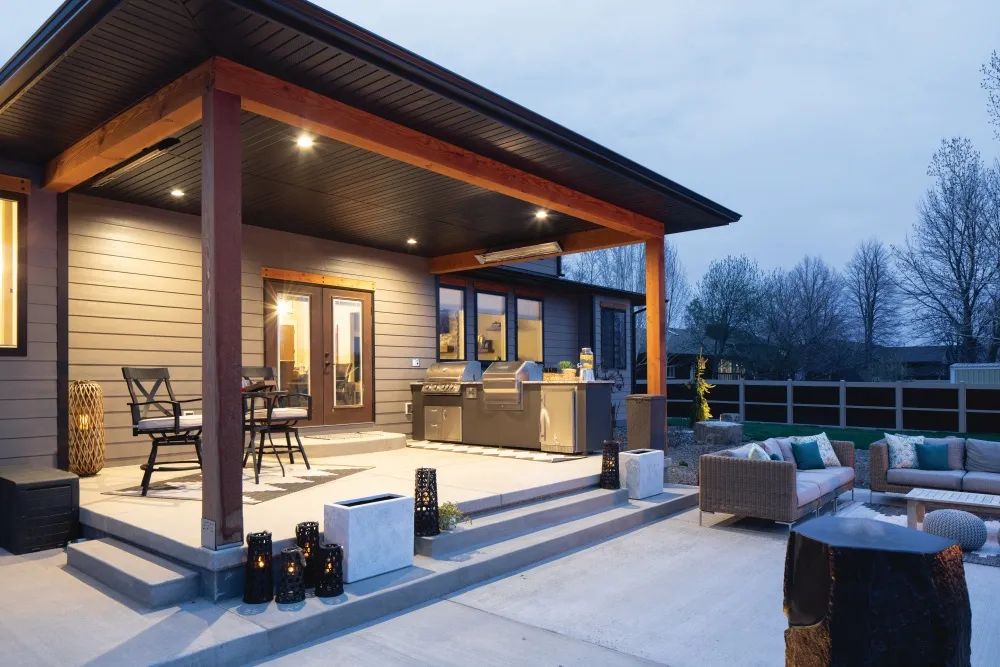 No outdoor dream space would be complete without a place to dine alfresco. This patio and yard feature every poolside provision needed for outdoor dining. R&T Services designed and installed this outdoor grilling station for hot food, complete with an outdoor fridge for cold beverages, ideally situated underneath a generous covered patio.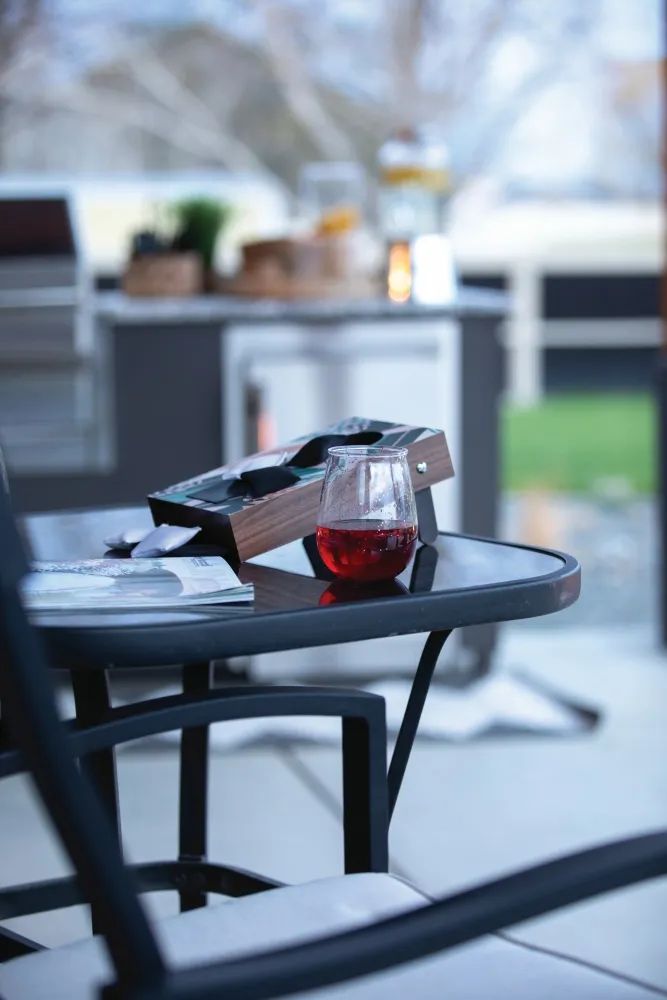 A covered space next to the grill to relax with a glass of wine and a good read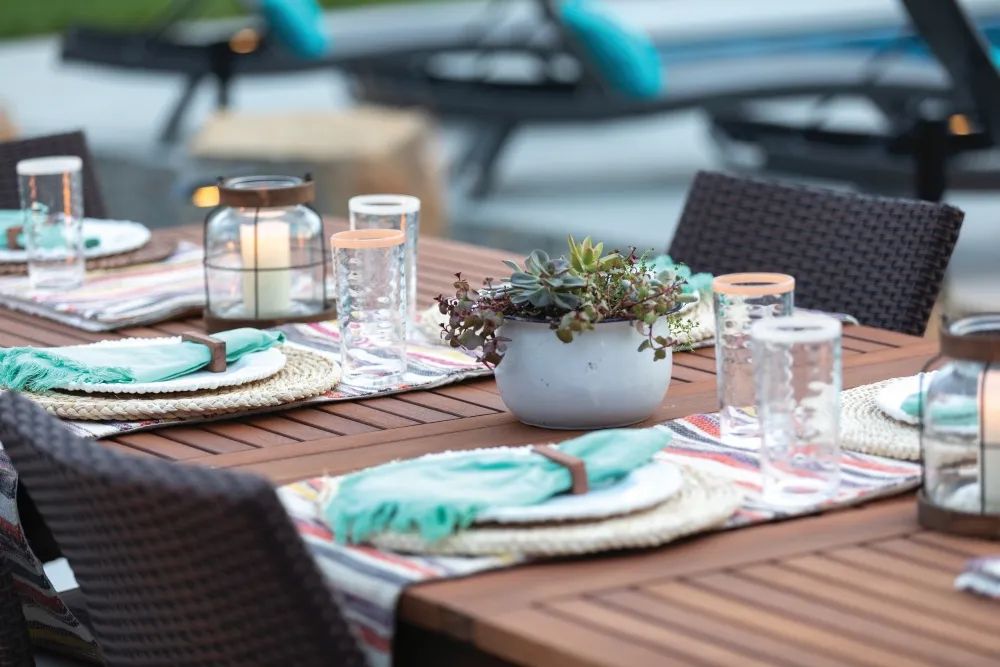 Splashes of turquoise atop the table and throughout the patio decor reflect the colors of the pool water and add tropical vibes to the space
Luxe Landscape & Lighting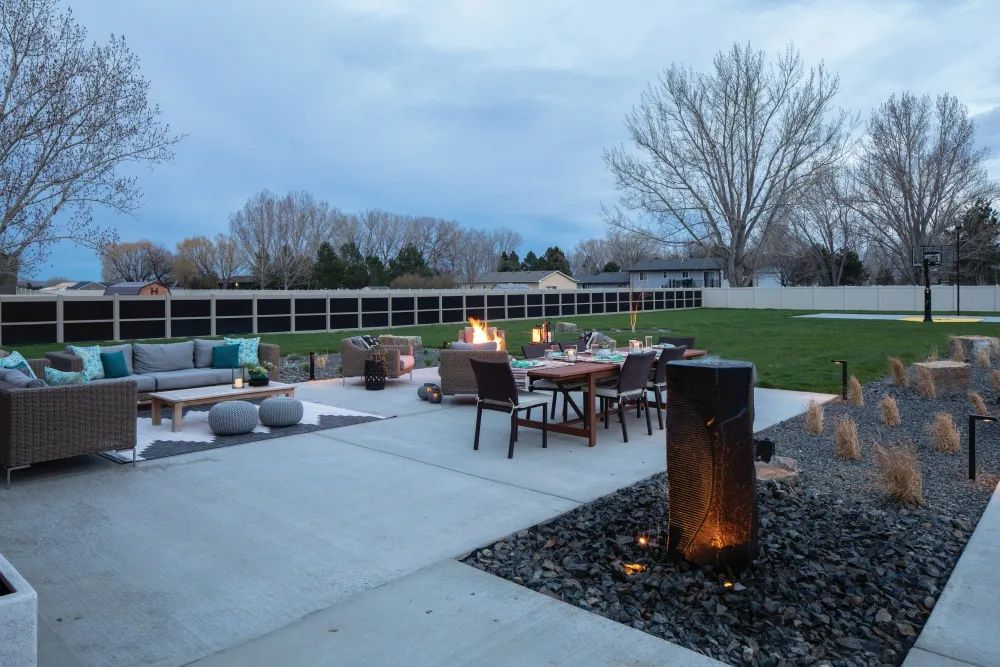 When the sun goes down and the lights come on, the party is just getting started. Strategically designed outdoor lighting transforms the yard and creates stunning ambiance long after sunset. The couple enlisted the experts at Billings Nursery to design and install their outdoor lighting, firepit, and lighted bubbler fountain, along with planning and planting all of the yard's landscaping. Carrie said they couldn't be more pleased with the results, and she's excited to see everything in bloom as things were planted last fall.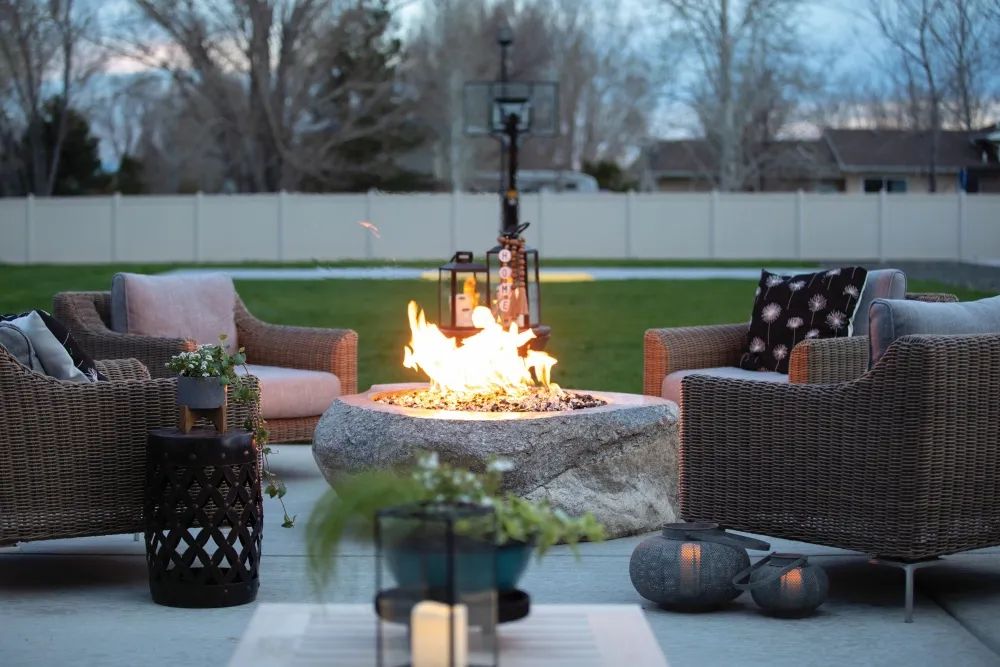 A warm and cozy place to converse after a dip in the pool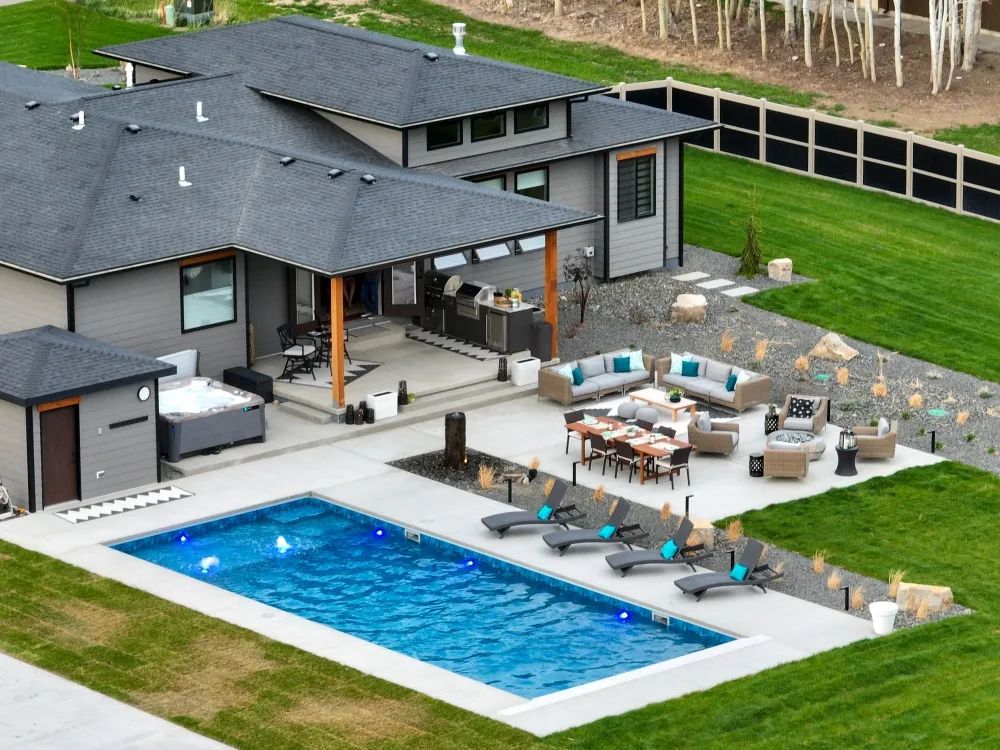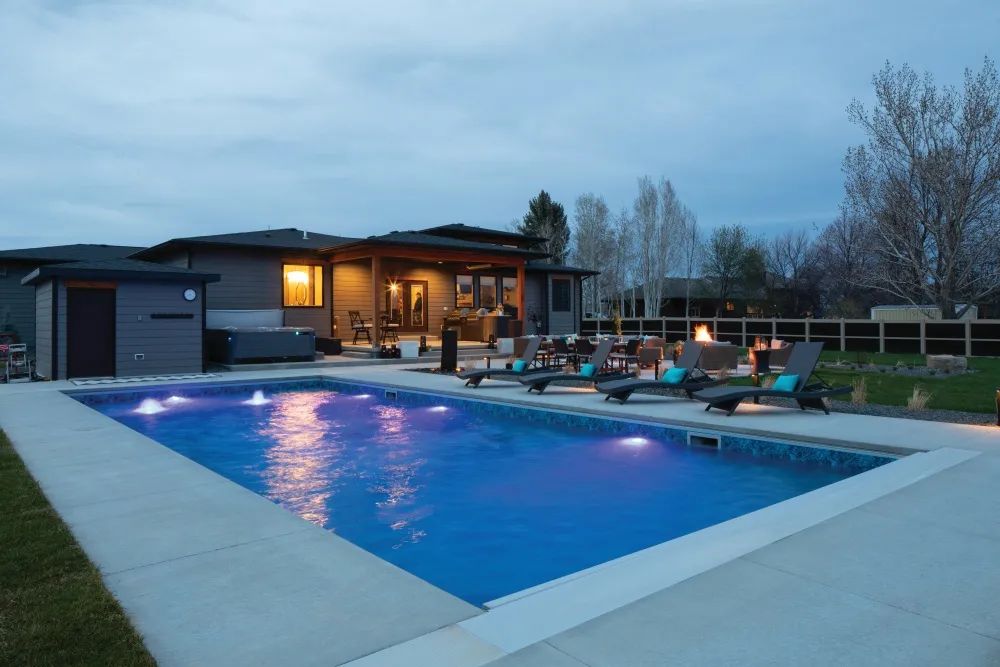 When the day fades, the lights of the pool come alive
The family's perfect pool by 5 Star Pool & Spa steals the show from day to night. Carrie says they keep the pool heated and opened it back in March to extend the fun. Their children and family use it almost daily. The hot tub is also a relaxing place to warm up if the summer evenings get too chilly.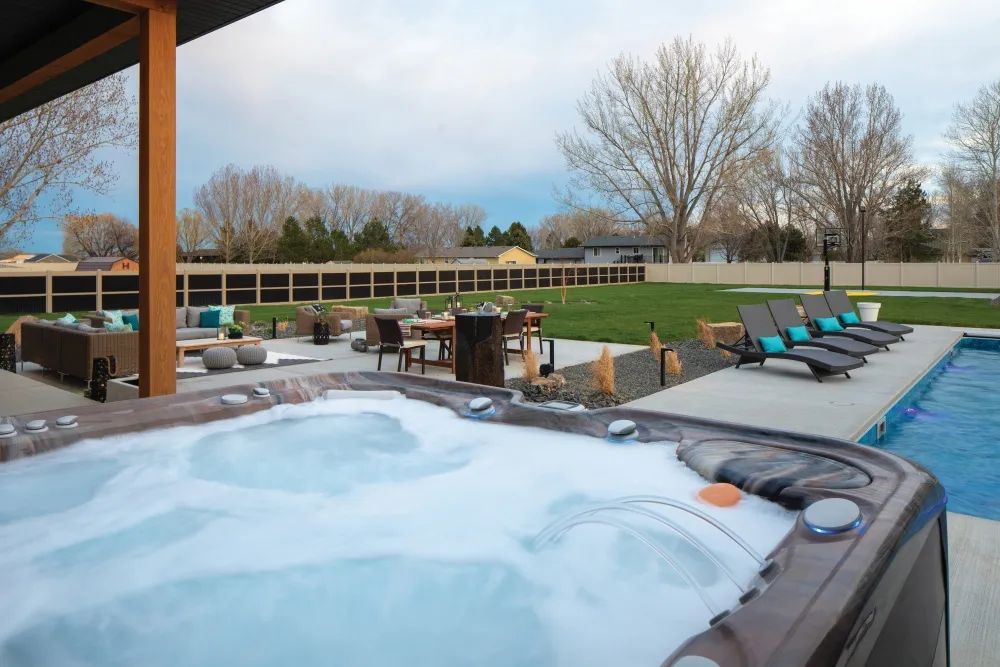 If the pool isn't quite warm enough, the hot tub awaits to heat things up
Comfortable & Colorful Conversation
Wherever you turn in this backyard, there are places for comfort and relaxation, inviting friends and family to settle in for good conversation.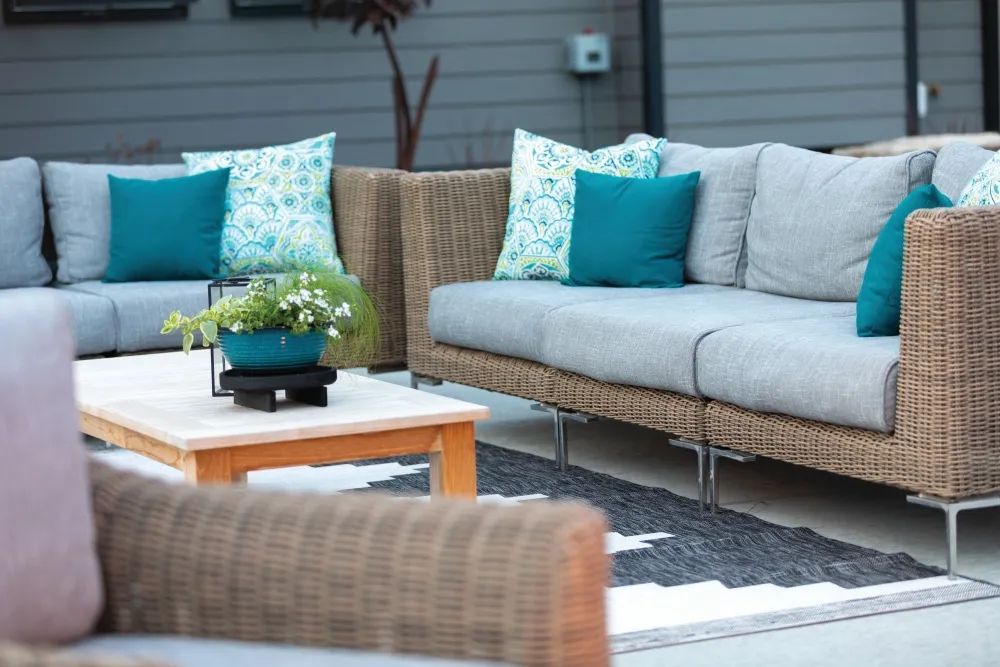 Colorful throw pillows and potted plants carry the aqua theme throughout the patio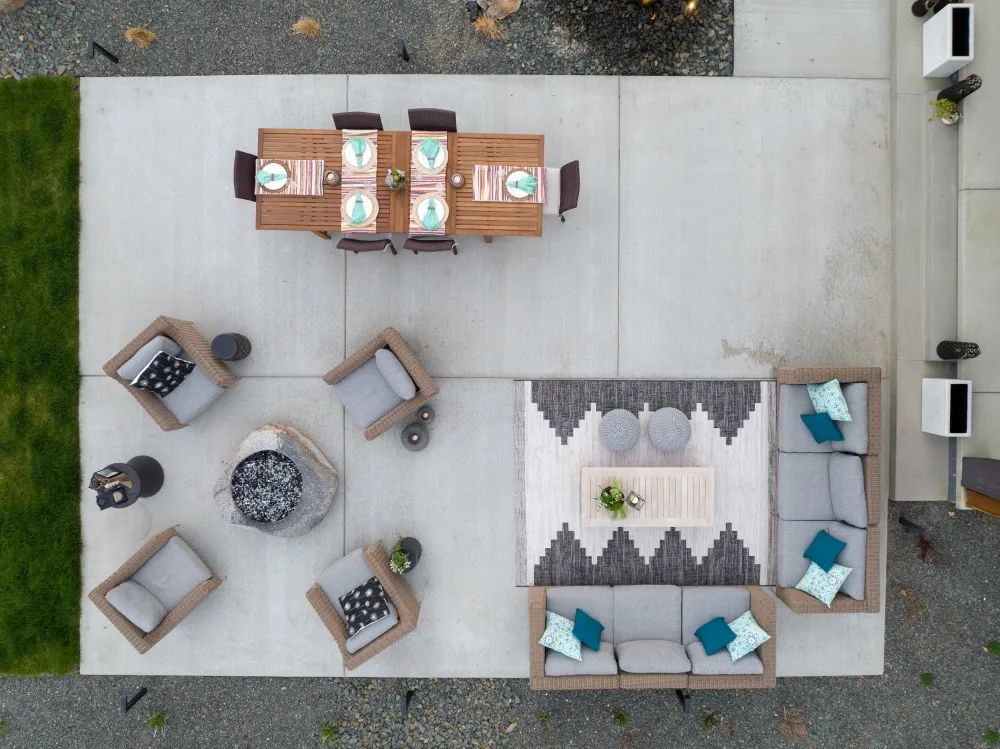 A birds-eye view of all of the cozy conversation stations this yard provides
Josh Charles and his team at Full Court Athletics designed and installed the family's outdoor basketball court. Wyoming native Adam chose this customized court as a reminder of his University of Wyoming roots. Endless memories await away from screens, and the family couldn't be more pleased with the results!
Special thanks to the following businesses for their part in creating this backyard oasis:
Originally printed in the June 2022 issue of Simply Local Magazine
Never miss an issue, check out SLM's digital editions here!