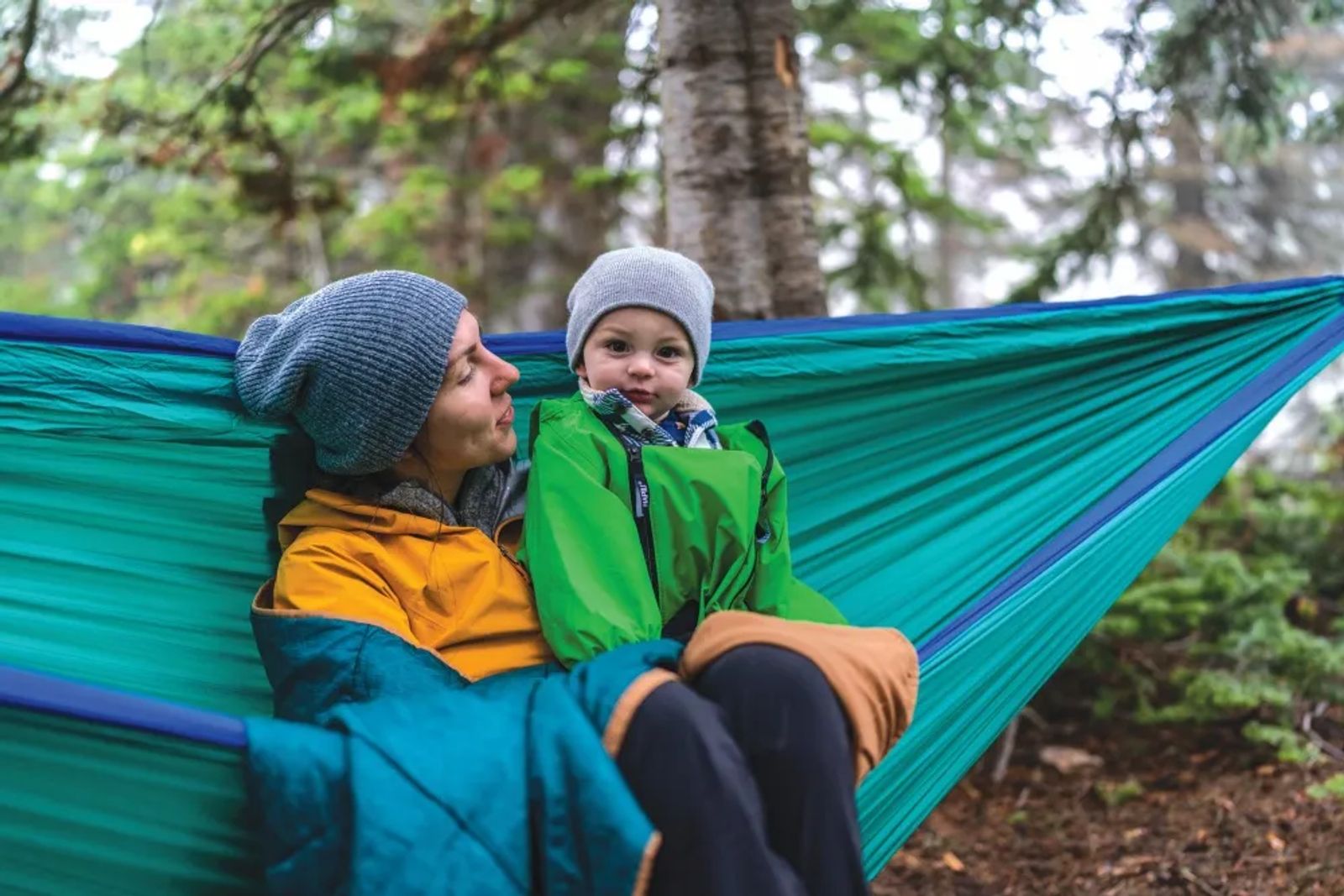 Hop in the Hammock
July 2021
by anna rogers | photos by seth royal kroft
If you want to kick back with a book or backpack steep trails, soak up some solo time or host a big barbecue, there's one piece of gear that's great for it all – a hammock.
Hammocking is one of the most versatile ways to enjoy Montana's outdoor spaces. It's the perfect companion for the backyard, a day hike, an overnight camping trip, or an extreme adventure. Rediscover this timeless tradition for all ages by getting creative or keeping it simple. There's no way to go wrong.
Backyard Staple
If you have a good spot for a hammock in your backyard, make it a staple that serves as a play spot for kids, a quiet solo space for reading and wondering, and a hang-out area for hosting company. On still mornings, the hammock is a prime spot to sip a cup of coffee, listen to the birds, and start your day on the right foot. On hot afternoons, a hammock in the shade is a cool corner of respite.
Set up is low maintenance. All you need is two strong trees spaced 10 to 15 feet apart, a hammock, and two tree straps. You can leave the hammock straps on the trees in the summer months and simply unhook the fabric hammock to bring under cover or indoors in inclement weather. If you lack properly spaced trees or want a hammock on a patio, try a metal hammock stand instead.
Need some quality time with your partner but don't feel like going out or haven't arranged a sitter? Leave your phones inside and head outside to the hammock for a simple date night of relaxation and conversation. String lights around the hammock for a romantic setting, and kick back, and enjoy an evening cocktail – life is short!
Picnic in the Park
Billings' parks are home to many strong and sturdy trees that make perfect hammocking spots. Win mom of the year in your kids' eyes by packing a hammock and a picnic for some family downtime after playing on hot playground equipment in the sun. Swing kids in the hammock or hop in for a snuggle while enjoying the fresh air together!
Hammocking is also a popular activity for Billings' teens – get a group together, head up to the Rims to Zimmerman or Swords Park, and set up basecamp for a few hours. This is a low-key setting for enjoying the fresh air, listening to or playing music, and bonding with friends.
Hike with a Hammock
Woven nylon hammocks like Eagle Nest Outfitters (ENO), Kammok, or Grand Trunk weigh about one pound and pack down to roughly the size of a grapefruit. Their compact size and minimal weight make them a choice hiking companion – just throw the hammock in your pack and be on your way.
If you're headed out for a quick day hike, plan to stop along the way and enjoy the scenery from your hammock. Zimmerman Trail, Phipps Park, and Norm's Island are ideal hammocking locales. Bring your hammock along to enjoy views at the top of scenic Montana hikes or to prop up your feet at the end of an out and back trail.
Hammocks' lightweight and compact size make them a great alternative to tents for backpacking trips. Cut your pack weight substantially by making this switch, but it's a good idea to bring along a rain fly and a bug net if you go this route. The rain fly can also be used independently to shelter your clothes, equipment, or kitchen.
Cozy While Camping
Since hammocks are small and compact, it's no trouble to throw them in the car to take on an overnight camping trip. Set up a hammocking station for reading books, napping, and stargazing, or choose to sleep under the stars if the weather is nice.
If you're sleeping in your hammock, be sure to follow Leave No Trace ethics and set up at least 200 feet from any water source. Try out a sleeping pad accessory made especially for hammocks for warmth and insulation, and pack a backpacking pillow for extra coziness.
Arrange hammocks and camping chairs around the firepit for a truly "Kumbaya" experience with your friends and family – don't forget the s'mores!
When it's time to pack up camp, use an alcohol-based cleaner to easily take off the sticky sap from your tree straps (and the marshmallow from sticky little fingers).
Watching for Wildlife
If you enjoy birdwatching or spotting wildlife, a hammock can serve as a perfect headquarters for sitting still, quiet, and cozy while you watch and wait. Pack a set of binoculars and a pillow and become one with nature – a silent observer embracing the wild. Take along a bird reference book, journal, or sketchbook to enhance your experience and connect with nature.
Equipped for the Extreme
If kicking back and relaxing a few inches from the ground sounds too understated, take your hammock on a more extreme adventure. Try perching the hammock higher up in the trees for better views or stacking multiple hammocks with friends between the same two trees.
If you enjoy winter camping but can't pitch a tent in the ice, bring a hammock along instead to suspend yourself, but make sure you bundle and prepare for extreme temperatures while sleeping off the ground.
Extreme hammockers have been known to suspend hammocks from a slackline over a canyon or body of water. Some scale rock walls and mount their hammock to a nook in a cliffside. If this kind of thing is for you, do your research and prioritize safety.
As for me, I'll be in the backyard with my feet up and a glass of wine in hand, just listening to the birdsongs.
In and around Billings is a great place to hammock. Experience our city and its many parks and trails in true comfort and style – shop hammocks from these local retailers!
The Base Camp carries ENO and Grand Trunk single and double hammocks, hanging straps, and accessories. They also stock the ENO SoloPodTM free-standing hammock stand and the ENO SuperNest, a more permanent, heavy-duty backyard hammock.
REI Co-Op boasts a wide selection of woven nylon hammocks and accessories for the great outdoors.
Cabela's offers woven nylon hammocks and sells several classic woven cotton style backyard hammocks (mostly Texsport brand).
Originally printed in the July 2021 issue of Simply Local Magazine
Never miss an issue, check out SLM's digital editions here!