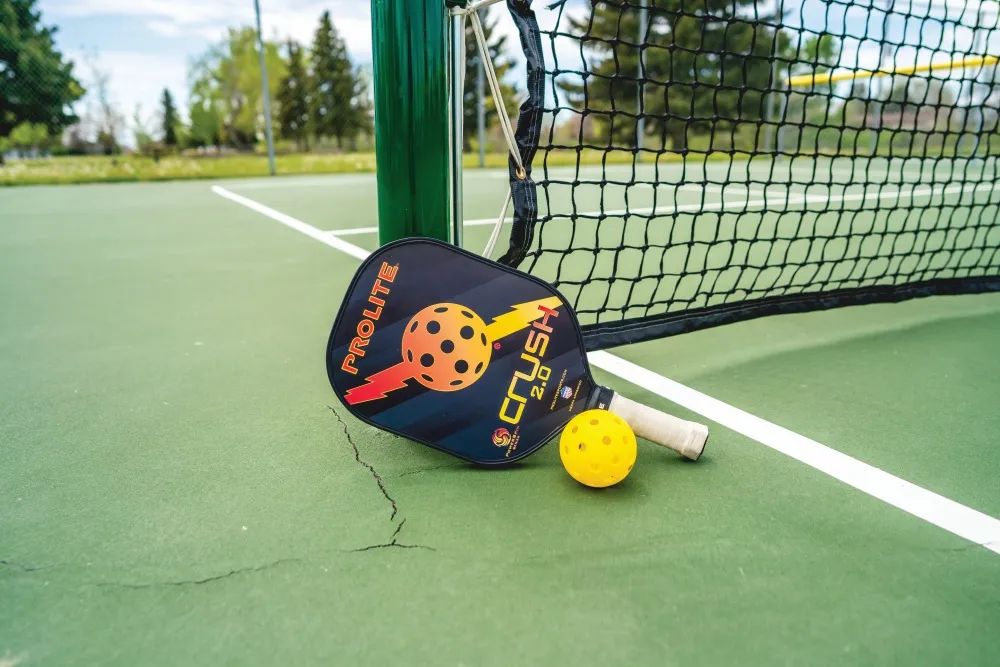 Pickleball 101: Basics for Beginners
July 2022
article & photos by jamie blotske
Pickleball just so happens to be the fastest-growing sport that you may never have heard of! Best described as a mix of racket/paddle sports (think tennis, ping pong, and racquetball), it's a fun, social, friendly game that was invented quite by accident in 1965.
One Saturday afternoon, in Bainbridge, WA, friends Joel Pritchard and Bill Bell and their families found themselves sitting around, bored and with nothing to do. The two began looking for badminton equipment in hopes of playing on the property's old badminton court. Unsuccessful in their search, they improvised with ping-pong paddles and a Wiffle ball. Leaving the net at the original badminton height of 60 inches, they volleyed the ball over the net. They quickly discovered that the ball bounced well on asphalt and lowered the net to 36 inches to play with more of a tennis approach. After introducing the game to another friend, Barney McCallum, the three put their heads together and created rules, keeping the number one goal in mind: providing a game that the whole family could play and enjoy together.
Fast-forward 57 years, and pickleball has really made a name for itself! The game has steadily seen growth, especially within community centers, PE classes, YMCA facilities, and retirement communities. From 2020 to 2021, the USA Pickleball Membership saw a 43% increase in members, making it the largest single growth year-to-date for the organization.
I connected with two local pickleball experts, Beverly (Bev) McHugh and Edith Sloan, some of the first to agree that the pickleball community here in Billings is ever-growing and continues to increase in popularity. As Edith put it, "The pickleball scene in Billings is exploding!" Let's shed some light on this fast-spreading sport.
First things first, what is pickleball?
While this question has briefly been answered, there are a few more details—for example, the court layout. The net height is 36 inches, but the court size measures 20x44 feet, approximately the same size as a double's badminton court. It is similar to tennis in that it has the lines for right and left service courts and has a 7-foot non-volley zone in front of the net. It is played as doubles (two players per team) or singles. The same rules and playing area apply to both. To read the rules summary, visit www.usapickleball.org to fully understand the serve, serving sequence, scoring, line calls, faults, and more.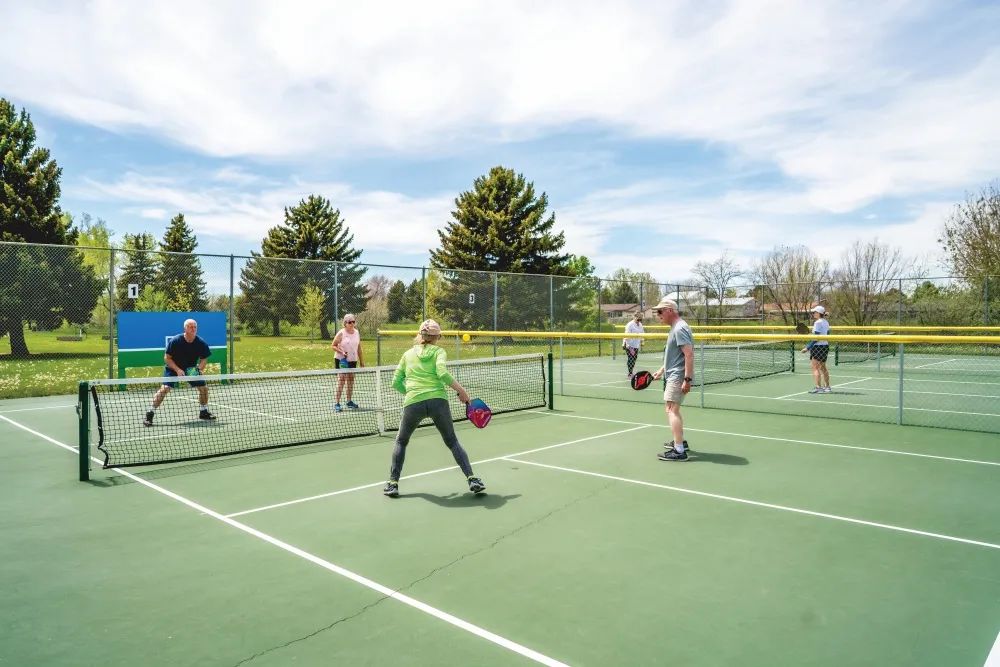 Get moving with Pickleball!
Bev and Edith both emphasized that pickleball is fun to play and easy to learn. Edith added that it "improves health, builds relationships, and is an intergenerational game; created for families to play together."
What are its health benefits?
Pickleball happens to be an excellent way for those "growing older" to engage in a low-impact physical activity that gets them moving. "It helps to preserve joints, as opposed to tennis which is high-impact," Edith explained. But don't let that fool you! For the most part, it is a slower-moving game but can develop into a fast-paced, competitive game for the more experienced players. There is no wrong or right pace to play, making the game extremely appealing to all skill levels.
Edith further elaborated, "Hand-eye coordination is improved. Constant movement may provide a cardio workout while building muscular endurance and strength. It is said that quads and hamstrings are strengthened; abs and core strength are enhanced. Additionally, having fun and laughing is a health benefit, learning a new skill is good for our brains as we grow older, and creating new friendships can positively impact one's health."
What equipment is needed?
Not much is required when it comes to playing pickleball. You'll need a pickleball paddle and ball, of course. Proper footwear, such as flat-soled (court) shoes, should be considered. Bev and husband, Brian McHugh, run a small local business called Pickleball Smiles. They provide lessons and offer paddles for sale by the well-known brand, Prolite. As a paddle dealer, people can demo different paddles at various price points to find one that fits their game and budget. Pickleball Smiles offers discounted equipment and donates profits from paddle and ball sales to support the community's local pickleball association and pickleball growth and facilities. "We purchased fence covers for the court dividers at Lillis Park with proceeds from last year's sales," Bev said.
What is the best advice for a beginner? Where does a beginner get started?
Along with pickleball's growth in popularity, the Billings community has also seen an increase in resources. Larry Seekins is a local pickleball legend who teaches at the YMCA and has done so for 20 years. He offers free pickleball instruction every Friday at 5pm at the Billings YMCA. Brian and Beverly McHugh help teach these classes. They were mentored by Larry, a former national champion who has played the game since the '80s. A great resource to tap into!
Pickleball Smiles offers private lessons through the business and lessons for new players through the City of Billings' Parks and Rec Department. Many of the parks are building new pickleball courts or including shadow lines painted onto tennis courts for pickleball. "Indoor facilities also include pickleball. Call various recreational and fitness centers for their schedules offered for students to learn pickleball," said Edith.
Places to Play:
Lillis Park- 898 Parkview Drive, six dedicated public courts
MSUB- 1400 N 27th Street, four courts over tennis nets
Castle Rock Park- 600 W Wicks Lane, three courts over tennis nets
Independent School- 2907 Roundup Road, two indoor courts (must sign up with TeamReach App)
Yellowstone Fitness- 1595 Grand Avenue, three indoor courts
Billings YMCA- 6 indoor courts, 402 N 32nd Street
Pickleball Resources:
YMCA – Pickleball open play (Intermediate/Advanced games & Beginner games) and free instruction every Friday at 5pm, 406.248.1685
Billings Parks & Recreation – Court reservations, classes, tournaments, etc. 406.657.8371
Pickleball Smiles LLC – Individual and group instruction, 406.208.9147
Billings Pickleball Association- Education, training, and amateur competition, (406) 290-3698, https://www.billingspickleball.org
Bev and Edith's love for the game was evident as they quickly shared what they loved most about pickleball. "Getting together with friends and laughing a lot. Moving my body, so it gets a good workout while I'm still having fun is particularly healthy," Edith said. Bev added, "It is a very social game; you meet new people and make new friends. It keeps you active in a fun way." The common thread seemed to come down to one word: FUN! If there is one thing we could all use a little more of in life, it's fun. Whether 18 or 80, we all need a good belly laugh every now and then. So, grab a few friends and laugh your way into learning a new sport. There's no better time than now to jump on the pickleball train – here in Billings; it's a pretty big dill.
Originally printed in the July 2022 issue of Simply Local Magazine
Never miss an issue, check out SLM's digital editions here!