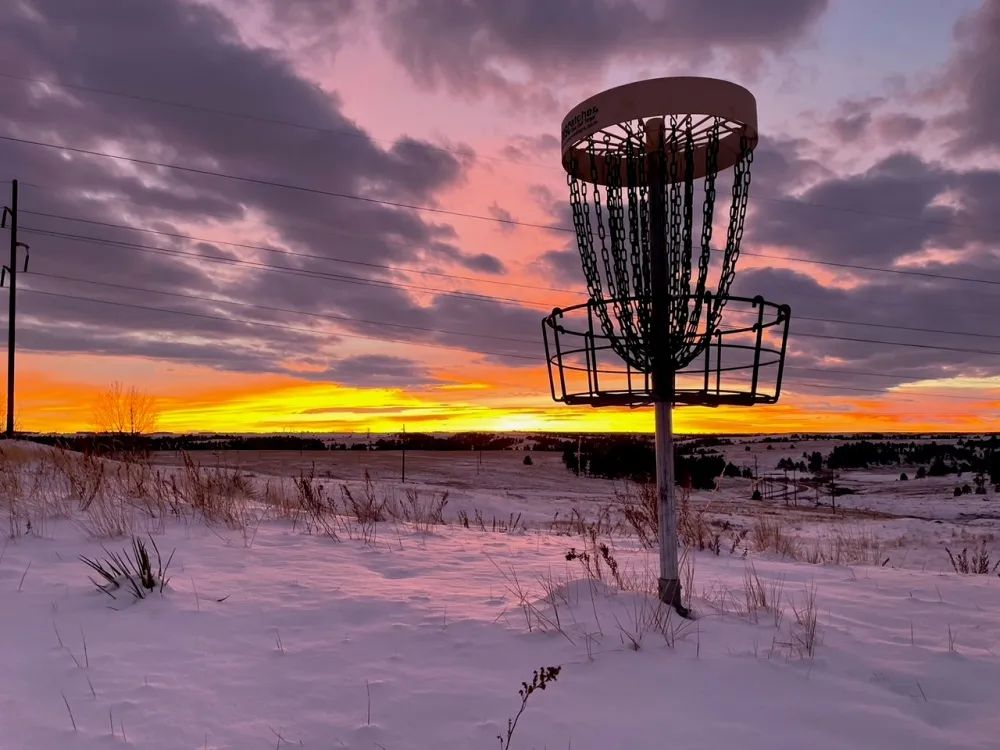 Disc Golf Billings: Community & Competition
July 2022
by anna rogers | photos courtesy of Brad Dumont
"This is a place for people who love the same unloved thing," Andy Bottman used to say of the Disc Golf Billings Club before the local disc golf community grew and gained visibility in recent years. This everybody sport invites players to get outside, enjoy conversation, engage in the community, and experience healthy and fun competition. It's no wonder that Disc Golf Billings has seen exponential member growth, more community involvement, and the implementation of new courses in recent years. And yet, at its heart, the Club is still an easygoing place for people to come together to share their love of disc golf.
"People come together from all walks of life – socioeconomic, political, religious, and different age groups. Outside life can be left behind, and we all enjoy each other's company and our shared love of the game. Out of this larger community grows an important sense of belonging for some people."
Early Roots
Disc golf is similar to golf, but with a flying disc instead of clubs and balls. Players throw discs from tees to holes, usually elevated metal baskets. Terrain and weather play a significant role in strategy, and playing the sport in Billings gives participants the chance to enjoy the beautiful, old trees of Pioneer Park, the rocky ridges of Phipps Park, open high plains at High Sierra in the Heights, and more.
The sport didn't formalize in the U.S. until the 1970s, and it wasn't until the mid to late 1990s that Billings' first local club formed with a very cool name – "Air Fairways." Disc Golf Billings started as a fracture of that club in 2015 and found its footing and organization in 2020. The disc golf community has grown "explosively in the last couple of years," Bottman says.
The Club is "dedicated to growing the sport of disc golf in Billings, Montana," and
"The current Board understands the Club mission as serving the membership and the local disc golf community. Disc Golf Billings puts on sanctioned and unsanctioned leagues, tournaments, and public disc golf events, including charity, hosts member meetings, and is committed to maintaining and growing the sport locally and supporting the golf courses we play."
Current Club Activities
As Club growth and involvement continues to grow, so does the community impact. "The specific events we do are sanctioned tournaments, a charity tournament for Tumbleweed, sanctioned leagues, bag tag leagues, unsanctioned free-to-play casual leagues two to three days a week in summer, glow and putt league in the winter, and board members are Commissioners for the Big Sky State games," Bottman explains.
"Additionally, the club is active in volunteer efforts, especially in parks or places where we enjoy our sport," Bottman says they've helped the city move the baskets in Pioneer and have done cleanup days at Phipps Park for the last couple of years. Last year at Emmanuel Baptist Church, Disc Golf Billings had a large volunteer turn-out to pour cement pads for its disc golf course and another large crew volunteer at Two Moon Park for the county. "Recently, we turned out over 200 hours' worth of volunteer efforts to put in a new disc golf course at Phipps Park. The club negotiated for this park with the city, secured baskets, and put in all the efforts."
All these activities are done to grow the love of the sport and sense of community. Disc golf is an excellent outing for friends, couples, and families. "It's a very fun and casual sport, the love of the outdoors seems standard as well," Bottman says. A perfect fit for Billings' culture.
Future Growth
One of the greatest features of disc golf is how easy it is to get involved and start playing. Courses around the city are easily accessible and free to the public; discs are inexpensive and fun for individuals of all experience levels. The Club is no exception to this – membership is economical, and the community of members is welcoming. The Disc Golf Billings Board Members are all approachable and active members, ready to answer any questions and share their love of the sport.
"Disc golf events are geared for amateurs of multiple levels and pros. The atmosphere is very inviting. Many of the weekly events the club puts on are free, and we welcome ALL new players," Bottman says.
Are you interested in getting involved? All Club events are open to the public, and Disc Golf Billings invites new and experienced players to join. Learn more at discgolfbillings.com.
Originally printed in the July 2022 issue of Simply Local Magazine
Never miss an issue, check out SLM's digital editions here!