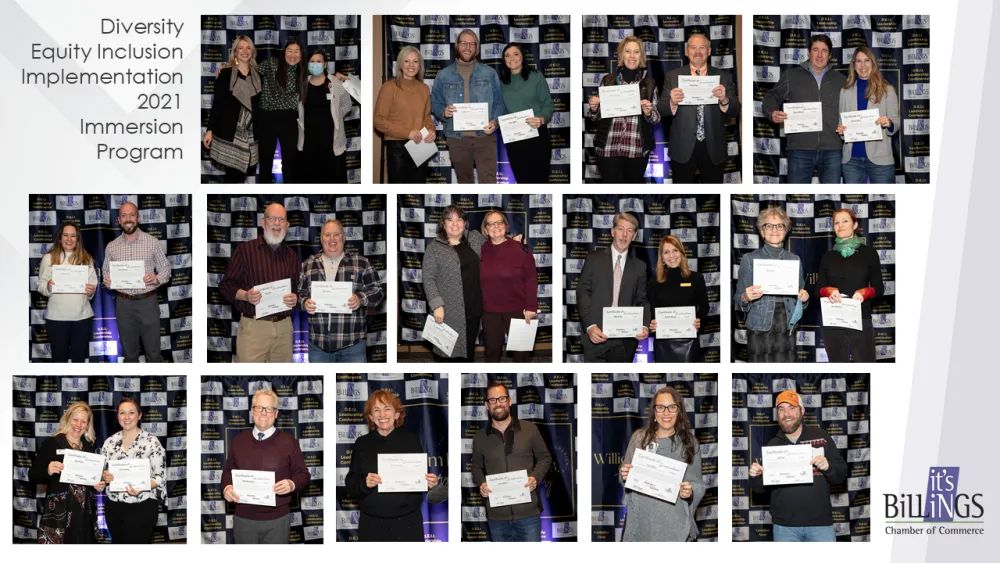 DEII Graduation: Let's Celebrate!
March 2022
by Kelsi Gambill, MSPR, Communications and Marketing Specialist
Two years ago, the Billings Chamber of Commerce embarked bravely into uncharted territory for diversity, equity, and inclusion in the city of Billings. From this spark the Chamber's DEI efforts were ignited, a DEI Advisory Board was formed, and the Diversity, Equity, Inclusion Implementation Immersion Program was created.
Our inaugural class of 50 graduates completed the eight-month immersion program, facilitated by William Henry of Be Better World, and earned 10 continuing education units through Society for Human Resource Management (SHRM) accredited classes. Each graduate and their organization also earned the Chamber's designation of "A Workplace of Choice."
Participating organizations and respective graduates include:
Big Sky Economic Development—Steve Arveschoug, Becky Rogers
Billings Chamber—John Brewer, Jennifer Reiser
Billings Clinic—Dr. Scott Ellner, Jim Duncan, Nichole Mehling, Mandi Graham, Dr. Sara Agostinelli
Billings School District #2—Katie Nordstrom, Greg Upham
Boothill Inn—Shelli Mann
Downtown Billings Alliance—Katy Easton, Jenny Ross
Exxon—Kim Jakub, Dan Carter, Jerry Scherer, Leigh Newell, Mohammed Fahad, Eric Smith
First Interstate Bank—Rachel Turitto, Brian Brown, Lisa Slyter Bray, Amy Carter, Devin Wertman
KOA—Jeremy Welch, Darin Uselman, Whitney Scott, Saskia Boogman, Toby O'Rourke
MSU Billings—Dr. Stefani Hicswa, Dr. Susan Balter-Reitz, Dr. Jennifer Lynn
Northern Hotel—Mike Nelson, Christine Maragos
Sibayne Stillwater—Heather McDowell, Wayne Robinson, Shannon Arthur, Laurie Anderson
Sanctuary Plaza— Kris Carpenter
STEP-Inc.— Ann Treece, Tara Williamson
St. Vincent Healthcare—Tracy Neary, Krikor Jansezian
Visit Billings—Alex Tyson, Luke Ashmore, Alyson Eggart
Visit Southeast Montana—Brenda Maas, Cassie Solberg
ZooMontana—Jeff Ewelt
Representing 18 Billings-area organizations employing over 13,000 employees, these graduates and their organizations are making a difference in Billings, with a greater awareness and appreciation for DEI in a community.
As humans we all have worth and value. By embarking on this journey, we can all make a difference, by opening our minds to new levels of awareness and actively participating in the Chamber's DEI efforts. Together, by operating from a place of love, we can positively impact our families and friends, businesses, and our great city to attract talent and create more welcoming environments for all. We each have a cultural responsibility and invite you to celebrate these graduates while learning more about the Chamber's DEI efforts at BillingsChamber.com.
Graduates signed this pledge:
"I believe that our community and the businesses that serve it will be at their best when the talent of each and every citizen is developed, actively sought and fully utilized in our economy/community. Furthermore, as a member of this community I have a responsibility to lead by example to create the diverse and inclusive community that will truly result in every persons' unfettered ability to achieve their dreams in peace. I will be an ally to those who may be marginalized and I commit to continue to expand my knowledge around diversity, equity and inclusion. I will do my part to ensure my coworkers and/or employees are treated kindly, equitably and have access to advancement opportunities within the organization."