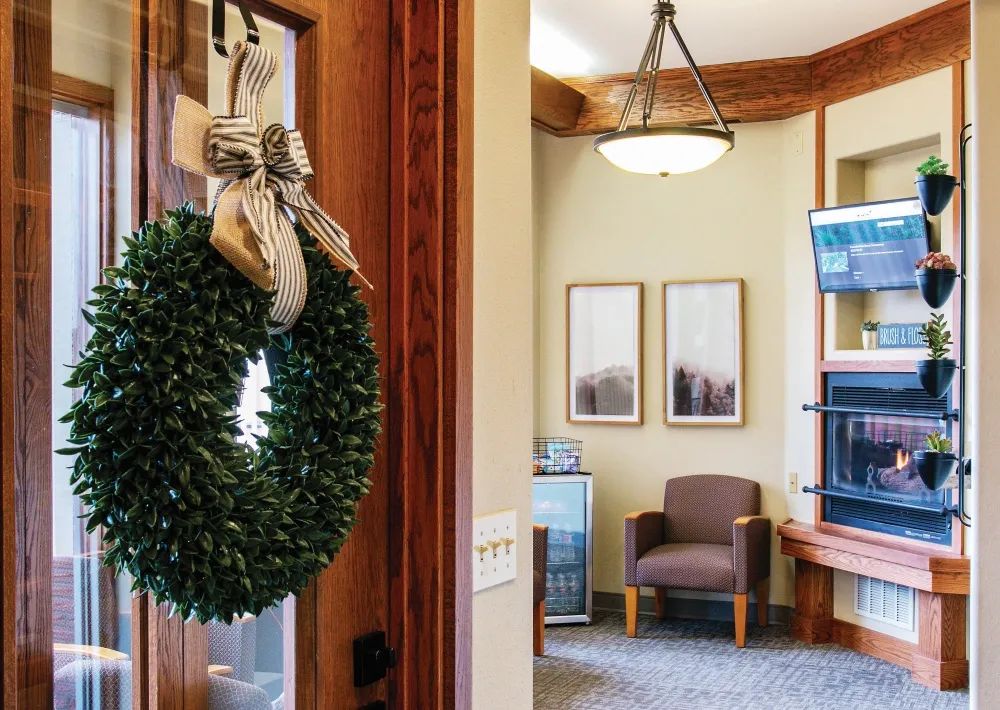 Creating Community at Thompson Family Dentistry
July 2022
It was June of 2020, and the world was in the midst of massive shutdowns, life as we knew it was constantly evolving with so many unknowns. It was also when Dr. Dan Shaub reached out to Lisa Thompson, DDS, to ask her if she would buy his practice as he stepped back due to illness. Feeling incredibly honored for the consideration, Dr. Thompson and her husband weighed the decision on a family RV trip through South Dakota, ultimately concluding the timing was right.
Not only was Dr. Shaub a friend, but Dr. Thompson shares it was a chance for her to do what she has always wanted: own and operate a smaller family practice. Something, she says, comes with the added reward of teaching her two daughters about leadership while showing them "they can do anything if they work hard and take the right risks. As a woman business owner, they can see firsthand that it is possible."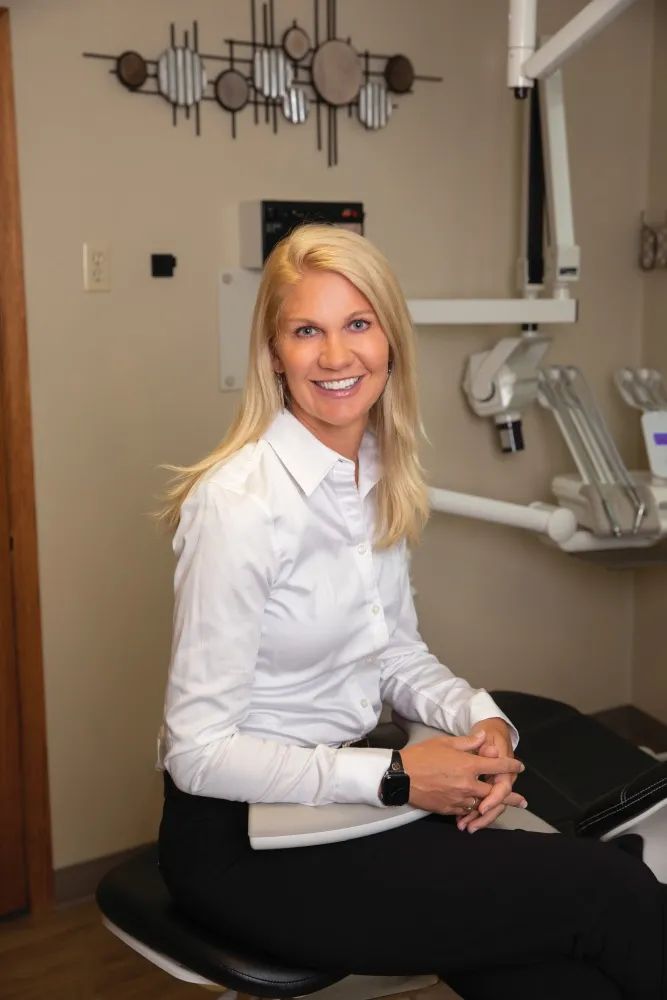 Dr. Lisa Thompson | photo by Jana Graham Photography
Having grown up in Billings, but gone away for her schooling, we wondered what it was that brought Dr. Thompson and her husband back to the Magic City. She explains that family might have brought them back, but "the community keeps us here." After college and post-grad, the couple knew that they would want to raise their family here. "Family is a huge value for us," Dr. Thompson shares, "along with good public schools and, of course, the great outdoors."
And she is an active participant in our community – not only as the owner of Thompson Family Dentistry, but as a coach and volunteer. Dr. Thompson notes that she operates with a full schedule inside and outside of the dental office, coaching two Real Billings FC soccer teams, volunteering at her daughters' elementary school (perhaps most notably during February for National Children's Dental Health Month, but additionally, as an integral part of class parties and end of year ceremonies), and serving on the Ironwood HOA Board to organize various holiday events – just to name a few. The youth soccer community, especially, is a space they have loved being involved in.
The Family in Thompson Family Dentistry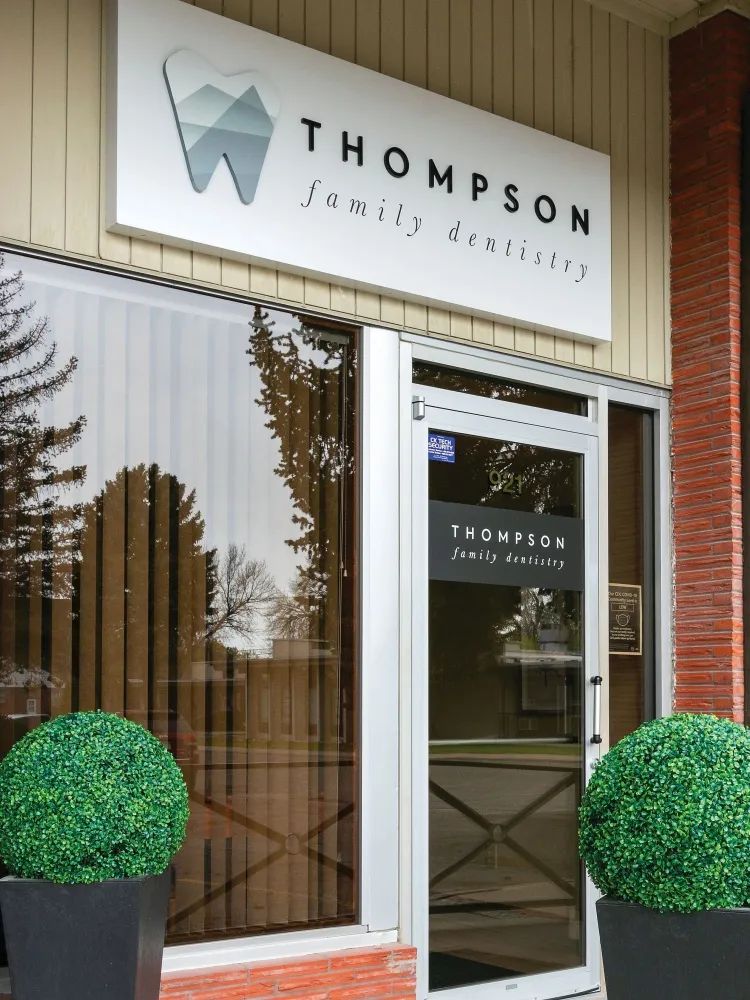 photo by Renata Haidle
Let's be honest, dental anxiety is totally a thing for many of us, so you wouldn't expect that walking through the door of a dental office could have a strangely soothing effect, would you? Yet that is exactly what happened when I walked through the doors at Thompson Family Dentistry, nestled back behind the old Dollar Theater among a handful of other businesses. The homey atmosphere, coupled with the audible laughter of patients and staff, was like a calm hand settling over me.
This feeling is neither a mistake nor an anomaly. Dr. Thompson has been intentional in creating such an environment, reflecting on the example that Dr. Shaub set. She notes that "Dr. Shaub ran a great practice, and I feel it is my duty to continue it in his honor." Furthermore, says Dr. Thompson, "Small town family dental practices have a different vibe than corporate practices. We love being able to accommodate the whole family with side-by-side appointments, same-day treatments without sacrificing the quality of patient care and allowing time to catch up on patient lives. I genuinely enjoy knowing my patients."
Being a practice for the whole family, kids feel at home alongside their parents at Thompson Family Dentistry. Indeed, a Simply Local staff member recently mentioned what an exceptional experience the team at Thompson created not only for her, but also for her children, and Dr. Thompson acknowledges that her coaching skills definitely come into play when working with the youngest of her patients. "I use a lot of my coaching skills to get the kids calmed and prepared for 'game time.'" You could say that a kiddo's visit to Thompson Family Dentistry is also kind of like getting an in-person visit with the Tooth Fairy, as the kids are given $2 bills or $1 coins following an appointment, rather than a trip to a toy chest.
The family in Thompson Family Dentistry doesn't only apply to the patients they see, it's also the environment that's created amongst the staff. Dr. Thompson believes that "the 'tone at the top' matters at every business," she explains, "How can I expect employees to enjoy life at the office if I don't enjoy it?" A happy, healthy work environment creates positive ripple effects to patient care. "We are all very close and consider ourselves an awesome work family."
As dream became reality, Dr. Thompson has worked to create an essential work-life balance in her practice. She strives to continue learning while providing a space where her patients can feel comfortable and confident that this team only recommends treatment plans on what is necessary. Most importantly, says Dr. Thompson, "Pay it forward. It's about caring and sharing. It's about compassion and kindness. It's about generosity. It's about sacrifice. You get what you give, so give good."
Originally printed in the July 2022 issue of Simply Local Magazine
Never miss an issue, check out SLM's digital editions here!