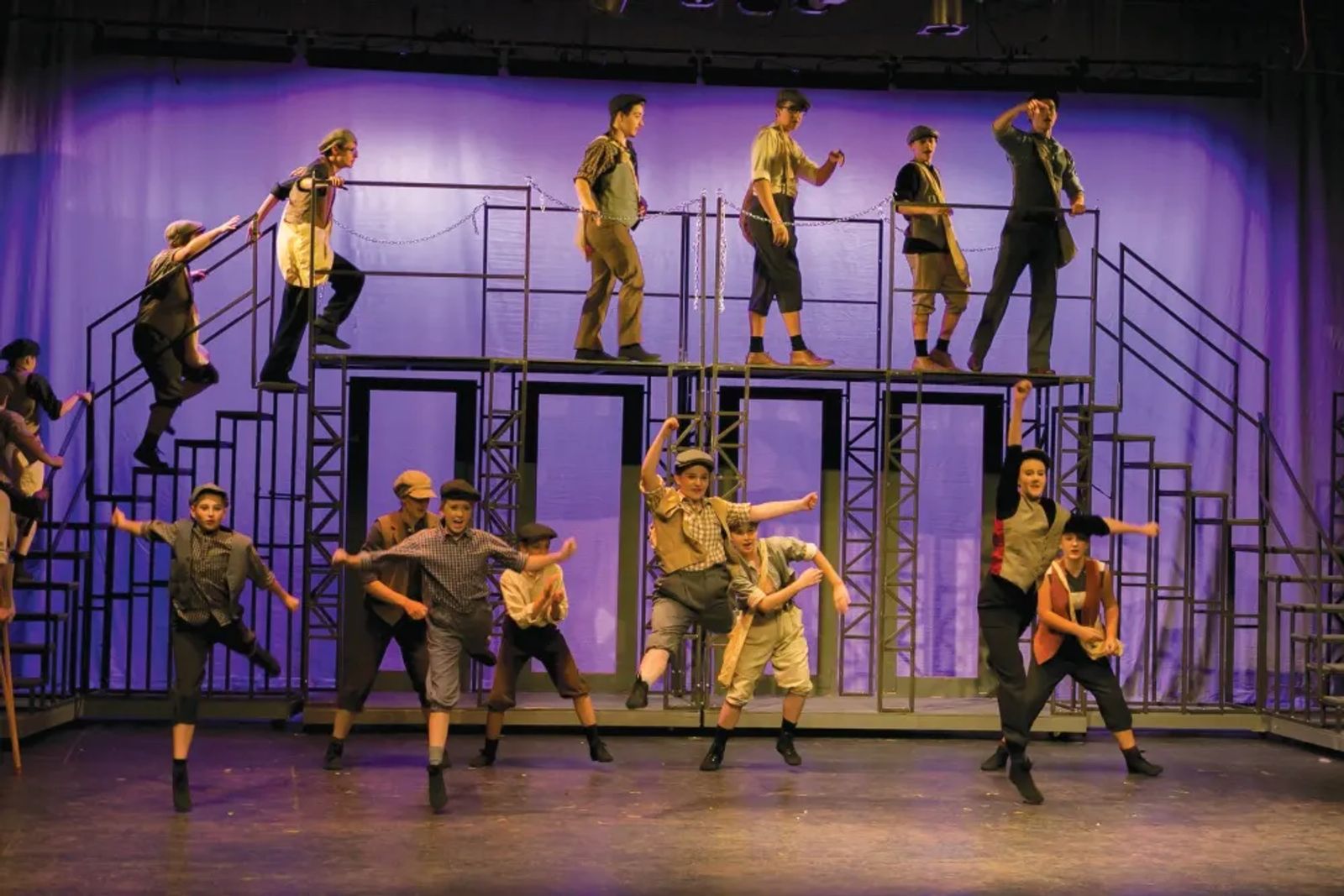 Newsies | Photo Credits Kevin and Dee Cates, courtesy of BST
Billings Studio Theatre: A Hidden Community Treasure
July 2021
What makes a community? A.J. Kalanick, Executive Director of Billings Studio Theatre (BST), believes it's about more than just houses and folks headed off to work and school. Yes, Billings could function just fine without a library or baseball field, musical venues, or art museums, but what would be the cost? These amenities offer shared experiences that encourage camaraderie, understanding, expression, introspection, and mutual joy. As Kalanick says, "It's how we create a community and not just a city."
Billings Studio Theatre began in 1952 with this very idea of community in mind, when locals gathered to read plays aloud together in their homes. They grew from a reader's theater to producing joint productions with then Eastern Montana College. In 1971, they established their current home through a lease with Rocky Mountain College (RMC), with RMC owning the land and BST owning the theater building.
BST is a non-profit amateur theater continually striving to operate as a professional theater, with high expectations of their own productions. Their performances are primarily cast by local community members, with a reputation for being a challenging theater to get cast. Kalanick says, "We cast high-quality actors right here. It's amazing the talent that exists in this town. These are the people that are your doctors, lawyers, and the guy who cashiers at your grocery store. They are from all walks of life." Neighbors performing for neighbors creating what Kalanick believes is Billings' hidden, community treasure.
Shuttering of the Theater
Just like many live performance venues, BST felt the effects of the pandemic. They closed their doors after their first show in March 2020 and produced a few small-cast shows that summer. With hopes of returning to some normalcy, they planned last fall's season amidst restrictions: limited seating, physical distancing, masking, and reduced capacity, with rigorous sanitization before, during, and after each performance, and no concessions. But as the opening day arrived for Murder on the Orient Express, the pandemic ramped up again, limiting gatherings to 25 people and making live performances not fiscally sound. They closed once again until the spring of 2021. Currently, all of their upcoming shows are smaller cast plays to keep both the audience and cast safe and comfortable.
Why hasn't BST gone online? Kalanick explains, "It's not what we do. We stick to what we do best, and for us, that's live performances. Live entertainment provides an energy that just can't be captured virtually. Providing this form of entertainment is unique in and of itself."
COVID Relief
Most of BST's regular funding comes from ticket sales. They hold two large ticket fundraising appeals annually, as well as a larger fundraising event. They received both Payroll Protection Plan loan draws and the Live Entertainment Grant through the CARES Act distributed by the National Endowment of the Arts council. All of the funds were used for facility utilities, upkeep, and maintaining their core staff. "Without this funding it would have been a very difficult year. And we didn't get a vacation! We worked very hard during the break to compete projects that needed to be done for several years." Without bringing volunteers in to help, the theater utilized their core staff to accomplish many of the maintenance and facility upgrades needed. "When people return, we want them to feel as if they've come home," says Kalanick.
Community Support
BST's longevity in the community, dedication to their craft, and commitment continually motivates community support. Kalanick believes it's because of the sense of family they bring to everyone involved. According to Kalanick, "If a person comes into a theater and sits down to watch a show, the theater can allow them an escape. And if for one moment we can make them forget about their problems, and make them smile or laugh, then everything we did to get them to that point was worth it. That's what is so great about theater, and the family love here at BST."
This fall will be Billings Studio Theatre's 69th season, and the community can support them by purchasing tickets to see a performance or even by auditioning for an upcoming show. Season tickets went on sale May 18, 2021, and their open cast call dates can be found in their newsletter, on Facebook, or on their website at billingsstudiotheatre.com.
Originally printed in the July 2021 issue of Simply Local Magazine
Never miss an issue, check out SLM's digital editions here!