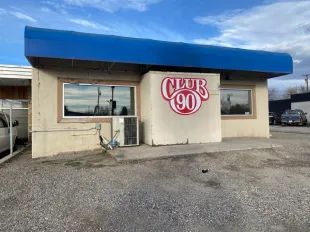 Club 90 Offers Tradition, Family, Camaraderie, and Character in Addition to Heavy Pours & Homemade Soup
January 20, 2022
by samuel mora, jr., guest contributor
Tradition, inexpensive drinks, and good people make the Club 90 bar a special place to visit. Located on Grand Avenue, in the middle of Billings, the mostly unchanged Club 90 has all the characteristics of a dive bar and serves an array of customers from different parts of the city as well as different walks of life. The bar is full of character, traditions, and a loyal group of family-like patrons. For the last 22 years, Jason Grubbs has managed the operations of Club 90 which was originally the Amvets bar. After the former manager of the bar passed away from cancer, Jim Grubbs, father of Jason, took over the business with Jason taking over management in the early '90s.
Described by long-time bartender Keton Kanta as a friendly, blue collar community bar, Club 90 boasts a handful of dive bar characteristics. While those characteristics might be open to interpretation, Club 90 checks off what many agree are the "dive bar" boxes: a gravel parking lot; a chatty, mostly local clientele; low lighting; Christmas lights; neon signs; a seasoned bar; and of course, cheap drinks. The bar even comes complete with a neon-lit marquee that provides oncoming drivers with clever lines and witty jokes. Jason says 80% of the content comes from him.
With a square footage similar to that of a large living room, the bar does not have karaoke, does not offer live music, and does not host trivia night. Jason Grubbs offers a simple description: "It's a bar bar — a Montana bar that you could put in any town, big or small. It's an old school bar." He added, "It's a bar where people can hang out, drink, and talk."
A 20-year old employee of Club 90 explains, "It's a generational bar." The demographic of the bar stretches from ages 21 to 80 years old with certain times of the day favoring certain groups.
"A lot of people who come in now came in as kids with their parents before that was frowned upon," explains another Club 90 bartender. One weekly regular who has been visiting the 90 for ten years said the Bent Nail IPA, turkey noodle soup, and good people keep him coming back.
One of the many things that makes this old dive bar unique is that management has never used advertising to get people to come in. One might ask, what it is then, that gets people coming in and keeps them coming back? A big reason for the faithful clientele and family-like community at Club 90 are the traditions. Since taking over the Club 90, Jim gets up every morning to make soup from scratch. He provides his homemade soup for customers for free, although the bar has had to implement a two bowl maximum rule. On any day, one could expect to dive into a delicious bowl of goulash, sausage and lentils, turkey noodle, split pea, or Sarma soup. Along with making soup every day, Jim cooks breakfast every Sunday for regulars who come in and belly up early before the crowd files in. In addition to Jim's soup, bartenders Lorna and Patrick provide lunch for regulars Monday through Thursday for a price that cannot be beat. Finally, adding to the camaraderie that bartenders and regulars feel, is the recognition of birthdays. Upon entering the bar, patrons will notice the birthdays of regulars written on the front window for the current month.
"It's a place where people get to leave whatever baggage they have at the door - it's the kind of place where a lawyer and a bricklayer could hang out and talk about life. Guys from different backgrounds come here and get to know each other and then they're going to football games together," said Jason Grubbs about the crowd at Club 90.
When asked what he was most proud of about Club 90, Jason shares, "That you like it, that a lot of people like it." Here are some of the cool things that give this dive bar character: