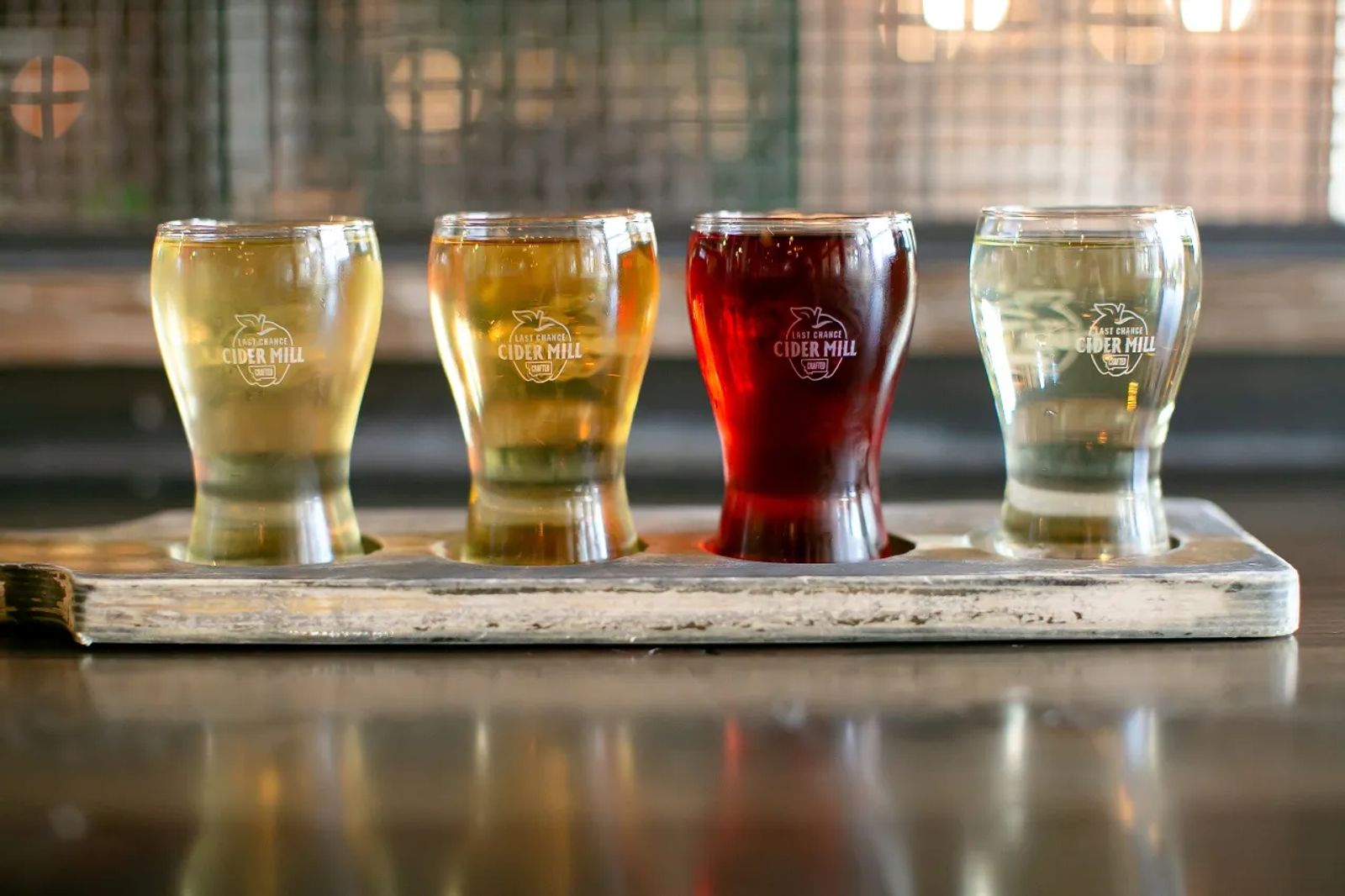 Apple of My Eye
Apple-to-Glass Ciders & Delicious Food at Last Chance Pub & Cider Mill
September 1, 2020 | by anna rogers | photos by lovely hitchcock
Past the hustle and bustle of Montana Avenue, just as the street starts to quiet, Last Chance Pub & Cider Mill awaits you with its giant doors, gorgeous atmosphere, great food, and a glass or two of cider ready to be sipped. Stop in for a cider or a meal and it's sure to become one of your new favorite spots in Billings.
One Smart Apple
Sam Hoffman, owner of Red Lodge Ales, grew up in Boston around orchards and cider-making. He purchased an old apple press from back East to play around with in Montana and saw an opportunity for a cider mill. Hoffman was working with a gentleman from Ross Orchards in Fromberg, the gulch that comes off of Rock Creek and waters Ross Orchards is called The Last Chance Gulch, and it's there that the mill name traces its roots. Last Chance is owned by Judith Gregory, Hoffman's mom, and together their family businesses bring delicious craft cider and beer to Yellowstone and Carbon counties.
Last Chance opened its great, big doors in 2016, bringing a unique dining and drink experience to Billings centered around handcrafted cider. The Mill is apple-to-glass, handling the cider-making process from start to finish. They purchase the apples, wash, grind to pumice, press to juice, put the juice into tanks, and ferment the cider.
The Cider Mill is steeped in history despite its newness to the Billings community. Located in the old Case Tractor building, built around the same time as the Billings Depot, the architecture is industrial. The windows, offices, brickwork and iron work are all original, and have been updated with modern but warm décor. Enjoy the patio in the summer or warm up by the fire that's always roaring in the winter. A look through a wall of windows reveals the cider processing equipment – giant tanks and barrels where the magic happens.
The Apple Never Falls Far from the Tree
Last Chance sources some of their apples right here in Montana, from Ross Orchards in Fromberg just down the road, and from growers in the Bitterroot Valley, Flathead Valley, and St. Ignatius. The majority of their apples come from Oregon and Michigan, states with ideal climates for apple growing. By fermenting all of their ciders in-house, Last Chance maintains the true flavors of the apples they source, with a cider to meet the desires of any flavor preference – dry, tart, sweet, acidic, or earthy.
Taking inspiration from the apple-to-glass philosophy of the cider, the pub's food creation follows the same mindset. An all-scratch kitchen, they make everything in-house with the exception of their breads. The pub sources food locally whenever possible to bring patrons upscale pub food "with a twist."
Stop in today to try a delicious cider and made-from-scratch meal!
How Do You Like Them Apples?
Last Chance has about 10 ciders on tap at all times. All ciders are made in house and are gluten-free. Here's a quick guide to what you'll find on the menu:
Single Varietal: Cider made from one single variety of apples.
Montana-Derived: The Full Montana is made with ALL Montana apples.
Barrel-Aged: Apple cider aged in liquor or wine barrels, like tequila, bourbon, or chardonnay.
Sweet & Fruity: While all ciders are made from apples, some are back-sweetened with fruit juice to add to the apple flavor, like the Pearfection and Flathead Cherry. Other ciders are back-sweetened with apple juice or beet sugar to yield a sweeter result.
An Apple a Day
Try out the below pairings to enhance the flavor of Last Chance's upscale pub food with their craft ciders and beers.
Last Chance Nachos + The Perfect Flight
House-made all-corn tortilla chips, quick-pickled vegetables, garlic pinto beans, queso fresco, and mild cheddar, topped with shredded lettuce, lemon lime sour cream, avocado lime crema, and chipotle pico de gallo. Pair with a perfect cider flight: Single Varietal Jonathan, Flathead Cherry, Full Montana, and Pearfection.
Smoked Salmon Chef Salad + Red Lodge Ales Pilsner
Cured and smoked salmon, Arcadian spring mix, heirloom cherry tomatoes, smoked hard-boiled eggs, English cucumbers, and bacon tossed in a buttermilk dill dressing. Pair with the Czechmate Pilsner from Red Lodge Ales.
Montana Wagyu & Angus Beef Burger + Cider Pint
Brioche bun, brown sugar caramelized onions, red leaf lettuce and Bent Nail IPA pickles served with pub fries. Add extra goodies to make it heavenly – bacon, fried egg, and white cheddar (just go ahead and add them all!). Pair with the Pub Cider for an all-around perfect pub meal.
Originally printed in the September 2020 issue of Simply Local Magazine
Never miss an issue, check out SLM's digital editions here!