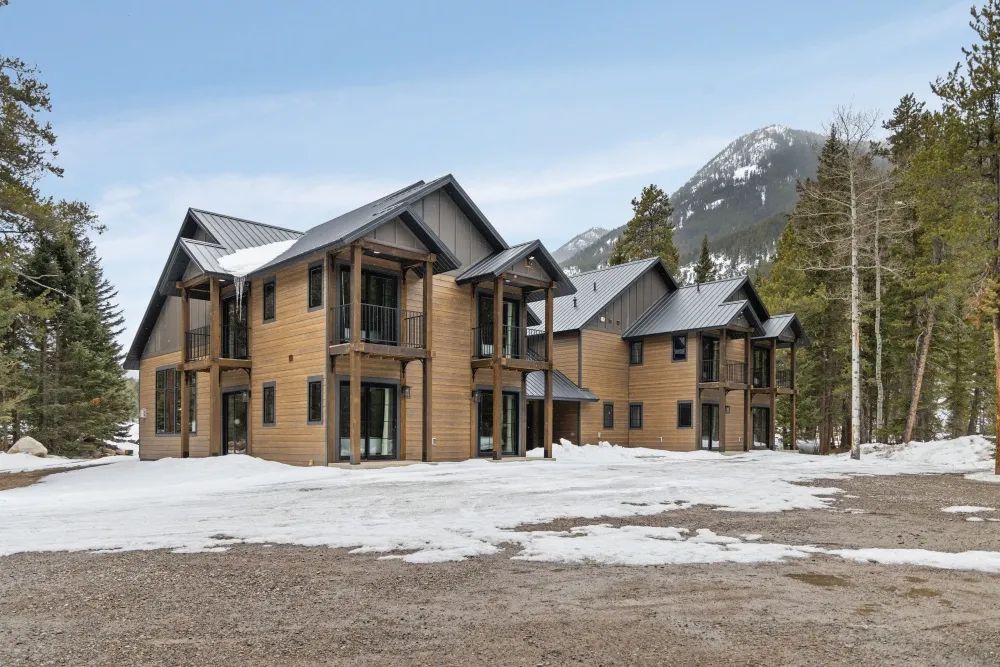 Built to Endure Storms & Time: A Retreat on the Boulder River
May 2023
by hannah olson | photos by nathan satran
The Boulder River in the Gallatin National Forest provided the picturesque setting for iconic movies like The Horse Whisperer and scenes from A River Runs Through It - films that revealed to the rest of the world what a treasure the Montana wilderness is. Hidden away amongst forests and open meadows, the quiet river also made the perfect setting for a serene escape like the retreat designed by Jeff Robertson Design and recently completed by Billings-based Brewer Built Homes.
Designed for Friends, Family, and Fellowship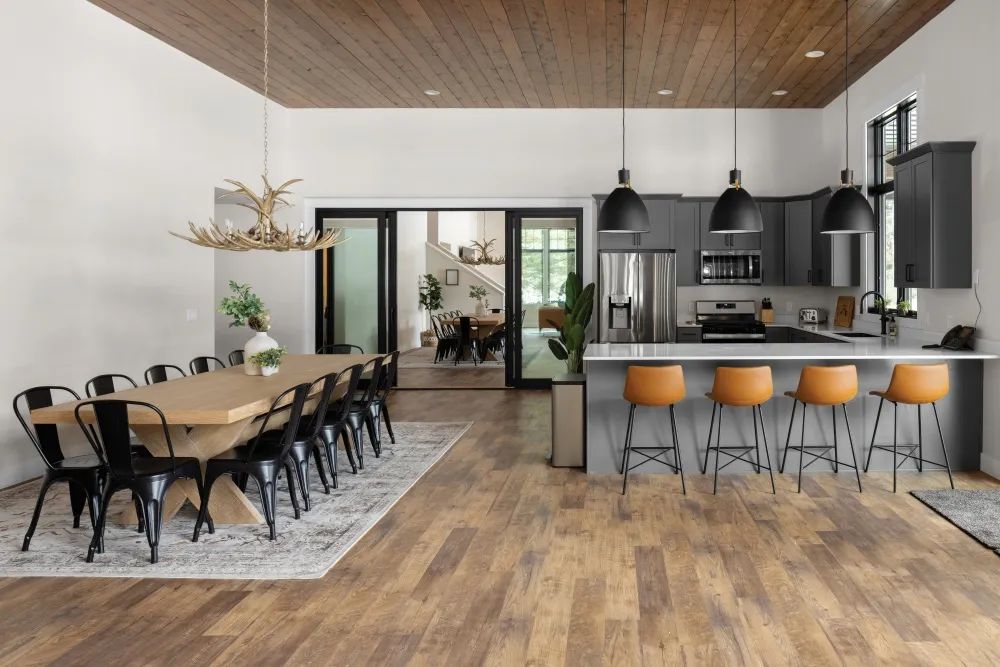 The grand structure of the retreat boasts 560,062 square feet of the finest design elements and the highest quality materials. With 12 bedrooms, eight bathrooms, two kitchens, and two fireplaces, the residence was built with two of everything—mirrored to be shared or split between two different groups of visitors.
Luxury vinyl plank floors cover the home for a natural and durable wood-look finish. The ceiling consists of 2,400 feet of fir plank that, although tongue-in-groove, has been installed in reverse—a fine-line system—for an updated shiplap look that is classic and timeless.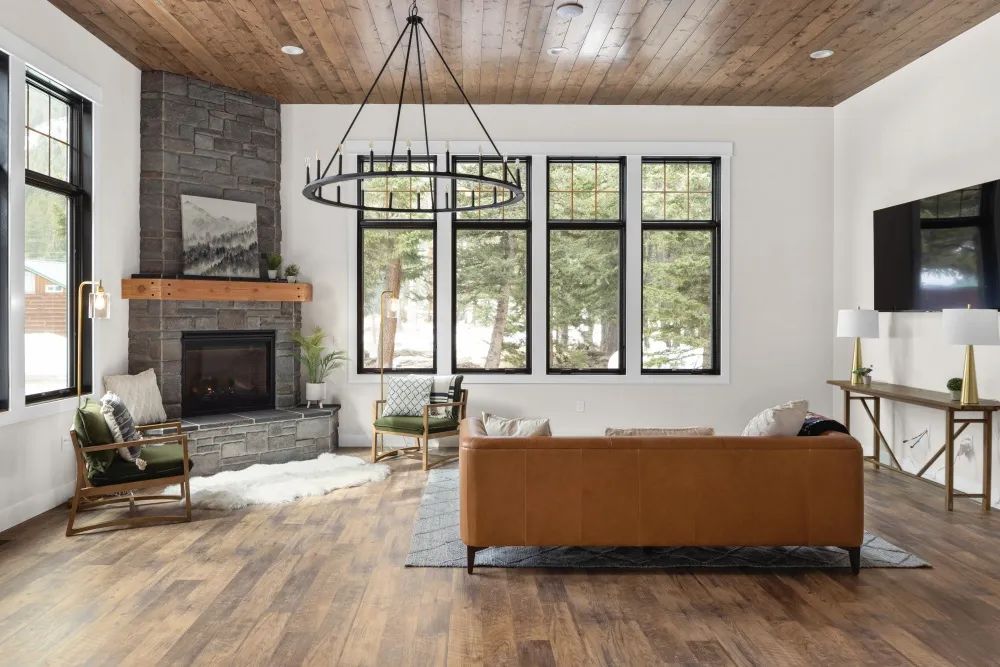 The two fireplaces and their eight-foot mantles were built with cultured stone by Matt Leader of ML Custom Masonry, and the lighting was designed by One Source Lighting. Antler chandeliers are a highlight for visitors and contrast the simpler features and the dark cabinets for a seamless aesthetic.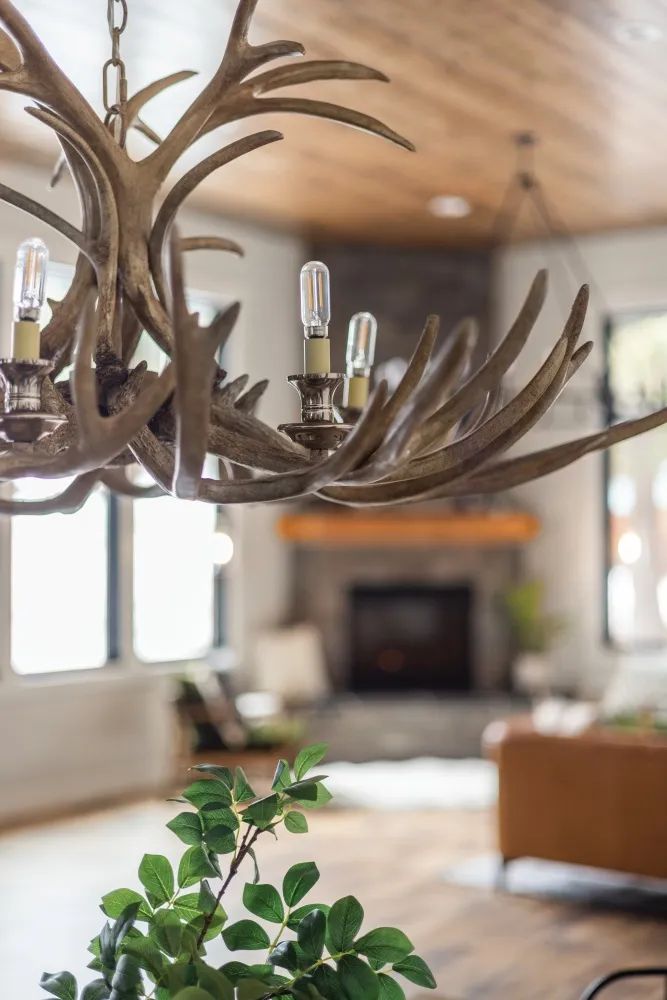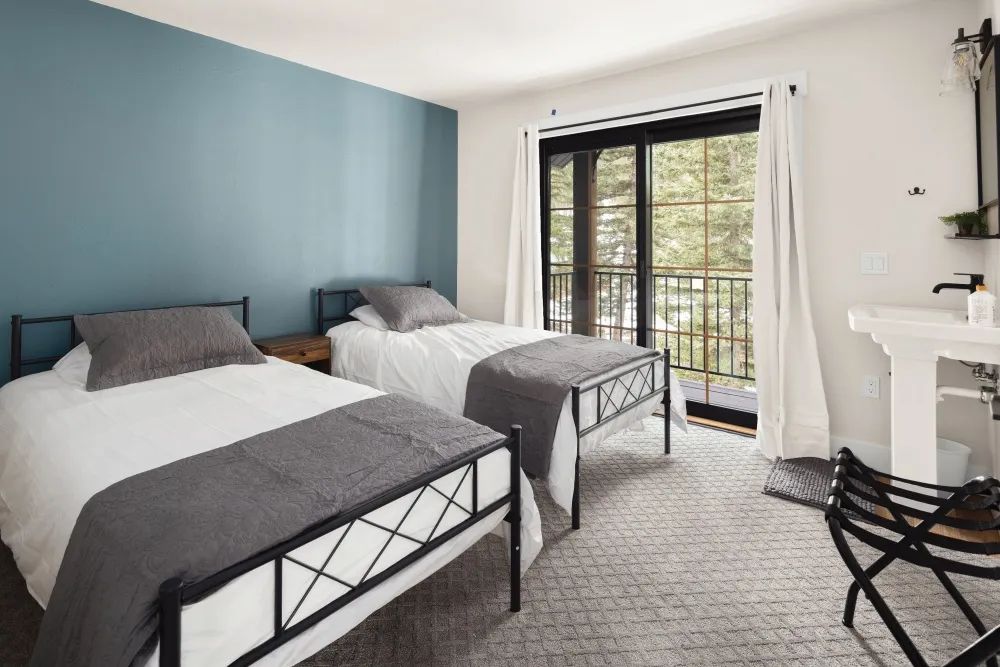 To enjoy the sleeping quarters while still having the option to appreciate the outdoors, each of the twelve bedrooms also has its own patio. In addition, one large party patio and a shared outdoor fire pit unite every visitor for its intended purpose of fellowship.
Charlie Brewer , the owner of Brewer Built Homes and general contractor for the project, has nine kids of his own . With such a large family, he understands large spaces and how they need to function to serve a large group of people seeking the perfect oasis from the rest of the world. But, more importantly, he also understands the value of bringing them all together .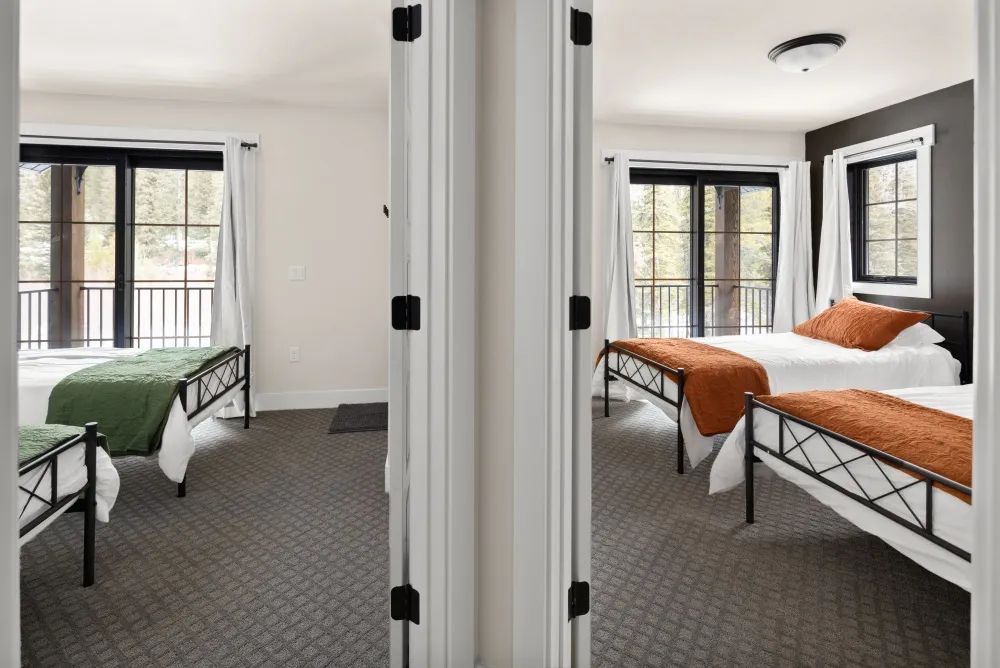 There's space for 24 people with a set of California twins that can be brought together in all 12 rooms. There are six bedrooms on the lower level and six upstairs, with eight shared bathrooms. Each bedroom has its own pedestal sink, and the bathrooms on the lower level are ADA-compliant.
Built to Weather Storms and Time
The Gallatin area is as rugged as it is beautiful, often enduring weather just as wild as its landscape. With this in mind, the elements tested Brewer and his team throughout the entire building process. They broke ground in July of 2022, laying the foundation just before the historic 500-year floods ravaged the area.
"God creates rain and snow at the end of that valley and disperses it throughout Montana," Brewer said of their challenges. There was a lot of water present throughout the building process, which also helped guide their choices, ultimately leading to a structure that would be resilient for years to come.
With ongoing construction through the flooding, "We got to see all aspects," Brewer explained, "with how the building sustains drifting snow and runoff. It's like building a ship when thinking about how the structure will perform, and through fire and flood, this building is built to survive."
With the addition of gravel and interior drains, sump pumps, and perimeter footing drains to prevent future flooding, Brewer was grateful for the challenges and credited Toepfer Concrete with the outstanding foundation work throughout it all.
The approach to the exterior of the building was very similar. Fire-resistant, pre-stained Hardie plank siding was used, a fiber cement plank siding engineered to endure harsh weather conditions. The metal roof is in crinkle black, which helps the grand structure fit into its surroundings.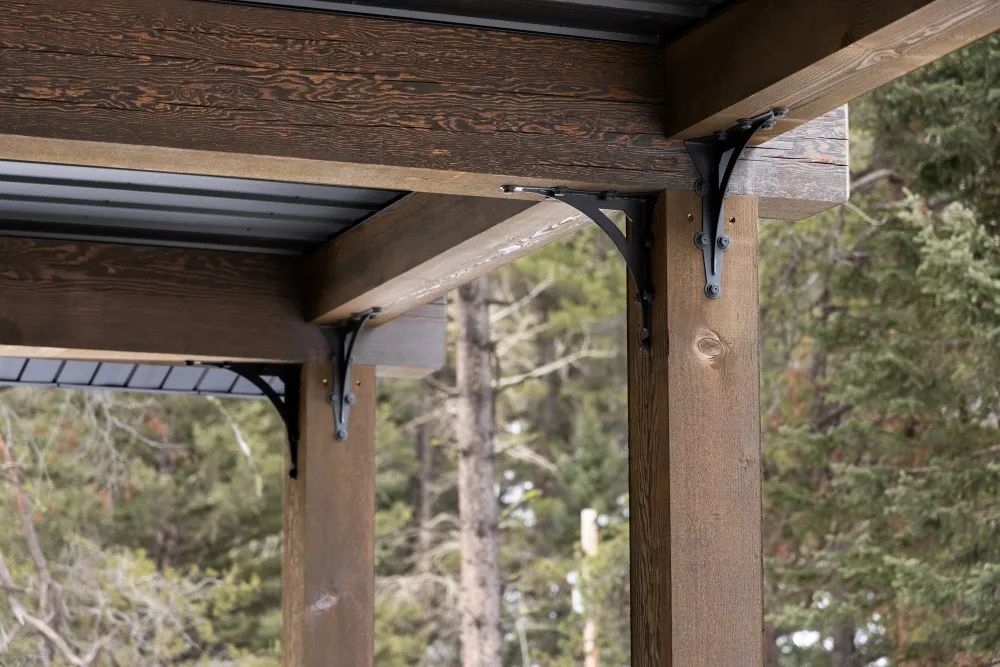 The structure is sustained with free-of-heart timber beams. For a deeper understanding of what this means, one must understand the various qualities of wood. Boxed heartwood includes the center of the tree where the growth rings are; this encourages the beams to twist and crack, especially through varying temperatures. Although cracks and flaws are natural features of timbers, too many flaws can compromise the quality of the structure. Free-of-heart timber is cut without the center of the log. This minimizes the wood's naturally occurring twisting and cracking and allows for a stronger, longer-lasting structure. "We build 100-year-old structures," Brewer says regarding his choice of materials. "We build them to last and for you to enjoy without having to worry about maintaining them."
Teamwork
Brewer has over 30 years of experience as a contractor, and the quality of his work is a testament to his expertise. His father was an excavator, and Brewer recalls a childhood filled with traveling for his dad's job, "back when take-your-kid-to-work day was a regular thing," he laughed thinking about falling asleep on heavy equipment. He started as a fabrication welder, which helped him get through school. However, his father-in-law was a builder, and that's where he learned the trade. Brewer works alongside his son today, Kole Brewer, carrying on the tradition of working and learning from one generation to the next.
The Gallatin retreat was completed in February of 2023, which Brewer says would only be possible with his own crew and a team of quality craftsmen and vendors who were all involved. "We are a small company, but I am all about my sub-contractors," he explained. "When I piece together a team, each member has to work for the guy behind him" because superior completion cannot be attained without the continuation of quality and precision from one to the next.
"We're not afraid of using technology. We can engineer studs for bigger houses and taller woods," Brewer notes of how these large structures are built. "Sometimes you don't know the quality isn't great until you go to put the backsplash in the kitchen, and all of a sudden, something doesn't fit." Because of this, everything must be done accurately and without flaws. "It's the details we put into our process that make the difference."
Like all his projects, Brewer leaves one small mark behind - a Bible verse that is also part of his brand. Hebrews 3:4 says, "For every house is built by someone, but the builder of all things is God." With this notion in his heart and through his practices, Brewer employs passion, care, and meaning into his daily work, leaving a legacy that will endure time, much like the buildings he constructs for generations to come.
Originally printed in the May 2023 issue of Simply Local Magazine
Never miss an issue, check out SLM's digital editions here!