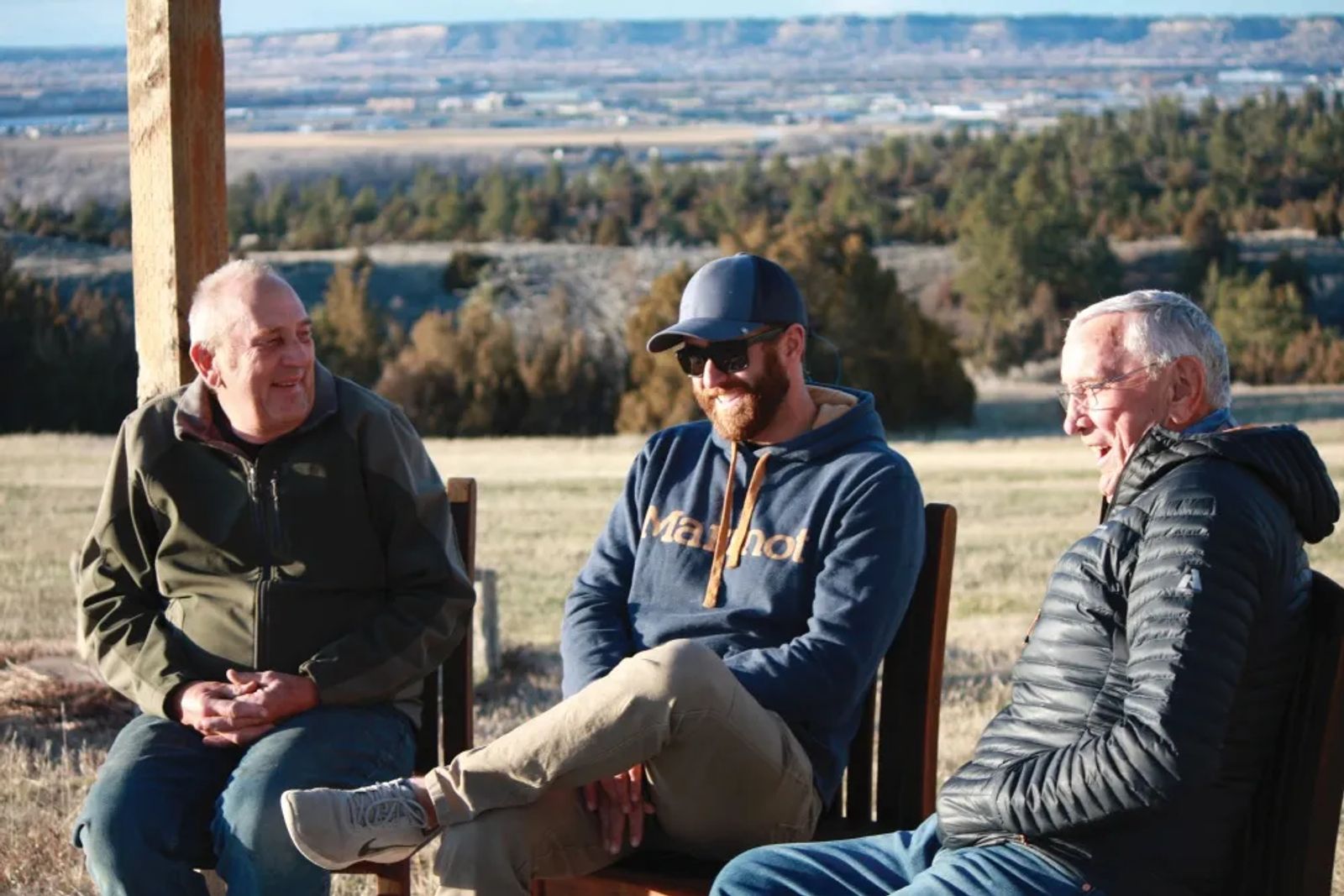 Building in Billings: Then and Now
June 2021
An inside look at three generations of homebuilders
article & photos by jessica alvarado
It's no secret that the housing market in Billings is currently booming. With the current influx of people moving to Big Sky Country, new houses are popping up all over our city. Every home in Yellowstone Valley represents a family that dwells there, but those walls didn't just build themselves. Behind every house is a general contractor who coordinates and oversees the construction of the home.
I recently observed three home builders: Lyle, a family friend, Matt, my father, and David, my brother-in-law, all sitting around a table on a Sunday evening, where they can often be found, chatting about their experiences building homes and how things have changed over the years. All of them are/were contractors responsible for building several of the homes that we all live in and next to in the Billings area.
It's easy, sometimes, to forget how much has changed as time keeps advancing. It's good for us to take a look back every once in a while to see what was and what is now. It helps to give us perspective on what truly matters and renews our thankfulness for the time that we live in now. So here is a look at how the building industry in Billings has changed over the past 60 years, according to three builders.
It was 1960 when our first builder, Lyle Borgen, started building homes in Billings. He started out working for another contractor before branching out on his own to run Lyle Borgen Construction. His role as a general contractor was very hands-on, doing every part of building the house, from driving the nails to siding and trim work. At the start, the advice given to him was, "You have to like every phase of building, learn to like it all."
He also lived to see the significant advancement of machinery and how that changed the building industry, "New machinery is a lot faster and more precise in this day and age. I owned the first air nailer that came into Billings," he shared.
When asked about what people wanted in a home, he explained that people had fewer preferences in their homes: "Everything was simpler back then; people were just glad to have a home." People were more concerned with having a roof over their heads; there wasn't social media to drive big trends in what people desired in their homes. Houses were relatively small and simple, with the average size of homes being around 900-1000 sq ft.
Enter the 1990s, when Matthew Kennedy came onto the building scene. He was a fisherman in Florida who came back up to Montana in 1991 to join his brother in building homes. The housing market was just beginning to bounce back from a rough time in the '80s. He saw homebuilding as a good opportunity, and together, they formed Kenmark Construction.
During Matt's building career, he experienced how communication has changed drastically, "I still remember a time when I would be at a job site and get a page so I would have to go to the nearest gas station to return the call," he recalled. When communication started to get easier, it helped everything to become more streamlined.
While he was building, he noticed how things started getting bigger and fancier, with homes growing to around 1200 to 2000 sq ft. Everything began to open up with larger rooms and higher ceilings. House trends started to take off as well, "When we started, oak trim and oak cabinets were popular and then alder and cherry wood and painted cabinets."
David Mutch is relatively new on the building scene, starting his own construction company in 2018, shortly after finishing college and a career in commercial fishing. He is building in a time that allows for almost instant communication, which is a huge time saver. But with the blessing that technology brings, there are also some downsides. With social media's popularity, people are constantly exposed to home ideas on Pinterest and Instagram. Homeowners have so many more opinions and preferences for what they want their house to be like. This can widen the gap between their dream home and their budget. David has to help the homeowners limit their options to what is doable and not what they see all over social media. "Every Pinterest picture I see is of a multimillion-dollar house, so we have to work to get that $60,000 kitchen to fit into a $20,000 budget." The average house size he builds is around 2800-3000 sq ft.
David has also experienced the strain that the current pandemic has had on the building industry. "Since COVID, the building market has changed drastically. The large influx of people moving here has caused prices to go up and things to take twice as long to get done," he shared.
If I learned anything from sitting down and talking to these gentlemen, it's that things are constantly changing. What was will not be the same forever. Every generation has its advancements and its downfalls, but when we take time to step back and see from where we came, we allow a proper perspective to take shape in our hearts.
Originally printed in the June 2021 issue of Simply Local Magazine
Never miss an issue, check out SLM's digital editions here!