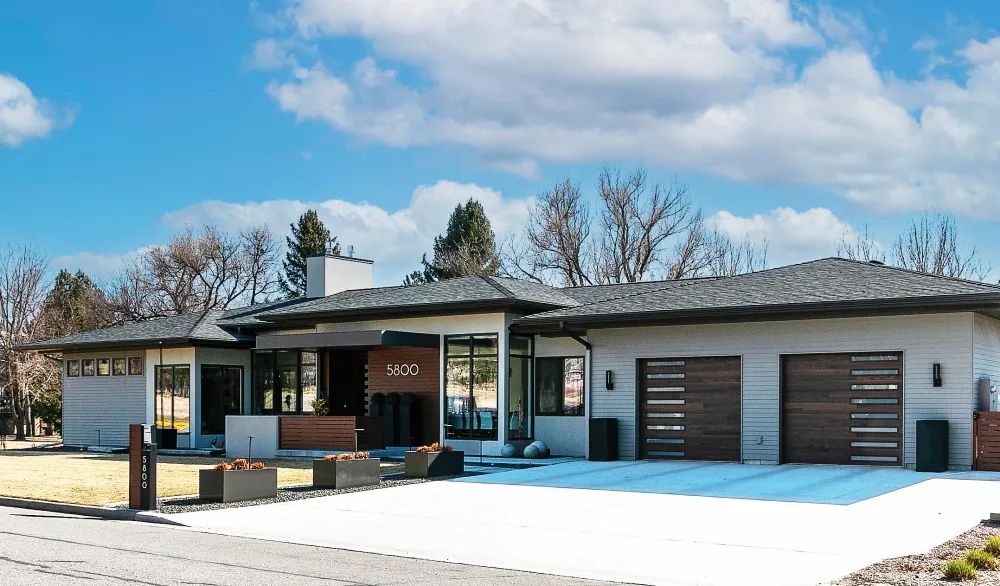 A Study In Modernism: The Golf Course Residence
June 2021
article & photos by renata haidle
What happens when one spouse prefers rustic and the other traditional? They meet in the middle and create a masterpiece in modernism. Or do they?
It might not seem plausible, yet that is precisely what happened to a local Billings couple when they designed their new home together. Setting aside their personal preferences, they found common ground in elegant straight lines, a muted color palette of white, black, and shades of gray, and the latest architecture and interior design trends.
Despite no formal design training but benefiting from a strong sense of aesthetic and a hands-on, can-do attitude, the couple (who shall remain anonymous at their request) managed to create a stylish and sophisticated space, which they love sharing with family and friends. The large, open floor living areas and several outdoor spaces are meant to bring people together, making entertaining easy and fun.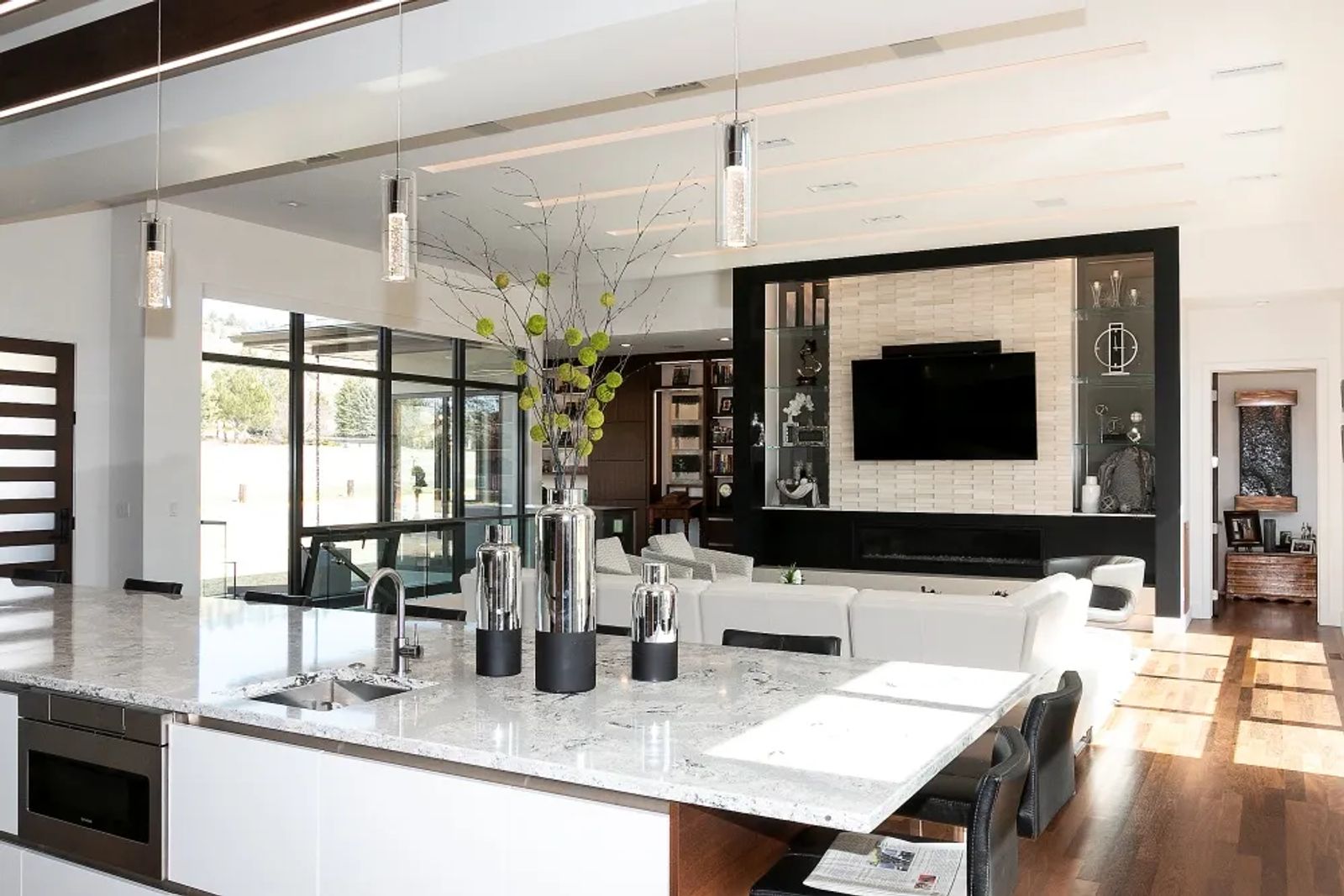 The homeowners' vision was made possible by cooperation between local suppliers, craftsmen, artists, and international manufacturers from as far as Australia and Poland. Every element was well thought through and executed with care and precision. Unique pieces were created and brought together in a concerted effort to create a home like no other, an avant-garde of modernism that left many of the contractors saying, "We've never done that before."
Smooth, Sleek, and Streamlined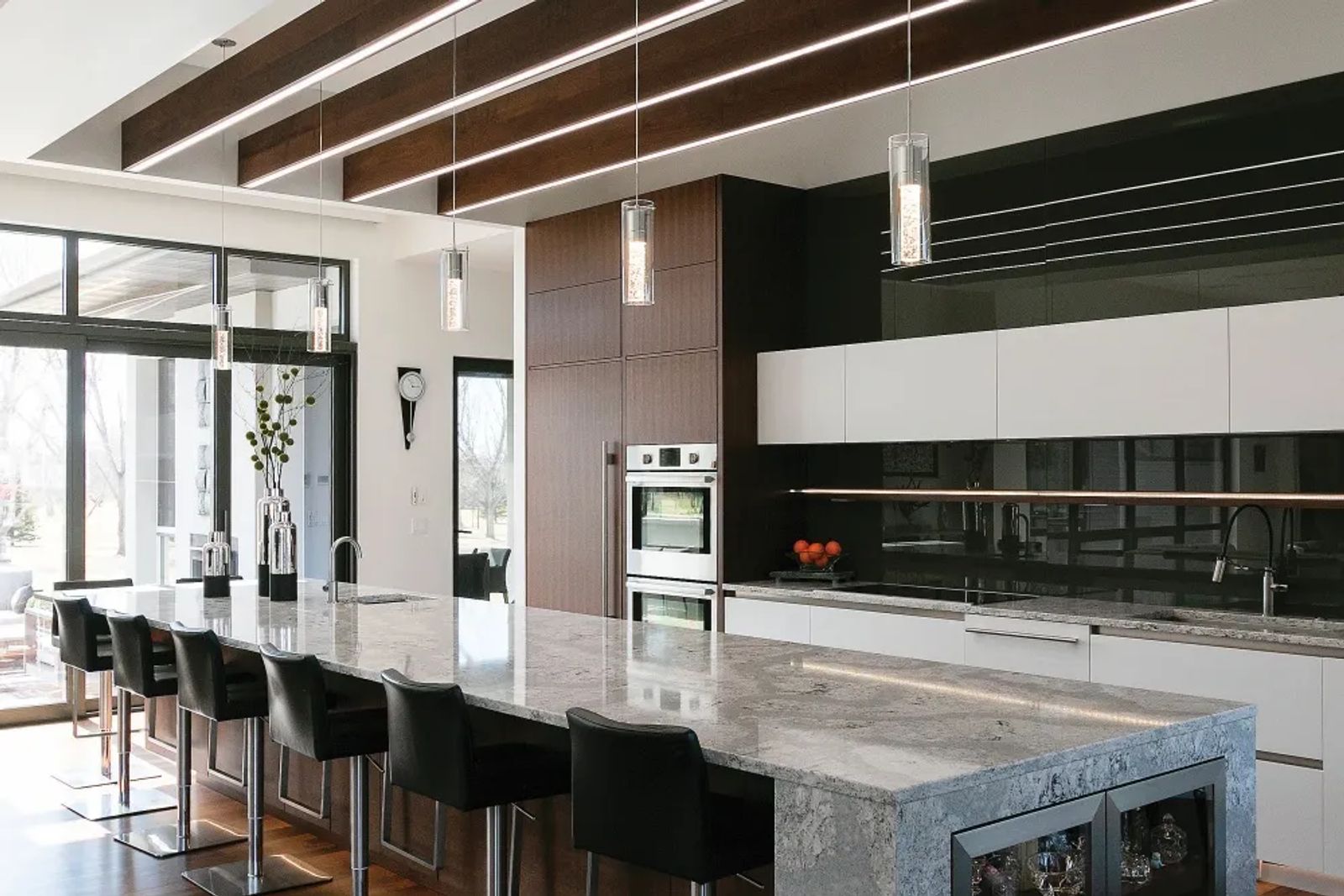 The kitchen has a streamlined look, with smooth, reflective surfaces like quartz countertops and a painted glass backsplash. The absence of hardware allows for a sleek continuity of lines, interrupted briefly by the gleaming stainless steel of top-of-the-line double wall ovens.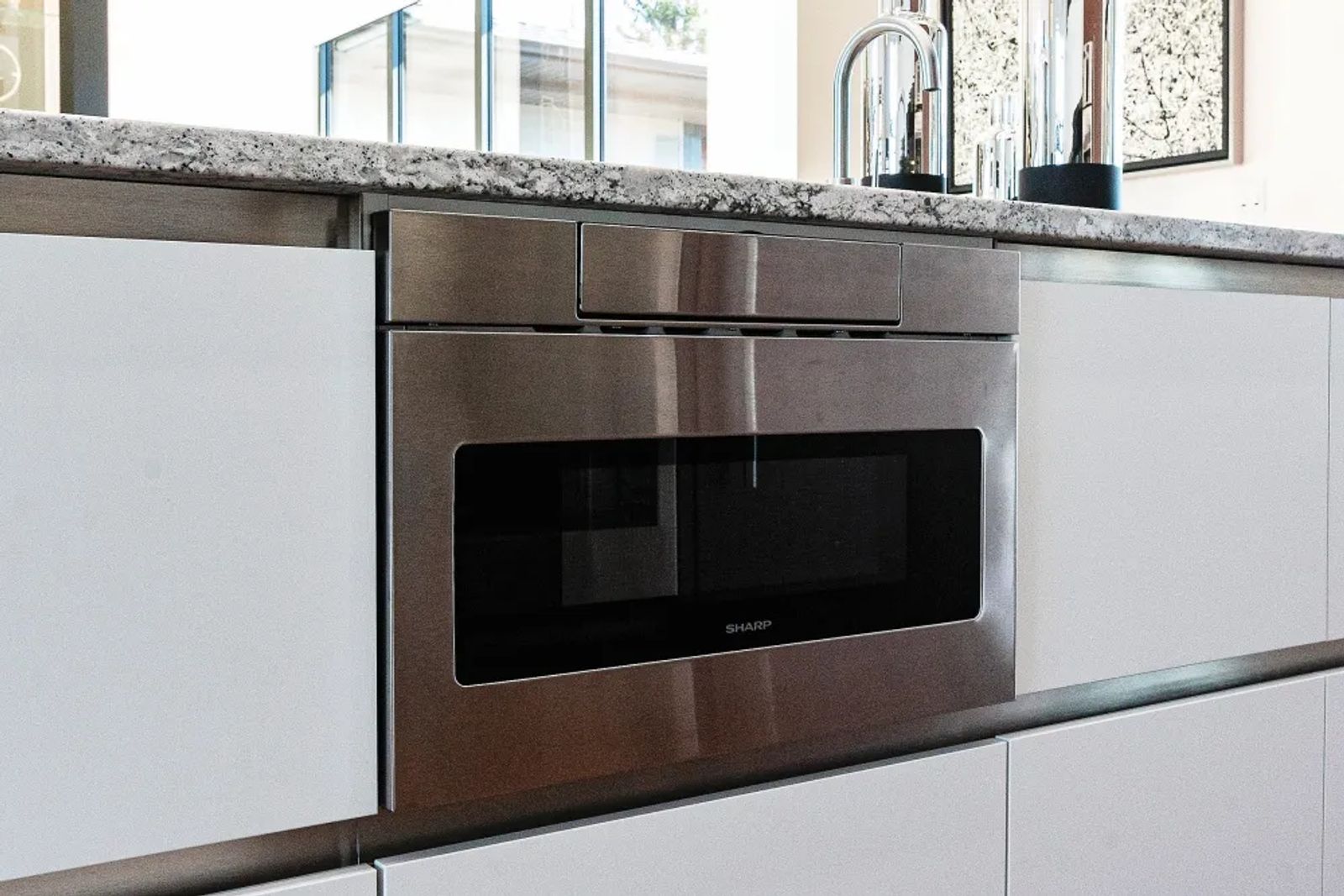 Other large appliances (refrigerator, dishwasher) are hidden behind cabinet panels. Under the waterfall island, inconspicuous lower cabinets on one side coexist with deep, smooth-gliding stacked drawers on the other. A microwave drawer is also placed discreetly under the counter.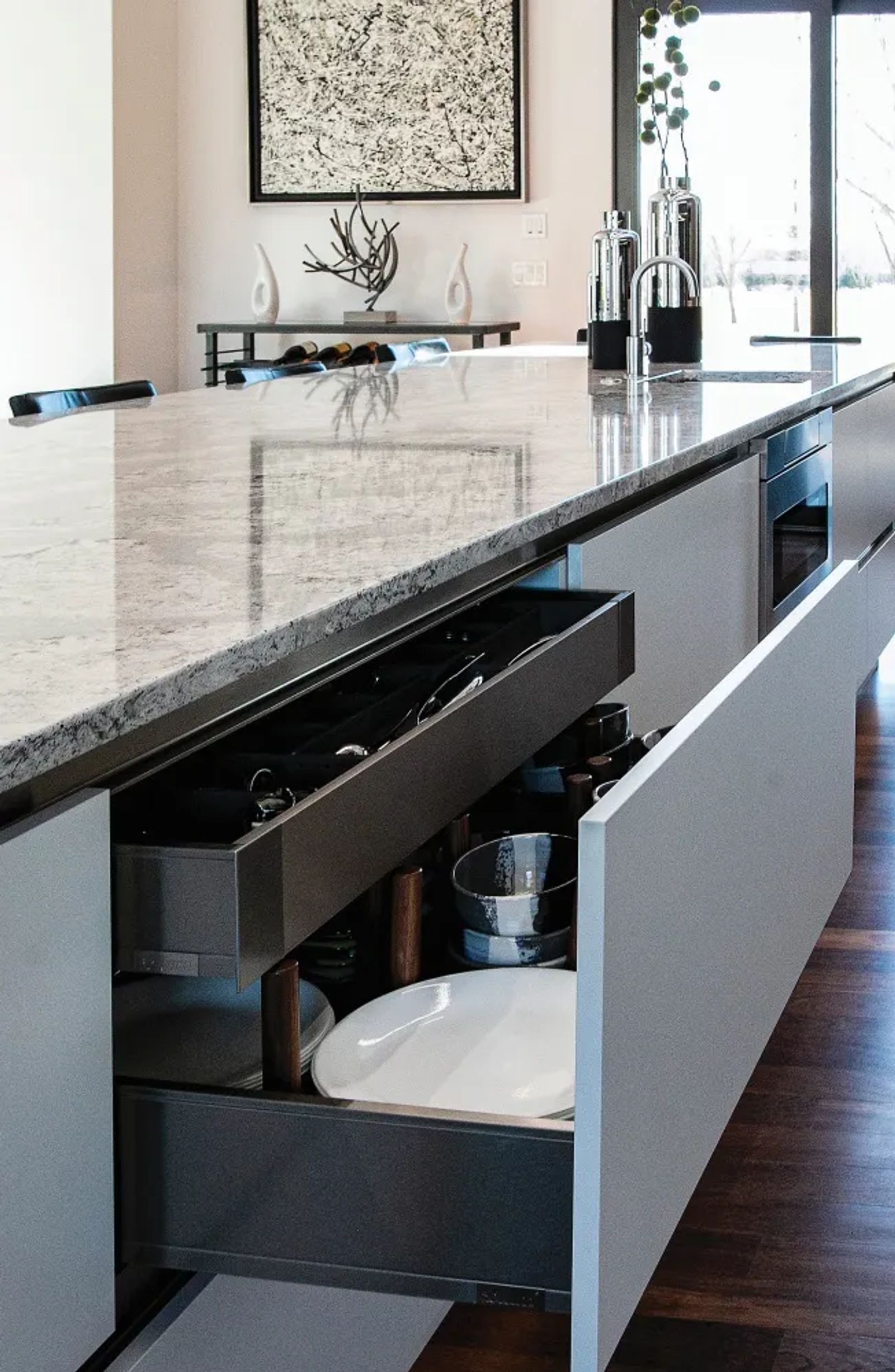 Lighting elements mix incandescent light fixtures and fluorescent LED strips and can be adjusted to create the desired atmosphere.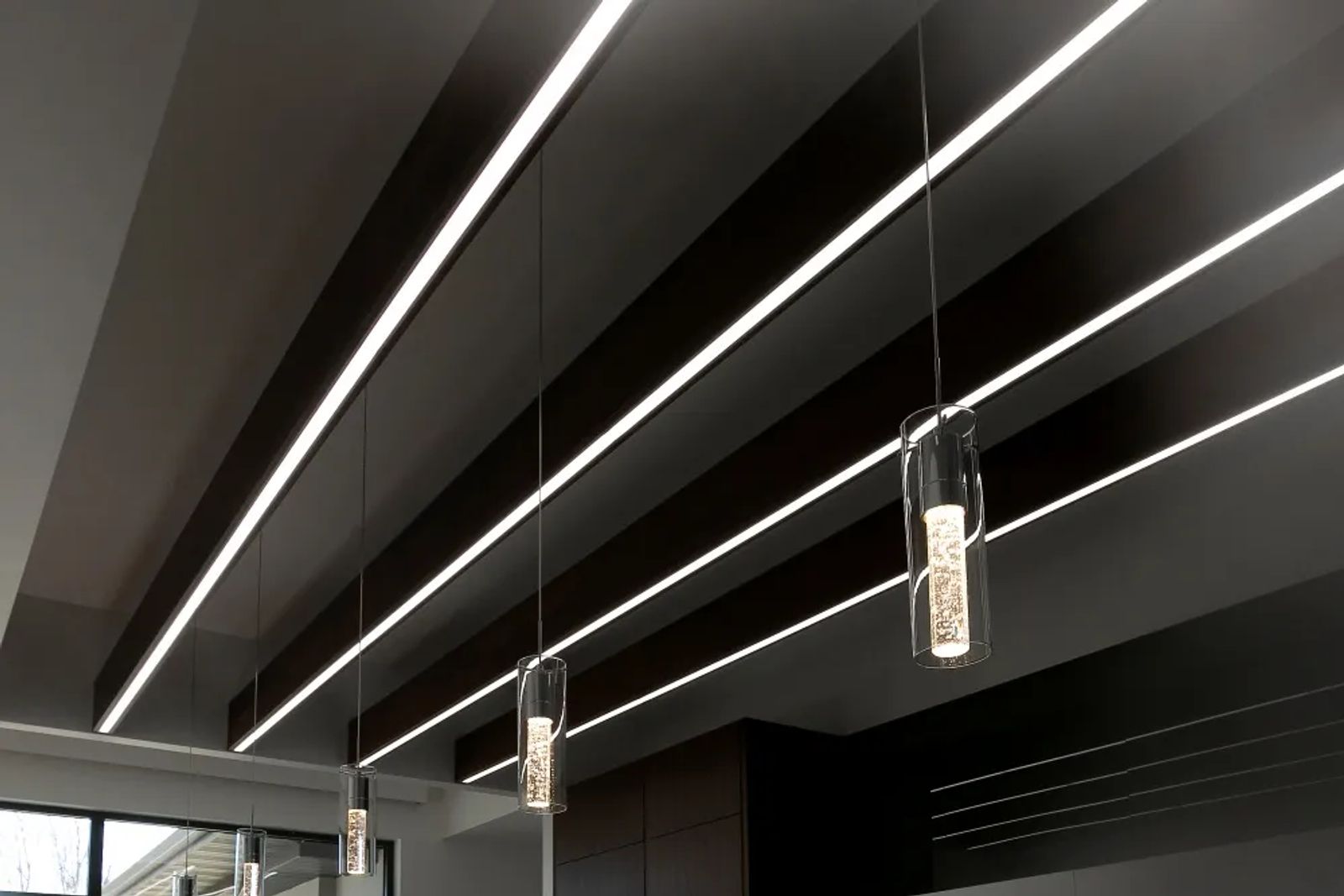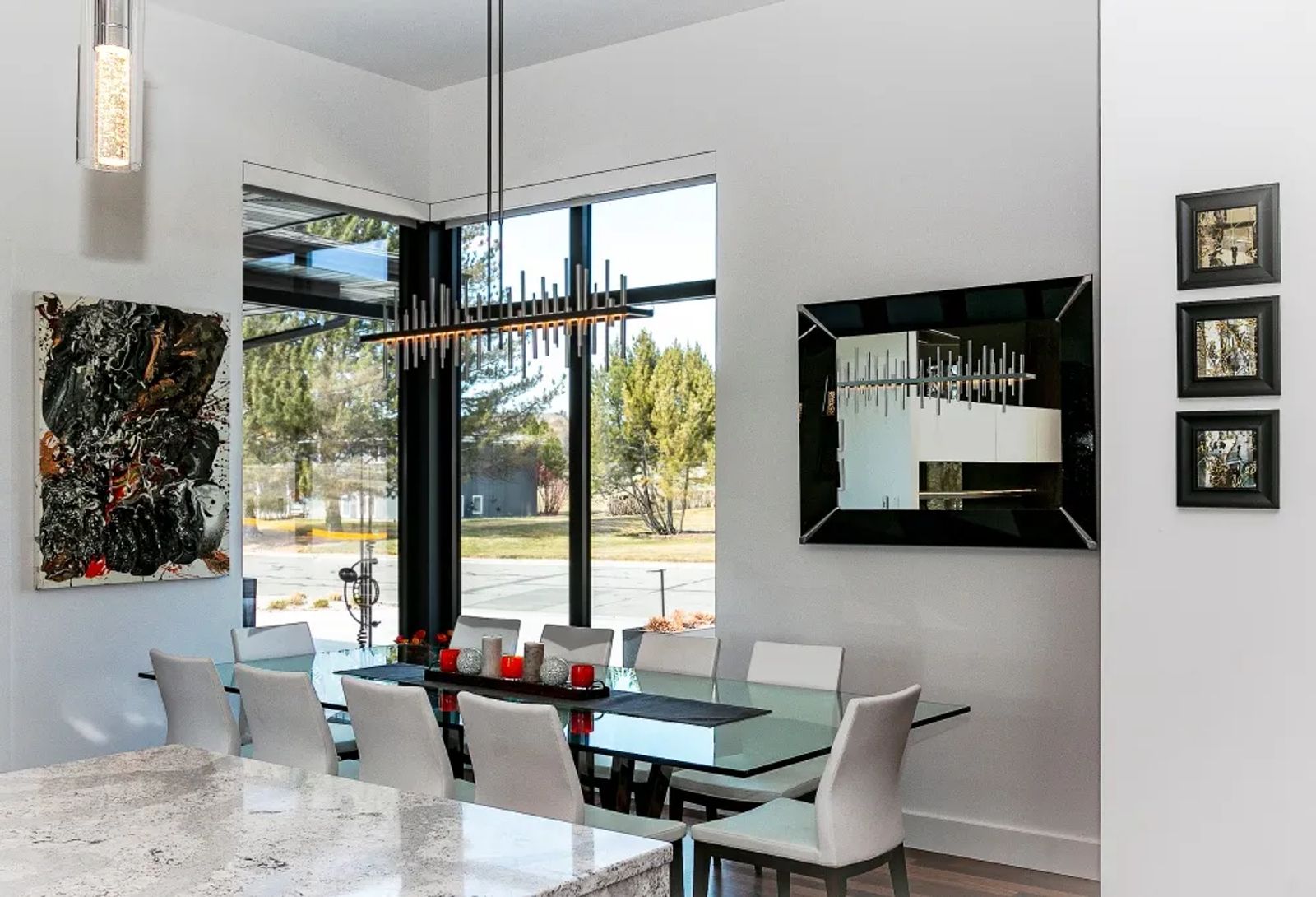 The dining room, two steps away from the kitchen, features a 10-seat glass table, flanked at one end by an abstract painting by young, local artist Bunny K, and at the other by a 12-foot-tall custom steel and glass hutch to host the owners' vast collection of crystal and fine china dinnerware.
Relax and Recline in Style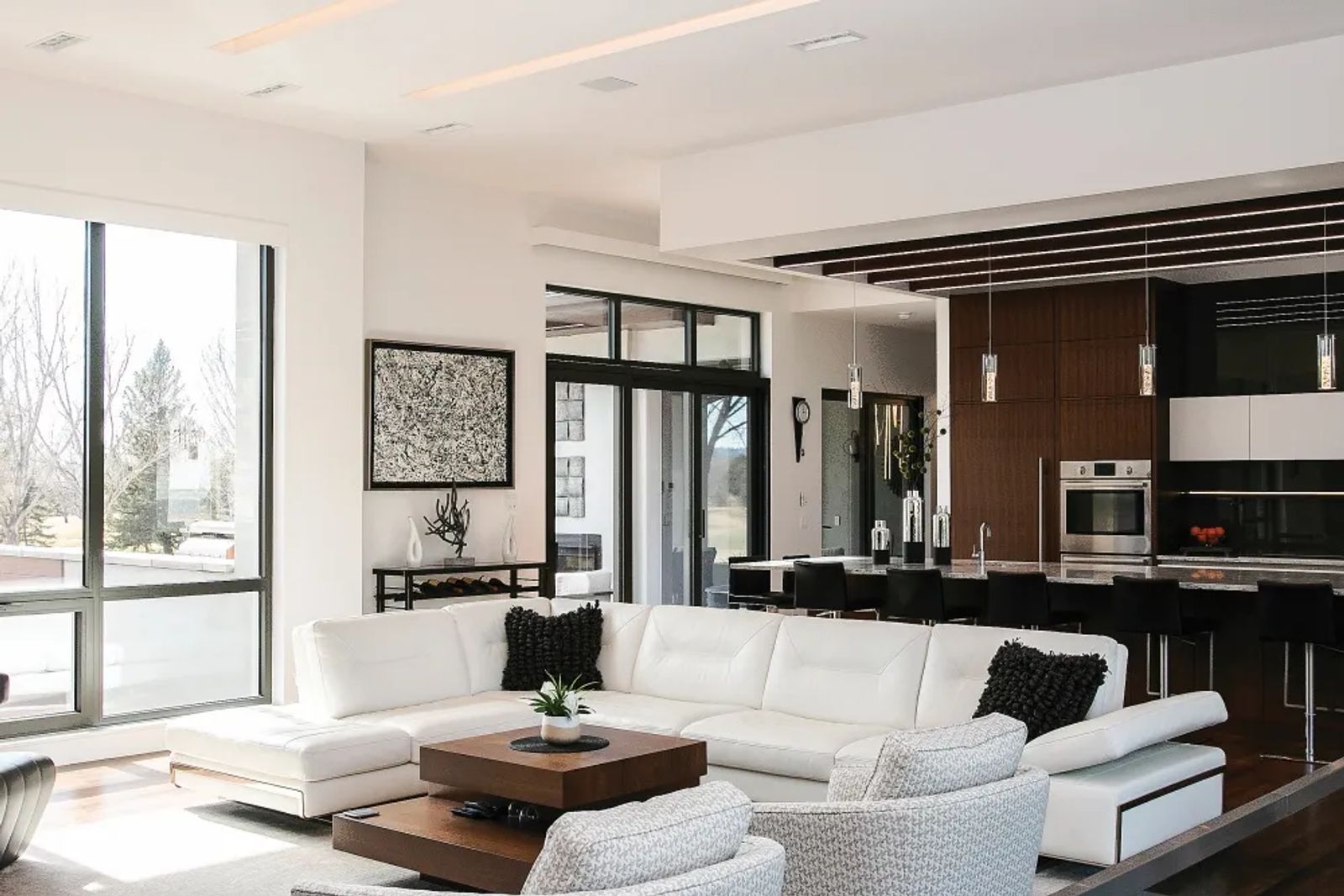 A white leather recliner sofa by Italian luxury brand Max Divani spreads out generously in the living room. The TV is surrounded by shelves placed against a backdrop of the same gray painted glass found on the kitchen's back wall.
Luxe Linear Lighting and Finishes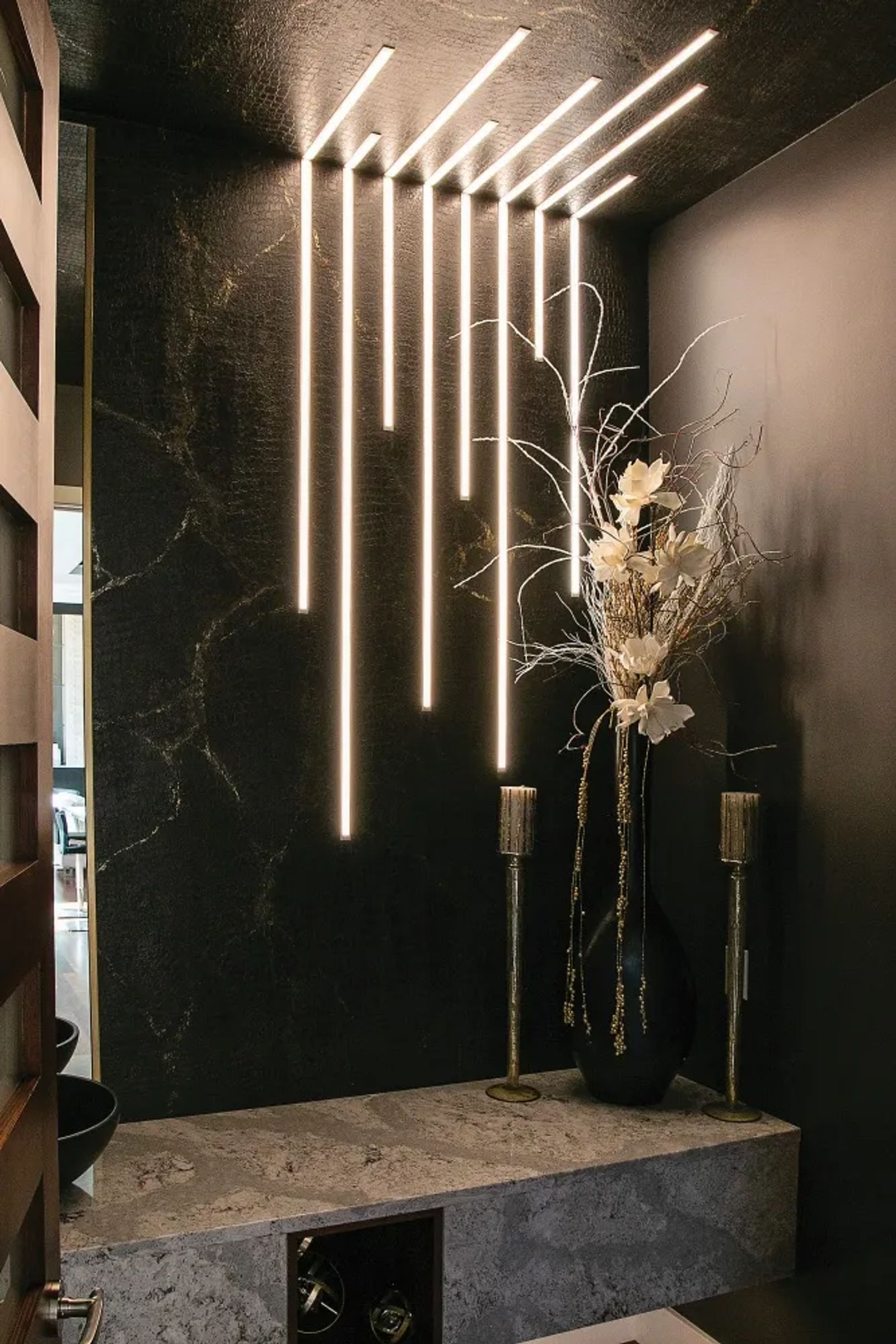 Right off the living room/kitchen area, a small but stylish powder room features quartz countertops and a narrow vertical mirror in a polished brass frame. LED light strips are embedded into the wall parallel to the mirror and continue onto the ceiling. The walls and ceiling are faux painted in alligator skin with gold veining, which grants a luxurious feel to this compact space.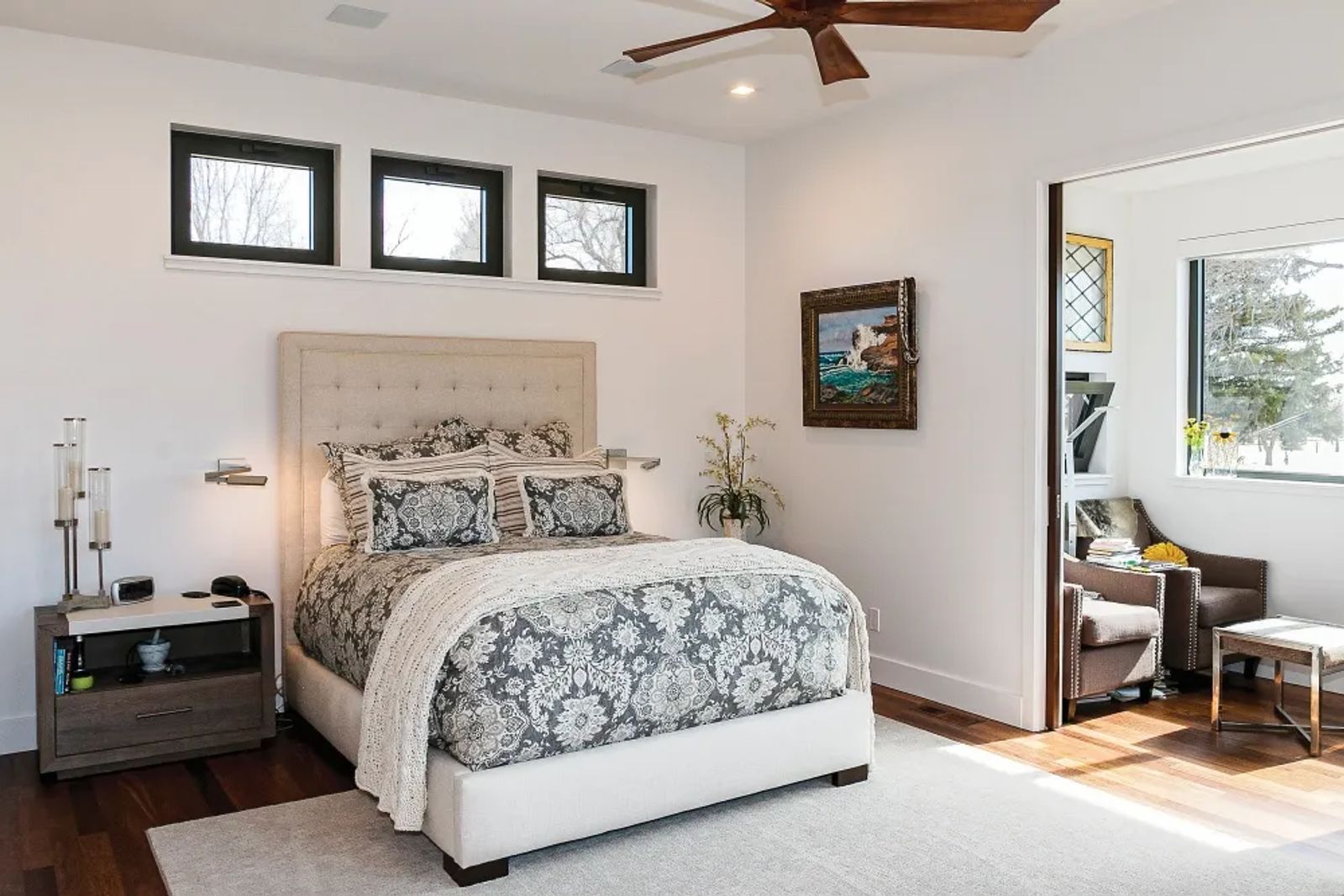 The master bedroom carries the same straight lines and rectangular shapes as the rest of the house. A bright, south-facing reading/coffee nook hosts a couple of chairs and a small table, as well as an under-counter refrigerator, espresso machine, and a sink.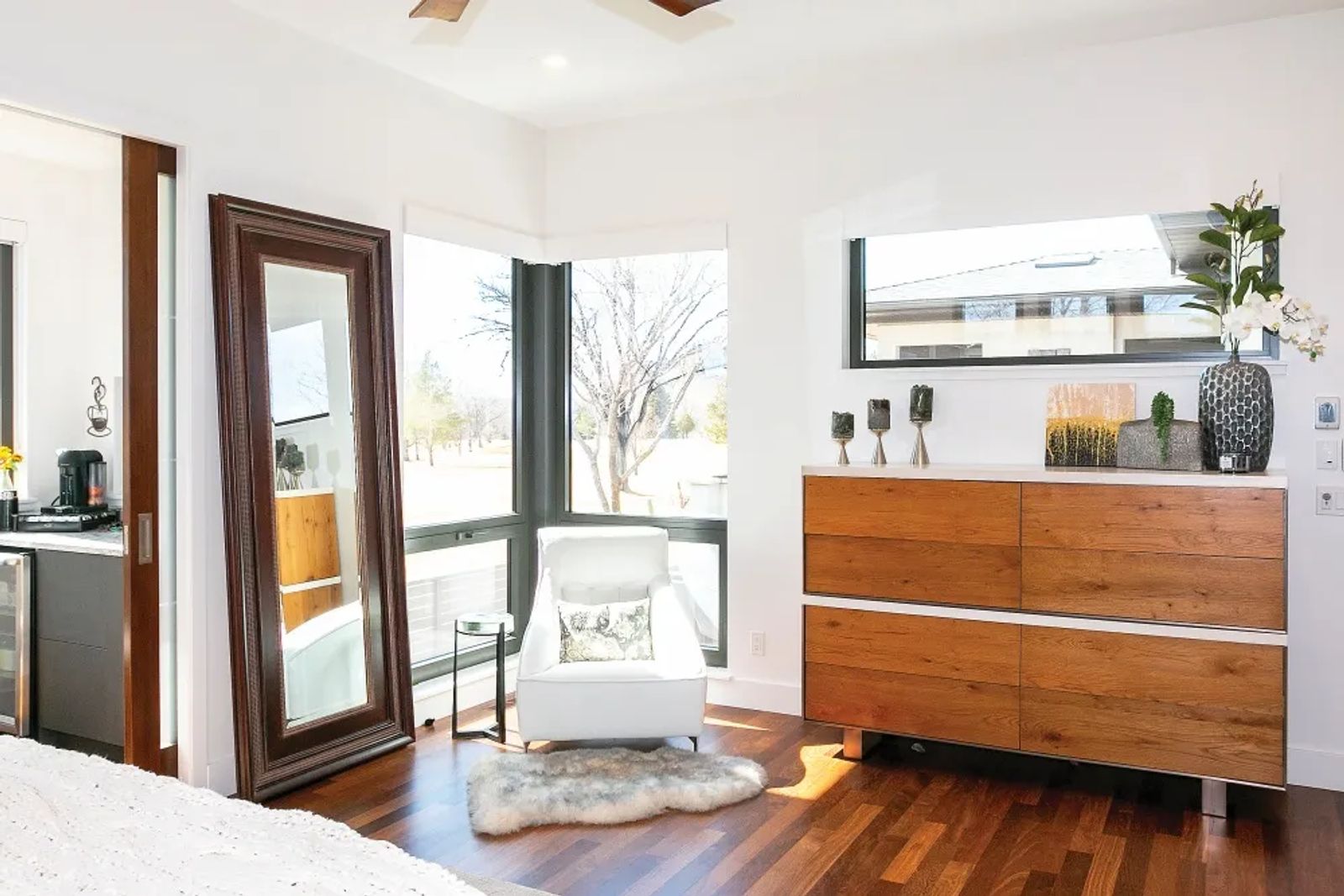 Custom Created Accommodations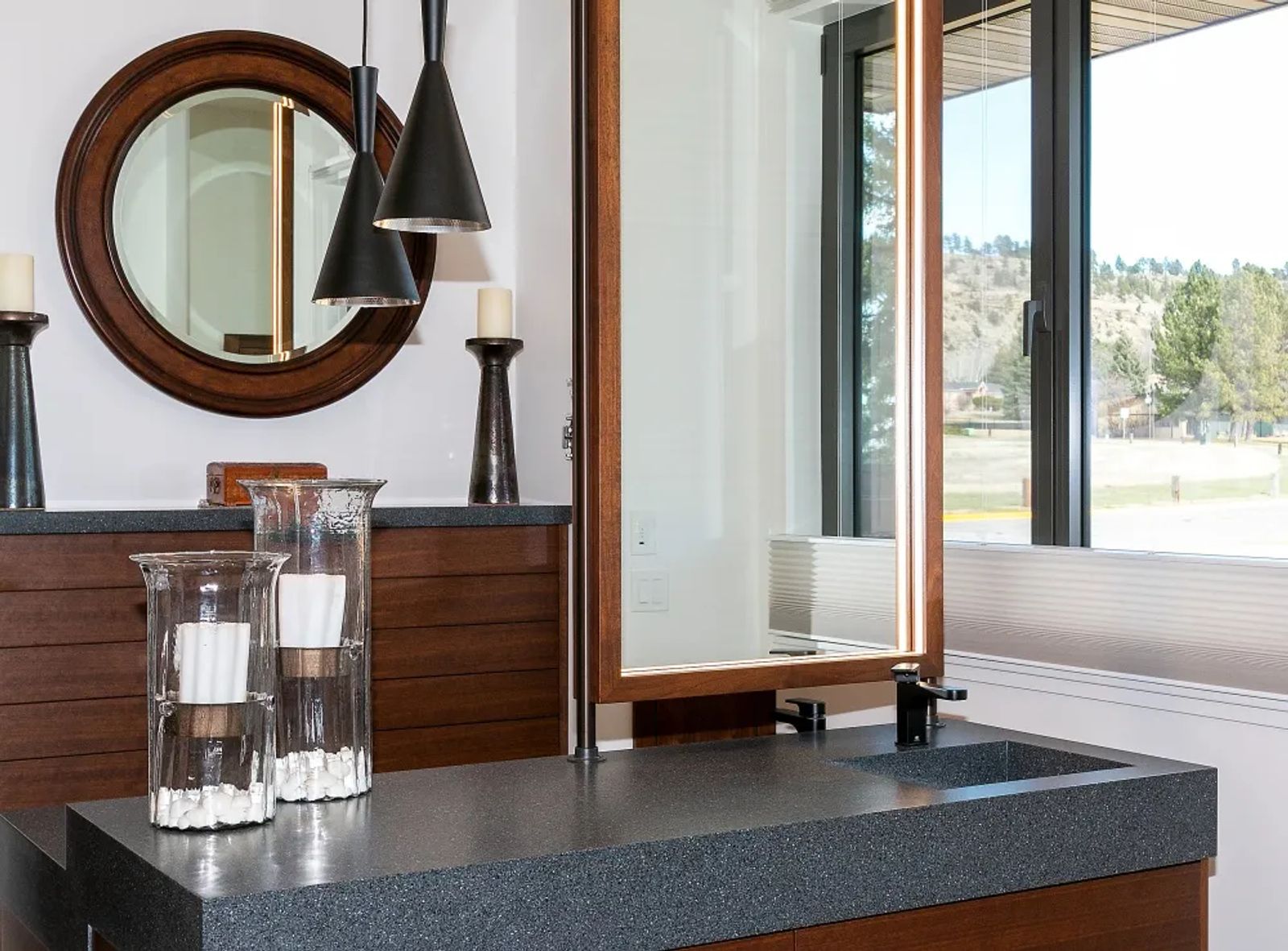 Opposite, the master bath is divided into four distinct areas allowing for "his and hers" ramp sinks, bathtub, handicap-accessible shower, and toilet. The bathtub is surrounded by river rocks handpicked by the couple, washed, scrubbed clean, and shellacked, giving them a warm, polished glow. The circular towel rack was custom-made by local metalworker and artist Craig Whitely. The sinks were positioned at different heights to accommodate the couple's contrasting needs (she is petite, he is quite tall). The sink size is minimal, prioritizing counter space. The architect's suggestion to place a large window in the toilet area was initially met with suspicion. It all worked out beautifully when the window was covered with an artistic vinyl decal in a wave design to mimic the tile on the opposite wall. The presence of the window allows for ample natural light to flow into this space without impeding privacy.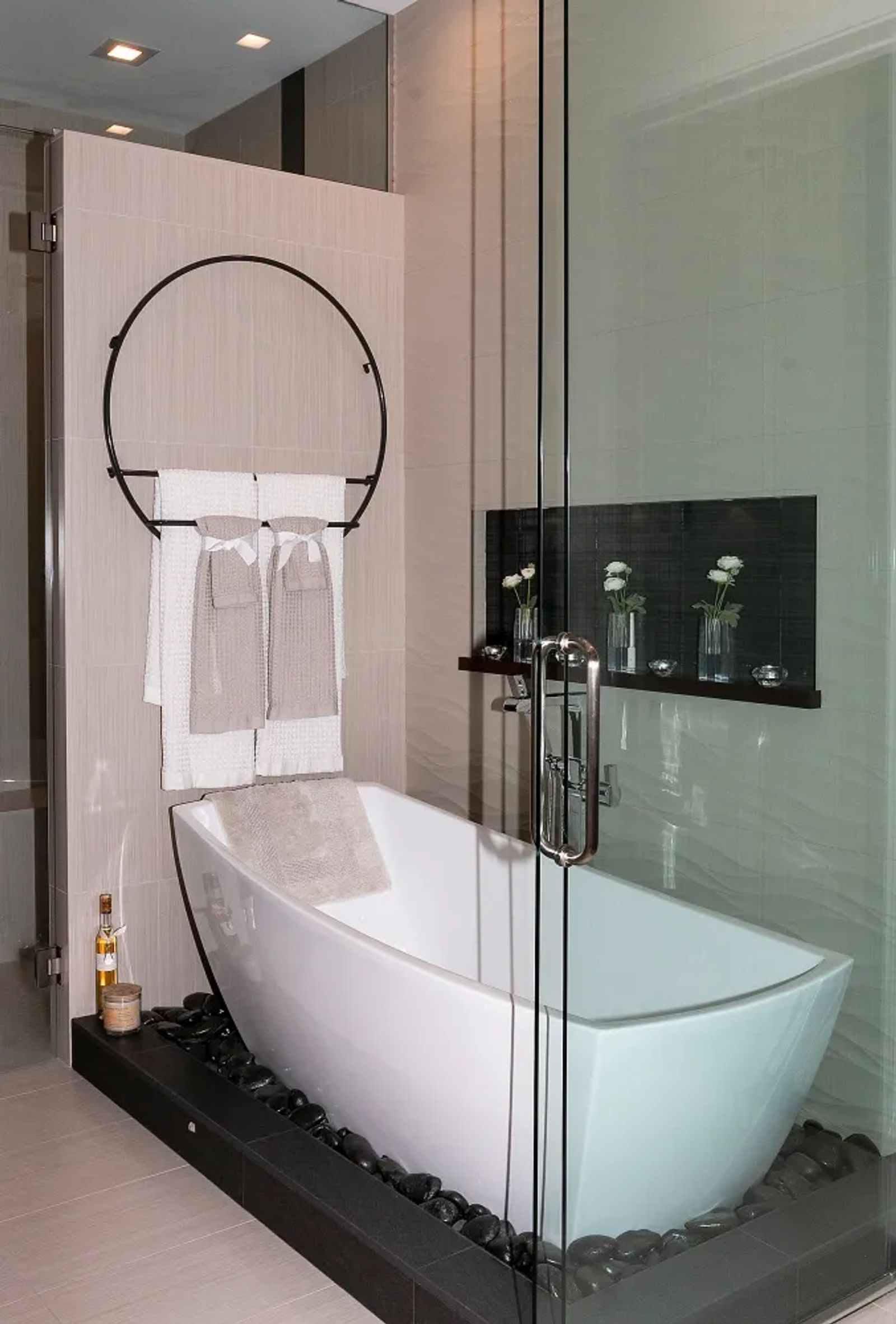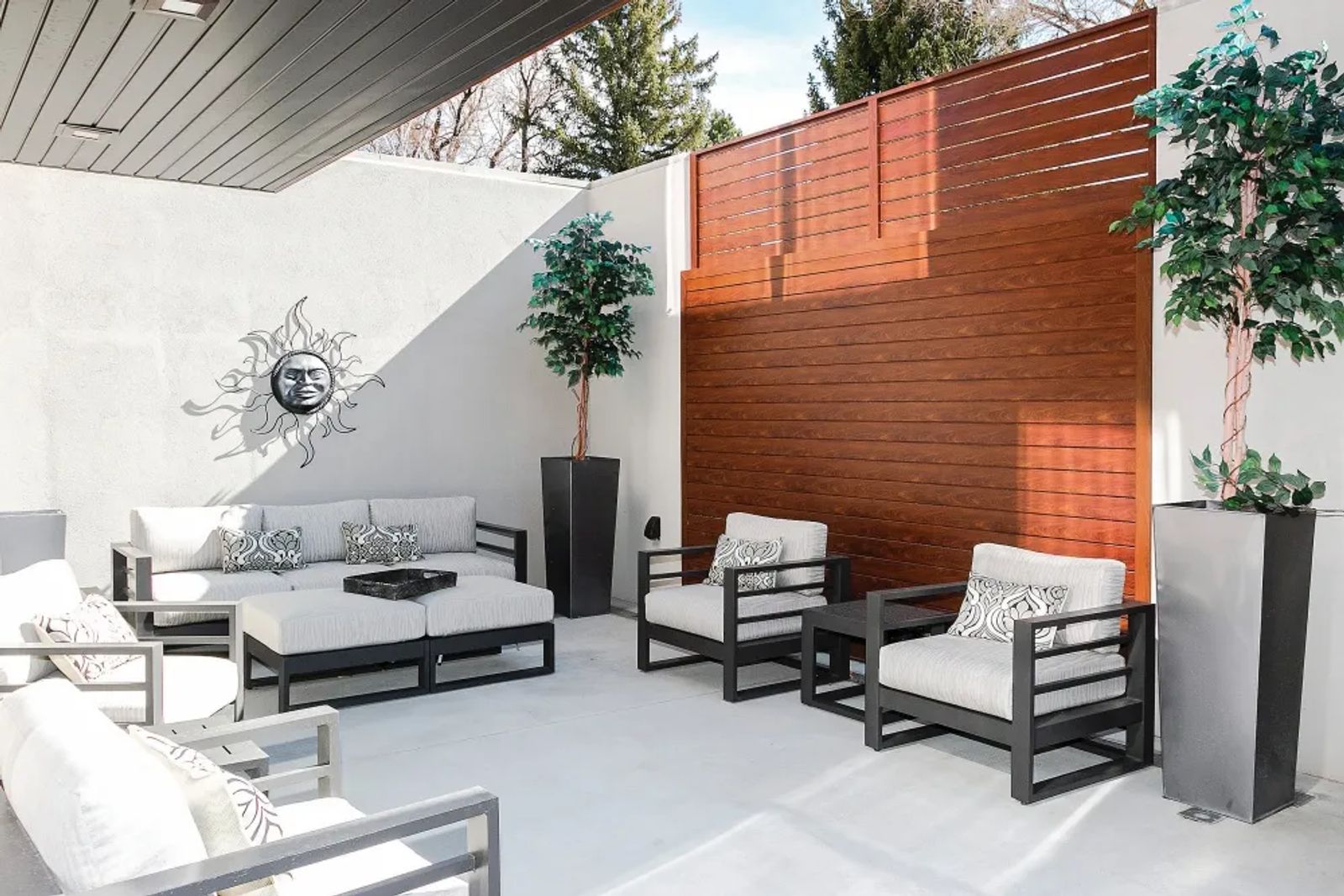 Several patio areas surround the home, allowing for generous spaces to entertain and enjoy the outdoors. The house borders a golf course, which made privacy a challenge. This issue was solved by sinking part of the patio space to the basement level and adding a knot wood (aluminum product with the appearance of wood) privacy fence.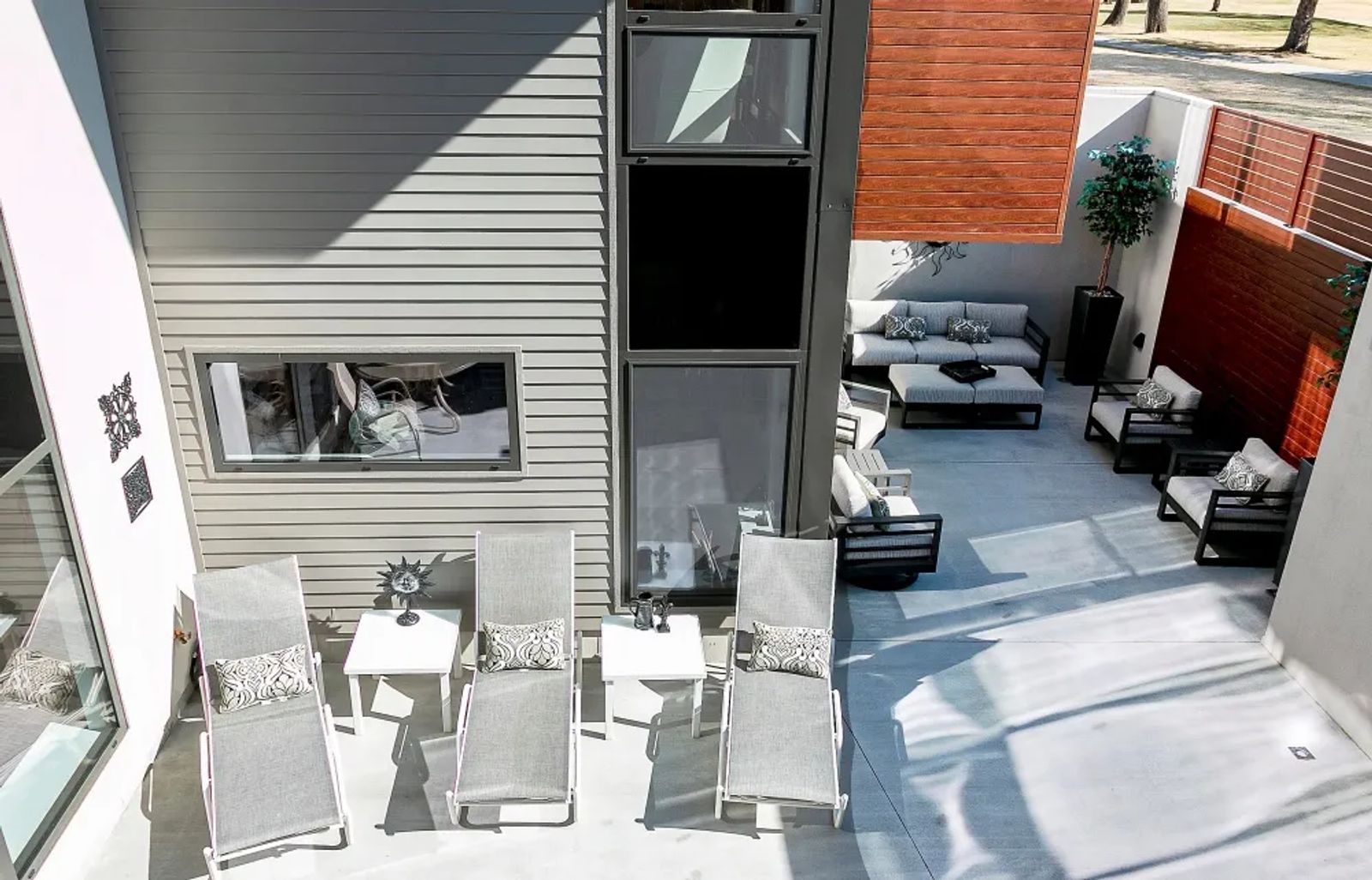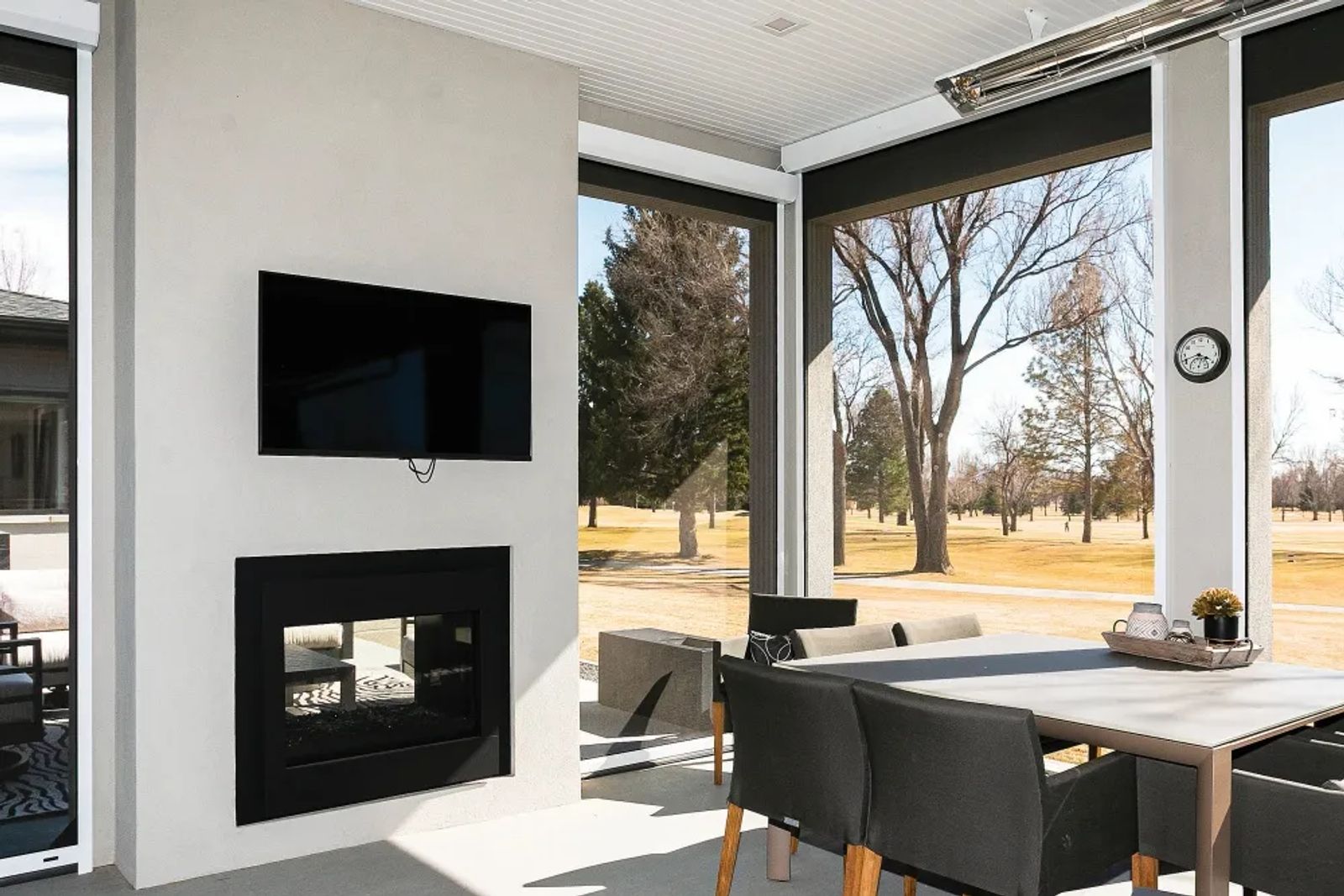 Motorized privacy screens surround one of the patios completely, isolating the outdoor room from the elements, as well as keeping pesky insects away in the summer. This is the homeowners' favorite area during the warm season. It is a versatile space that allows for dining, reading, watching TV, or just hanging out. A space heater and a fireplace make the room usable year-round.
Sources~
Scott Meyers, Meyers Custom Homes- builder
Gary Weber Construction- excavation contractor
Teton Steel- rebar
Toepfer Concrete- concrete foundations
Geo Structures- micro piles
Fisher Sand & Gravel- concrete and gravel
Brown Plumbing and Heating- plumbing
Geo Tech- HVAC
Rimrock Electric, Jake- electrical
Billings Insulation- insulation
MJH Construction Inc.- drywall
Kosmann Inc., Lance Kosmann- cabinetry
Granite Mountain Countertops- countertops
Pro Build- lumber and materials
Granite Door Company- interior doors
406 Window Co.- windows/doors
American Glass- specialty glass/mirrors
Floors by Design- tile and carpet
Soft Touch Designs- wood flooring
Toby's Painting- paint
Rickards Wood Designs- interior trim
Fireplace Center- fireplaces
One Source Lighting- lighting
Great White Construction- roofing
Pacific Supply- roofing and drywall materials
Magic City Masonry & Stucco
Bailey Garage Doors- garage doors
Pride Industries- trusses
A & H Turf- hardware
Billings Best Blinds- window coverings
Eric Christiansen, EC-scapes- landscaping
Originally printed in the June 2021 issue of Simply Local Magazine
Never miss an issue, check out SLM's digital editions here!