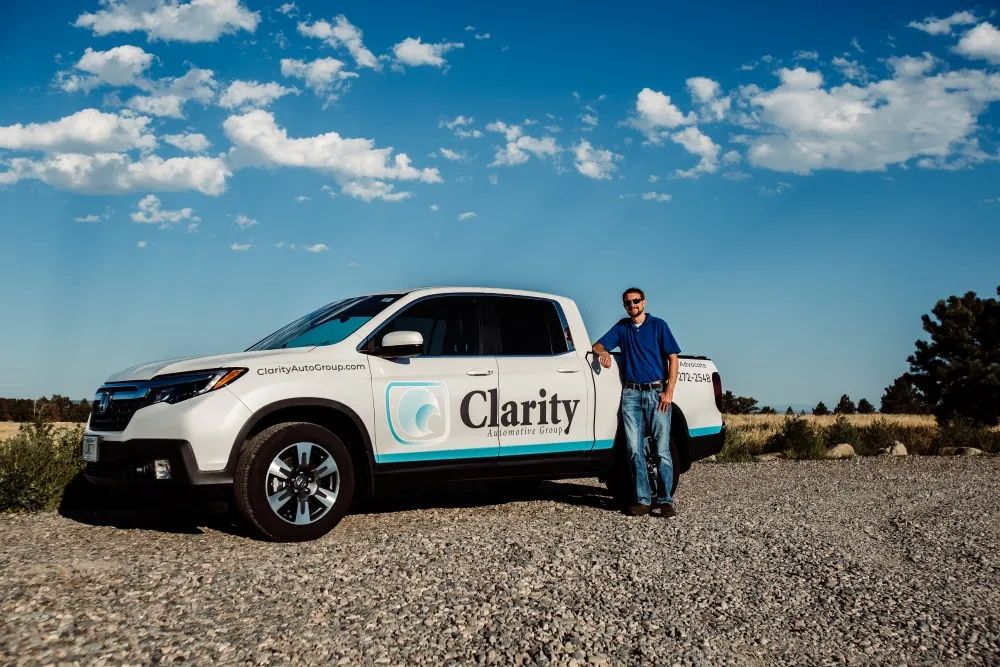 Bringing Clarity to The Car Buying Process
September 2022
by brooke wagner | photo by arianna skoog
Buying a car rarely races to the top of a Most Fun Things to Do list. In addition to the research, planning, price comparisons, and worries about buying a lemon, the car buying process is time-consuming and stressful. Keith Bishop of Clarity Automotive Group wants to change this experience for his clients. He says, "I think buying a new car should be exciting and fun, but the process can be frustrating, stressful, and exhausting. I see a definite need for a professional to help guide buyers through the process."
Buyers reach out to Clarity for a variety of reasons. Perhaps they don't have the time and patience to research things like fuel mileage, horsepower, and upgraded features. Or maybe they have been burned by pushy salespeople in the past and want to avoid the haggle over the bottom line. Whatever the reason, Bishop says, "It usually comes down to value and convenience. If I can make someone's life a little easier, then I consider that to be a win for everyone."
The entire car-buying process has changed immensely over time. Saturdays used to be filled with driving around to dealerships, kicking tires, and navigating test drives. Now, buyers may feel overwhelmed with the sheer volume of options when it comes to ways to purchase a vehicle. With inconsistent safety regulations during the pandemic, dealerships had to find new ways to drive inventory off their lots, and online car buying became prevalent. Virtual showrooms, actual car "vending machines," and salespeople available to chat behind a computer screen are now more of the norm than the exception. Not only does a buyer need to figure out what car they want, but they also have to figure out how they will get it.
Bishop says, "Everything is more complicated and frustrating right now. Like in real estate, the lack of new car inventory is driving prices up and making it almost impossible to find what you are looking for in stock at a dealership. Used car prices are through the roof, and it's also harder to find decent quality cars." By trusting Clarity Automotive Group with the process, buyers can rest assured that they are making the best choice for their new ride.
Clarity Automotive Group offers several packages for a client to choose from, including a complimentary consultation and needs assessment and a comprehensive vehicle search. Clarity then presents the clients with the top three options that fit their search criteria and continues to assist in the negotiation and buying process. By charging a flat fee regardless of the type of car being purchased, as well as never accepting compensation from a dealership, Clarity works to find the best deal for their customers.
Bishop has been involved in the automotive industry in one form or another for most of his life. Building engines and working on cars with his dad manufactured a lifelong love of cars and shifted to a career in automotive engineering and sales. This "tricks of the trade" knowledge allows Bishop to tailor the car buying process to each client, as he takes time to get to know exactly what their automotive dreams are made of. Bishop also offers the added service of listing a client's existing vehicle for sale, handling all of the communication with potential buyers, going on test drives, and facilitating the financial side of the transaction. He says, "My goal is to handle as much of the process as possible and minimize the time my clients have to spend. I try to provide exceptional value, so the whole process goes smoothly and with the least hassle for my clients." Bishop also has the know-how to increase a car's value before selling it. "If a car needs some minor repair or detail work, I will offer to facilitate that."
Bishop offers some good advice for first-time car buyers or anyone trying to upgrade (or downsize!) in this unpredictable market. He advises, "For anyone looking to buy a new car, do your research and be patient. Make sure you consider all your options before committing, and know what you want before setting foot on a dealership lot. The same goes for someone shopping for a high-end or exotic car! There's a lot of money at stake, and buying something you don't really love can be an expensive mistake."
Originally printed in the September 2022 issue of Simply Local Magazine
Never miss an issue, check out SLM's digital editions here!